Secret Bunker USSR
Your fiancée Emily has been kidnapped by a mysterious scientist! Unravel the mystery of the enemy's lair—Secret Bunker USSR— and rescue Emily before she is subjected to dangerous experiments! Untangle a web of mysteries kept in the abandoned military bunker, where encrypted documents, secret doors and hidden mechanisms are just a handful of the deadly traps you will face. With more than fifty stunning locations and a myriad of challenging puzzles, Secret Bunker of the USSR presents an unforgettable gaming experience!
Original new puzzles
Over 50 locations
Fascinating video clips
Dynamic gameplay
Game System Requirements:
OS:

Windows XP/Windows Vista/Windows 7/Windows 8

CPU:

1.0 GHz

RAM:

256 MB

DirectX:

9.0

Hard Drive:

763 MB
Game Manager System Requirements:
Browser:

Internet Explorer 7 or later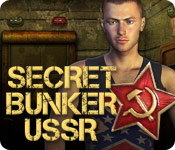 NEW299
The Big Fish Guarantee:
Quality tested and virus free.
No ads, no adware, no spyware.

Reviews at a Glance

Secret Bunker USSR
0
out of
5 (
0
Reviews
Review
)
Customer Reviews
Give this one a chance
I found I really like playing this game. I like the tunnels and rusty scenes, and hidden object games. It takes a bit of thought. I played on expert, and appreciated that if I got stuck the hint button told me what to do next. It is a nice change from other games we have been playing, and if was a terrific use of my free credit. The puzzles were interesting, and fit into the theme of the game. I think that if the makers had added achievement awards some people might like it better but over all I am having fun playing it, enjoy the element of surprise, and that is the main reason I buy these games anyway.
January 23, 2014
Exciting!!!
This game immediately got my attention because of the opening characters and the storyline. Its easy to follow, hints are excellent (really don't need) and the graphics are great. On the downside, I had a couple of minutes of a "dark screen", but that could have been my laptop. But...I highly recomend this game.
January 22, 2014
Another Surprisingly Different And Enjoyable Game ...
Nice Graphics, Sounds and Story ... A Great Adventure, Decent In Length And Very Enjoyable To Play ... Good To See The Developers Know Which Way Screws Undo Too; I Always Notice This Kind of Attention To Detail ...
January 24, 2014
A real sleeper, get it, spies, Russia....
Tried it and bought it. I like this game better than a few of the other glitzy games. Gritty, with good graphics. It plays like you're actually in a real-life situation with none of the silly stuff that other games make you do. And there's a cat. And, well, except for the mouse thing......
January 24, 2014
Back in the USSR
my fist time I saw this I thought hear we go again an below average game from big fish but I was wrong it a pretty good game it set in Russia in the cold as it says USSR.it good fun go and try it out you may like it as well.
January 22, 2014
Good fun - pity about the end......
I have to say, I'm something of a fan of HO's and in the main, this one didn't dissappoint me. On the whole, the game played well (I had a couple of glitches where I had to restart the game, but that's probably down to a rather old PC!). There are plenty of hidden objects to find and this, along with the other, action aspects of the game, kept my interest going right up until the end. The end. Well, the end could have been a lot better in my opinion and if anything lets the game down, then I'd have to say its the ending. Still, all in all, a fun game to play and a game I'd recommend.
February 8, 2014
secret bunker ussr
After playing the game for about five minutes you sort of get hang of it ,there are some degree of suspence. must have a good memory skill.
February 1, 2014
Enjoyed this game but puzzled by something
I enjoyed playing this game. However, what gives with the Confederate flag t-shirt the boy was wearing in the ending scene? For this, I cannot recommend it.
January 25, 2014
IT'S A FUNNY OLD GAME
This is a strange little hidden object/puzzle adventure game, which for some reason feels a bit old. Perhaps it was the rather clunky-feeling 3D graphics in the intro. You are Jack - Russian, believe it or not, as you have a rather thick accent! Your fiancee - Emily, yup another great Russian name - has been carried off, over-the-shoulder style, by a rather tall, sinister looking gentleman. Clearly, sinister plans are afoot and it's up to you to find your beloved and save the world (or something). If you hate dreary scenery, you'll most likely hate this. I actually quite like dark, dreary, dirty and sinister looking places (gaming world only, obvs) so I had no real objections to the multitude of grey/brown/drab tunnels and caverns. Hidden object-wise, I consider myself as having fairly sharp eyesight, and I didn't do *too* badly with most of the HOGs; however, when I got to one particular scene relatively close to the start I actually said out loud 'You HAVE to be joking'. The objects were super-teeny-weeny. If you like a challenge and think your eyes are up to it, give it a bash. If your peepers aren't so great, I'd perhaps do them a favour and give this a miss. Gameplay in itself feels fairly linear, and - so far, anyway - I've never had to go back more than a couple of scenes to find whatever I needed, although in some scenes the object I needed was literally at hand. For more experienced gamers it could all feel a little too straightforward. I did like that sometimes you have to knock over an object that doesn't seem relevant or move an object out the way in order to find a 'tool'. I haven't come across too many puzzles so far - a couple of times I was sure I was about to meet a puzzle, only to find there wasn't one there, and I would have liked to have seen a few more. The ones I have met have been relatively simple - rotate the pipes, swap the buttons etc. - and didn't require much head scratching. Again, more experienced gamers may find this too easy. Then again, sometimes I want a game that challenges the little grey cells, other times I want to just have a nice, steady stroll in the park! Hint button is directional, nudging you along in the right direction, but you may find you don't need it that much. As a Standard Edition, there are obviously no bells & whistles such as a map, but - again - I don't think I'd need one. There are only two modes of difficulty - easy and hard. I suppose I'm curious about where the story is going to go, and certainly the fact that it's not a game with cute animal helpers, amulets and fantasy elements makes me warm to it more. I don't think I've got a Russian-themed game in my extensive games library, so it's refreshing from that point of view. I may wait for a sale, or use a PCC, but I am interested enough to want to take the game to its conclusion.
January 22, 2014
An OK Time Passer - Review Of Completed Game
Story: You take on the role of Jack. You and your fiancee Emily are camping in the forest and you're attacked by a man in a black cloak. When you regain consciousness your fiancee Emily has been kidnapped by this man. You stumble across an old military bunker just in time to see the kidnapper vanish. Your adventure begins here to rescue Emily. 2 PLAY MODES: I played the harder mode. It says no sparkles but there are sparkles for the HOS and black bar tips telling you what needs to be done. There are a few things needed that aren't so obvious. I just happened to click on them. Hint is directional outside of HOS and not too long on charge up. WIDESCREEN: I unchecked the widescreen in the options then the game filled my screen. Graphics definitely stretched. Otherwise there is a wallpaper border instead of black bars. VOICE OVERS: Only for the very beginning of the game. Outside of the kidnapper laughing every now and then there is text that comes up on the screen to read/click through. GAME PLAY: This seems more on the puzzle/mini game side than HOS and adventure. The adventure part is pretty lite. JOURNAL:This is just a summary of what you've done so far.and sparkles down at the bottom pretty much constantly. MAP: There is no map for most of the game but towards the end there is a map for a brief amount of time that shows where you are, things to current do and the other areas a come back later. This is transporter. HOS: All found by word list. Slightly interactive and you also have to "move" some things to get to some of them. The interactive ones which are indicated by a different color but no gears/sparkles come up. I thought these were great. No problem for me. PUZZLES: Not a fan. Less the better. These were the usual run of the mill for me that I've come across in many games. Most I found easy but some just tedious and annoying especially the "shooting bats" puzzle. I did skip a few of these. MY PLAY TIME: This was about 3 hours for me. OVERALL IMPRESSION: I really liked the opening scene to this game. The graphics will definitely be "too dated" for some people but I really liked them as they are grungy/creepy/eerie. A very atmospheric game in this regard. The voice overs what little there were - excellent especially Emily's scream. I also enjoyed the story for the most part. I was also just fine with the game length. Where this went a bit down the hill for me was for starters no true widescreen. Please have this for your next game offering. I was able to get it to fill my screen otherwise this would of been a no go. I don't understand the purpose of 2 play modes if they are both going to be the same that is sparkles/black bar tips on both of them. Games don't have to be very challenging for me to enjoy them but the "hand holding" was a bit too much in this one. I do like to figure out on my own. While I enjoyed the story for the most part as I stated well I also prefer for characters to talk in the game. I really think it would of added so much more to this game if the voice overs would been used more throughout the game than the very beginning along with a bit more character interaction especially the kidnapper. The ending of this I also found a bit abrupt. This could of been better. I didn't need a map but I do believe this is the first developer I've seen to not have a map until the game is about over. I just found this odd and then it's brief. Overall an OK time passer game in my opinion and I would recommend purchasing it with a coupon code is how I purchased it especially if you have some that are ready to expire or the daily deal/catch of the week price. I wouldn't pay any more for this than that. If you are one of the hard core players expecting a challenge well I'd skip this one. I do believe you will be highly disappointed here. As I always say though, give it a whirl and decide for yourself. Thanks Big Fish and developer. Not a bad game. Worth the use of a coupon code but more work could of been put into this game in my opinion.
January 22, 2014