Secret Bunker USSR
Your fiancée Emily has been kidnapped by a mysterious scientist! Unravel the mystery of the enemy's lair—Secret Bunker USSR— and rescue Emily before she is subjected to dangerous experiments! Untangle a web of mysteries kept in the abandoned military bunker, where encrypted documents, secret doors and hidden mechanisms are just a handful of the deadly traps you will face. With more than fifty stunning locations and a myriad of challenging puzzles, Secret Bunker of the USSR presents an unforgettable gaming experience!
Original new puzzles
Over 50 locations
Fascinating video clips
Dynamic gameplay
Game System Requirements:
OS:

Windows XP/Windows Vista/Windows 7/Windows 8

CPU:

1.0 GHz

RAM:

256 MB

DirectX:

9.0

Hard Drive:

763 MB
Game Manager System Requirements:
Browser:

Internet Explorer 7 or later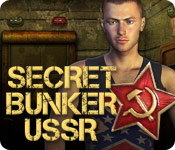 NEW299
The Big Fish Guarantee:
Quality tested and virus free.
No ads, no adware, no spyware.

Reviews at a Glance

Secret Bunker USSR
0
out of
5 (
0
Reviews
Review
)
Customer Reviews
Game to play in Spare Time
This is based on the one hour demo. This game is very easy and good for beginners. It is relaxing to play and does not have the challenges that other games have. The graphics are fuzzy in some places and there are HOS quite a bit but not over whelming. They are not junk piles, objects easy to find. The puzzles are pretty standard and not real hard. There are different size of screens to choose from and two modes of difficulties. The story line is standard also, a kidnapped sweetheart. I liked the location of the story. The hints button refills quite quick. I did not see a map, but the game is easy to navigate. I think the game is worthy of a free game credit. As I said its not a great game but not a bad on either. I have played some pretty bad SE games.
January 22, 2014
Barely OK
This game just barely made it to three stars for me. Production: Nothing super fancy, but fairly good artwork. Music is OK and fits with the setting. VOs are the normal poor job that even the "big boys" don't do well. The laughing bad guy is really bad - obnoxious and phoney laugh. The journal is basically useless and seems to have been included just so they could say they had one. There isn't a total map, but some are found along the way when needed. Story: Was there one? I only played the demo, but other than the routine kidnapping and subsequent hunting for the kidnapper, there didn't seem to be one. Others have complained about the USSR setting, but I found it to be interesting and well done. Game play; The HINT button only tells you the directions you can proceed - not really useful. The puzzles are the same-old and boring - fairly long SKIP charge, too. The HOS are the usual with some IA. There is a fair amount of back-and-forth, which is a pain without a map. Some of the objects needed in normal game play (not HOS) I found to be difficult to see, and I wandered around quite a bit looking for them - very frustrating. I recommend this game but I also recommend that you wait for a sale or use a free game as I will do. There are better games to spend your money on.
January 23, 2014
Time Killler
full demo: -pros decent graphics music ok vo's what there are of them are nicely done in between pros and cons: hint system is limiting unless you figure what you missing keeps taking you from one area to another...over all tho is not bad game is dated hos are dark no indicators for combining in hos no full hour for demo it cuts off not a full screen -personal thought- i agree with other reviewers...names do not match the russian themethe game...over all this is a good time killing game not worth full price or waist your credit on...i personally would wait for 2.99 sale this is a very average game but not bad :)
January 23, 2014
Just a so so game
The characters movements were to stiff. Simple game but just could not really keep me hanging in there. Good enough plot just not played out well.
January 30, 2014
OK for a freebie
This game is more retro than others like it of late. I felt as if I traveled back in time with the cheap looking graphics. There was adventure in it so it isn't a total loss. We follow a young Russian man as he tries to find and save his girlfriend from a typical mad scientist. We even get the old standard evil laugh a few times. I got this one as a freebie and mildly enjoyed it. I probably would not be so kind in giving it three stars had I paid for it. It did pass the time and was mildly fun for what it was.
January 29, 2014
Way too short
Excellent game just WAY too short!
January 25, 2014
Scary
The opening scene in this game was so scary that I immediately quit and uninstalled the game! (Perhaps it was more scary because I thought I was the girl. Naturally) Later, bored, I reinstalled, skipped the opening and played the demo. This game sits somewhere between the free casual escape games found on the net and the standard pay games found here. o Abandoned buildings, shockingly stereotyped characters - yes. o Lots of detailed actions to perform, hopping back and forth between locations, but nothing really difficult. o Hidden object scenes galore. o All the right tools to hand, but dang it, if only I'd kept the iron bar from the start it would have saved a lot of time. I don't know if I'd recommend it or not, frankly. No, perhaps not. You can get better value for your rouble than this game.
January 23, 2014
boring game
visually not a great game, oldfashioned kind of play
January 24, 2014
It is a Nyet for Me!
About 30 minutes into the game I had already decided what the title of my review would be; Nyet!, which means No in Russian. A tiny piece of advice to the developers, if you are going to name your characters Jack and Emily please avoid the heavy Russian accents or just use Russian names. Our story is begins with two young lovers camping out in the middle of nowhere when suddenly a dark and shadowy figure attacks and kidnaps the young lady (of course it would be the female) and takes her to an abandoned Military Bunker. Your mission begins and you have to rescue Emily but then you discover that there is a mad scientist behind this and I am sure interesting things will probably await you once you get inside the bunker but I really didn?t bother to get that far Graphics are old and tired looking, a lot of browns and sepia with some graininess in scenes that actually enhances the atmosphere of the game. You will discover that although you choose the harder of the two modes of play, despite what it says, you still get sparkles and glints all over the place. A very classic HOPA game with emphases on hidden object scenes that are re-visited, a lot of pick up this or that and too much hand-holding as black bar hints are constantly in your face. To be honest, I got as far as (spoiler alert) feeding a mouse to the trapped rattle snake when I decided that this game was not for me; just too familiar and too dated as well as absolutely no challenge whatsoever. You have no map, a journal and a hnt button that points directions. Despite what the game description says, mini-games are classic and nothing we haven?t seen before. Actually I have to say, rather than using the word old, lets just say this game is a classic and for those who enjoy HO scenes, beginner and just nostalgic, this game may be worth a credit. As for me? I say Nyet and will just move along my merry way. .
January 22, 2014
Back in the US, Back in the US, Back in the USSR !!
I guess if this game had been offered 5-6 years ago when HOPAs were in its dark ages phase, a lot of folks might have enjoyed it. Given the date of its debut, Secret Bunker is exceedingly dated. Since many of our games are created in Slavic countries, finally having one set in one of these locales is refreshing. Alas this is where the good stuff ends. In the opening scene our 2 characters Jack and Emily are camping and the girl is suddenly kidnapped. Why the western names when the game is set in the USSR? I could understand Yevgeney and Olga but not Jack and Emily. So now Jack sets out to rescue his comrade. The rest of the trial which by the way took me 35 minutes to complete is just the same old mishmash of HO scenes, totally routine puzzles ( align the water pipes, etc. ) and travelling to and fro to complete tasks. Jack must be a Superman of sorts because he can dynamite a brick wall while standing a few feet away and not get even a scratch. The trial ends with him being pushed down a deep elevator shaft but I figure he'll land on his feet. The developer is a new one who either made this game years ago or didn't perform any due diligence to give a more sophisticated game player something to set his teeth into. BFG gives us a supposed " new game every day". Unfortunately this is not new and should have stayed BACK IN THE USSR !!. Avoid this one . Do svedanya !!
January 22, 2014