Redemption Cemetery: Bitter Frost
Exclusive
Your house is warm and ready for Christmas Eve when an unexpected visitor magically appears at your window. Your ancestor, the Owl Spirit, begs your help. You must stop the jealous and vindictive Wenonah, the Spirit of Cold, from destroying your ancestors. If she succeeds in her terrible plan, she'll make sure you'll never be born! A photo album is the key to stopping her, but can a mere mortal handle this ghostly task? Travel through time to save your grandparents from her bitter, icy grasp!
Game System Requirements:
OS:

10.9/10.8/10.7/10.6

CPU:

1.6 GHz (INTEL ONLY)

RAM:

1024 MB

Hard Drive:

656 MB
Game Manager System Requirements:
Browser:

Safari 4.0 or later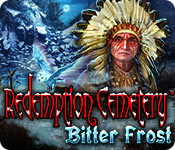 NEW299
The Big Fish Guarantee:
Quality tested and virus free.
No ads, no adware, no spyware.

Reviews at a Glance

Redemption Cemetery: Bitter Frost
0
out of
5 (
0
Reviews
Review
)
Customer Reviews
Redemption Cemetery: Bitter Frost
18
18
A Love Scorned
It's Christmas Eve and the decorations are beautiful, everything is perfect, that is until Wenonah the spirit of cold shows up! Koturi, one of your ancestors, stops time (just in the nick of time) and pleads for you to follow him through the portal of time, your very life depends on it! Since Christmas is ruined anyway, off you go, landing smack dab on your own gravesite! Koturi explains that he gave up immortality for the love of his life, Sheenah, but this infuriated Wenonah for she was in love with Koturi. Now Wenonah is seeking vengeance by killing your relatives, which means you will never be born! This is a really entertaining game (more so at Christmas time) but I must admit that I liked the CE better. Koturi gives you a magical feather that is capable of enlarging items such as changing laces into rope. You find an adorable Siberian Husky puppy that will help you out and there is even a mini game to play with him, you have to place 4 bones on a grid to make him choose the correct path in order to find the keys and back out the door. The HOS were the only thing I didn't like about this game, the graphics for this game were beautiful yet the hidden object scenes were simply cartoonish figures and they doubled up each scene. After the hidden object items were found you need to put together a puzzle of the item you would eventually receive. One of the HOS required you to use a dreamcatcher to "see" inside gift boxes and replace the gifts in the correct package. This is another great Redemption, but if you can, go for the CE, enjoy!
January 24, 2014
GRABS YOU RIGHT AWAY AND DOESN'T WANE
Promises to be the best Redemption Cemetery yet. It immediately grabs your attention with the first cutscene and it gets better from there. Find out the history of the freeze as you go back in time to save your ancestors (so you can be born). Collect snowflakes along the way. Nice spread out and colorful HOS, followed by a "put-it-together" puzzle with winter and Christmas themes. In your journey, you do have the help of your first ancestor who gave up the spirit world to be with his human love, starting your ancestry line. You also have the help of a feather which enlarges things (so that a simple scissors, for example, can become a garden shears and perform useful tasks). The animation and special effects are superb and the voice overs are professional and portray the reality of the situations (no flat tones here). This is a well-detailed and thought out game that is an immediate must-buy.
January 24, 2014
Evielynn
It was a lot of fun have been waiting to the regular edition to come along to buy it....
January 24, 2014
Feel The Cold!
BASED ON COMPLETED GAME FIRST IMPRESSIONS At the end of my review of the CE demo, I had not decided if this game successfully fits in with the Redemption Cemetery theme. Well, end of game, and I am still wondering. I can?t make up my mind whether this a well done tilt at thrusting Red Cem into a more varied and interesting universe, while maintaining its very successful structure, or a total failure to connect with the earlier games. In truth, despite being a 100% sold fan of the Redemption Cemetery series, I never really got into this one. Admittedly, sometimes it takes 2 or 3 playings of these games to really understand them. And this game has all the right ingredients. SIGHTS & SOUNDS Great visuals, both in technique and choice of subject. From the opening scenes, everything in this game is beautiful. (gorgeous ancestor). Cut scenes were excellent, graphics clear, voiceovers very good. Later in the game, some of the characters? voiceovers are annoying. No attempt at lip synch, which I approve. Music includes some eerie vocals, but can get a bit repetitive. Some excellent ambient sounds. WHAT?S HAPPENING? Well, it?s still like the previous games. In order to save our blood line and remain in existence ourselves we must save 3 ancestors that the Spirit of Cold has targeted. She is jealous of Sheenah, our original Native American foremother, who wed Koturi, the Owl Spirit (he?s the cute one ? oh, but human). Each ancestor?s salvation is a vignette in the game, and when all 3 are saved, we will have succeeded. And can get back to the Christmas tree and all those lovely presents! Nearing the end, I noticed some inconsistencies in the story, annoying, but probably only for a pedant like me. There was also an annoying glitch. Neither of these things had a great impact on play, but it?s the first time I can recall ERS making these kinds of mistakes. GAMEPLAY The gameplay has some original parts, but is mostly balanced between 11 HOPs (visited twice) and 18 puzzles. The adventure play is fairly logical but not always intuitive. I used the directional hint much more than I like to. The HOPs are in several forms. The interactive word lists are a bit different. Each item reveals the piece of a puzzle which is done at the end to get the inventory item. List HOPs can also be switched to a Match 3 game. There are a couple of progressive silhouette HOPs and ?multiples of?. There is one originally designed replace items HOP as well. Puzzles are not too bad for the most part, but I had to skip a couple near the end. One new puzzle was used to translate between chapters, and it was a tricky but ingenious and intriguing one. One excellent feature ? you can choose the casual or hard version of certain puzzles! Great idea! This is on top of the choice between 3 play modes or a custom mode in the options. Another feature is the ?grow feather?. This allowed certain inventory items to be increased in size, e.g. scissors into garden shears. Some items could also be combined in inventory. COMBINED IMPACT Frustration - because I could never quite get on top of it and go with the flow, and pleasure - at the beauty, imaginative ideas and interesting gameplay. Even with my reservations, this is a great game, just not my favourite Redemption Cemetery game.
January 24, 2014
A Wonderful Game... But The ERS Curse Has Returned!
BASED ON COMPLETED STANDARD EDITION GAME This is, without a doubt, the best ERS game in a long time. I enjoyed it from beginning to end. But, once again, the ERS curse has struck! The magnificent story finished off with an incomplete ending! The story was really enjoyable. It started off excitedly. Someone is going back in time and killing your ancestors, so you have to travel back in time to stop them. I love time travel stories and this one was no exception. The start was brilliant, probably the best part of the story. The story had me hooked from the get-go. During this game we had to save three of our ancestors, meaning there were three sections of the story. Here's what I thought about each section: Mandy (Section One): This was the best part. The story behind this is that you have to save Mandy from falling off a building. This part of the story was really intriguing. It was a great start to the game. What I liked most about this part was that we saw more of Wenonah, the villain. She seemed to disappear after this part was complete. The events in this part of the story flowed well and made sense. I feel the ending to this part did justice to the story. Margaret: (Section Two): This was good. Like the first part, this one had a great story. In this section, Margaret had fallen on the train tracks and you had to save her from the oncoming train by first providing warmth and then giving her her heart medicine. This story was really enjoyable, good to follow and made me wonder what was going to happen next. Even so, I do have a couple of critiques about this part. Firstly, Wenonah was gone. She appeared only in spirit form and didn't have any lines, which was a real shame. When you've got a good villain, they really do need to make appearances. Secondly, some things were illogical. The boyfriend of Margaret tells us to rush to the pharmacy because it's an emergency, but we still return to the scenes before the pharmacy BEFORE we get the medicine. If it was such an emergency, this wouldn't happen. This makes the game a lot less realistic. Sheenah (Section Three): Not really a surprise as I knew this was going to happen. The worst part of the story. Nothing really exciting happened; the game went as I expected. This was also the shortest part of the game. It was over in a flash. A really disappointing end to a great story. The story was really good and the aspect of time travel was done somewhat realistically. If I had to criticise something, it would be that the game didn't have many twists and turns. For the majority of the game, it went along as I suspected it would. Nothing overly shocked me. Another criticism I would make is that the story went downhill towards the end, to the point where I was waiting for it to finish. The last part of the story didn't interest me much at all as I knew it was going to occur. This was a really weak ending for me. Overall, I thought the story as great, but I have one more problem: THE ENDING! The infamous ?ERS Curse? as I call it, has struck again! This ending is shocking. It is not conclusive and ends at a point where it should have continued. Really poor form from ERS here. A note to the developers: If you want me to buy the CE, put good extras in there! Don't make the ending to the main game inconclusive! I've said over and over that an inconclusive ending won't make me buy the CE, and my stance remains firm here. Sorry, ERS, but that's just not on. This game featured a backstory. This was told through a series of notes. It told us about Wenonah and her feelings for Koturi and the events that led us to the current situation. This was a really good element of the story and made it much more exciting! It made me understand her position and made me begin to dislike Koturi and sway to her side! Making me do this means a really good backstory. I give credit to ERS for this. The gameplay was great. The HOS were fun, the puzzles were good and there was a great new feature in there. The HOS were good, but nothing we haven't seen before. There were two types: junkpile and silhouette. Both were fun and both were easy. There were a good amount of HOS in the game, but there weren't many in the start and more towards the end. Perhaps it would have been better to space them out evenly. The only criticism I have of the HOS is that some of them made you do a puzzle at the end. This was annoying. The puzzles and HOS should ALWAYS be kept separate, never together! The puzzles were good too, even if they were a little challenging. I ended up having to skip most of them. That being said, they were still fun to attempt. Once again, nothing we haven't seen before. There were a decent amount of puzzles in the game. The ratio of HOS to puzzles is good. There is one new feature of this game: The feather. This was used to enlarge inventory items in to useful items. This was a good feature. It was quite unique and fun to use. It was used a fair bit in the game. I hope this feature makes its return soon! This game also featured plus objects. These were items you had to merge with another inventory item to complete. They were indicated by a + symbol. This added extra fun to the game. There were quite a lot of + objects there. Maybe a couple less would have been good. Other than the new features, this is your standard HOPA. There are no animal helpers or any of the kind. It was a really enjoyable game. The graphics are good, but sort of a step back in my opinion. This game did not feature lip-syncing, which made the characters less realistic. It made me laugh just to see a blank face staring at me and blinking while the dialogue was spoken. That being said, the graphics were drawn greatly with quite a bit of detail in them. Every scene was clear and had some great visuals. The character designs were good too. They looked very realistic. The voice-overs were standard. I have no comment. FEATURES 4 modes of difficulty: Casual, Advanced, Hardcore and Custom. Custom lets you set the game the way you want it. Differences in other difficulties are standard. I played Casual. Hint/Skip- both recharge a bit quickly. The hint is useful outside HOS. Diary- keeps track of events. Map- Interactive, but not very helpful. It was set out poorly and should have been done much better. Feather- used to enlarge items. Very good, fun feature. + Objects- Good feature, but too many of them for my liking. WHAT DO I MISS OUT ON IF I BUY THE SE? Bonus Chapter- ending is not conclusive Built-in Strategy Guide- good for puzzles. Wallpapers Concept Art Replay HOS & Puzzles Achievements Collectible snowflakes WHICH IS THE BETTER BUY? Despite the inconclusive ending, I'd advise you to go for the SE. There's nothing in the CE that makes it worth buying and an incomplete ending is no reason to even consider. We shouldn't have to buy the CE because of the incomplete ending. Overall, this was a wonderful game. I enjoyed it from beginning to end. This is definitely my favourite of the series and my favourite ERS game in a long time. Unfortunately, what would have been a five star game must now be given a four because of the incomplete ending. Even so, I highly recommend this game. It may not be perfect, but the fun factor is high and the story is grand.
April 26, 2014
Talk About a Woman Scorned
Based on the Demo. The storyline of this game starts with your ancestor having scorned Wenonah, the Spirit of Cold. Just like you shouldn't fool with Mother Nature, you certainly shouldn't fool with a Spirit that can throw your whole world into a deep freeze. The graphics and visuals are great. Soundtrack and voice overs are very good. Mini puzzles and hidden object games range from relatively easy to moderately difficult. The SE is as equally good as the CE. In fact this seems to be the better buy.
January 24, 2014
i didn't reallyh like it as much as the others in the series.
you are trying to save your ancestors from an angry spirit so you can be born. you have to go back in time and thwart her so she can't destroy all those that came before you. the mini games are different in some instances, the skip and hint buttons charge fairly fast. there is an interactive map, but i didn't like using it. there is a diary. i feel sure there will a sequel but i hope it is better than this one.
January 26, 2014
Good Solid Game.
I liked the length of the game and feel you got your moneys worth.
April 26, 2014
Very fun and interesting
I enjoyed the game. The graphics were good, the puzzles were fun even though I had to skip some and the HOS were varied and not boring. The game was too short by my standards (only 3 "redemptions") but not horribly so. I truly enjoyed the story and the sense of urgency that it imparted. I liked being able to set custom options. I dislike sparkles, but like quick hints and skips, and it allowed me to do this :) The map allowed jumping, and the game was enjoyable. Not one of the best even this developer has offered, but worth playing.
December 27, 2014
Not as good as past Redemption Cemetery games
I'll keep this short: based on the demo, this game is mediocre at best. Definitely not as interesting or challenging as past Redemption Cemetery games. While the graphics are quite good, the story line is boring. And everything is decorated for Christmas (when the CE was released), which makes it rather irrelevant now that we're at the end of January. There's nothing new or challenging about any of the puzzles or HOGS -- and there's a clunkiness about the game play. I usually get Redemption Cemetery games as soon as the SE becomes available, but I'm passing on this one.
January 25, 2014
The Apple logo is a trademark of Apple Computer, Inc.
The Windows logo is a trademark of Microsoft, Inc.