Mahjong Gold
All hands on deck! Join in the search for Long John Silver's buried treasure in this Mahjong pirate adventure! Uncover the secrets of the legendary pirate as you travel around the world to distant lands, uncovering gold tokens along the way. Each level has been painstakingly balanced with special tokens and extraordinary missions that offer a whole new perspective on a classic game!
120 unique levels
More than six hours of game-play
Beat the game with new rules
The pirate's treasure awaits you
Game System Requirements:
OS:

Windows XP/Windows Vista/Windows 7/Windows 8

CPU:

1.0 GHz

RAM:

1024 MB

DirectX:

9.0

Hard Drive:

70 MB
Game Manager System Requirements:
Browser:

Internet Explorer 7 or later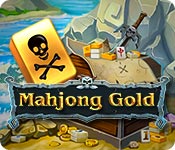 NEW299
The Big Fish Guarantee:
Quality tested and virus free.
No ads, no adware, no spyware.

Reviews at a Glance

Mahjong Gold
0
out of
5 (
0
Reviews
Review
)
Customer Reviews
By Far The Best Mahjong I've Played
This game has 6 different locations and each location has about 20 puzzles each, with the goal to earn 1-3 stars on each game. There are 3 different tiles to choose from and since the music was the same as Fort Defense I went with the pirate themed tiles. You can earn 12 trophies or achievements as well. Each game had unique and challenging layouts, and you can earn shuffle bonuses. Maybe it was just the music, but I really liked this game because each game had different goals to achieve such as matching a certain number of gold tiles and earning so many points for 2 stars and even more for 3 stars, and I never got bored. Enjoy!
January 27, 2014
Great new layouts!
I'm a big Mahjong fan and yet am picky about some Mahjong games (hate to reshuffle, prefer to play to do in starting layout, etc) but this was close to perfect! It has: - Not much of a story, but a theme of layouts related to pirate and other designed layouts that are a great challenge and fun. It's always good to see new layouts and its tried and proven that it has a solution (I hate layouts that are basically impossible to get unless you shuffle over and over). Some neat looking layouts with the gold and silver tiles. -Usually I'm not one for a timer, but that's only one part of each layout you can achieve. It's not required to go to another layout. So it can be easily ignored if you don't like being timed or you can challenge yourself later on to work on getting all 3 stars.. -Lots of layouts! (120) I spent the day playing this and bought it after 15 minutes of playing! - The challenge too is to get all the gold tiles cleared and strategy is included to clear them in a certain amount of pairs. So those who more like to relax and play can, but there is no timer or anything to turn off. - This game is similar to the other this developer has put out (the Christmas one, Halloween, etc) and they all different in the layouts that I recall, they are theme related too. Enjoy!
January 27, 2014
EShore
Very good! Enjoyed very much. Thanks
February 17, 2014
Pirates Ahoy!
BASED ON FULL HOUR DEMO This pirate-themed game has the standard features I would expect in any mahjong game. This includes: ? 20 different boards x 6 locales (from Cabin Boy to Admiral) = 120 levels ? Objectives for earning stars (time, number of steps, points, number of gold tiles retrieved) ? Silver bonus tiles that automatically fill your multiplier meter ? Pirate-themed board designs ? Shuffle option ? 3 types of tiles ? original, pirate and large print numbers (The pirate tiles are absolutely beautiful) ? High scores and Achievements ? Comic style backgrounds ? Exceptional pirate music (give the composer a bonus for this one, it?s worth buying the game for that alone!) To progress through the levels you must meet the goals set for each board. These are: 1. Remove a certain number of gold tiles (the more non-gold tiles left at end of play earns more points) 2. Receive so many points (points are awarded on time taken between moves and involve a multiplier) 3. Complete the board in a set number of moves 4. Time taken to clear the board The board is finished once the number of gold tiles is complete. Points can be multiplied by increasing the speed of your play, the moves set are not necessarily the minimum possible (yet at least), but they are a challenge after the first few boards. If you do not reach all the goals in one try, say you didn?t have enough points but the other goals were reached, you can replay it focussing on the points and no need to repeat your performance on the other goals. What I didn?t see was the number of matched pairs available. I really love this feature. Also absent were options for showing the clear tiles. It also doesn?t attempt a story, other than the naming of the various locations. Which is good or bad news depending on your preferences. I liked that, though not a widescreen game, it catered to wide screens by having wallpaper on the sides. This could have been more piratical though. For me, the big difference between this and other mahjong games was the total disregard for the notion that it is traditionally seen as a game of relaxation. The pirate music is swash-buckling fun and probably deserved to be in a game involving the sinking of ships, but it certainly isn?t going to ease you into a restful sleep. For all that, I love this game?s atmosphere. It makes for a lively and pleasant change.
January 27, 2014
Not a buy
I made it through 7 minutes of the trial and had to quit. If you are brand new to MahJong then it may be ok. I noticed there isn't a way to skip tutorial or to keep the Hints from highlighting the next move. It auto shuffles for me instead of giving me a minute to do it myself. Very basic. I was interested in the game to give me something to do when I wanted to chill. Not a buy for me.
January 28, 2014
It's Mahjong
I normally stick to HOPA's and RPG's, but I've been known to play some solitaire type games every now and then, so I decided to give this one a look see. There's no story, or plot, or anything like that. I have played other mahjong titles that do, but nothing really spectacular. There was a little 'flash' screen like you saw in games years ago before the first level showing cartoon pictures of a shipwreck and treasure. If you want to call that a plot... You go through one 'tutorial' level, then you're own your own. three objectives to meet. Beat one level (you only have to meet the 'collect golden tiles' objective) and you can move on to the next. There are a bunch of different areas, which I'm assuming follow the same basic pattern. You start off with only one unlocked. There are some trophies and achievements to earn by meeting the 'higher' objectives. Three mahjong sets to choose from, not a lot of customization other than that. The game was clear, played fairly fast (I don't have a super fast mouse so I can't speak for the speed demons out there), and had no other issues. There was simply nothing special about it - just another mahjong game with a bunch of layouts. The sort of thing I might pick up on a daily deal to fill out my punch card at the end of the month.
January 27, 2014
Unimaginative
The first level was like most Mahjong games, but you cannot score high on subsequent levels. Thus making it harder to unlock other levels. The music sounds like it is straight out of an Indiana Jones movie, which is okay, but not continuously. Overall, played for less than 15 min and called it quits.
January 27, 2014
No Buy
Very simple review here. Developers pay attention. Mahjong should have an untimed mode. No untimed mode.... no buy. I use Mahjong and Match 3 games to chill and relax, not beat a timer. I cannot recommend.
January 27, 2014
Not really for the non-speedy - like me!
The boards are lovely to look at, very colourful and clear with achievements to attain and that's it for the positives. Negatives: The tutorial couldn't be turned off which for a seasoned player could be extremely annoying. However, the most frustrating thing which stopped me from playing and buying was the cursor. It was so slow and a bit wobbly at times so I couldn't make matches as fast as I needed to get the points for the 3 star rating. I tried system and non-system cursor with no difference. So I did level 2 about 8 times trying to improve from 1 star to no avail. If the level doesn't attain at least one star then then next level doesn't open so I dread to think of trying the later levels. Could have been a good game and at least I got to try before buy.
January 28, 2014
Ho Hum
Very straightforward mahjong. Got boring after about the first 5 boards.
January 27, 2014