A Princess' Tale
An ancient evil threatens to walk the land again, and only someone of royal blood can stop it from waking up. But the only royal available is a girl affectionately nicknamed Princess Ooh-Look-a-Kitty, for... fairly obvious reasons. Teamed with a flustered bodyguard, a dismissive soldier of fortune, and a love-struck nomad, Princess Calliope has to navigate a world she barely understands to save the world. And if she's not careful, she might just grow up a little.
Beautifully composed soundtrack!
Compelling yet humorous storyline!
Hidden Bosses and veiled Items!
Game System Requirements:
OS:

Windows XP/Windows Vista/Windows 7

CPU:

1.0 GHz

RAM:

256 MB

DirectX:

9.0

Hard Drive:

112 MB
Game Manager System Requirements:
Browser:

Internet Explorer 7 or later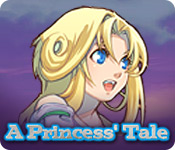 NEW299
The Big Fish Guarantee:
Quality tested and virus free.
No ads, no adware, no spyware.

Reviews at a Glance

A Princess' Tale
0
out of
5 (
0
Reviews
Review
)
Customer Reviews
Finally a new RPG - LOVE IT!
Old style RPG with keyboard or mouse controls. Can see or hide encounters. Battles with HPs (a pet peeve of mine - I like to see this) Nice graphics, a bit verbose in dialog but you need to pay attention to some of it. Quests to obtain and fulfill Cute story line Just love it!! P.S. Probably not best for those who don't enjoy puzzle solving, exploring, and taking one's time working through a game or for younger children. Just great for us "big kids" though :)
January 29, 2014
If you like RPG games
If you like rpg games then you will like this one. Like other reviews I feel the dialog is a bit lengthy at times. I like the easy to follow quests. I do wish the MP powers were a bit better as it seems you can just battle by using attacks until the "bad guys" finally faint. For those who like RPG games it is worth playing for those who don't understand RPG games then this isn't for you.
February 1, 2014
It's About Time
Thank you, BFG. I've been waiting for about 55 weeks for a new RPG. Princess Calliope's most difficult adventure has been saving lost cats. Then while trying to help her sick father, she becomes involved in a quest to save the world. It's a standard game plot, not only in RPGs. You have the option of mouse or keyboard controls. It's also compatible with my dual action gamepad type controller. Enemy HP are shown during battles so you can tell which attacks are doing damage & which attacks are not. That always helps especially fighting Bosses. The enemies are Not Random. This is a plus for me. I like to be able to destroy all the enemies in an area & relax while exploring. I don't like games with random enemies because you have a battle every time you take a few steps. There is a Quest Log to keep track of what you need to do. But with any RPG, it's a good idea to have a pen & paper handy to take a few notes. The graphic are great with lots of detail & color. Very easy on the eyes. The dialog could be better. But Calliope is ditzy so it can be funny a times. You also need to read it because it contains hints about what to do next & which direction you need to go. The mazes that you have to navigate are challenging with lots of twist & turns. Some times you have to find exactly the right spot to perform an action like a jump. The only thing that the game needs is Signs. I haven't found any Signpost on the World Map to indicate which direction you need to go to find a specific town or signs in the towns telling your location. If you love RPGs like I do you'll enjoy this game. I think you get more for your money than with a HOG or HOPA because these games usually take much long to play. It's not Aveyond but I'm really having fun.
January 30, 2014
Cute 2D RPG with Typical Quests and Exploration!
I'm a die-hard 2D RPG fan and I bought this after a half-hour of play. I love basic sprite-based RPG games and this one has the typical cute storyline, quests and exploration that are the staple of this type of game. (Spoiler: The opening quest has Princess Calliope saving a beloved pet cat. What could be cuter?) There is some strategy involved when buying magical items and power-ups at the town shop and also in deciding your attack strategy when dealing with bosses. And, yes, I have died 3 times so far, but the game will ask you every so often if you want to save and there are 5 save slots so you don't have to start all over again. Also, you can save your game manually at any time by pressing the X key on your keyboard and scrolling down to "save" on the menu. There are lots of buildings and rooms to explore in town. There is some backtracking, so it's important to remember locations that you might need to come back to later after you have accomplished certain tasks or to procure certain items. So far, there appears to be plenty of open world to explore. There are at least two dungeons I have found with treasure chests to discover (coins) which enable you to buy your magical items and also weapons to find which will help you in your battles with the bosses lurking within. I agree with previous reviewers that there is scant documentation. But it is, after all, an adventure game and the points are exploration and discovery. It reminds me of the old-style text-based adventure games ("You enter the forest. Climb to the top of the tallest oak tree. Look north. You see a dragon. What do you do?"). Anyone remember those? Of course, I'm aging myself here - LOL! But seriously, in my opinion you need to give this game more than an hour to really get into the storyline. While A Princess' Tale might not compare to, say, an Aveyond or Skyborn, I'm interested enough to continue playing. It's not too hard, but it's definitely not easy either. Most games have credits at the beginning that say who the developer is. I don't see any credits in this game, so I'm assuming maybe it's a first title (?) and, if it is, it's really not that bad. I'd recommend this game, but would suggest buying it during a sale like I did (sorry, developers) or a Daily Deal. But give it a chance and you may just find yourself having fun!
January 29, 2014
Good RPG game
I feel this is a typical RPG game and is cute. Yeah it takes a bit to refresh learning to navigate. It seems to navigate fairly well. I know there is a forum or guide to help so dont think it will be hard to finish it. I played the hour and thought it was cute. Not a fierce fighting game so far. SO if you arte looking for a gruesome fighting game its not it. But it has some cute features and characters.
February 1, 2014
Delighted to see another RPG
My review is based on the one-hour trial. As an experienced RPG player, I was glad to see a new one on BFG. I'm aware that it takes hundreds more hours to create an RPG than an HOG, though all games are the same price. The game play and menu navigation is very similar to most others, as is the sound. If you like character or story-driven RPGs, give this one a try. The maps were interesting and varied compared to many games. In the first hour, the battles were few and easy. I found no sidequests, which would have added a lot of dimension to the game. I found myself disliking the main character after one hour. Her flaws were really overdone. However, the two other characters I met so far appeal to me. Still not sure whether I'll buy this one. While the Aveyond series has become the gold standard of RPGs, their success took time and was hard won. I like to keep in mind their earlier games when I play an RPG from a new developer.
January 30, 2014
it's missing ethusiasm
I feel that the game has potential however developers missed the point they need to go all out for their target audience not just half baked the selling points.
January 29, 2014
Falls a Little Short
I probably would have bought this game if it wasn't so buggy. When they give you the option to use the mouse or the keyboard, you HAVE to use the keyboard (which I usually choose anyway, this time I didn't) because the mouse is so buggy that half the time it won't allow you to speak to someone or open doors. Secondly, if you've played these types of games before, you go, ooh, shiny thing and go straight to picking it up, unfortunately if you do this and pick up the laundry before talking to the guards, they don't recognize that you are dressed in it already and you can't go back to the laundry to get it, so you can't finish the first quest. So instead I tried continuing with the next quest, it allows you to do so to some extent, but nothing will initiate (talking to the guard in the next town to get into the meeting) and nothing makes sense because you've missed the beginning. Other than that I can't really tell if it was fun, because the bugs made it frustrating, but I have to give it stars for being rpg game instead of another scary hidden object.
February 3, 2014
This Is No Princess Tale
I'm going to be honest, I have no idea what the object of this game is. It starts out with 2 kids and the little boy is given a horrible speech impediment, how horrible is that? The little sister is then coaxed to enter the sewers alone to save a third unbeknownst character. You either use the keyboard (how archaic) or the mouse to move the princess along, finding treasures in the sewers and fighting rats! This seems like a very old game that has been dusted off because it was long forgotten.
January 29, 2014
hard
there isn't a story to this game the help that you need are to come by. takes forever for the hidden button to help you. son didn't finish it either he stop after a few try's .
January 29, 2014