Obscure Legends: Curse of the Ring
Exclusive
You lost everything in that storm: your ship, your crew, even your freedom. Now you've washed up on a tropical island that's cursed by a magic ring which forces its bearer to lash out in anger and control others. Can you release the kind captain from its spell to free everyone on the island, or will this be your new eternal home? The captain's crew is more than happy to help, but it won't be easy to destroy this ring, especially not with the artifacts on the island amplifying its power. Use your wits and scour the island to uncover the ring's secrets and destroy it once and for all in Obscure Legends: Curse of the Ring, a daring Hidden-Object Puzzle Adventure game.
Make friends with a scarlet macaw
Befriend Langley's loyal crew
Solve puzzles and explore strange temples
Game System Requirements:
OS:

10.9/10.8/10.7/10.6

CPU:

1.4 GHz (INTEL ONLY)

RAM:

1024 MB

Hard Drive:

250 MB
Game Manager System Requirements:
Browser:

Safari 4.0 or later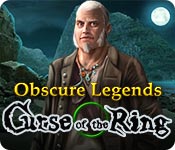 NEW299
The Big Fish Guarantee:
Quality tested and virus free.
No ads, no adware, no spyware.

Reviews at a Glance

Obscure Legends: Curse of the Ring
0
out of
5 (
0
Reviews
Review
)
Customer Reviews
Obscure Legends: Curse of the Ring
36
36
Had lots of fun with this one
This review is based on playing the demo. I don't want to repeat too much of what is already in other reviews -- Nice variety in the mini games, good map, interesting environments. All in all, a really fun and well-crafted game. The puzzles made good sense -- I like that the choice I would have made in real life is what was called for in the game (I wish I could say that about games more often!). I also like that useful tools stayed in the inventory -- too many times in other games you use a knife to cut something and then it is gone. A few minutes later you need to cut something else and have to find something else to cut it. That just makes for tedious, contrived puzzles -- these were logical and gave me a chance to think. The game unfolded well in that items were never so far away from where you needed to use them that you forgot what you needed them for. Nice pace, not too "dense" with story. Scenes have a few tasks in them or items to interact with and are not tedious or over-cluttered. I don't generally buy games that you can't replay differently but I may buy this one because it was so much fun to play.
April 27, 2014
Long game and long on fun
For an SE this was a long game and altho' not the most challenging game it certainly kept my attention. You collect coins along the way to "repair" your ship which is actually a drawing but I'm wondering if I hadn't repaired it if I would have been able to get off the island? Slightly interactive hos with mahjong option. LOTS of puzzles!! anyway, was able to get it with a coupon code so it was definitely worth the money!! Will I play it again? Probably not but it was fun while it lasted..and it seemed to last a while.. so many places to explore (even if there weren't more than 3 or so things do in each scene).
February 28, 2014
Much More Blessing than Curse
I've been playing this game for more than 2.5 hours. I was confident enough, after the one hour trial period, to money up (or in this case, coupon up). It was good enough to deserve a full dose of play. What you've read about the story will suffice for story line. Nearly three hours into the I don't think the story line drives the game. It provides a loose weave connecting the HOG and mini-games and offers a context for the ambience of the game: nautical with a deserted Island and a pirate or three. The game is very basic. It's not visually-flashy nor aurally-flashy. What was it then? Why get it? Because it's just flat out fun. Level of Challenge: I don't know what the final number of mini-games and HOGs will be but I think it will be a generous amount. Both seem to be of pretty high quality as well. Mini games: I haven't experienced anything brand new, but there are some interesting takes on Maze games, synchronized eradication games (getting different items to activate/eradicate by clicking on it, but clicking on one item will affect the behavior of another or several others). Some of the games are very complex...at least to me: items placed along a quasar need to be put in a particular order but, again, moving one affects positioning of others. HOGS: Along with the regular HOG find-em list, there is also what I can best refer to as a mini-HOG. It's not based on a list, but just a gathering of several items which require you to use inventory objects to bring together. There's also a build-it HOG where you need to find a few items which,when combined, make yet another item. It might have been a little more challenging if I had to create the item but the game does it for you automatically. The HOG items are well-drawn and well-placed. They aren't crowded but they are disguised nicely and take more than a little effort to find. As an alternative, you can play Mah Jongh. Added attraction: Although this is an SE, there are features which, to my mind, make this an SE PLUS. It's not quite a CE: no integrated Strategy Guide, No "who cares" assortment of Wall papers, Art, re-playable music, etc. BUT there are extras: a. A version of a collectible: Money, Doubloons, which are banked for you when you find them. You spend them on fixing your ship. b. A side-kick (like the elves, dogs and clowns in other games) Mr. Gibbons, a colorful bird who can retrieve items in high places...and maybe more... c. An exceptionally good map which indicates where to go and where you have things to accomplish. While not a strategy guide, it, along with a slowish, recharging hint button, together perform basically the same function. There are some funny anachronisms. Early on in the game (not like I'm that far along anyway) a "pirate" uses a pair of binoculars that look to have been purchased at a 21st century sporting goods store. Later on, there's an actual elevator...a little Gilligan's Island flavor to it...but I didn't think there was electricity yet to power this dumbwaiter. Finally, I had one omen that could not be ignored. As I'm playing with my headphones on for sound, and in the middle of a mini-game with a surgical-dental theme, my iTunes kicks in and starts playing the theme from ER over the regular sound of the game. I don't know how it happened but it was meant to be and any doubts I had about getting the game disappeared along with Jolly Roger's Gold Tooth. I don't think you'll be unhappy with this game. Chase me down if you are. Play the free trial. I did and I was convinced.
January 29, 2014
Yo, Ho, Ho and a Cursed Ring.
Our story begins as your ship was caught in a fierce storm and run aground on an island and it appears that you are the only survivor. Although your crew is gone you do find survivors on the island. Who are they and where did they come from? Even more questions arise as you see the ?pirate? with the glowing green eyes. Through gathering bits of information you find the story of a pirate, Roger Langley and his lost love Claire. There is not a lot to say about the technical aspects of the game but I did find that even using the custom settings option, and selecting the ?fast? setting for the hint refill button it still takes at least two minutes, which is way too long IMHO. The graphics are basic but very good since they appear to be very crisp and colorful. The only thing that seemed apparent with the graphics, and this is what makes them seem very basic, is that they lack depth or a 3D factor that we see in some of the more sophisticated games. The sound package is good but some of the voiceovers are a bit odd although they are lip-synced ? something I think adds a lot to the quality of a game. You will find the basic tools available as you navigate through the game - you have a diary that contains your objectives as well as your notes that will help you as you progress on your adventure. There is also an interactive transporter map that indicates where you have tasks to accomplish. After you get into the game you will acquire a macaw that will help you when needed as you progress on your adventure. The gameplay flows smoothly and is clearly a lot of fun with the addition of the standard, interactive HOS. The HOS are easy to complete since they are very basic with the listed items being clearly visible and not too obscure; although, if you don?t want to hunt for items you do have the option to switch to a mahjong type game as an alternative. There are also lots of mini-puzzles to be found during your adventure and none of them are difficult. Since there are only so many types of puzzles that developers can come up with, most of them will be familiar but they are nevertheless still fun and add a lot to the gameplay. I had the opportunity to do the beta test for this game last year and because there were doubloons scattered around the island to be used to repair my damaged ship, I had thought that this game would be released as a CE. I am guessing, however, that the developer chose not to take the game a step further with the addition of a strategy guide and other CE content and instead released the game as a SE. Overall the game is a solid four-star game with a great story and one that I knew I wanted to add to my collection. The gameplay was fun and seemed to flow easily with the story, so at the end of the demo I found myself really wanting to hit the buy button so I could continue. As I mentioned above I was surprised that this game was released as a standard edition since with a little work it could easily have been a CE; however, I am thankful for the SE release as it gives me a chance to use one of my PCCs. It is not often that we get a SE first release with a great story so I consider this a very nice gift from BFG. As always, I recommend that you at least try the demo to see if this is a game you will like.
January 29, 2014
Great fun to play
Throw a somewhat simplistic view graphics primitive but we are in the jungle. Also the story quickly takes over and my curiosity drives me to push myself in this jungle. Very few hidden object scenes but many puzzle out of the ordinary that have given me a real pleasure to play until the end of the curious outcome. The future looks bright studios Seven Sails, a more elaborate graphics, the same principle many puzzles to advance and not of HO, a compelling story and the next game could claim to be a Collector's Edition game
January 30, 2014
curse of the ring
I enjoyed the 3 or so hours it took to complete this game. glad I didn't pay full price for it. as I like games to last at least twice as long. but as I said I enjoyed it, don't know yet if I will play it again for a while.
January 29, 2014
Not Great But Not Too Bad
Based on Demo: Your ship has crashed on a deserted island & you meet up with the captain from a previous ship wreck. He unfortunately found an evil green possessed ring that makes him a powerful tyrant. You, of course, have to get the ring away from him as it is growing more evil over time. The storyline is nothing new but it moves along as you gather the resources to combat the evil ring. The music is nonintrusive, the graphics crisp/clear, voiceovers better than some others, HOG's are the usual messy junk pile with some interaction & the mini games are not the usual join electric wires or move string/rope out of the way. There is a diary & a very helpful map. The hint button could be a litter faster. Note to Devs: It's a make-up brush & NOT a tassel. I always play on the easy/casual mode as I like to play a game for fun without the frustrations/challenges some games can get into. So try the demo for yourself & see if it's up to your standards of game play.
January 29, 2014
Obscure Legends: Curse of the Ring
Got this game for a free one, I am glad to say I had fun. I enjoyed the game even though it was short. I've almost no luck with the 6.99 games lately because they were either stupid or the last 2 games didn't work at all.
January 29, 2014
Beautiful Little Game But Yo Ho Ho How About More Pure Adventure Games?
I'm still here, BFG reviewing this lovely game for those who are beginners or just want a good, relaxing game. The sound was awesome as well as the artwork. Creative puzzles and hidden objects were very easy which is nice if you don't want to boggle the brain. However, my brain hasn't been boggled too much of late. Have to really search for something creative and with a compelling plot. Enjoy! -Mama Mia-
January 30, 2014
A Very Enjoyable Game ...
Nice Graphics, Sounds, Voice Bits And So On ... A No Frills Game With Plenty To Do And Very Enjoyable To Play ... Perhaps A Little Short, But Would Love To See Another Game Like This As A Follow On ...
February 8, 2014
The Apple logo is a trademark of Apple Computer, Inc.
The Windows logo is a trademark of Microsoft, Inc.