Echoes of Sorrow II
Step into a dream machine and travel through your husband's mind to reveal the truth of what really transpired on the evening that left him comatose and your children missing. It's a whole new world inside his head—a world not as bright and joyful as the one on the outside—and in the face of tragedy, you must navigate the darkness to unravel the events of that fateful night. Become entranced by this immersive story as you solve challenging puzzles, find scattered clues, and reclaim your kidnapped children.
47 locations
20 mini-games
Two difficulty modes
Game System Requirements:
OS:

Windows XP/Windows Vista/Windows 7/Windows 8

CPU:

1.4 GHz

RAM:

512 MB

DirectX:

9.0

Hard Drive:

772 MB
Game Manager System Requirements:
Browser:

Internet Explorer 7 or later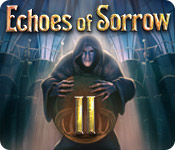 NEW299
The Big Fish Guarantee:
Quality tested and virus free.
No ads, no adware, no spyware.

Reviews at a Glance

Echoes of Sorrow II
0
out of
5 (
0
Reviews
Review
)
Customer Reviews
Echoes of Sorrow II
23
23
An Enjoyable Game ...
Nice Graphics, Sound And Not Much Else ... An Entertaining Enough Game To Fill In A Rainy Afternoon ... Did Grow A Little Tired Of Repeat HOG's ... Worth A Voucher ...
February 22, 2014
Sparkles and Arrows Galore!!
Echoes of Sorrow II is the story of love, loss and betrayal. The story begins with a tale of rivalry, then a marriage and subsequent murder of our heroine?s father. The storyline is interesting and I would like to see where this one goes even though I think I already have it figured out but I could be wrong. The technical aspects of the game are okay and only functional with nothing more than basic options being offered. There are not many settings to choose in either game play mode or sound ? just basically two options for sound and two for mode of play. The game does have voiceovers but they are only okay and nothing spectacular. The graphics are very good and crisp with no graininess, which is a plus for me. What I hate about the game is that there are annoying directional arrows flashing everywhere, particularly if you are in a location that has several different areas to visit. The game also has an overabundance of sparkles - way too many for my liking. I changed the game mode from casual to expert and the sparkles are still there. What is up with all the sparkles and arrows? It seems like someone didn?t have enough to do and added random arrows and sparkles all over the place just to be busy. Unfortunately, this game seems like it?s been sitting on the shelf for a very long time. The game?s developer was at one time one of the top in the casual game industry but in recent months it seems like they have been putting out one mediocre game after another. I don?t know where they went wrong but things don?t seem the same with the A-Team. This slip into mediocrity is evidenced by nothing innovative in the game. The HO scenes are old-school list type with nothing going on. Although the puzzles in the game are interesting there is nothing new and none of them are difficult to solve. Overall the game is a disappointment with its story being the only redeeming factor. I may use a free punch to get the game simply because I want to see how the story plays out. Hopefully, I won?t find the arrows and sparkles to be so distracting that I don?t complete the game. As always, I recommend that you try the game to see if it might be one you will like. I chose to recommend the game because of they storyline and because some of you may not be as distracted by the arrows and sparkles as I was.
February 3, 2014
Sparkles
The story line on this game worked. The audio worked. The HOG worked. What didn't work were sparkles everywhere your mouse covered something that needed to be done, even on the harder mode of play. I went back and played the first Echoes of Sorrow and it was good enough I might even purchase. This time the sequel didn't work for me. Bessie Mae
February 3, 2014
Too Many Sparkles for Me!
These Developers are no strangers and have been around for some time, producing exceptional games that always promis to entertain. Unfortunatley I am disappointed with today's game, and found nothing entertaining about it. What is up with all those sparkles and glints? Seriously, is it a glitch or are we taking hand-holding to a new level? Despite the fact I chose advance mode of play, I see sparkles and glints and arrows everywhere and the fun just died along with the game. I will be truthful and say that I am no fan of the story either. So my husband is a journalist that I love and respect, also the Father of my twins. Suddenly my Father is dead and hubby is arrested and what do I do? I marry the third wheel who incidently was my Father's partner in crime. And so our story continues by traveling into the comatose mind of my ex to find out where my twins are and what really happened to my husband. Ok so the story isnt that bad but still, I really dislike the woman for having married the other man. Where is the love? A very classic HOPA with cartoonish one dimensional graphics that are sharp, voice-overs and I liked the music in the background. Game features only include a journal and that really is it. You have standard hidden object scenes that are not interactive, basic mini-games and alot of back-tracking to do picking up and using inventory items. Had it been not for the sparkles, the glints, the constant poking at you to go here or there, I may have enjoyed the game for what it was: a classic HOPA. Needless to say I will definitely pass on this as my eyes need shades to play this game. I really think these developers need to keep up with the times.
February 3, 2014
Good if You Can Finish It
I was enjoying this game even though it was not challenging, There are too many sparkles that you can't turn off. The story line was engaging and I was looking forward to solving the mystery. I had decided to buy after playing about 20 minutes but in the 1st hidden object scene in the car no objects were added to the inventory and some of those items were needed to move forward in the game. So in the end, it is a no buy.
February 3, 2014
Not For Me
BASED ON DEMO FIRST IMPRESSIONS Very low key intro with the character?s voiceover explaining (confusingly) the lover?s triangle that tore her world apart. The voice is good, the cut scene graphics are not. But not enough to distract. SIGHTS & SOUNDS Graphics throughout the game are good, nothing special, but that?s okay, right? The HOP scenes are static, which is NOT good. It gives this game a flat look. WHAT?S HAPPENING We pick up this story after your husband is shot by your jealous ex, Luke, who has also killed your father and kidnapped your children. Using the mind machine from the first Echoes Of Sorrow, you enter the comatose mind of your husband, seeking the truth behind all the violence. And apparently, we are not going to like it. MAKING PROGRESS There are 2 types of HOP in this game ? multiples, and interactive lists. The list HOPs (static, no interaction) are visited twice. Sometimes asking for the same items. There are many, many puzzles and mini-games. I didn?t find them all that hard or original. Except one lock pick mini-game that required hand/eye coordination to complete. I probably won?t buy this game, specifically because of this mini-game. Skip is quite slow even on easy, and the mouse movements needed had me slipping out of the puzzle window continuously, at which point the skip counter started again. After endless attempts at being patient for the lengthy skip to fill, I just gave up on the game. (Where there?s one nasty niggly thing, there?s sure to be more.) The journal keeps information after the event as well as codes etc. The directional hint is good, but you must wait for a refill to go each step to the right location. Luckily, it refills a lot faster than skip! FAMOUS LAST WORDS I quite liked the first Echoes Of Sorrow, despite its age and simplicity, but this one, well it just frustrated me. It will suit many others, though, and there are a lot worse games out there. Still, going with my gut ...
February 3, 2014
A Blast From the Past
While this is a decent game, I am a little surprised that BFG would just now be "releasing" it, as it was released on other sites in early Sept. 2013. The storyline is interesting and flows smoothly after the first 10-15 minutes of play. There's not a barrage of HO puzzles, and the items collected are related to the story at that particular point. Most of the mini-games present little challenge, but there are a couple that will make you think. The game is a good length for an SE and the challenge and storyline make it worth giving it a try.
February 3, 2014
My sorrows echo this game
It has a great story line and it leans a bit on the edge of being a good game. There was way too much sparkles. The music was ok. The flow of the game was okay, but not great. I think the story felt a little disconnected. I might consider this on a free punch on a rainy day.
February 9, 2014
Yuck
Graphics average. Click penalty even in casual. Hint has to recharge after telling you to move to a different location. Walk into a room and there are arrows flashing to tell you where the exits are. Too easy, as well as annoying. Of course, it's because the cursor is too primitive to do more than pointer and magnifying glass. HO item list has very small text even though the space is large, so I have trouble seeing it on some screens. Everything of interest in a room has sparkles and you can't turn them off. When you zoom in on a table or something with items to pick up, it tells you to collect items. Well, duh. Inventory bar retracts automatically and can't be locked open. Mini games and puzzles are few, old, tedious, and easy. Basically boring. Feels old even though the files were recently compiled. Not fun. Not recommended.
February 3, 2014
SCREEEEAAAMMMM!!!
WHAT ARE YOU THINKING? go here, go there, arrows everywhere you look! hit the hint, as there are NO good directions given, and what do you get??? ARROWS!!! now you get to wait for the hint to recharge, to again be given no instructions as to what to do or which of the arrows to take. most of the time you're told to go to an area where there is something to do, but you seldom have the items needed to complete the task. i can't comment on the sound, as i always play muted, the graphics were ok, but not up to par with the majority of games you get nowadays. it took forever to get out of the house. who would think that the photo pieces gathered need to go on the safe, so it could automatically morph into the picture of the kids, turn itself over and show you the code to open the safe??? i had to open the spot with the safe and again hit the hint button, (it was just a fluke that i thought to do this) where it finally let me know what to do. problem is, it didn't tell you what to do, it did it for you! what could have been a good game was just barley mediocre...:o(
February 4, 2014