Finders
Carve a path through an unforgiving wilderness to rescue a hero trapped by a villain! As you balance time and resources, you'll also invent clever machines to accomplish special tasks, make friends with a Yeti, and prepare for the impending showdown against your enemy. Finders will provide hours of unforgettable fun!
Step-by-step tutorial
Gripping storyline
100 quests!
Game System Requirements:
OS:

10.9/10.8/10.7/10.6

CPU:

1.6 GHz (INTEL ONLY)

RAM:

512 MB

Hard Drive:

101 MB
Game Manager System Requirements:
Browser:

Safari 4.0 or later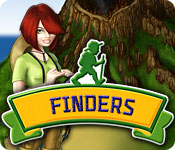 NEW299
The Big Fish Guarantee:
Quality tested and virus free.
No ads, no adware, no spyware.

Reviews at a Glance

Finders
0
out of
5 (
0
Reviews
Review
)
Customer Reviews
Not enough stuff to do
I found myself walking away from this game multiple times just to wait for things that take 7 minutes to finish...because there isn't anything to do while waiting.
August 24, 2013
It's okay...
It takes some getting used to on how to play it but once you're into it it gets pretty good. I wish I would have figured it out within the first 5 minutes instead of the first 30, though...
March 13, 2014
pretty fun
good visuals and it was fun to play
November 18, 2013
OK, but not Great
The storyline is good, the graphics are good, and there is a lot of variety. BUT the game play is very slow, and at times it is difficult to see any connection between the activities you can complete and your ultimate goal. You gather stuff, and cook stuff, and make stuff, and sell stuff...and every once in a while you do something about your quest, which seems to be to rescue someone. If you have enough resources you can go in the mine and play marble popper. You have to constantly replenish your resources because you won't know how much you need of them until you reach certain points in the game, and then you spend all your time catching up to food points or $. Unlike Promised Land or Little Folk of Faery, where the inhabitants continue performing tasks on their own, this game does nothing unless you click. I'm really tired of fishing. I'm really bored waiting for the $ to catch up so I can buy the next big thing. I don't see any point in building anything more until I know why I'm building it. Every time you go to a new place, you only get two tents and two players, and you're starting all over again building up your team. You can go back to previous locations, but you have to pay to transport goods from there to your new one. I'd like to complete the game, but keep shutting it off after only a few minutes now as I'm already bored. Sorry, BigFish; this one is not a winner for me.
September 18, 2013
The Fatal Flaw
I will start off saying 1) at the outset, I thoroughly enjoyed this game, enough so that I purchased it and 2) I quit playing right before the 3rd area of exploration. Why did the game go downhill? The first area was unique, a constant build-up of materials, quests, and the need to buy things/expand the camp. I was quite engaged with these aspects, engaged enough not to notice that the plot was a bit underplayed. Then I got to the second area and found myself basically starting over and repeating everything I'd done in the first area. I soldiered on, looking for a story to draw me in enough. On top of repeating everything I'd just done, the only way to move all the supplies gathered from the first area was to pay exorbitant amounts of money to have them flown in. By the time you had that much money, you really didn't need the supplies, but what the heck, I moved them anyway. As I neared the end of the second area, I realized that the story just hadn't drawn me in enough to want to repeat, for a third time, everything I'd built in the first and second areas. Nor did I want to pay, yet again, to move all my accumulated supplies. Frankly, I was just bored with the game. This game could have been much better if the story were more developed and more engaging, and if, rather than simply repeating things in each area, you instead started with the basics you had in the previous area and built on those. There was not much new between the first and the second areas, other than the setting. Additionally, don't force players to wait and pay huge amounts of money to move things they've already spent time and money collecting or cooking or even buying. It's just frustrating.
September 6, 2013
glenard
I am a fan of casual relaxed games, but this one is too relaxed. You wait forever for anything to get done, it is a very very slow game. There are also no instructions as how to do anything-you have to figure it out for yourselves. I was looking for another game in this genre to buy but this one is a no go for me-way too slow (and I don't like timed games-so for me to call this slow, means it is really slow)! For these two reasons I would not recommend this game.
August 14, 2013
could be a lot better
Very slow game no instruction as to what to do or how to play. I completed the first bit but then spent 10 minutes looking for the shop to buy my tents. There was no help as to getting food or how to gather materials except little boxes that did nothing when you clicked on them. This could be a nice game if you could figure out how to play it.
August 14, 2013
NOT a TM game
First off this is not a TM game--more a strategy/sim, Virtual Villagers type game. As others have stated, directions are poor. Once I finally figured out that I needed to click on a quest once I had finished it to receive the next quest, the game got more fun & I was enjoying myself & got til level 6 when I got to the fishing game. Couldn't understand the fishing game directions & couldn't catch a fish & no skip or pay penalty so at that time I couldn't continue the game. Pity because I like the storyline & concept, but execution is a bit lacking. If you like the VV type game tho, you should give it a try.
August 15, 2013
Badly explained
I normally enjoy these games where you have to gather things and supply. Although many of these games are pretty easy to get, I will say this on should atleast have had a BETTER tutorial aviable. Much time is to trying to figure out things. Like food.. yea the workers get hungry, but it cost 5 food to gather a mushroom. So then you gotta look trough everything to find out where it is and what to do with it. I am left with the feeling the developers on the game made it during their lunchbreak.
August 14, 2013
Good game but not great
This game runs very well for the first two scenarios and then it gets repetitive. While the good part is that the challenges are new and exciting, and the scenarios are quite long,you can play with your own sweet time, bad parts are that teher are not too many upgrades and every scenario seems to have the same sort of challenges and some of the tasks given are quite repetitive like making fish soup over and over again. The scenarios and the design is nice, very nice really, music is not overbearing and the story moves just fine, except that you have to start with building same tents and same bbq and same collecting berries. The makers should see to that! Won't recommend, and strongly suggest to play the demo first
April 16, 2014
The Apple logo is a trademark of Apple Computer, Inc.
The Windows logo is a trademark of Microsoft, Inc.