My Kingdom for the Princess IV
My Kingdom for the Princess IV is the long awaited sequel to your favorite time management game! A great gift for the entire family!

The King has appointed Prince Arthur as chief of the Royal Service for Rescuing Lost Princesses. The service is in great demand as any princess must be kidnapped by a dragon, bewitched by an evil sorcerer and rescued by a handsome prince at least once in her life. To deal with all of the quests, Arthur will need his courage, ingenuity and most importantly, your help!
Special effects and five unique sky kingdoms
Beautiful cinematic comics and hilarious plot
Bonuses, enchanting music and trophy castle
Game System Requirements:
OS:

Windows XP/Windows Vista/Windows 7/Windows 8

CPU:

2.0 GHz

RAM:

1024 MB

DirectX:

8.1

Hard Drive:

308 MB
Game Manager System Requirements:
Browser:

Internet Explorer 7 or later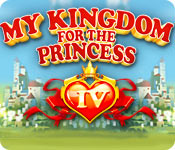 NEW299
The Big Fish Guarantee:
Quality tested and virus free.
No ads, no adware, no spyware.

Reviews at a Glance

My Kingdom for the Princess IV
0
out of
5 (
0
Reviews
Review
)
Customer Reviews
My Kingdom for the Princess IV
110
110
Enjoyed the others
I wish I had tried before buying did not live up to my expectations did not like the fist levels at all - stick to what people like - sorry
March 1, 2014
What Happened?.......
I do not typically write reviews; however, I feel so strongly about this sequel that I had to write one for this game. I am a huge fan of MKFTP. So much so that, like many others, I purchased sight unseen. Lesson learned. Previous installments' graphics were mostly light, bright, and cheery. This one consisted of primarily a dark, kind of gothic feel. Unlike 1-3, this game was more about performing the mundane task of collecting resources (multiple clicks to clear/retrieve ONE item), rather than actually having to plan a strategy that involves your resource buildings (sawmills, wells, farms, etc...) IMHO, the one aspect I did like was that they got rid of the arcade-type mini-games between levels. Alas, that is the only positive comment I can come up with. I do hope the developers pay heed to gamers' feedback and devise their next game to more closely align with the MKFTP that we all know and love.
February 14, 2014
Repetitive - Not Like First 3 Games
Very different from the original games. You are forced to go back and do the same tasks over and over again to pick up items individually. Much less fun. I am glad I only did the free trial; I won't be buying this.
February 14, 2014
Was this made by a different company??
What a disappointment!! I LOVE the first 3 games in this series, but within the first 2 minutes of this edition, I was sitting here wondering who the heck made THIS one?? Within the first intro to the story, there are about 5-6 very easy & very obvious typos - "exiting" instead of "exciting", "resquing" instead of "rescuing", & "beatiful"?? This is 4th grade material! And the game - UGH. It's like the creators sat around saying, "How can we take an amazing game & make it super annoying?" Having to run 2-3 times to get ONE pile of resources EVERY time is insanity at its finest; but having to get through obstacles with multiple attempts - spending the resources each time - makes this game just plain BAD. I love my TMs #& want more!!!# & LOVED this series, but I'm acting like this 4th lame attempt just doesn't exist - I'll keep my memories of the first 3 being great & leave it at that.
February 4, 2014
Too Much Running and Very Little Doing
First, for my fellow gamers, I demo for the full hour, because even well-established series can release games with technical problems. Also, gameplay may be anomalous and not to your liking. This is the Halloween III of the series. I don't like what I call "negatives" introduced into my time management games: thieves, insects, and, in this case, dragons. Things you have to battle to carry out your tasks. They are the bane of people with repetitive stress injuries and, in general, not fun. How much they plague this particular game, I don't know, because, frankly, I am bored by it. I have only made it to about level 7 or so because all my efforts seem to be spent chasing down resources rather than completing tasks. Getting only one resource per trip doesn't allow for much in the way of strategy. You HAVE to fetch them. This isn't challenging at all. I am deeply disappointed and don't know how much value I'll get out of this purchase.
February 6, 2014
NOOO! Ruined my favorite TM game!
I was so excited to see MKFTP 4 that I almost hit "buy" instead of "try". Glad I didn't! I would have been really upset! This game didn't have any of the elements that made the other 3 versions entertaining for me: cool graphics, strategic play and a sense of accomplishment when a level was completed at the gold level. Collecting giant fruit on floating islands is so juvenile that it seems as though it was created for a 4 year old player. Lots of running around to collect resources and lots of waiting for the resources to regen. BORING! Couldn't play for longer than 15 minutes. What a snore!
February 8, 2014
Very disappointed
I almost bought this game sight-unseen because I loved the first 3 installments. I am very, very glad I didn't. The opening story line was so full of typos, I knew the game was in trouble before I even started playing it. It is nothing like the first 3. It was extremely boring, and not at all challenging, with no requirement for strategy. I understand the desire to do something different after 3 iterations of the same game, but this was a very big step in the wrong direction.
February 5, 2014
Impossible and not worth money
This game starts out rather well for about 10 levels and then suddenly one finds themselves unable to complete a level or even come close because one has no lumber and no food. You have to wait and wait for resources. Any way you try to play the level you will fail. This is another in a line of failures. The game seems to have been rushed out without adequate testing which resulted in impossible times. Perhaps the coders should have actually played it once themselves. Because the game is impossible to finish, I must give it a do not buy recommendation.
February 6, 2014
I want the oldest My Kingdom for the Princess 1,2,3...
I wanted to buy it but i will not because i did not like this new play of game... i loved the oldest games!!!! I hate this one (IV)! Please try to make a new one with the old fashioned way!
February 7, 2014
What happened to MKFTP???
Even though I am no a fan of Time Management games, I played the first three MKFTP and based on these experiences, nearly bought this one here without a trial. Thank Goodness I didn't!!! What on earth has happened to the previous fail-safe model? Where MKFTP 1, 2 and 3 can be quite difficult, at least I felt they made sense when it comes to thinking about and working on a strategy for each level. This feeling I don't have here at all. Nothing makes any sense to me. I felt running about not knowing exactly why. What is this with running back to the same pile of resources and obstacles a few times? The sliding of the islands I can live with, because I can turn it off, but this feature is another completely ridiculous addition. As is the 'Not-so-handsome-Prince' that keeps jumping into ones face. Where I can understand that the developers want to take a games-series to the next level up, they have achieved the exact opposite with this one. I'm glad that MKFTP 4 wasn't MKFTP 1, otherwise I'd never looked into the other three. I wonder, providing they plan on a fifth, how they can rectify this train crash of a game. It would have been a lot more fun if they'd left the way obstacles are removed and resources being collected as it was and added some whimsical minigames and new opponents. Fire spitting dragons that have to have water thrown at them from a pond that first needs building, instead of hacking away on rocks, e.g. and btw with this idea I came up as I wrote it, that fast! And unlike developers I don't even earn money for having ideas. Where I highly recommend MKFTP 1,2 and 3 and really recommend the fourth in the series.
February 13, 2014