My Kingdom for the Princess IV
My Kingdom for the Princess IV is the long awaited sequel to your favorite time management game! A great gift for the entire family!

The King has appointed Prince Arthur as chief of the Royal Service for Rescuing Lost Princesses. The service is in great demand as any princess must be kidnapped by a dragon, bewitched by an evil sorcerer and rescued by a handsome prince at least once in her life. To deal with all of the quests, Arthur will need his courage, ingenuity and most importantly, your help!
Special effects and five unique sky kingdoms
Beautiful cinematic comics and hilarious plot
Bonuses, enchanting music and trophy castle
Game System Requirements:
OS:

Windows XP/Windows Vista/Windows 7/Windows 8

CPU:

2.0 GHz

RAM:

1024 MB

DirectX:

8.1

Hard Drive:

308 MB
Game Manager System Requirements:
Browser:

Internet Explorer 7 or later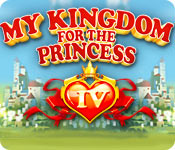 NEW299
The Big Fish Guarantee:
Quality tested and virus free.
No ads, no adware, no spyware.

Reviews at a Glance

My Kingdom for the Princess IV
0
out of
5 (
0
Reviews
Review
)
Customer Reviews
My Kingdom for the Princess IV
127
127
disappointment pure
Unfortunately I bought this game right away and did not try firtst. It is absolutely boring. A "give my money back" case indeed. Only stupid running for supplies, without any challenge. Sometimes I fell asleep due the monotone "klick,klick,klick..." I don't recommand this game
February 9, 2014
I like the others before this better
I don't like this one at all. These are the things I did not like. 1. I didn't like the sky part and being on floating rocks. 2. I didn't like that I had to keep clicking on the resources over and over.....I'd prefer that they picked them all up at one time. 3. I didn't like the scenery at all. 4. What I don't like in ALL of the sequences of this game is that there is no 'continuous line' to show WHAT is blocking a path....it just says "the path is blocked" with no guideline to show what is blocking it. In "Gardens Inc. 2: The Road to Fame", when a path is blocked, there is a red line showing what direction to go and what's blocking it. I DID like the fact that you could click on things to do in sequence. The other games in this sequence just said "you don't have a free worker". But even with the part I liked, it's not enough for me to buy this game. Work on 5 and I might buy that one. LOVED 1, 2 and 3.
August 8, 2014
Disappointment after the first 3!
I LOVE the first three My Kingdom for the Princess games. This fourth one tried to jazz things up and -- in my opinion -- ruined a good thing. Every stack of food, or wood, or gold, you have to send your guy to multiple times to clear it out of the way. Every obstacle you need to dig out or build, you have to dig out or build multiple times, over and over again. So it feels like nothing gets accomplished. It feels futile and frustrating -- like real life! :( There's no warehouse anymore so you can't stockpile resources. Everything tops out at 20 items, and you can only collect one piece of food or one piece of gold at a time, so it takes forever to build up enough resources, and then it takes pretty much all the resources you have to dig up the cannonballs (stupid), or build the bridge, or collect the papers, or whatever. And then you have to do the same thing all over again! Two or three times! It's really annoying. The guy who is sort of your guide through the game has a really sappy expression on his face, and he pops up to tell you when you've accomplished a major task, and he's huge and in the way, and there's no way to get rid of him; you just have to wait until he fades out. And just when you're getting into a rhythm of collecting resources and getting stuff done, the stupid dragons show up in the air and you have to shoot them or have your crystal palace built which is supposed to shoot them for you. Even when the crystal palace is built to its full extent, it doesn't work fast enough, so you just have to sit there and wait until all the dragons are gone. Which is also annoying. It's difficult to complete the levels in the allotted time, so maybe that means the level of challenge is good, but the KIND of challenge is not good. The reasons for the difficulty are all annoying ones, so it's not a welcome challenge but one that, frankly, ticks me off. Any of the first 3 games is better than this. Their storylines are hokey -- but delightfully so. This version is just annoying.
July 16, 2014
Terrible compared to first 3
Terrible, terrible sequel compared to the first three. Having to go back 3 times for resources?? Really? I wasted my money on this game. Don't make the same mistake. Story line is awful. Don't just don't.
June 5, 2014
Enjoyed the others
I wish I had tried before buying did not live up to my expectations did not like the fist levels at all - stick to what people like - sorry
March 1, 2014
What Happened?.......
I do not typically write reviews; however, I feel so strongly about this sequel that I had to write one for this game. I am a huge fan of MKFTP. So much so that, like many others, I purchased sight unseen. Lesson learned. Previous installments' graphics were mostly light, bright, and cheery. This one consisted of primarily a dark, kind of gothic feel. Unlike 1-3, this game was more about performing the mundane task of collecting resources (multiple clicks to clear/retrieve ONE item), rather than actually having to plan a strategy that involves your resource buildings (sawmills, wells, farms, etc...) IMHO, the one aspect I did like was that they got rid of the arcade-type mini-games between levels. Alas, that is the only positive comment I can come up with. I do hope the developers pay heed to gamers' feedback and devise their next game to more closely align with the MKFTP that we all know and love.
February 14, 2014
Not as good as the others
I was very disappointed with this game. I love the previous MKFP games but this one bored me. They basically did away mostly with buildings for collecting resources and force you to pick them up along the way, which quickly became boring and tedious. The dragonets were a fun addition, however. I can understand trying something different but in this case, for me at least, it fell far short of the previous games. At this point, I wish I hadn't purchased it.
February 13, 2014
Just plain bad compared to MKFTP 1, 2, & 3
This is one of my favorite series of games, but like so many others I fell for buying this game without checking it out first. Big mistake on my part. I agree with others about having to run to a resource 2 to 3 times to completely pick it up. Yuck! But another big thing that disappointed me with this game is not seeing the old warehouse that was in a lot of levels in the other 3 games that allowed you to up the amount of resources that you could store. This game is 20 of each max. Boo!!! Now here's a real kicker--another Arthur, goofy looking with blond hair?! Oh please!!!!
February 11, 2014
a let down
I bought this without even trying it because I loved the first 3 in the series so much. Then came the rude awakening. Duh, Mangos just lying around somewhere, rather non-sensical and that floating business? Is that meant to aid the game play? It was quickly apparent that the developer instead of sticking with what worked before and polishing it up some more, wanted to be creative, which backfired badly, in my opinion. The worst for me was that there was hardly anything to build anymore, in fact maybe once or twice and the rest was either fix existing structures or pick up, pick up, pick up. And at that each pick up point a number of times. On top of that the way was blocked with the to-be picked up stuff. Here are the things which didn't work for me - level goals not visible - nothing much ever to build - multiple collects on the same resource - no volume control on voice overs - no custom cursor turn off - attack birds in the sky not well visible - same thing over and over Add to that the fact that the challenge level did not slowly increase, but there were hard spots up front and then the whole last chapter was an utter bore and super easy. Big pity for one of my favourite Time Management series.
February 11, 2014
Disappointing sequel
I agree with most of the 1,2 and 3 stars ratings. A very disappointing game, compared with the other previously games of the series. The only thing I found interesting was the multiple click options you have once you begin the levels. For the rest, it's annoying the constant back and forth picking up items instead of thinking about the strategy.
February 10, 2014
The Apple logo is a trademark of Apple Computer, Inc.