My Kingdom for the Princess IV
My Kingdom for the Princess IV is the long awaited sequel to your favorite time management game! A great gift for the entire family!

The King has appointed Prince Arthur as chief of the Royal Service for Rescuing Lost Princesses. The service is in great demand as any princess must be kidnapped by a dragon, bewitched by an evil sorcerer and rescued by a handsome prince at least once in her life. To deal with all of the quests, Arthur will need his courage, ingenuity and most importantly, your help!
Special effects and five unique sky kingdoms
Beautiful cinematic comics and hilarious plot
Bonuses, enchanting music and trophy castle
Game System Requirements:
OS:

Windows XP/Windows Vista/Windows 7/Windows 8

CPU:

2.0 GHz

RAM:

1024 MB

DirectX:

8.1

Hard Drive:

308 MB
Game Manager System Requirements:
Browser:

Internet Explorer 7 or later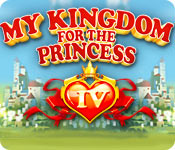 NEW299
The Big Fish Guarantee:
Quality tested and virus free.
No ads, no adware, no spyware.

Reviews at a Glance

My Kingdom for the Princess IV
0
out of
5 (
0
Reviews
Review
)
Customer Reviews
My Kingdom for the Princess IV
127
127
SO disappointed
I can't believe any fan of the first three games in this series gave this 4 or 5 stars. - Having to revisit resources three times to clear them is frustrating and boring. - Arthur constantly popping into view is very annoying. - Some of the obstacles like the precipice look the same before and after you've fixed them/built the bridge, etc so it's difficult to tell if you've completed them or not. - Changes to the graphics (like the giant cartoony fruits) make this game look like it's geared to children. The games in this series usually suck me in for far longer than I intended to play. This one was so bad, I was ready to exit by level 3. I came back the next day and played another few levels to see if I felt any different about it, but nope. I bought MKFTP II and III without playing the demo first. I'm so glad I didn't do the same with IV. I am not going to purchase it, and will be deeply reluctant to buy any future installments in this series. I've never reviewed a game before, but this was such a disappointment, I feel compelled to warn others. Fans who enjoy this series should NOT buy this game.
February 16, 2014
I pity the princess
I'm a huge time-management game fan but I never could get into the MK4TP series. With each new release, the series doesn't get any better. Some have compared this series to the Roads of Rome and I can agree with that, cause I don't care for the RoR series either. Neither series even begins to compete with the Royal Envoys or Island Tribes. What I look for in a good TM game is decent gameplay. Where success is pretty much guaranteed if you follow a strategy. Sadly, this recent release of MK4TP required me to repeat the fourth level twice just to get the gold and by the fifth level, I gave up and uninstalled the game. The graphics are not impressive and the voice-overs are incredibly annoying. There is no "no timer" mode and your queu clicking is limited. The background scenery is repetitive and dull. IMO, you are better off with the Royal Envoy, Island Tribe, Northern Tale series. They each allow varied queu clicking, varied graphics, decent achievement lists/trophies as well as numerous game modes. I like having the option to play a TM game in 'relaxed mode' simply because sometimes some game developers release games that have some levels that are just frustrating to no end. People should have that option. With MK4TP you don't.
February 18, 2014
I really hate this game
I love the first three my kingdom for the princess games but this one I actually hate. I really really wish i had played the trail before i brought it but thought it was going to be as good as the other three so just brought it. I will not be buying number five unless they go back to the old format. running three times to get supplies is just stupid i could rattle of lots of things but i give this game the big thumbs down.
February 9, 2014
What happened to MKFTP???
Even though I am no a fan of Time Management games, I played the first three MKFTP and based on these experiences, nearly bought this one here without a trial. Thank Goodness I didn't!!! What on earth has happened to the previous fail-safe model? Where MKFTP 1, 2 and 3 can be quite difficult, at least I felt they made sense when it comes to thinking about and working on a strategy for each level. This feeling I don't have here at all. Nothing makes any sense to me. I felt running about not knowing exactly why. What is this with running back to the same pile of resources and obstacles a few times? The sliding of the islands I can live with, because I can turn it off, but this feature is another completely ridiculous addition. As is the 'Not-so-handsome-Prince' that keeps jumping into ones face. Where I can understand that the developers want to take a games-series to the next level up, they have achieved the exact opposite with this one. I'm glad that MKFTP 4 wasn't MKFTP 1, otherwise I'd never looked into the other three. I wonder, providing they plan on a fifth, how they can rectify this train crash of a game. It would have been a lot more fun if they'd left the way obstacles are removed and resources being collected as it was and added some whimsical minigames and new opponents. Fire spitting dragons that have to have water thrown at them from a pond that first needs building, instead of hacking away on rocks, e.g. and btw with this idea I came up as I wrote it, that fast! And unlike developers I don't even earn money for having ideas. Where I highly recommend MKFTP 1,2 and 3 and really recommend the fourth in the series.
February 13, 2014
I want the oldest My Kingdom for the Princess 1,2,3...
I wanted to buy it but i will not because i did not like this new play of game... i loved the oldest games!!!! I hate this one (IV)! Please try to make a new one with the old fashioned way!
February 7, 2014
So disappointing (sorry for my english)
So so so bad in comparation of the three firt MCFTP. Not fun: - when food, wood or gold appear to be bring at home, you have to go three or four times for each to bring it back at home. - new creatures appear that make the game so slow. - there is no more "wherehouse", and you have only 20 numbers of food, wood or gold to finish the level. Graphisms: - are differents, not bad, but i did not like it. It's not anymore "My Kingdom for the Princess" at all ! You don't have time to think how you will manage to finish the level, as it was in the last games.
February 21, 2014
Hate this one!!
I'm so glad I decided to "try" instead of "buy". I was so excited to start playing because I love the first three versions (I have played them more times than I can count)! But, within 5 minutes of playing the demo version I turned it off and uninstalled it. Running back and forth to gather items and having to cut down bushes and such a few times (instead of knocking them all out in one shot)...waste of time and boring. I'm so bummed, I was really looking forward to this one since each version got better and better each time - they have officially killed it.
March 15, 2014
My Kingdom for the Princell IV
I loved all the previous My Kingdom for a Princess. I was really excited to see this one. I played for 15 minutes and this was the most horrible game I have played in a long time. I do not recommend this game. Save your money and credits.
March 6, 2014
I love MKftP - but NOT no. 4!!
Sooo disappointed! I'm a great fan of the other 3 MKftP, and also LOVE Roads of Rome etc. This game I hated. I played it 'til the end, cause I bought it straight away, and it annoyed me all the way to the end. Horrible graphics, irritating floating cities and no warehouses and the usual stuff that might build your game-flow. Long waits in some of the scenes for the same thing, or you'd have to play the level over again; in a very particular order of collecting stuff, and even doing that - there's still a long wait. I loved the genius simplicity of the games before, and that there were a lot of levels to race through, the speed and the build-up. You can't even really reach a point in several of the levels where you build the buildings you need AND (if you're brilliant) manage to hire maximum no. of workers. It's one or the other in this one. Ugh, hated it. That's a definite do-over peeps. Bleh.
March 5, 2014
WOW - AWFUL
I am a huge fan of TM games and the MKFTP is one of my favorite series. These are games I have played multiple times. It took four different days to even get through the demo. This is nothing like the other games in this series. I enjoy the strategy of figuring out which road to take, which building to build next to make the best time. This is just a repetition of picking up the same things over and over. The other games were so pleasing to look at with a fun atmosphere. This game is dark and for me held no visual enjoyment. I was so looking forward to a new MKFTP to enjoy but this certainly isn't it. I could go on about what I didn't like but you get the idea. IMO If you loved the other ones you probably won't like this one.
February 23, 2014
The Apple logo is a trademark of Apple Computer, Inc.