Dark Parables: Jack and the Sky Kingdom Collector's Edition
Exclusive
The legendary Sky Kingdom suddenly appears and a destructive barrage is unleashed upon an unsuspecting town. Play as the Fairytale Detective and embark on an investigation to rescue the townspeople. In this quest, you will meet Jack - an infamous treasure hunter who shares a secret past with the Kingdom - and discover the tragic history behind the chaos.

This is a special Collector's Edition release full of exclusive extras you won't find in the standard version. As a bonus, Collector's Edition purchases count toward three stamps on your Monthly Game Club Punch Card!

The Collector's Edition includes:
Uncover the legendary Sky Kingdom
Adventure with Jack to rescue his fiancée
Breath-taking storyline and challenging gameplay
Bonus Gameplay – Rumpelstiltskin
Expertly crafted wallpapers and more!
Game System Requirements:
OS:

Windows XP/Windows Vista/Windows 7/Windows 8

CPU:

1.0 GHz

RAM:

512 MB

DirectX:

9.0

Hard Drive:

992 MB
Game Manager System Requirements:
Browser:

Internet Explorer 7 or later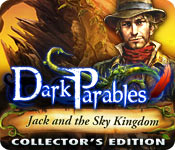 The Big Fish Guarantee:
Quality tested and virus free.
No ads, no adware, no spyware.

Reviews at a Glance

Dark Parables: Jack and the Sky Kingdom Collector's Edition
0
out of
5 (
0
Reviews
Review
)
Customer Reviews
Dark Parables: Jack and the Sky Kingdom Collector's Edition
96
96
Good but wait for the SE
This was a good game but the bonus section was lacking. I would recommend the SE when it becomes available.
March 8, 2014
This is like an Encore, a Curtain Call, A Remembrance of Things Past
The sixth edition of Dark Parables makes its appearance nine months after The Final Cinderella, its predecessor in this prolific series. Stephen Zhao, the president of Blue Tea Games, spoke of his inspiration and said he wanted to merge strong stories with great game-play experiences. The Dark Parables lineup stands head and shoulders above the competition. The problem is, they stand together. I?ve used the analogy in the past of a prolific novelist who writes love stories, for instance (or crime novels, whatever), one after another. Each has its own title, cast of characters and story line, but each is essentially the same book. It?s a formula...a very successful formula, to be sure...but a formula nonetheless. That's the downfall of Jack and the Sky Kingdom. This series has lost its pizzazz for me, and not just because of the formulaic nature. To me, the whole genre lacks sufficient intrigue and edge. I like murder and mayhem and maybe a little of the paranormal for spice. This game has none of that in my opinion. Jack and the Sky Kingdom is written in the first person and you are the detective-protagonist. Don?t be confused by that. Detective or no, this is a fairy tale. Period. In addition to that, whether or not I like the ?genre? is of little importance. This game will be judged as among the best and most highly anticipated games of 2014 by many of you. I just can't agree. FUN FACTOR This game is pretty pure Hidden Object...and little else. As a result, I don't find it very fun at all. VISUAL/SOUND QUALITY This is the best part of the game. Visuals: It?s very beautiful to look at. The visuals are unparalleled. I prefer live acting in games (I think I'm in the minority). While there isn't any of that here, the characters are so well drawn as to look live! The objects are brilliantly drawn. I?ve seen complaints in the past about the quality of the artwork of Blue Tea Games. The complaints are way off target. This is great visual craftsmanship IMO. Sounds: The music SOARS. That was the first note I wrote as I was playing. Splendid music. As for the voice-overs, they are very well done also. Sight and Sound come together with well-executed lip-synching. Unfortunately, you won't find it here. There?s no synchronicity between the voices and the moving lips and that shouldn?t be the case these days. This is my only technical complaint about the game. LEVEL OF CHALLENGE: The whole game is about the acquisition of hidden (or not-so-hidden) objects. In addition to this regular game play you will also have the task of completing HOGs and mini-games. HOGs: If you?ve played predecessors of this game, you?ll recognize the HOG format. There?s a triptych of objects to collect. Upon completion of each section of the triptych you?re awarded an item. Complete all three parts of the triptych and the three awarded items merge together to become one item which is almost immediately used and pushes the story forward. The HOGs need to be a lot tougher. There are between 25 and 30 HOGs and they are WAY TOO EASY. Items are pictured, not listed. That?s a problem. Your job is to find their twin in context. The items are SO OBVIOUS that several times I completed the HOG without once looking at the prompts. I could just tell what needed to be collected (and believe me, I'm no psychic). Since the game is primarily an HOG, I think this needs some serious upgrading to be considered a challenge, much less fun. Mini-Games: There are 15 or so mini-games. They are old faithfuls with some new twists. There is the puzzle where you have to create a link between two items using a specific number of spaces. There is the puzzle where you move individual items to their own nesting spots but the items move in tandem. There are memory games where you need to remember the position of and then eliminate pairs. The puzzles are familiar and they are also WAY TOO EASY. In the three and a half years Blue Tea Games has been developing stories, I'd have thought someone could have been inspired to create a new game. STORY LINE: (you can read this in the description, but here you go...) A mysterious floating island is the Sky Kingdom. It appears from behind clouds. (While playing the game, I thought "This looks SO COOL.") As soon as this floating metropolis can be seen it begins to fall apart and pieces of the island fall to the ground. A number of citizens are injured and people are desperate to stop the destruction. Enter the swashbuckling Jack. Rumor has it that he was in/on the Sky Kingdom once and he can provide guidance. He has a past. And like all who have a past, he has enemies. Maybe don't get so chummy with this guy! COLLECTOR'S EDITION: This is a Collector?s Edition and has the following features: a. The ?Who Cares? assortment of Wall Paper, Concept Art, Music and Cut Scenes. b. 20 morphing objects c. Parable Notes (if you played previous versions of this series, you?ll recognize this: there are five or six stories divided into 4 or 5 parts. When you gather the ?notes? you can see the whole ?parable? or ?fable.? d. A bonus chapter with an additional 8 HOGs and 3 mini-games. e. Bonus puzzles. Doing this review is like being the sports writer for a newspaper who?s told to review the ballet Saturday night after you spent the whole day at the ballpark. How do you do it? Well, you do your best to be objective and grade it as though you loved ballet and were an expert. You make honest judgments about what you see and experience and you communicate them. That is what I?ve done here. I can tell you this: If I liked this style of game, I would also LIKE, NOT LOVE, this game. It has its deficiencies. Although there are parts which are really good, this series needs an overhaul in my estimation. It's getting stale. This book has been written before, so to speak. I will recommend this game, but with an asterisk. I think you should try the free trial period and then determine whether you want to buy this game or just replay one of its predecessors that you already own. If it's different enough for you and the re-tooled story line is fun, then by all means get it.
February 6, 2014
Just can't get excited about this CE
I'm a sucker for CEs, and buy almost all of them but just can't get into this game. The graphics are beautiful, the music pleasant, the level of challenge good and I've bought the other Dark Parables games. I like FROGs, but thought there too many in this game. Just one after the other, after the other.... The three mode choices of play are annoying. Usually one gets the option of 'no sparkles' but still a hint, skip, map etc. I chose the middle option, and the first thing I see is a 'sparkle', so went to Hard Core mode only to discover the map is disabled. I went back to middle mode, then found the map is useless anyway as most of the time there are no 'active tasks' on it, yet you've obviously got to do something. You can't 'jump' to a different location either so the map is pointless. Continued in hard core, and to date puzzles were doable, but if they weren't I switched back to middle mode. Read in the forum you can switch sparkles off in the options menu, but by the time I'd changed modes, hopped about trying to find a happy medium between sparkles, hints, skips and the map I'd almost run out of my trial hour! My one other gripe, is that the items you find, obtain through FROG scenes or are given are all so similar in shape and colour, that I got really bored having to keep reading what each piece was in the inventory. Not the worst CE out there, but has room for improvement.
February 6, 2014
Disappointment
While all the Dark Parable series are very well done and absolutely stunning in color and artwork; graphics etc., the FROGs get a little tiresome after a while. I know that it's a standard feature in this series and are known for their elaborate FROGs but it would be nice to mix them up a bit. Also one of the major reasons why I will not buy this game is due to the lack of a helpful map. Yes it shows you where you are and where an objective might be hiding but this game is way too involved for the map to NOT be a jump map. There is nothing I hate more than going through endless scenes trying to get to where I need to go. If a map does not take you where you need to go straight away then it is pointless. After 2 or 3 scenes of traveling I keep having to check the map to see if i'm going in the right direction or made the right turn. It's wholly frustrating and was my deal breaker with this game.
February 7, 2014
Dated game wrapped in Beautiful Graphics
I had high hopes for the newest installment of this classic series. What I found was a gorgeous graphics covering a dated game. The Art Department gets A++ for their attention to detail and inspired color choices. The rest of the crew let me down. The game is not up to current standards in casual gaming. Nothing new or clever, even the map does not allow you to transport to the site you wish to go to. The story is OK, linear without creativity. The game challenges were easy, again nothing new. The Strategy Guide inexplicably does not appear, silly for the preview, so there is no way of knowing length, etc. or location of the ridiculously overused "morphing" objects. Needless to say, I won't be buying. However, if you are a beginner or a gamer not interested in challenge but a beautiful excursion, this is a great choice.
February 6, 2014
Good Game but Not For Me!
The popular series has returned with yet another classic fairy tale, Jack and the Beanstalk. Our story takes place in Alblasserwaard, a peaceful town in Holland that is suddenly disrupted by the appearance of the legendary Sky Kingdom that is virtually floating above them. Once again you are the famous fairytale detective and are summoned to rescue the townsfolk from what appears to be some rather disgruntled giants from the above. This time you have help and that is where Jack, the infamous treasure hunter comes in and together your adventure begins. I have to say that the graphics and visuals are just stunning in this game however there is no wide screen option which naturally will ruin it for some.. As always with these developers, beautiful artwork, a lot of ambient sounds, sharp graphics and animations that really bring this game alive at your fingertips. I love just looking at the scenes, the details and the music and voice-overs are relatively good. Visually this game has much to offer, and for fans of fragmented hidden objects scenes, this game has plenty to offer. Unfortunately for me, I am not a fan of the FROG. Game features three levels of difficulty and they can be customized via game menu. If you are a fan of the Dark Parables series, then you are familiar with the various features like morphing objects that will charge your hint meter faster, a collection of parables that complete the story in your journal, a task list and a map that surprisingly enough does NOT allow for travel, so be prepared for some backtracking. There is no journal here and a lot of clicking around trying to find inventory objects to pick up. The most curious thing about this paticular game is I do not have an SG and as far as I can see, it is nowhere to be found on my system which will be yet the second thing that decides for me to hold off forth SE of this game. Storyline, sights, sounds, artwork, mini-games and puzzles are all very well done but with no jump map, no journal, no SG (at least for me), no collectables or achievements (there are morphing objects in every scene) and alot of eye-straining over crowded and tedious fragmented objects scenes just does not make this game sit well with me this time. I will wait for the SE!
February 6, 2014
Just ho-hum
Disappointed with this game. The graphics are grainy, story line could use some polish and the map does not correlate as to where one should really be looking. This game needs to back to the drawing board.
February 6, 2014
Not my cup of Blue Tea
I LOVE the Dark Parables games, and this one is truly awful in most respects. There is a very incoherent and essentially dull story with no excitement, tension or sad to say interest. I really didn't care about any of the characters or what happened to them. The art work was very mixed some beautiful scenes and others gaudy, tasteless and overdone. Ironically my least favourite part of any game the HO's was almost the best part of this game because mostly they were beautiful to look at. The endless meaningless and pointless objects produced (unlike previous games) were usually very ugly and grainy in quality. There were far too many HO's and the puzzles were ill explained and mostly simplistic and tedious. Jack was completley annoying because he sat around doing nothing and exhorting the detective to save the day. The most boring aspect of the game was the utter pointlessness and inanity of every task. The sky is falling, disaster is at hand but I must restore monuments and in a really crucial moment I have a pressing need to feed a carrot to a quite delightful white bunny, which made me laugh it was so beyond ludicrous. Why was i doing all these pointless things, I have no idea except I found a lot of items lying around that apparently needed a home. None of this moved the story forward one iota in complete contrast to the Black Water game where everything was in keeping with the theme and felt like a necessary action. I really don't know what they were thinking at Blue Tea. I gave five stars to their last game but I don't think I can even recommend this one and that is so disappointing because they are capable of the best even though their puzzles are often a bit lame. Please go back and review Briar Rose, The Exiled Prince, Red Riding Hood Sisters and ask yourself why they were all great and this one isn't. I will now hesitate before buying any more Blue Tea games and I am both sad and disappointed. The music was better than most games and even some of the Kubla Khan look to the game was lush but that was is. There was no game to this game, zero challenge and what there was of a story was insipid and pathetic. YOU CAN DO BETTER THAN THIS!
February 12, 2014
THEATRICAL FROG THAT'S WAY TOO EASY WITH A WEAK, OVER-USED STORY LINE
BASED ON ***COMPLETED*** GAME AND BONUS GAME ON EXPERT LEVEL BOTTOM LINES: IF YOU ARE A BEGINNER: you will love this game. It holds your hand the entire way through (a good thing for me when I was a beginner,) the puzzles are super easy and the art is exquisite. IF YOU ARE AN INTERMEDIATE: you will probably like this game and it's characters but be disappointed in the easiness of the puzzles. You will be able to travel through it quickly and may think it's too short. I thought it was short and the bonus game had nothing to do with the regular story. IF YOU ARE AN EXPERT: you will definitely be disappointed in the lack of challenge (the games are VERY rudimentary,) over-used story based on a fairy tale and the hand-holding going on throughout the entire game. Even on the most difficult level, this game is like going back to kindergarten after receiving a master's degree. Save your money. Hope this helps you decide if this game is for you.
February 10, 2014
Could not get into it !
This is just a rehash of previous games, I was bored, could not finish it, did not play the bonus content, just plain bored with it ! Nothing new, old HO, ancient tech....Collector's edition my foot!
February 7, 2014