Dark Parables: Jack and the Sky Kingdom Collector's Edition
Exclusive
The legendary Sky Kingdom suddenly appears and a destructive barrage is unleashed upon an unsuspecting town. Play as the Fairytale Detective and embark on an investigation to rescue the townspeople. In this quest, you will meet Jack - an infamous treasure hunter who shares a secret past with the Kingdom - and discover the tragic history behind the chaos.

This is a special Collector's Edition release full of exclusive extras you won't find in the standard version. As a bonus, Collector's Edition purchases count toward three stamps on your Monthly Game Club Punch Card!

The Collector's Edition includes:
Uncover the legendary Sky Kingdom
Adventure with Jack to rescue his fiancée
Breath-taking storyline and challenging gameplay
Bonus Gameplay – Rumpelstiltskin
Expertly crafted wallpapers and more!
Game System Requirements:
OS:

Windows XP/Windows Vista/Windows 7/Windows 8

CPU:

1.0 GHz

RAM:

512 MB

DirectX:

9.0

Hard Drive:

992 MB
Game Manager System Requirements:
Browser:

Internet Explorer 7 or later
Mild Violence
Use of Alcohol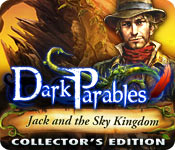 The Big Fish Guarantee:
Quality tested and virus free.
No ads, no adware, no spyware.

Reviews at a Glance

Dark Parables: Jack and the Sky Kingdom Collector's Edition
0
out of
5 (
0
Reviews
Review
)
Customer Reviews
Dark Parables: Jack and the Sky Kingdom Collector's Edition
109
109
Another Well Done Dark Parable
As always I enjoyed this sequel to the Dark Parables series even though I'm not a big fan of the fragmented HOS. Graphics are done beautifully as you can expect from Blue Tea game developers and sound is well suited to the game. The thing I enjoy most about Dark Parables is the mini games which are always cute and entertaining. Most times they are unique. I always like looking out for morphing objects. A little disappointed that it doesn't have the interactive map that takes you right to where you want to go but at least it lets you know where you are and where your objectives are. It seems that you don't have the ability to earn achievements but at least there is a good amount of things to do in this game to keep you interested and busy.
February 6, 2014
Save the Sky Kingdom is a great CE...
I enjoyed this latest edition of Dark Parables. If you have played other installments of this series you will see characters and references to previous versions. Just a tribute to these epic games. Blue tea is the bee's knee IMHO. I love fragmented objects (frogs#. I am surprised by 1 star ratings #which is "hated it" in overall rating and "awful" in the rest). You won't hate this game and it's nowhere close to awful. The bonus game is fun and leads you to believe it will be the next story in Dark Parables. Thanks Bigfish I loved it! xox
March 1, 2014
Fun story
This is my first Dark Parables game and when I'm done writing this review, I'm going to buy the others. I enjoyed this one enough that I'm hoping the rest will be just as much fun. There were some things I didn't like about it namely, some of the puzzles were a little tedious, maybe repetitive. I also skipped a couple that were a bit difficult. The storyline was fun, the graphics are truly amazing and overall, I enjoyed the game. I thought it was just long enough and the CE had an extra game that was also lots of fun.
February 20, 2014
Jack be Nimble Jack Be Quick
Boy did they make that guy move fast. I wish they had slowed down the bit parts of him fighting. It was all just a blur. Lovely game. Beautiful sciences as always with Dark Parables. Music was wonderful. Characters were okay. My map did not make me jump to location and there was never a green star to indicate where to work at next when unsure. Very good game and will add it to my buy list
February 14, 2014
A Very Enjoyable Game ...
Great Graphics, Sound, Animations, Voice & Video Bits ... Another Great Game In This Series ... The Format Is Consistent With Previous Games, But Perhaps Growing A Bit Tired And Needs A Bit More Of A Lift To Overcome The Feeling Of Deja Vu ... The Extra Game Is A Bit Of Fun, But Not Essential To Completing The Story ... OK If You Are Getting The Game When On Special ...
February 8, 2014
Not bad but not as good as the others
Not a bad game but the bonus chapter isn't worth the CE price and the music is slightly recycled through the game. Good visuals and sound, the story's pretty good. I'm looking forward to the next game. If you want a more detailed review that also mentions spoilers it'll be in another section. I give this one a solid B.
February 8, 2014
A must play
Dark Parables never ceases to amaze. Even though The Frog Prince is still my favorite, I did love this one. I would have given it 5 stars if the map had been helpful, but it really wasn't as it only showed when an HO game was available. Map is not interactive, so you can't jump to a room or showed when you can do something now, only there was an objective. I love the HO games where you have to find fragments of something.
February 6, 2014
Dark Parables: Jack and the Sky Kingdom CE
Based on the 60 minute trial: This is not the kiddie Jack & the Beanstalk. Beautiful artwork, a good storyline, and I like the fact that it is not a simple game. You have to think, be observant, and try different options. I actually was surprised by when my game cut off, so I will be getting this game. I like the DP series. I have quite a few of them. I would like to get more when time allows.
October 19, 2014
Fun hidden object
Puzzles,and find hidden objects
October 2, 2014
This is like an Encore, a Curtain Call, A Remembrance of Things Past
The sixth edition of Dark Parables makes its appearance nine months after The Final Cinderella, its predecessor in this prolific series. Stephen Zhao, the president of Blue Tea Games, spoke of his inspiration and said he wanted to merge strong stories with great game-play experiences. The Dark Parables lineup stands head and shoulders above the competition. The problem is, they stand together. I?ve used the analogy in the past of a prolific novelist who writes love stories, for instance (or crime novels, whatever), one after another. Each has its own title, cast of characters and story line, but each is essentially the same book. It?s a formula...a very successful formula, to be sure...but a formula nonetheless. That's the downfall of Jack and the Sky Kingdom. This series has lost its pizzazz for me, and not just because of the formulaic nature. To me, the whole genre lacks sufficient intrigue and edge. I like murder and mayhem and maybe a little of the paranormal for spice. This game has none of that in my opinion. Jack and the Sky Kingdom is written in the first person and you are the detective-protagonist. Don?t be confused by that. Detective or no, this is a fairy tale. Period. In addition to that, whether or not I like the ?genre? is of little importance. This game will be judged as among the best and most highly anticipated games of 2014 by many of you. I just can't agree. FUN FACTOR This game is pretty pure Hidden Object...and little else. As a result, I don't find it very fun at all. VISUAL/SOUND QUALITY This is the best part of the game. Visuals: It?s very beautiful to look at. The visuals are unparalleled. I prefer live acting in games (I think I'm in the minority). While there isn't any of that here, the characters are so well drawn as to look live! The objects are brilliantly drawn. I?ve seen complaints in the past about the quality of the artwork of Blue Tea Games. The complaints are way off target. This is great visual craftsmanship IMO. Sounds: The music SOARS. That was the first note I wrote as I was playing. Splendid music. As for the voice-overs, they are very well done also. Sight and Sound come together with well-executed lip-synching. Unfortunately, you won't find it here. There?s no synchronicity between the voices and the moving lips and that shouldn?t be the case these days. This is my only technical complaint about the game. LEVEL OF CHALLENGE: The whole game is about the acquisition of hidden (or not-so-hidden) objects. In addition to this regular game play you will also have the task of completing HOGs and mini-games. HOGs: If you?ve played predecessors of this game, you?ll recognize the HOG format. There?s a triptych of objects to collect. Upon completion of each section of the triptych you?re awarded an item. Complete all three parts of the triptych and the three awarded items merge together to become one item which is almost immediately used and pushes the story forward. The HOGs need to be a lot tougher. There are between 25 and 30 HOGs and they are WAY TOO EASY. Items are pictured, not listed. That?s a problem. Your job is to find their twin in context. The items are SO OBVIOUS that several times I completed the HOG without once looking at the prompts. I could just tell what needed to be collected (and believe me, I'm no psychic). Since the game is primarily an HOG, I think this needs some serious upgrading to be considered a challenge, much less fun. Mini-Games: There are 15 or so mini-games. They are old faithfuls with some new twists. There is the puzzle where you have to create a link between two items using a specific number of spaces. There is the puzzle where you move individual items to their own nesting spots but the items move in tandem. There are memory games where you need to remember the position of and then eliminate pairs. The puzzles are familiar and they are also WAY TOO EASY. In the three and a half years Blue Tea Games has been developing stories, I'd have thought someone could have been inspired to create a new game. STORY LINE: (you can read this in the description, but here you go...) A mysterious floating island is the Sky Kingdom. It appears from behind clouds. (While playing the game, I thought "This looks SO COOL.") As soon as this floating metropolis can be seen it begins to fall apart and pieces of the island fall to the ground. A number of citizens are injured and people are desperate to stop the destruction. Enter the swashbuckling Jack. Rumor has it that he was in/on the Sky Kingdom once and he can provide guidance. He has a past. And like all who have a past, he has enemies. Maybe don't get so chummy with this guy! COLLECTOR'S EDITION: This is a Collector?s Edition and has the following features: a. The ?Who Cares? assortment of Wall Paper, Concept Art, Music and Cut Scenes. b. 20 morphing objects c. Parable Notes (if you played previous versions of this series, you?ll recognize this: there are five or six stories divided into 4 or 5 parts. When you gather the ?notes? you can see the whole ?parable? or ?fable.? d. A bonus chapter with an additional 8 HOGs and 3 mini-games. e. Bonus puzzles. Doing this review is like being the sports writer for a newspaper who?s told to review the ballet Saturday night after you spent the whole day at the ballpark. How do you do it? Well, you do your best to be objective and grade it as though you loved ballet and were an expert. You make honest judgments about what you see and experience and you communicate them. That is what I?ve done here. I can tell you this: If I liked this style of game, I would also LIKE, NOT LOVE, this game. It has its deficiencies. Although there are parts which are really good, this series needs an overhaul in my estimation. It's getting stale. This book has been written before, so to speak. I will recommend this game, but with an asterisk. I think you should try the free trial period and then determine whether you want to buy this game or just replay one of its predecessors that you already own. If it's different enough for you and the re-tooled story line is fun, then by all means get it.
February 6, 2014
The Apple logo is a trademark of Apple Computer, Inc.