Dark Romance: Vampire in Love Collector's Edition
Exclusive
Emily and Enron love each other and want to be together. But Enron is hiding a terrible secret – he is the son of Dracula. And just as Enron wants to tell Emily the whole truth about himself, she is kidnapped. No one knows where she is. But there are all the signs that she was abducted from her apartment against her will.Meanwhile, Emily wakes up in a gloomy room with numerous coffins and the ghost of a little girl tells her that Emily has to hurry in order to be rescued. So Emily and Enron must hurry to find each other. But can they do this? You will learn this from the game Dark Romance: Vampire In Love Collector's Edition.

This is a special Collector's Edition release full of exclusive extras you won't find in the standard version. As a bonus, Collector's Edition purchases count toward three stamps on your Monthly Game Club Punch Card!

The Collector's Edition includes:
Find out who abducted Emily and where she is
You can play for both heroes Emily and Enron at once
Achievements, zoo and interface shop
Re-playable hidden scenes and mini-games
Soundtracks, wallpapers, and concept art
Game System Requirements:
OS:

Windows XP/Windows Vista/Windows 7/Windows 8

CPU:

1.6 GHz

RAM:

1024 MB

DirectX:

9.0

Hard Drive:

1141 MB
Game Manager System Requirements:
Browser:

Internet Explorer 7 or later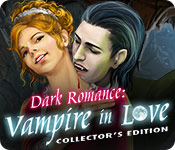 The Big Fish Guarantee:
Quality tested and virus free.
No ads, no adware, no spyware.

Reviews at a Glance

Dark Romance: Vampire in Love Collector's Edition
0
out of
5 (
0
Reviews
Review
)
Customer Reviews
Dark Romance: Vampire in Love Collector's Edition
48
48
Blood Relations Takes On a WHole New Meaning Here!
Meeting the parents holds a whole new meaning here, especially when you learn that your father-in-law to be is none other than Count Dracula himself and also your abductor. Apparently Daddy is not too pleased when his only son has turned his back on the family business of blood sucking and holds you responsible. Point of view is switched and you now are Enron, only to discover that daddy dearest has taken Emily and will be turning her into a night-walker so that you can return to the fold and all live together as one big happy family. Playing as both Enron and Emily, it?s almost like you are playing two adventures at the same time by switching from one character to the other which is rather cools as it actually prolongs the game and makes it much more interesting. I wasn?t a fan of the graphics or the animations which at times appeared a bit amateurish, at times you get cartoonish artwork and then at times sharp and more life-like; almost as if a group of artists were involved, each with a different perspective on the over-all look of the game. I did like the artwork but found that the animations were poorly done and there was a lack of ambient sounds and special effects which made the game really look a bit dated. There are voice-overs but minimal and the music is soft and quiet in the back-ground. Nothing really pops with the overall look of the game and sound and visuals could have been better. Dark Romance is a standard HOPA game with extras that certainly actually makes the game more appealing. Main menu offers three play modes along with customized settings. Unfortunately black bar tips cannot be disables and so you do get some hand holding throughout the game. Tools include a journal and a map which will allow you to jump as well as indicate areas of interest. The SG is on the left and thankfully the photos and texts are easy to make out. You have your broach on the right with photos of Enron and Emily which you require that you switch during the game in order to play both heroes. Game mechanics involve picking up inventory items, playing interactive Hidden Objects scenes that are junk-piled and solving a variety of mini-games along the way. I enjoyed the HO scenes which were standard but there was interaction involved. You also have the option to switch over to a M3 game which was slightly cumbersome to play. Puzzles and mini-games were actually well conceptualized and interesting to solve, I did enjoy some of them. Then there are your extras and plenty of them: you have collectables, items pertaining to Vampires that are indicated in a book. You have bats and garlic which transmute into currency that can be spent in your interface shop and also renovating the castles exterior. You also have a list of achievements that mostly involve Hidden objects scenes. I gave this game four stars as I enjoyed the game play but at times found it confusing as when to switch over to the other character. There are no WOW moments to be had and no great challenges. Slightly out dated but does have a slight fun factor to it. Overall I enjoyed the storyline and game play as it got more and more interesting. Not an outstanding game but definitely a purchase for me as there is a great sell on today and in my opinion, definitely worth the time, especially for fans of vampire romances.
February 8, 2014
Who Wants Garlic?
Well, quite the mixture in this one! Over the top thinking, so good on devs for that. I enjoyed playing two roles which added a very unique quality to the game. There was so much to do and yes, at times it seemed to take forever to finish things or find an item to complete a task but because it was easy to get immersed in the story I was able to overlook the slowness. Although I enjoyed the game I found the collectibles, interface shop etc. a wee bit much. It's okay to be busy but you can overkill and I think that's what was happening here. There was enough going on already and IMO all that other stuff was a waste of time and really, was it necessary in the big picture of the game and storyline? In fact it took me a bit to get the gist of the interface shop? It wasn't really explained. Oh well, most all has already been said so I can only say that overall I had fun playing this game and will more than likely purchase it. I do wonder though, if the SE will be jeopardized as a result of the too much CE goings on? If too much is taken out, the SE game could be spoiled. We shall see, but for now, this is a keeper!
February 8, 2014
Vampire vs human, Dracula vs ghost girl?
The interface on this game is so unique, I haven't decided if I really like it or not. It is a good story -- nice human girl falls in love with vampire, and they decide to marry. Daddy Dracula says they can marry if girl becomes a vampire, so he kidnaps her. You spend the game alternating between the girl's point of view and the vampire's. You can flip back and forth easily. Separate maps, separate inventories, separate objectives! The game is very well done, easily allowing you to move between the two characters. I just kept forgetting where in each story/quest I was, although the interactive map really helped. There is so much to do -- it is definitely a CE. You collect garlic to "purchase" upgrades for your inventory panel and medallion head shots. You collect bats to trade for upgrades to a castle - Dracula's? Plus there are an additional 15 items to find -- silver, a cross, other objects. And of course, there are achievements. There are the normal CE extras, including strategy guide and bonus scenario. The mini-games are unique but easy -- didn't have to skip any so far! The four modes, including custom, should make every one happy. The HOS are a bit cluttered, but are all lists. You can switch off to a Match 3 instead. I like this game, because when you get stuck, you can switch to the other character. But it takes more concentration than I am used to spending on most games!
February 8, 2014
something a little different, and i'm all for that
If you've arrived at my 2 pennuth, then you dont want a repeat of how the game plays. i liked it to a degree, but theres a lot of backwards and forwards, however the map is a ,massive help with this. some say the music was not intrusive, well i beg to differ, it really got on my nerves! plus some sounds, like a constantly squeaking mouse in the cellar, which carried on into the hog in that scene, thank goodness i can control my sound outside of the game, when this happens. puzzles were good. i hate hos scenes, but devs rarely do an adventure without them mores the pity, so i opted for the match 3 mostly, as its quicker anyway. i dont regret buying it, because its obvious that a lot of work has gone on to produce this game. the vampire lover is most attractive, and you really feel so sorry for him in the end, but which do you choose, a life in darkness, or the light of day, the choice is yours lol lol lol
February 9, 2014
Interesting Concept
Basing review on playing the full demo: I'm not a huge fan of hidden object games but the way this game is set up reminds me of a few old point and click adventure games I've played. It has the typical elements most HOAG's have but the ability to shift from one character to another is a refreshing change. The vocal acting is superb, the puzzles so far have been somewhat easy but not boring. I also like being able to choose between doing a hidden object search or a Match 3 game within the hidden object scenes. And though the achievements aren't overly original, I always like having something to shoot for. So, while the subject matter isn't new by any stretch of the imagination, I purchased the game because I enjoy a good vampire game and there are enough positive elements to keep me entertained. :) Oh, and I always greatly appreciate having a custom/expert player setting!
February 8, 2014
good one
this one was a keeper! Just challenging enough without being frustrating.
February 9, 2014
Great game BUT ...
Funny the idea of playing two characyters. Really good game, but too too much ho locations
February 8, 2014
Love the vampires
Love the game ....will buy the game.
February 8, 2014
So innovative, too short!
Loved this game, loved the idea of switching between characters to play the game, but it was a bit too short...or easy? Not sure Looking forward to something else like this again!!
February 27, 2014
Pretty Good
I did get a bit tired of it in the Bonus chapter. It seemed to go on a bit long and was really just jumping from place to place to solve riddles and HOGS. I liked the characters, they were pleasant and Dad was very evil, but not frightening :D The graphics are good, the main game is good and finding hidden things along the way was also fine. I did like the game, but got a bit bored towards the end
February 18, 2014
The Apple logo is a trademark of Apple Computer, Inc.