Dark Romance: Vampire in Love Collector's Edition
Exclusive
Emily and Enron love each other and want to be together. But Enron is hiding a terrible secret – he is the son of Dracula. And just as Enron wants to tell Emily the whole truth about himself, she is kidnapped. No one knows where she is. But there are all the signs that she was abducted from her apartment against her will.Meanwhile, Emily wakes up in a gloomy room with numerous coffins and the ghost of a little girl tells her that Emily has to hurry in order to be rescued. So Emily and Enron must hurry to find each other. But can they do this? You will learn this from the game Dark Romance: Vampire In Love Collector's Edition.

This is a special Collector's Edition release full of exclusive extras you won't find in the standard version. As a bonus, Collector's Edition purchases count toward three stamps on your Monthly Game Club Punch Card!

The Collector's Edition includes:
Find out who abducted Emily and where she is
You can play for both heroes Emily and Enron at once
Achievements, zoo and interface shop
Re-playable hidden scenes and mini-games
Soundtracks, wallpapers, and concept art
Game System Requirements:
OS:

Windows XP/Windows Vista/Windows 7/Windows 8

CPU:

1.6 GHz

RAM:

1024 MB

DirectX:

9.0

Hard Drive:

1141 MB
Game Manager System Requirements:
Browser:

Internet Explorer 7 or later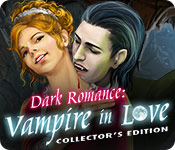 The Big Fish Guarantee:
Quality tested and virus free.
No ads, no adware, no spyware.

Reviews at a Glance

Dark Romance: Vampire in Love Collector's Edition
0
out of
5 (
0
Reviews
Review
)
Customer Reviews
Dark Romance: Vampire in Love Collector's Edition
57
57
Not so much fun on lots of levels
Based on completing the main game and the bonus chapter. The story had a lot of promise - vampire loves human and wants to change, but is burdened by being the son of Dracula, who is not pleased with sonny's choice. The game is played from both the perspective of the human bride and the vampire groom, jumping back and forth between the characters to advance the story. I liked the idea of playing both characters. It was often difficult, however, to decide when was the best moment to switch without consulting the guide. I consulted the guide a lot because much movement was not intuitive. The wonderfully interactive map also helped out with what to do next. I had set the custom degree of difficulty to turn off sparkles, but if you want helpful info on the map, you have to get sparkles too. The game is very heavy with HOS and all (or almost all) are visited multiple times. Although they were interactive, the junk piles were so confused and messy, it was hard to pick out things. By the last quarter of the game, I found myself switching almost immediately to the Match 3 so that I wouldn't have to look at those jumbles. There are also lots of puzzles, which were fun. I was able to solve most, except those of the type that I can never solve - ones involving numbers and spacial relationship. Overall, I was just desperate to finish, hoping that something better would happen, but it didn't. Another thing I don't like is endings with choices. The bonus has a choice. I don't like that I have to go back and start over as someone else to find out what would have happened if I made the other choice. There were also a few small technical issues where those pesky black bars told me that I had to do something I had already done. So - not a lot of fun and no recommendation.
September 19, 2014
I am NOT in love with this game.
I played the hourlong free trial on a Mac. There are so many "features" to this game and so much "stuff" thrown together in every scene, I'm not sure one can ever get to playing the game and really knowing what's going on. I breathed a sigh of relief when the hour was over so I could get to something else. Yes, there are many "things" which my friend, JustTheFacts, calls CE Bling. To me they stood in the way of having fun and don't at all contribute to this game. Fun Factor: One Bar for not so much fun. Visual/Sound Quality: Sights: As I said, it's very crowded. Every scene has so much thrown in it (and I'm not just talking about HOS, I mean every scene) that I couldn't really distinguish anything. It was too busy. I don't think the drawn articles are particularly crisp and the ambience is very dark. Given the subject matter dark is right, but it's just too dark to see things clearly. The HOGs were not good IMO. They are truly junk piles. It was hard to recognize objects and not because they were cleverly hidden but because they defied description. Sounds; This was the high point of the game. I'd love to hear this scary, intense music used in another game of quality. I think it provides a great background. Music is not, however, enough to justify buying a game. Because the sights were bad and the sounds were better, I'm going to give this three bars for Visuals/Sounds. Level of Challenge: Just because an item is difficult to see doesn't mean it's challenging. It could mean it's not well drawn or well described. This is what I think is the case here. HOGs: Crowded and poorly described. It was a challenge to identify items but not the right type of challenge. I've played enough of these games, and played the good ones to know what a superior game is. This is not that. There are 26 of these not-so-good HOGs. Mini-Games: I only played a few of the 24 that are presented throughout the game. So far the "answers" are in the journal. Consequently there's absolutely no challenge at all (well, it was a challenge to try to remember what I just read in the journal and then apply it to the mini-game but I think that's a function of my age and faltering memory not the quality of the challenge. HOGs and Mini-Games: It was a challenge to pay attention. 2 bars for Level of Challenge. Storyline: Dracula's son wants to be a good guy. The old man isn't so happy with this. The vengeful old bat kidnaps the son's (Enron's) girlfriend with a promise to turn her into a vampire as well, thus forcing the Boy Bat to return to the ways of the undead. Story Line is Preposterous. One bar. While it's difficult to garner the will to want to do anything, there is a LOT to do: a. 24 Puzzles/Mini games. b. 26 HOGs of the list pick variety. c. 20 achievements with nothing very special to achieve among them. d. There are three collectibles: 1. 24 Bats 2. 23 Garlic Cloves which you can use to purchase items. 3. 15 "Collection Items" which are basically objects related to vampires and vampire-dom. e. Wallpaper, Concept Art, Music f. Finally, you play the game both as the Boy Bat and as the Girlfriend. One more thing to decide...instead of just playing the game. Do yourself a favor and play the hour-long trial for as long as you can and see what you think. I don't think you'll play the full hour.
February 8, 2014
Somewhat Put Off
I wanted to like this game, it is so much like a different favorite of mine but it just isn't working for me. What I did like was the swtiching between characters and even the story as well as the match 3 option for the HOS which is always appreciated for those of us who tire of them but the sounds and awkwardness of the controls really threw me off. It moves slow, the visuals felt off and after 40 minutes I really couldn't stand playing anymore. Its not a bad game at all, but its not really great either. I think it would work for one who is looking for something to do as long as they are not picky and are very patient.
February 8, 2014
This one hit the Boring Vampire World award
OK so I am always looking for something from the 'now too frequent' fantasy.Lore like,castles and damsels and same ole thing.This one fools ya.The demo falsely promises to hold its macabre audience captive.That is until you actually purchase it.Then its very boring with way too much back and forth with no excitement at all.I skip the same old boring puzzles that seem to be in every game just to get it over with.Not even worth a freebie coupon.
February 9, 2014
not enough adventure
too many "hidden objects parts" not enough story telling and adventure. 90% of this games was hidden objects to say it was a collectors edition. i was VERY disappointed.
April 2, 2014
A COMPLETE WASTE OF TIME
Wow this is one game I wish I didn't buy. The story seemed as if it was ok, but it was absolutely ridiculous!!! I also thought playing two characters by switching would be fun, it wasn't. I could have come up with a much better storyline, for that matter my nephew age 8 could have as well. it is just, well...stupid. I played through the main game and the end was so idiotic that I was sorry I played at all. I am usually not totally negative in my rating, but this one rightfully deserved it. I am shocked it got the rating it did. Ok enough griping. My advice, do not invest in it!!
April 12, 2014
SORRY THIS DOES NOT MAKE IT TO THE WINNER WINNER BIG FISH DINNER LIST
Oh my, where do I start. I was irritated after playing only 3 minutes. I wasn't having any fun at all!
February 8, 2014
The Apple logo is a trademark of Apple Computer, Inc.