Dark Romance: Vampire in Love Collector's Edition
Exclusive
Emily and Enron love each other and want to be together. But Enron is hiding a terrible secret – he is the son of Dracula. And just as Enron wants to tell Emily the whole truth about himself, she is kidnapped. No one knows where she is. But there are all the signs that she was abducted from her apartment against her will.Meanwhile, Emily wakes up in a gloomy room with numerous coffins and the ghost of a little girl tells her that Emily has to hurry in order to be rescued. So Emily and Enron must hurry to find each other. But can they do this? You will learn this from the game Dark Romance: Vampire In Love Collector's Edition.

This is a special Collector's Edition release full of exclusive extras you won't find in the standard version. As a bonus, Collector's Edition purchases count toward three stamps on your Monthly Game Club Punch Card!

The Collector's Edition includes:
Find out who abducted Emily and where she is
You can play for both heroes Emily and Enron at once
Achievements, zoo and interface shop
Re-playable hidden scenes and mini-games
Soundtracks, wallpapers, and concept art
Game System Requirements:
OS:

Windows XP/Windows Vista/Windows 7/Windows 8

CPU:

1.6 GHz

RAM:

1024 MB

DirectX:

9.0

Hard Drive:

1141 MB
Game Manager System Requirements:
Browser:

Internet Explorer 7 or later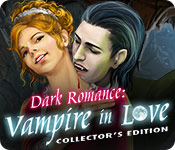 The Big Fish Guarantee:
Quality tested and virus free.
No ads, no adware, no spyware.

Reviews at a Glance

Dark Romance: Vampire in Love Collector's Edition
0
out of
5 (
0
Reviews
Review
)
Customer Reviews
Dark Romance: Vampire in Love Collector's Edition
57
57
OUT OF THE BOX THINKING=BRAVO!
You know how I love out of the box thinking, thank you devs, fantastic job! Why am I over the top excited? You get to be BOTH characters, to go further in the game you switch between the Bride and the Groom! And that's just for starters folks. The Groom is a Vampire, not just any Vampire but Count Dracula's son, and he's not thrilled with his son's decision to wed a mortal! This is a fantastic concept allowing you to "see" the game from two separate perspectives, the Groom searching for his missing Bride and the scared Bride fearing for her life, again devs, kudos! There are hidden bats throughout the game to collect and then use to upgrade your castle with greenhouses, and fountains as well as decorations. You will also find garlic which can be used in the interface shop which allows you to purchase upgrades to customize the inventory panel, the journal and even the character cameos. For some strange reason I love it (I can almost smell the roses!) There are 15 items you will find that give you a tidbit of information as to how that item relates to a Vampire. The hidden object scenes are nicely done, interactive list finds and some items are very well hidden. You can choose to play a match 3 game instead which has skulls, blood drops, wooden stakes and clovers which still has me scratching my head as to what a clover has to do with a vampire, give me a shout out if ya know. Some players may not like the fact that the HOS are doubled up, but it didn't seem too mundane to me. The mini games are good and several require you to refer to the journal for clues as to how the puzzle works. For example the journal shows 4 color coded numbers and 5 color coded roses, you must place the correct color and number of roses on a door panel to open the door. I also liked the puzzle that required you to take away 4 sticks but you had to make sure there were 4 exact triangles left. There are lot's of achievements to earn as well. In conclusion, I honestly think there is a LOT of game here, great story, great concepts and a ton of extras which in my opinion, qualifies this game as a Collectors Edition, and I'm not sure if this game can pull off a Standard Edition without taking away what makes this game over the top, enjoy!
February 8, 2014
To bite or not to bite.....
BASED ON THE WHOLE GAME AND BONUS Finally!! Another vampire story and a very good one at that! You could be forgiven for thinking then that this is one dark, eerie and bloodthirsty game. Well, no. It's about a vampire in love with a human and renouncing his own family. Daddy dearest is none other than Count Dracula and he is none too pleased by this turn of events. Emily goes missing and she and her beloved (Enron) are trying to find a way back to each other. You play alternately as Enron and Emily, which is a nice touch, and you send important items to each other via portals that help in reuniting you. One problem... Enron is a naughty boy. He omits to tell Emily he's a vampire. You'd have thought the fact that he keeps odd hours and only wants to take her out on dates when the sun has set would be a big warning sign... but, hey, love is blind. Will he ever tell her? I'm not saying. The graphics are nice and I didn't find the music intrusive. There is a teleport map and you have achievements and collectibles. Garlic cloves buy you decorations for your Inventory and panel (we've seen this before recently). You collect bats to enhance your castle. There are also 15 other items to collect with trivia about vampires. Achievements are plenty and are a mix of the usual performance and story based. There are no massive spiders or snakes and there is no cute animal helper. The collectibles are all in the main game, which ends rather suddenly but adequately. In the bonus you play only as Emily as our dear Enron has got into a spot of bother. As with a lot of vampire games, there is a choice you need to make here as to how it'll end. This game is very heavy on puzzles (which range from incredibly easy to easy with some challenging ones). H0S are all lists with interactions and you can switch to Match 3, which has vampire themed M3 tiles. I counted 23 H0S in the main game and 5 in the bonus with 28 puzzles in the main game and 20 in the bonus. I was thoroughly entertained during my 5 1/2 hours playing the whole game and bonus. If you love vampires, I think you'll like this.
February 8, 2014
LOVED <3 :Vampire in Love
There is something for everyone to love in this new release and I'm glad I downloaded it and gave it a try [given that I am not otherwise a fan of vampire-ish themes]. I enjoyed every minute of playing thus far and this is a love story that will appeal to anyone that has ever been 'there' [or at least wished they had been... albeit not necessarily in the same scenario, lol!]. Anyhoo, the puzzles in Dark Romance: Vampire in Love are multiple and unique and there lots of extras, as you can read in other's more detailed reviews. So, if you like mysteries, vampires, romance, enjoy puzzles, lots to do and appreciate great graphics... at the very least, check this game out. Oh, and there are additional unique features offered that may typically be found in the free to play games whereas one purchases items to personalize the inventory/tool bar and also refurbish the castle.... I loved that feature #yet would not if ftp#. In this case, using bats, garlic cloves, etc. All in all, a well done CE packed with tons of things to do and places to go with an interesting storyline #as 2 separate characters no less!#, items to collect and very nice environments [considering it is a Vampire storyline]. Check it out, have fun and thank you, BFG & Devs for creating a fun and different game for us all in the pond just in time for Valentine's Day. [hmmmm, are those bite marks on my neck!!??] : }
February 8, 2014
Brilliant
I really loved it after about 10 minutes. This CE offers oodles of extras: - You can play both characters (you actually have swap) - You can buy from two shops with items you can find in the game - There's also a zoo, but I didn't get there yet. The game has three difficulties and an extra one in which you can customise everything to what you want. Brilliant feature! I found the characters a bit cartoonish. The graphics are not excellent, but good. I only played one HO scene and items aren't impossible to find, yet difficult. Also you sometimes need to complete or alter an item in order of being able to collect it. However, you can chose to play match 3 instead. I find the few puzzles I did quite innovative. I have decided to buy this CE after about 10 minutes of play time. Really, really liking and enjoying it.
February 8, 2014
Vampire Hidden Object Adventure Game
Based on the Demo The soundtrack was great with the appropriate eerie and creepy music when needed. Voice overs were excellent. The graphics were beautifully done, some scenes bright and colorful, others with muted pastels. They were all beautifully done. The storyline is excellent, not just another vampire slash-em-up. The son of Dracula, the most cruel of all vampires, renounces his heritage, lives among humans, falls in love with a human woman and prepares to marry her. The twist to this game is tht you are playing both Enron, Dracula's vampire son, and Emily, Enron's human fiancee. There is a white dove who takes messages back and forth. Very interesting. There is a journal, a map, a strategy guide to assist you. There are lots and bells and whistles in this game that keep you busy and entertained every step of the way. The hidden object scenes are very well done, lots of interactivity, with the option to switch to a Match 3 if you choose. Mini puzzles are fun, some of them very unusual. There are collectibles throughout the game: garlic that you can use to buy enhancements to the game at the shop, bats that you can use to buy enhancements to your castle. There are lots of achievements you can earn: finishing hidden object games without a hint, not skipping mini puzzles, etc. This game has it all.
February 8, 2014
Fantastic Hidden Object Game - TRY IT !
You play both Emily (the ordinary girl) and Dracula's son in separate chapters. This gives you each one's reactions as the story unfolds. See other reviews for story line. Find bats to buy decorations to restore a castle. Find garlic/etc. to buy decorations for panel and medallion. Switch to Match 3 in Hidden Objects. Love this game.
February 9, 2014
Very nice game
The game was a good length and ran smoothly. I needed the strategy guide several times, and it was easy to follow it. Lots of extras in the game. Bonus game followed on from the story. And you can choose your variant of the end of the game! I definitely recommend this game!
February 12, 2014
Vampire in love!!
I love this game! I've been waiting for another vampire game & it looks like I got my wish! The graphics, the music; there isn't anything I don't like about this game; it's a keeper! I like the fact that you don't have to play an HO, There's always match 3. Also, the hint button tells you where to go next & doesn't take too long to warm up again. I recommend this game!!
February 8, 2014
Great Job!
I've played a lot of hidden object games and can usually finish the trial in under an hour. However, with playing two characters, I couldn't finish the trial. I bought the game immediately afterwards and loved it!
February 9, 2014
You get to decide the ending in Bonus game
Great game... played it in spurts over a few days and you really need the CE edition for the bonus game because the ending in the main game was a little disappointing/abrupt but the bonus game continued on from there and you have a choice to make for the ending of it. I had no problem with the match 3 option and chose to play it instead of the HOs. (appreciated the option!) A LOT of puzzles, too. LOVED the going back and forth between characters to help reunite them. Great map (transportable) Plenty of extras if you're into that sort of thing. Had fun and looking forward to more games from this developer.
February 17, 2014
The Apple logo is a trademark of Apple Computer, Inc.