Dark Romance: Vampire in Love Collector's Edition
Exclusive
Emily and Enron love each other and want to be together. But Enron is hiding a terrible secret – he is the son of Dracula. And just as Enron wants to tell Emily the whole truth about himself, she is kidnapped. No one knows where she is. But there are all the signs that she was abducted from her apartment against her will.Meanwhile, Emily wakes up in a gloomy room with numerous coffins and the ghost of a little girl tells her that Emily has to hurry in order to be rescued. So Emily and Enron must hurry to find each other. But can they do this? You will learn this from the game Dark Romance: Vampire In Love Collector's Edition.

This is a special Collector's Edition release full of exclusive extras you won't find in the standard version. As a bonus, Collector's Edition purchases count toward three stamps on your Monthly Game Club Punch Card!

The Collector's Edition includes:
Find out who abducted Emily and where she is
You can play for both heroes Emily and Enron at once
Achievements, zoo and interface shop
Re-playable hidden scenes and mini-games
Soundtracks, wallpapers, and concept art
Game System Requirements:
OS:

10.9/10.8/10.7/10.6

CPU:

1.6 GHz (INTEL ONLY)

RAM:

1024 MB

Hard Drive:

1059 MB
Game Manager System Requirements:
Browser:

Safari 4.0 or later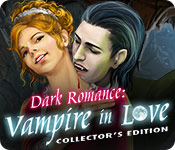 The Big Fish Guarantee:
Quality tested and virus free.
No ads, no adware, no spyware.

Reviews at a Glance

Dark Romance: Vampire in Love Collector's Edition
0
out of
5 (
0
Reviews
Review
)
Customer Reviews
Dark Romance: Vampire in Love Collector's Edition
57
57
Interesting Concept
Basing review on playing the full demo: I'm not a huge fan of hidden object games but the way this game is set up reminds me of a few old point and click adventure games I've played. It has the typical elements most HOAG's have but the ability to shift from one character to another is a refreshing change. The vocal acting is superb, the puzzles so far have been somewhat easy but not boring. I also like being able to choose between doing a hidden object search or a Match 3 game within the hidden object scenes. And though the achievements aren't overly original, I always like having something to shoot for. So, while the subject matter isn't new by any stretch of the imagination, I purchased the game because I enjoy a good vampire game and there are enough positive elements to keep me entertained. :) Oh, and I always greatly appreciate having a custom/expert player setting!
February 8, 2014
good one
this one was a keeper! Just challenging enough without being frustrating.
February 9, 2014
Great game BUT ...
Funny the idea of playing two characyters. Really good game, but too too much ho locations
February 8, 2014
Love the vampires
Love the game ....will buy the game.
February 8, 2014
A Very Enjoyable Game ...
Great Graphics, Sound, Effects, Voice & Video Bits ... Absolutely Loved The Concept Of Playing As Multiple Characters, And Being Able To Pass Items To Each Other ... It Made The Game More Interesting ... The Bonus Chapter Was OK Too, But Not Essential ... I Got Mine On Special, So Paying A Little More For A Little More Seems Fair ...
February 14, 2014
Slow-Paced***
BASED ON DEMO FIRST IMPRESSIONS A wonderful narrative voice, stern and imposing, tells us the story of Dracula?s son, and his decision to become a part of the world of humans, and how he fell in love. A winner already, for the many vampire fans out there. SIGHTS & SOUNDS The graphics are okay. The figures are very well drawn, as well as the HOPs, but there is a slightly cartoonish feel to it, and the definition is a little off somehow. The colours are dark in places, with a dominant grey and pink for the interface, softer than the reds normally associated with vampire games. But there is never any difficulty seeing. The music is very appropriate to a vampire game. It has a brooding quality to it, with some interesting crescendos. The background sounds are both excellent at times and sometimes annoying. The narrator?s voice is perfect for the part, and the voice of the young girl you?ll meet is beautiful. WHAT?S HAPPENING? The story opens with Emily in the crypt of Dracula?s castle, with a note revealing that Dracula intends to turn her into a vampire so that Enron will return to his family. Time to get out, before the sun sets! In her attempts to leave she is aided by a mysterious ghost-like figure of a young girl, Brenda, whose story we do not yet know. Meanwhile, Enron is in Emily?s house, assessing the evidence of Emily?s kidnap and rightly reaching the conclusion that his father is to blame. He then heads off to the castle himself. GAMEPLAY You play both Emily and Enron, and you must switch from one to the other to progress. The adventure part of the game is very simple and is aided by directional hints and an interactive jump map that gives you available tasks. The diary keeps very good records of both the story and needed clues. There are a lot of HOPs in this game. I spotted 6 in the demo, and they are visited twice. They are of the interactive list sort, and tend to have more items needing extra steps than most. If you prefer, you can switch to a simple Match-3 game. The items can be tricky to find and the interactions are not always obvious. There are some great puzzles in this game. New ones. Some are of the kind that simply take a long time to complete, without being difficult. Some I couldn?t do at all. There are 3 levels of difficulty plus a custom option, in the easiest mode, skip is quick. CE BLING! There 15 wallpapers, mostly screenshots, 15 concept art, replayable HOPs and Puzzles. There are also quite a few achievements based on both skill and story, and 3 types of collectibles. Garlic is collected for buying improvements in the interface. I didn?t like these because they interfered with the HOP scenes. The second set of collectibles are bat statues. There are lots of them, and they are used for improvements on your castle. The final collectible there is only 15 of and can best be described as totems significant to vampire culture. They are things like bats and ravens, but also things like silver that is said to combat vampires. It will be interesting to see all of them. COMBINED IMPACT I like this game overall, but it is slow. There seems to be plenty to do, but it seems to take a lot of time to do it. For instance, we must find 3 pieces of gargoyle statues to cross the bridge. But it seems a good 30 minutes after I picked up the first piece, and I have not found a second. HOPs, too, seem to take longer than usual. This slow pace certainly interferes with the enjoyment of the game, enough for me to rate it at only 3 stars, reluctantly, because otherwise the game is easily a 4.
February 8, 2014
Loved the game but found it very short
Was it just me? I loved the puzzles and the storyline. The graphics were great also but I found that it was over in a very short time. I was really disappointed that it ended so soon. Otherwise - very good game.
February 28, 2014
Moon-crossed lovers
Darling game and charming story. I really enjoyed the plot - very sweet. You get to switch between the two main characters, which made it interesting. It was a bit confusing at first - the human girl was where I expected the vampire boy to be, but that's because he has to help her get out of there. Excellent graphics. The map was very helpful - alerting you to where there is an action pending and letting you click on the map to get there. Actually there are two maps - one for her and one for him. I put the fun factor and challenge level at only "OK" because I found many of the puzzles either tedious or too easy. And, while one can choose between HO and Match-3, the HOs were, well, not repetitive, but felt like they were. I'm not a huge fan of Match-3 games, so that didn't help me much. I also felt like I had to go back and forth from one end of the "universe" to another an awful lot to pick up some little thing. #Thank goodness for the interactive map!# I did enjoy this game overall - I do not regret purchasing the CE version #the storyline of the epilogue is intriguing#
February 9, 2014
Waste of money!
I liked that you could check the map to figure out the next step instead of use a hint. I also liked that you could switch between match 3 instead of all HO for the puzzles. That is where the likes stopped for me. Some of the grammar was incorrect and the storyline was ridiculous...wish I hadn't bothered buying it!!
February 13, 2014
Vampire in Love is Not a Batty Idea
"Enron" (who chose that name?) the son of Dracula, wants to forsake his family name and live a normal life. He falls in love with Emily, a human, after she gives him the "damsel in distress" look. But before they are married, Emily is abducted and held in a mansion. There is now a race against time as she is in "mortal danger" and must be freed. The ghost of a little girl is also willing to help Emily. In this game, the player plays two different characters, both Enron and Emily. The switch is made by clicking the character's portrait in the lower right. Certain objects are sent from one player to the other by using a carrier pigeon. So you'll get so far with one character and have to switch to the other to progress, and so on. Apart from the story there are other things that can be collected in order to "build a castle" and an "interface shop" where you can "spend" your collectibles. There are also vampire-related items to collect just as collectibles. Personally, none of these things interested me, but your tastes may differ. Hidden object scenes were imaginative and well drawn, requiring a fair amount of interaction. There is also a match 3 option. Puzzles were cleverly integrated, but not very challenging. The use of some objects was unusual, and not always intuitive. The voices were an unusual mix of British and American accents, but were ok. Unfortunately there was not a lot of use of voices during the trial. For this reason, you do not get to know a lot about the characters except that they are in love. This made truly "buying in" to the story more difficult. Music is very dramatic and ominous sounding, but the same melody plays over and over. CE "pseudo-extras" include replay of hidden objects, wallpapers, concept art, music, and puzzles. There is also a strategy guide and an extra level. For options, 4 levels of difficulty and no special settings for sparkles. There are also some achievements, i.e. for not using hints. The game also does not play in true widescreen. The game scores points for innovation by playing multiple characters, but other than that there is nothing really special here. Vampire love stories have a certain following, so no doubt there will be many who really like this game. It's not bad, but I'll sleep this one off and get up at sunrise.
February 8, 2014
The Apple logo is a trademark of Apple Computer, Inc.
The Windows logo is a trademark of Microsoft, Inc.