Portal of Evil: Stolen Runes
Exclusive
The gates to another world will open soon! You can stop the impending disaster - if you track down the stolen runes! Vanessa is the only heiress of Abraham Van Helsinga, a member of the secret order of light guarding world peace. And now she has to find the stolen runes that were sealed inside the gate, behind which lurks an ancient evil.
Game System Requirements:
OS:

10.9/10.8/10.7

CPU:

1.6 GHz (INTEL ONLY)

RAM:

512 MB

Hard Drive:

900 MB
Game Manager System Requirements:
Browser:

Safari 4.0 or later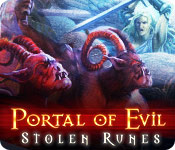 NEW299
The Big Fish Guarantee:
Quality tested and virus free.
No ads, no adware, no spyware.

Reviews at a Glance

Portal of Evil: Stolen Runes
0
out of
5 (
0
Reviews
Review
)
Customer Reviews
Portal of Evil: Stolen Runes
26
26
FEARFUL FUN
BASED ON ONE HOUR DEMO & SG DEMO First, the INTRO really gets your attention in this game, and the ATMOSPHERE of tension and fear continues even once things quiet down. While I remember, the MUSIC & AMBIENT sounds are REALLY ominous, and some of the best I?ve heard, adding to the tension. There are muttered incantations, moans, organ music. The GRAPHICS also depict some FRIGHTENING stuff, and are very PHOTOREALISTIC and clear. Because of the nature of the game, though, they tend to be A BIT DARK. Not all the time, but enough to be noticed. The STORY has us off to rescue our GRANDFATHER, who is a member of the ORDER OF THE LIGHT, and has taken off through a PORTAL to other worlds in order to recover ANCIENT RUNES that are needed to seal the PORTAL OF EVIL. These have been stolen and are now scattered throughout the MANY WORLDS. The first one is quite creepy. As we travel, we will meet characters whose allegiance has to be questioned at this stage, we just can?t be sure of anyone. Our grandfather manages to send us MESSAGE CAPSULES from wherever he is, I never figured out how, giving us CLUES & BACKSTORY. These are COLLECTIBLES of a sort I guess. The GAMEPLAY is balanced fairly EVENLY between HOS and PUZZLES. Based on the SG demo, this balance continues the whole game. There are 2 KINDS of HOS, INTERACTIVE LIST & MISPLACED OBJECTS. The PUZZLES vary in difficulty, but overall were NOT VERY HARD. There seems to be a FOCUS on the ADVENTURE component of the game, but it is not too difficult. The MAP gives ACTIVE ZONES and allows you to JUMP there. The HINT is DIRECTIONAL. From the SG, I got the impression this game isn't very long, but it has plenty of SHORT CHAPTERS. The emphasis is centred around the point and click adventure, though, and there are therefore relatively few HOS and PUZZLES. So it might be longer than it looks. I decided to wait for the SE on this one, and I am glad I did. I?d have been disappointed if I?d paid CE price for a game that is INTERESTING but NOT AMAZING, and without the usual bells and whistles. As a SE, I think this game is just right.
June 7, 2013
ENGAGING ADVENTURE
WOW - The opening scenes and music grab you from the beginning! Story is common (disappearance of relative and you are off to find him/her) but sufficiently uncommon in that the relative disappeared while engaged by a religious organization in a mysterious job. No one has a clue on what he did for them. This makes it much more interesting as you explore a beautiful but well-guarded cathedral and its grounds. Mostly an adventure game. Story keeps you engaged. You can interact with the various people you encounter and the voice overs are very well done. Simply gorgeous artwork. Many, many scenes - so there is quite a bit of back and forth; fortunately, there is an interactive map. Diary includes additional information and clues not necessarily apparent from gameplay. Modes of play: casual and expert. Music isn't the most relaxing near bedtime. Puzzles: not too difficult. Overall, a well put-together game.
June 7, 2013
Not bad for another secret society scenario!
Completed the CE and the demo of the SE. When I first tried the game, it reminded me of a recently popular movie and book, which I thoroughly enjoyed. When I found the ultra violet light used to reveal a secret message on a piece of art, I was hooked, and bought the game. Unfortunately, the original theme did not deliver and I was disappointed. The graphics, sound, animation, cutscenes and music are all excellent and suit the game well. With the standard features of a HOPA, the gameplay need not be described again, except to mention a function of the hint system that makes an already useful transporter map even more effective. As you search for your missing grandfather, a member of a religious order set in a beautiful Cathedral in southern Italy, it turns out only you can restore the stolen Seals critical to prevent the forces of the Underworld from taking over this one. A strong sense of urgency is evoked. Darkness and fear prevail. A good game for a dark and stormy night. It?s another secret society scenario, so you wonder who is really behind it all. Kindly Archbishop Benedict, the helpful Gordon Mills, the hunchback ghost? Could it even be Grandfather Abraham himself? This keeps you guessing and I liked that too. However, as the game progresses, the theme suggested in the demo disappears and the adventure devolves into what I can only call supernatural slop. Four portals take you to four evil realms. You battle frightful beasts and encounter every type of evil creature imaginable, including vampires. Seems to me that the devs couldn?t decide so they just threw in everything. Is a sequel intended? Can?t comment on the ending from the demo but, if it ends as did the main game of the CE, there almost needs to be in order to wrap up the story. I enjoyed the game itself, but did not find the storyline cohesive enough to hold my interest. It was just not what I was expecting. Would have given it 3.5 if it were possible. Some will love this game, others not so much. My enjoyment is always story driven, and personal taste is a major factor in this review. So, as always, I do recommend that you give it a try and decide for yourself!
June 7, 2013
Good Game
REVIEW BASED ON COMPLETED SE This is more of an Adventure game than IHOG, although the HOS are well done, variety of 'lists' 'putting items back' etc. I quite liked the puzzles, some harder than others. Graphics, for me, were clear, not as crisp as they could have been. I had no Tech. difficulties. Gameplay was about 8 hours, but I'm a slow player. 2 modes of play, I played on the hardest which wasn't particularly difficult, just a little extra clicking around to make sure nothing was missed Hint and Skip button takes about 2 mins to refill There is a jump map, which comes in handy as there is a bit of running around. Good game if you're new to Adventure games Storyline is young girl opening portals of evil in search of her Grandfather while searching for the special rune to forever seal each portal, I quite enjoyed visiting each different world, as each was quite different One thing I was very disappointed in was the ending, just cut off when she placed the last rune to seal the last portal, don't get to find out if she found her Grandfather, or who really was to blame for stealing the runes in the first place, no proof ,only supposition if you believed what you were told by the hunchback, I guess I'd have to buy the CE to find out for sure
July 5, 2013
VANHELSING TO THE RESCUE!
You have just been summoned to St. Peters Cathedral in southern Italy after your grandfather goes missing There you learn that your grandfather was part of the Order of light, keepers of seven seals that unlock the portal gates between earth and evil. Only members of the Vanhelsing family can travel freely between portals! I must admit that this is a great game, crisp graphics, good background sound, and eerie otherworldly vibes but I prefer the CE because of the morphs and achievements. There are just a handful of HOS but they are interactive and are a mixture of list finds as well as placing items back into the correct places. Puzzles are also far and few between and some of them are frustrating such as correctly placing discs to match a pattern as shown on your clue, by dragging them into different slots and then sliding the discs outward but the whole column shifts as well! (I skipped this one!) There is a map for traveling and it indicates active areas, and you have a decoder to decipher notes left behind by gramps, which is sort of an achievement because as you find the notes a pop up window tells you that you have found 2 out of fifteen notes for example. I would recommend that you take advantage of this weekends sale and get the CE for the perks and bonus game, but this is still well worth a credit. Enjoy!
June 8, 2013
Great mix of adventure, puzzles & HOGs
Based on playing the 1 hour demo. I completed chapter 1 of 8 chapters in the demo. So far I am interested in the story and I am looking forward to visiting different portals in the realm of the game. I like the good blend of adventure, puzzles and HOGs. The adventure is interesting and not frustrating. The HOGs are a blend of interactive and replacing the items. I like this as it gives the game variety. The puzzles are medium difficulty so far. They hold my interest and give me some sense of accomplishment. The voiceovers are very good and the art work and cut scenes are well executed. With 8 chapters, this game should be a very good length. I plan to buy it and enjoy the adventure.
June 8, 2013
WOULD GIVE 3.5 STARS
Portal of evil: stolen runes This game was a good length as it took around 5 hours to finish The music was good There was to different kinds of HO?s in this game. One was you normal iHO and the other was a new twist on HO?s that I personally haven?t seen done before so it was nice to see something new. The puzzles were pretty easy and relaxing to play The hint button recharges quickly There is an interactive map that lets you know where things are and allows you to travel from area to area so it saves you from a lot of backtracking. The graphics were done very nice with lots of detail There are voiceovers and they are pretty good not perfect but pretty well done The ending, I felt, fell a bit short maybe with the CE there is more to the ending I?m not sure but if not I feel that the ending is very disappointing So in summery the game was good with a few new things done and an ok story line. It does have a good length and is fun to play. Personally not one of my favorites but good none the less. I would recommend if you have a code or game credit or even if on sale its not s bad game. Hope ya all have fun and enjoy :)
June 26, 2013
Beautiful, fun game with half an ending
Well worth purchasing. Pros: * Absolutely gorgeous gameplay scenes and cinematics (whenever humans are absent). * Standard puzzles, but well implemented. I normally skip puzzles I've seen too often, but played through about a third of the ones here, simply because they were pretty and the challenge level was just right. * Satisfying hidden object scenes. Nothing new, but well done. Scenes were done twice: once as list, perform-an-action and zoom in, and once as place-the-items-where-they-belong. * Working hint and skip buttons. On the easiest difficulty, these filled quickly enough to avoid frustration, but slowly enough so that I'd at least give puzzles an honest try. * Excellent interactive map. A now-standard jump map, but well done. Red dots showed where something could be done, a green dot where you were, half-and-half for both. Clicking on a map node teleported you there. Unavailable locations were visible but grayed out, giving you a sense of how far you were in the game. * The ending ties up the main questline. Cons: * Questionable voice acting and 3d character models. (In any other HOG, the human models would be fine, but given how good the graphics are in the rest of the game, the contrast is jarring.) * Puzzles and objects often make little sense in context. You'll be opening weird-shaped locks and dissolving things with acid just because those are the available actions given your inventory, not because any rational person would ever think of doing so as part of the quest you're allegedly on. (The game is fun and beautiful enough that I found this amusing instead of upsetting.) * In the standard edition, the ending leaves a few important plot threads hanging.
October 9, 2013
Five Stars Game
I have only played the demo. Gorgeous colourful graphics and very good storyline. Pleasant music and hot
September 5, 2013
Almost great
Beautiful story, very nice presented, great sound and visuals. But in a little rush to finish the last two runes stories, which as concept could be mind blowing but they did not after all. And many lose ends left unsolved. Maybe in the CE was more but the regular game leaves you a little disappointed.
June 26, 2013
The Apple logo is a trademark of Apple Computer, Inc.
The Windows logo is a trademark of Microsoft, Inc.