Through Andrea's Eyes
It happened without any warning. Judith's only daughter simply collapsed after returning from school. Judith brought her to the best doctors, but none of them could diagnose her, until Dr. Fletcher heard about her unsolvable case. He offered Judith the chance to enter her daughter's mind to uncover the problem. His experimental technology has never been tested, but it may be Judith's only chance to save her daughter. Explore Andrea's imagination and upload real world items to solve dream world problems in Through Andrea's Eyes, a mind-boggling Hidden-Object Puzzle Adventure game.
Dive into a young girl's mind.
Meet the quirky characters of Andrea's imagination.
Help Judith awaken her daughter!
Game System Requirements:
OS:

Windows XP/Windows Vista/Windows 7/Windows 8

CPU:

1.0 GHz

RAM:

256 MB

DirectX:

9.0

Hard Drive:

790 MB
Game Manager System Requirements:
Browser:

Internet Explorer 7 or later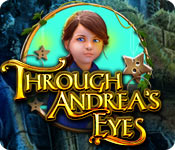 NEW299
The Big Fish Guarantee:
Quality tested and virus free.
No ads, no adware, no spyware.

Reviews at a Glance

Through Andrea's Eyes
0
out of
5 (
0
Reviews
Review
)
Customer Reviews
Through Andrea's Eyes
33
33
Creepy Hidden Object Adventure
Based on the Demo In the beginning the graphics were very plain, with a creepy doctor that keeps his eyes half closed all the time, but once you are in the dream world they are brilliant beyond imagination. The animation is fabulous. Although there is only one voice over, the mother as she narrates the story, the background sound is appropriate and enhances the story. Additional voice overs, especially the doctor, and the rabbit, would have been a welcome addition. The story opens with a mother concerned about her beloved daughter, Andrea, who has gone into a coma for no reason. The doctor has a new technique to save Andrea: the "Diver" process, in which the mother will enter Andrea's thought processes to see what has happened. The mother enters a horrific nightmare of demons and darkness. Even though the colors are brilliant, it is a dark dangerous place for a child to be. The hidden object scenes are the list type with some interactivity. Mini puzzles are pretty challenging. There is a journal with "memories" and a map to assist you in gameplay. This game creeped me out because I didn't expect a game with such beautiful colors and lullabye music to be so dark. I can't wait to play the rest of it.
February 5, 2014
Through Andrea's Eyes
I thought this game was fun. I liked going from 1 land to the next. Having to save your daughter. I liked the idea of scanning things in present life then bringing them into dream life. This was a free game for me, I would have played for it and not regretted it. Yes it could have been made better, but all in all good game
February 5, 2014
Different Creepy Game
After playing the first hour, I was hesitant to purchase the game after reading some of the reviews regarding "no walkthrough". I am so glad I bought it, because one does not need the walkthrough to get thru this game. If you read the journal and keep your eye on the map you will not need any extra help. This game is well designed and the HOS are clear. It has a great storyline and is somewhat longer than I expected, which is a good thing. You have many places within the memories and in the real world to solve the child's coma. I say try it, and found the game worth getting.
February 10, 2014
very intreging story line
other than a slow hint button this game intrigued me and with the discount today I bought it. I want to save my daughter and find out what happened. interesting story line, no map but hint button works well. without it I would be lost, know way to know where to go but overall interesting story line. I recommend this game.
February 5, 2014
Very Nicely Done
Your daughter comes home from school and goes outside to play when she suddenly lapses into a coma. You find a doctor willing to try a risky procedure where you enter her mind. This is a well done, bright, challenging game with a unique story line. The HOS are list interactive. Very nicely spaced objects in the HOS. The hint button works well if needed. Puzzles are fairly easy but fun. You can travel between your outside world and your daughter's mind to obtain things you may need. You come across some pretty funny characters along the way, although they are creepy in their own way. There is a map that shows where tasks are. You collect pieces of memories which go into your journal. Game ran smoothly for me without glitches. This is one of those "different" games, and I applaud the developers for doing something different. I recommend :)
February 5, 2014
NEED REVIEWS OF COMPLETED GAME
I hate when a demo ends before one hour is up. I have mixed feelings about the game. When the mother is in Andrea's mind, it is very interesting and intriguing and fun. But outside in the real world, it is rather mundane. So I had a hard time deciding whether to buy. Guess I'll have to wait until a sufficient number of people bought the game and reviewed it upon completion to determine whether to buy it. Graphics in Andrea's mind are cool. Love the little imps that appear whether or not the mother is inside Andrea's mind - they're so cute. They seem mischievous rather than sinister. Puzzles are not difficult, although I had to think about a couple until I realized the journal had the answer. Depending on how long the game is, it could be a nice afternoon of game play. Would be great if BF had a way to show whether reviews were of completed game or based on demo at a glance (perhaps on the sidebar where they ask your favorite genre and game) or an additional comment to whether you would recommend the game.
March 9, 2014
Interesting, might buy.
This looks pretty good. I like the story line, the HOs and the puzzles. One thing I don't understand is why some characters such as the doctor and nurse look like real people, but the teacher and the little girl look like caricatures. It just seems weird to me. Not sure if this will prevent me from buying, but it is annoying.
February 5, 2014
A re-vamped old game, so it seems
BASED ON THE WHOLE GAME I spent a PCC on this Standard Edition game and do not regret it. The story is a little different. A mother's daughter inexplicably falls into a coma and a doctor with a revolutionary machine, allowing her to enter her daughter's mind to find clues as to how to wake her, is helping her along the way. Hence you have two scenarios, the real present-day world and the dream world full of little monsters and other weird creatures that only a child could conjure up in her slumber. The colours were bright, but the graphics and gameplay gave away the fact that this appears to be a game that has been sitting on a shelf somewhere for some years, and then got a make-over of sorts. There are clues as to how old this game is within the game itself by way of dates. I counted only 9 each of hidden object scenes and puzzles and the whole game took me 2 and 3/4 hours, so it's not very long. HOS are all lists with some interaction to speak of, and some have one lengthy interaction. There is no lip synching, but some scenes had voiceovers, others were mainly just text. An attempt was made at some kind of collectibles, but they were only 5 memory shards throughout which made up a photo. The conclusion was fairly dramatic, but predictable. All in all, it was enjoyable and worth spending a PCC on, especially if you have one about to expire, but I wasn't blown off my chair with excitement.
February 5, 2014
Demo Reviewed
Mom working, happy child comes in, goes to play. Mom rushes out, child in coma. Mom opts for experimental procedure to wake daughter. Now that is what I call a minimalist storyline. There are three levels of difficulty, reasonable art work, annoying music and background noises, and interactive HOGs. There's the usual journal, map, and the added back and forth of going into your daughter's mind and returning to the real world. Sometimes there were voice overs, sometimes you read dialog. Samo, samo. Nothing here is cutting edge, or even up to current standards. There is no wow factor. I don't expect every game to be the Next Big Thing, but there has to be some reason to buy it. The story was not involving enough to care. There weren't any innovative or unusual game play moments to pull me in. The Hogs were well lit, items not too difficult to find. Minigames were just that - mini games. I suspect that this is another game that languished in the vault till there came a day with nothing good to be the new release of the day. I saw more than a few things in the HOGs that were very old school. (Like a floppy disk and a large simple cell phone in the HOGs.) I'm thinking that for the sake of quality, I would forgo the mediocre game of the day in favor of the better game of the week. Just in case you will disagree, please play the trial game. As for me, I'll replay something better from last week/month/year.
February 5, 2014
No challenge..
Afternoon all. Wow, this must be a fairly old game, or at least one that's been hidden somewhere for a very long time. Graphics are old school but fairly well done. Game play is a little slow, but good. Music gets very annoying very quickly. There is a locking inventory bar and a very useful jump map. You have the option of volume for the voice overs, but the only place I had them was at the intro to the game and not within the game...very disappointing. Hint system is quite helpful and fills at the usual rate. Skip button fills faster than most. Colors are very bright, almost too bright. HOGs are the usual as well. Items are not difficult to find. Some items in the game are easily overlooked, e.g. the needle for the thread. You have to look at everything for a possible helpful item. Puzzles are very simple. This game is not really challenging and because there are no voice overs and not much in the way of sound FX, it is a bit boring for me. Yes, the story is a little different and I did like the way you could jump between the dream and the real world, but... The little girl was a little creepy, and who in their right mind would subject their daughter to experimental procedures without first ruling out everything else! They could have at least had Mom or the doc make a statement to the fact that "everything else has been done and we find nothing abnormal," or words to that affect. It's hard to tell how long the game is, but I had 26 minutes left on the demo, so it probably isn't much longer than another hour or so. Apparently there are memory shards to collect, but I only found one #accidentally# during the demo. This would be a very nice game for a beginner, and that is the only reason I recommend it. This game just didn't have it for me today...too simple, too quiet, no challenge, no buy. As always, try it for yourself and see what you think. We all have different tastes in games and you may find this to be exactly what you are looking for today. Thanks for the reviews.
February 5, 2014