Mystery Trackers: Raincliff's Phantoms Collector's Edition
Exclusive
Brought to you by Elephant Games, the creators of the Christmas Stories series and Mystery Case Files®: Fate's Carnival.

Now you see us… now you don't. It should have been a lighthearted human interest story, but what Emilie White reported on in this abandoned town scared her witless – and now she's vanished. Nobody can say what happened to her, and only a few like you know the stories of invisible people living there are true... Return to Raincliff, where what you see isn't always what you get.

This is a special Collector's Edition release full of exclusive extras you won't find in the standard version. As a bonus, Collector's Edition purchases count toward three stamps on your Monthly Game Club Punch Card!

The Collector's Edition includes:
Play the bonus game to uncover more secrets
Discover the Secret Room
Earn Achievements
Collect Mr. Toad figurines throughout the game
Get soundtracks, wallpapers, screensavers and concept art
Game System Requirements:
OS:

Windows XP/Windows Vista/Windows 7/Windows 8

CPU:

2.5 GHz

RAM:

1024 MB

DirectX:

9.0

Hard Drive:

938 MB
Game Manager System Requirements:
Browser:

Internet Explorer 7 or later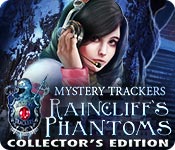 The Big Fish Guarantee:
Quality tested and virus free.
No ads, no adware, no spyware.

Reviews at a Glance

Mystery Trackers: Raincliff's Phantoms Collector's Edition
0
out of
5 (
0
Reviews
Review
)
Customer Reviews
Mystery Trackers: Raincliff's Phantoms Collector's Edition
81
81
Liked this Game!!!! ...but a tad short
Graphics, Graphics, Graphics! Hey did I tell you about the graphics, they were great! Clean with textures, depth, crisp, lovely light and shadows and very detailed. I have missed these kinds of graphics, most new games now days are flat and overly glossy .Voice overs are pro and the music works perfectly with the game, it's not distracting or annoying. The game itself is not very difficult -I played on hard mode - but it is very engaging and keeps moving. You have morphing objects to find with a purpose this time ( to keep you warm ). You also have to locate frog cards.Yes, I did say frog cards. My only problem with this game is it is Very short even after you add the bonus level. I do wish the game had been a bit more complex, but I don't want to sound too negative as I really enjoyed it. I played this on my PC and the game ran fine with no problems.
March 1, 2014
another good game
This game had all of the great elements of most Elephant games. Beautiful graphics, great sound effects and very detailed. Very easy HO scenes, some great mini games and lots of achievements. Had 20 collectible frogs and morphing objects that only began to morph once the temperature dropped below a certain degree. Little details like a cat that returned to stare at a bird every time you left the scene gave this one some charm. The main game was a tad short but the extra chapter carried on what could have easily been the main game. I liked this one, the return to Raincliff and all but for me this easily could have and maybe should have been an epilogue to the first game rather than one that would stand alone. There wasn't a lot different than the first and while I enjoyed it, it did not have the same kind of excitement that the first one did. Don't get me wrong I really did enjoy this. It was fun and well done. 4 outa 5 from me.
February 27, 2014
What Happened To Mystery Trackers?
BASED ON DEMO Mystery Trackers returns once again, this one the sixth installment. And this time, we return to the location of the second game in the series, Raincliff. Returning to a previous location in a game is incredibly high risk, because it will, no doubt, draw comparison to the previous game. Out of Raincliff and Raincliff's Phantom, I'd say I prefer the former. This is nowhere near the standard of previous games in the series. The first thing that popped in to my head during this story was that it was very similar to Black Isle: Journalist investigates strange town, journalist goes missing, you have to save them. When I first started playing, I was a bit sad, because I thought this was an exact copy of Black Isle with a different name. I was soon proven wrong, however. This is quite different to Black Isle. Similar to Mystery Case Files: Dire Grove,this game has a camera and collectible tapes, which are found at various points in the game. Each tape provides additional information about the story and is quite exciting. This story was well executed in some parts and well thought out. There were a couple of really exciting twists in there, including one involving Elf, which was really unexpected and added that ?Oh My Gosh!? element to the story that had been missing up to that point. This is a decent story. It's one that's not brilliant, but not awful either. I've certainly seen better from Elephant. I was expecting a bit more, which is why I'm turned away from buying this one, even though I have two of the previous games (both of which I loved). The gameplay is better than the story in my opinion. The HOS were pretty good. They were all junkpile with extra step objects and most scenes included one puzzle object. The puzzle objects were a slight challenge, added length to the scenes and were very fun. I was happy to play the HOS when one came up. During the demo, there was one instance where I had to shine a torch under a bed and I was thinking ?Oh no, not a torch-HOS!? Because those HOS where you have to move the torch around annoy me immensely. But to my happiness and surprise, this wasn't the case. It was a normal HOS, with some extra step objects only needing me to turn the torch on. This was wonderful! Elephant did a real great job of their HOS. I haven't enjoyed HOS this much for a while. The puzzles in this game were a little harder than I expected, and I had to skip most of them, if not all. It was a shame really, because I was expecting to be able to solve a few. Elephant really should consider that there are other people who aren't very good at puzzles. In this game, there was something called ?Frost Mode?. In this mode, the temperature drops slowly, to the point where it gets so low you cannot continue the game until you find something ?warm?. This is honestly the most stupid idea I have ever heard and seen in my entire life, and I am so thankful that there was an option to turn it off. Had there not been, I wouldn't have bothered to finish the demo. I hope the developers realise that having temperature affect the game is a terrible idea and they don't do it again. And, of course, it wouldn't be Mystery Trackers without our beloved Elf. Elf makes his 4th appearance, but in this one, he isn't used as much, granted that he is involved in some of the story. I would have liked it if Elf had been used more. Other than that, this is pretty much your standard HOPA. It's got all the basic features and experienced players should have no trouble with navigation. I don't know if I'd recommend this to beginners because of the Frost Mode. What I absolutely loved about the old Mystery Trackers games was that they used real actors and real scenes. Those days are gone. The characters are cartoon, but the scenes are still real. I thought the games were much better with real actors, and to take that away is a bad decision. What I did like though was how they pulled off the Invisible People. That takes real skill. I applaud the developers for this. Other than that, everything else was clear. The voice-overs are standard. I have no comment on them. FEATURES 4 modes of difficulty: Casual, Advanced, Hardcore and Detective Mode. Differences are hint/skip charge times, sparkles, etc. I played Casual. Hint/Skip- Both recharge at a reasonable rate and the hint is helpful outside HOS. Diary- keeps track of events. Map- The map is interactive and quite helpful. ?Complex objects?- Indicated by a plus sign, these are objects that take multiple steps to complete. Video Camera- There are collectible tapes which are used on the video camera. The video shown gives more details about the story. At the end of each tape, a photo is printed out. This photo reveals the location of a hiding place when some items are located. Elf- Elf returns once again. Elf is not used as much as he used to be, which is a shame. Frost Mode- See my explanation of Frost Mode for more info. I still think this is a terrible idea and should never be used again. CE EXCLUSIVES Built-in Strategy Guide. Bonus Chapter- unsure if needed Achievements Collectible toads (15)- Elephant have finally listened to me and given us collectibles back! YAY! This was really enjoyable, and I loved trying to find each toad. On the downside, I don't think there were enough collectibles. Wallpapers Concept Art This is definitely a step backwards in the Mystery Trackers series. I'd even go as far to say that this is one of the worst games in the series. The CE has been downsized. There are nowhere near as many extras as there used to be and so, the CE isn't worth it. I'm passing on this game. I seriously think Elephant can do so much better. The best I can give is three stars, but I can't recommend it.
February 17, 2014
Too much, too little
Too much junk and too little play time. Honestly I know I'm going to get a lot of boo and hiss from all you who love these games, but these games are way too tedious, loaded with way too much junk. I get to the point where I want to quit because it's too overwhelming to play. I finally got into this and I'm probably, at this point, almost done. I only stuck with it because I bought it. I didn't enjoy this at all and won't buy this type again anytime soon. It gave me a lot of anxiety and no pleasure.
February 22, 2014
Glitchy
I haven't finished this game but I like it. Always like the Mystery Tracker games. Good story, good graphics and a good mix of HOP, interactive features, and mini games. There's a map that hops you scene to scene and gives locations of objectives which is always helpful.And there is the helpful dog to find things for you. In this game there are morphing objects but they don't morph very readily--I found most of them by luck, not because they changed shape. They can't be missed because there is a "freeze" meter that indicates when one should be found. Not the most fun with morphing objects--usually like more and the technical aspect should be better. The real problem with this game is some of the mini puzzles are glitchy---you get to a point in the game and nothing will move forward--ex. mixing a potion and I couldn't pick up the test tubes. No tool to use, just pick them up and mix them and it wasn't happening--so had to skip the puzzle which is annoying and messes up your achievements, if you are into that. So be warned. Otherwise a good game.
February 24, 2014
It was OK but Nothing More
I expected more from this Game. It was average, nothing spectacular, just the same stuff as in the other versions. The Storyline was disappointing and I was BORED. Not even going to bother to play the Extra Game Play ... just too boring. No replay value whatsoever. The Frog Collectables were very cute but that's about all this Game had going for it. I wish I had Saved my Money instead of buying this.
April 12, 2014
Raincliff's Phantoms CE version just didn't cut it for me!
I'm in the minority who feels this way, but, to me, the game-play is choppy and boring. The developers did, indeed, put a lot of work into this CE version, but it's just not for me.Try the game anyway. I love the series but it's the same ol', same ol. I'm halfway through the game but will eventually complete it. I do love the cardinals very much and our lil' canine helper!
March 15, 2014
too slow
The mouse was so slow i couldnt play!!
February 15, 2014
Really!!!!?
I'm sorry, but this is just another run of the mill HO game, with nothing special to make it stand out. Very disappointing.
February 17, 2014
NOT FOR THOSE WHO WANT TO "PLAY" W/ THEIR TIME!
Visually nice, but story line is the pits & what you're to do is abysmally unknown. Even in the casual mode, it was anything but casual. Not for me as I like fun stuff to relax with, not weird & confusing.
August 9, 2014
The Apple logo is a trademark of Apple Computer, Inc.