European Mystery: The Face of Envy Collector's Edition
Exclusive
A series of robberies takes a deadly turn in European Mystery: The Face of Envy! You've been called out of retirement again by an old friend in Italy. Something very unusual is happening on the streets of Rome... Nobles are being robbed of their jewels in broad daylight and falling dangerously ill afterward. As you begin to investigate, you realize that the case is even stranger than you first thought - the villain takes on the physical traits of his victims right before your eyes! But who is he? And what is his mysterious plan? To find out, you'll have to explore the sights of Rome and solve challenging puzzles in this thrilling Hidden Object adventure!

This is a special Collector's Edition release full of exclusive extras you won't find in the standard version. As a bonus, Collector's Edition purchases count toward three stamps on your Monthly Game Club Punch Card!

The Collector's Edition includes:
A bonus mystery that takes you to the city of Dresden!
Wallpapers, concept art, and videos
Wonderful music tracks from the game
An available Strategy Guide
Game System Requirements:
OS:

Windows XP/Windows Vista/Windows 7/Windows 8

CPU:

1.6 GHz

RAM:

512 MB

DirectX:

9.0

Hard Drive:

1223 MB
Game Manager System Requirements:
Browser:

Internet Explorer 7 or later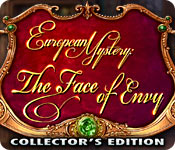 The Big Fish Guarantee:
Quality tested and virus free.
No ads, no adware, no spyware.

Reviews at a Glance

European Mystery: The Face of Envy Collector's Edition
0
out of
5 (
0
Reviews
Review
)
Customer Reviews
European Mystery: The Face of Envy Collector's Edition
44
44
Glitchy is the Face of Envy
Wow thought I was in a old 70 Japanese film. The mouths are all over the place and out of sink with the voice overs. The other glitch in this glitchy game is I used the hint button during a HO and got an award for finishing the HO without using one hint. Huh? That aside the game was very well ran in story and very beautifully drawn. Plenty to do and the HO's had lots of interaction. Fairly easy game but was very fun. I would buy it even with its Glitchy face speakers. The game over did it on the awards and under did the collectable. Love love love the box I make things in and the critter companion to help me solve some issues. The map will jump you to wanted locations and was beautifully drawn.
February 20, 2014
Let's visit Rome!
The second game in the European Mystery series by Blam Games -------------------------------------------------------------------------------------------- Their first game was so great that when this one came out I was pretty excited, but still I have to try the demo first. This time the game is set in Rome. There are 4 levels of difficulties. Bonus content is pretty much the usual stuff except the Mask Room. The graphic is crisp, nice VO. Map is pretty useful. HOGs are diverse, puzzles are moderate. There's problem with the achievements, as I skipped and used hint button sometimes but still I receive achievements for solving puzzles without hint or something. There's something definitely not right here with the achievement, and I think I can easily collect all of them. The only problem I had with this game is the very slow loading especially when there's cutscenes. It takes around 5-10 seconds each. The game dev. is quite stingy in giving the demo, only 1 chapter is available for demo and the SG doesn't show anything but Chapter 1. I think I will buy this game, pretty nice, shows Rome and its famous landmarks, quite engaging story.
June 24, 2014
The Demo was decent
My impressions based solely on the demo. (of which I completed with 23 minutes to spare.) The Story-line is fine from a just the bit I got from the demo. It doesn't lay everything out in one fell swoop, which is fine because the appeal of this type of game hinges on a bit of mystery. And it does pique my curiosity. I do like the visuals, they are appealing to the eyes, not overly garish. Sound is nice as well, the voice work is decent, though it doesn't sync as well as it could with the mouths of talking characters. I generally skip the mini-games in demos, because they are usually the standard fare but they did look like they could present a proper challenge for some players. Not sure I would get the CE just based off the demo, maybe the SE. I am curious to see what is going to happen, so I may buy it. So try the demo.
March 7, 2014
formatted
While the mechanics and the visuals in this game were great, I just couldn't shake the sense that I had played this game several times before. I seemed so similar to the dark canvas and dana knightstone games that I had to think they had made some location changes and a few character changes but used essentially the same theme and format. I also noted a few oddities. You were in the bakery when someone threw what appeared to be a molitov cocktail through the window but the next second everything was normal? What? And the sound had this effect that happened over and over of a coin dropping? Now I do play with headphones but still. The other thing was in the bonus chapter. During the game you are a detective, of course. who is chasing a jeweler that is trying to change his appearance to look like a noble who is the husband of the woman he is infatuated with. However in the bonus chapter you are the detective but you look just like the criminal? So are you the noble or the detective? Anyway if you haven't played all those other games, this one is quite well done.. beautiful with lots of locations. Be warned that they do the it's locked.. it's missing thing to death but a lot of games do that. I liked the achievements and the one collectible masks (only 25) but for me this one had trouble holding my interest as it seemed to be a repeat of so many others before it. Nothing new, nothing out of the box so to speak. A good sort of standard CE that seemed very similar to those that came before it. If you're new to this type of game this is a beautiful, well executed one. If you've played all the others you may get a serious case of de jua vue.. I have no idea how to spell that but you get the point.
March 14, 2014
Be careful where you touch
I played about 10 minutes of the demo using the 'custom' skill level before buying the game. I totally agree with one reviewer who was completely annoyed with the nonresponsive remarks whenever you click on something because you are investigating it or trying to solve it with the wrong item -- they made no sense whatsoever! For example, I clicked on a cord, with just the cursor, to see if it was something I needed to deal with, and got something like "A good tool, but not useful here". That was in the main game...the bonus round actually has appropriate remarks to what you are attempting. I also agree with another reviewer who complained about how touchy the game is when it comes to where your cursor is when interacting with objects. I tried about 20 different times - in 3 re-visits to one area - to have my companion ermine retrieve something of a good size, and no matter where I placed him on or near the object, I got one of those frustrating responses and he was sent back empty-pawed. I FINALLY clicked him just right and he was successful. That is one of many, many instances of this in the main game. What REALLY frosted my cookies was, after I completed the main game, I accidentally clicked 'Play' in the main game section and it restarted the game without a courtesy message that I'd already completed it and should create a new user...and it wiped out my collected masks!! Maybe they designed it that way, but it seems like a bad choice if they did. So, starting the bonus round I am back to mask #1, yet all my other achievements remain intact. I am VERY disappointed! Beyond that, the game played in a logical manner without constantly having to wonder what the heck the next step should be. I enjoyed the HOS and the puzzles/minigames. I am not one for storylines, conversations, or caring if the costumes and locations are correct for whatever the time period is, so can't comment on those. I love the custom difficulty level and voice mute options. I enjoyed the scenery, ambiance and the music. The interactive map worked well, especially with all the places that had to be revisited, and the hint button was a useful one. I am only about 15 minutes into the bonus round and wish the main game had been more like it during my explorations, but am glad I played it.
March 14, 2014
And it started off so impressively
....but after awhile... The quality and uniqueness of the graphics in the demo convinced me to purchase this game. And it's still pretty to look at but the game design doesn't work for me: e.g., enter a room and the game says "What can I use here?"...click on the table "What can I use here?"...click on a spot where I should send my animal friend and the cursor doesn't change, nothing glows in the task bar just, you guessed it, a message at the top that says "What can I use here?" Really glad I bought this one on sale so I don't feel so bad about uninstalling it.
March 16, 2014
Please Advise
You are a formerly retired detective apparently called out - again - to help a friend. People are being robbed. There is a sketch of a suspect. After you arrive, there is a murder. You start investigating, much like all the recent games. there are achievements to collect, all of which the game awarded me in an annoying and continuous stream, even though I had not earned most of them. There are HOS and minigames, much like all the recent games. There are the usual moments when you ask yourself, "What were they thinking?" Like the murderer so anxious to escape, he dives out a window and then you find him strolling casually down the street, repeatedly, till he gets annoyed that you are following him. Or like the local authority who called you in, locks every gate behind himself, but leaves you to make your own keys, or better yet, file, break, or jimmy the locks open. Lucky you. The only twist is the jeweler's invention you appropriate from beside his lifeless body. It creates items from blueprints, charged crystals, and assorted items you collect as needed. There is lovely artwork, an interactive map, diary, and the usual CE perks. But they are just not enough. I like a good story. There is none. I like some character development. There is none. I like a reason to finish the game. There is none. It has potential that was not carried out. Please be sure to try before you buy. And then tell me how to rate a game I just don't care about?
February 15, 2014
Why stray so far
After the last EM game I was excited to see this one come out. I just finished playing it and I am severely disappointed. The new game they came up with to replace the scent catcher isn't very fun due to picky controls. This whole game, music, art, everything seems to have been slapped together in a rush to release a new game. The voice acting is terrible and out of sync, the story isn't explained as well as the last game, the bonus game is pointless to the story or a squeal and if I hear that coin drop sound effect in the music one more time I'm gonna snap! Basically everything fun or interesting we had in the last game was tossed out and Frankensteined into a dull, time consuming yawn that I was thrilled to stop playing at the end. Don't even bother with the SE. Not worth it even for the sale days.
February 16, 2014
Interactive Cartoon--Nothing More--
It appears that most games have evolved as interactive cartoons rather than games which challenge us while being interesting and/or suspenseful. Not so on any level with this game and I have the preceding EM game but did not make this purchase. I cannot understand how a game this boring gets high marks. Is every single game worthy of high marks? No, however, seems like the same reviews are for every game and it seems that every game is awesome. Reviews are becoming as cookie cutter as the games. On the other hand, I apologize to Developers who went through all that work only to produce a game of such immeasurable boredom that it's insulting to true gamers. However, if games get glowing review marks, then Devs may truly believe their game is a good one and continue to produce poorer and poorer quality games--these razzle dazzle cartoons-- and we have plenty of those rolling in our way! Thank you to Grannie_Gruff for an honest review. Enjoy! -Mama Mia-
February 17, 2014
Too much incongruence...
As you can read in all other reviews, this game is about a retired detective called by a friend who lives in Rome, where strange crimes have started happening. The game is based on the usual mechanism of search with alternate HOS and mini-games. You have to find the sempiternal keys to open doors introducing to a different scene and you have a little helpful pet, this time an ermine. The graphics are well done, colourful and not too dark, luckily, so it could appear all in all like an enjoyable and entertaining game. But I felt deeply annoyed by the incongruence and the lack of accuracy of the developers, who didn't pay any attention to even a slightly form of logic in their characters, mixing up absurdly dressing styles and showing a total ignorance of the main features of the town they have chosen to set their game in. The detective who appears at the beginning of the game is dressed like a 18th century gentleman, with a cocked hat, but his friends in Rome and the other characters there are all dressed in perfect early 16th century style. Oddly the dead jeweller is wearing again like in the 18th century. The most incongruous thing about the "dress style" is that the ancestors of some of the characters, who wear like in 16th century, are showed in their paintings wearing clothes of?19th century. Already this mess disturb me a little, since I cannot find any proper temporal location in the game. But it's not all. We are told that the detective joins his friend to Rome and in a scene we see the famous Trevi fountain, which is in Rome as everybody knows, but it was built in the middle of 18th century, so it's obvious that none wearing clothes of two centuries earlier could walk by it. In another scene I noticed a baker's shop with as a typical German or Austrian shop sign, a pretzel. It's out of imagination to see any baker's shop of that kind in Rome in whatever century? It's just a casual mess of various elements without any respect for an even very superficial historical logic or objectivity. Just a few examples at random, but all the game is full of unnecessary incongruence. If the developer had chosen to set their game in an imaginary place, they would have felt free to utilize all the elements of various architectures at random and it would have been acceptable, but they made clear from the beginning it was in Rome, even though we have not any idea about the historical period. All that makes me feel quite disappointed by the game.
February 18, 2014
The Apple logo is a trademark of Apple Computer, Inc.