Danse Macabre: The Last Adagio Collector's Edition
Exclusive
Your sister's invited you to attend the biggest performance of her life: she'll debut as Donatella di Fiore, every ballerina's dream role. She tells you to meet her after the dance but never shows up! What's happened to your sister on this fateful night?

Get into the theater and find a cast of ghosts all trying to tell you something. Some of them are better at playing music than talking, so this could take some digging on your part... Save your sister from a decades-old curse so this doesn't become her last encore.

This is a special Collector's Edition release full of exclusive extras you won't find in the standard version. As a bonus, Collector's Edition purchases count toward three stamps on your Monthly Game Club Punch Card!

The Collector's Edition includes:
Play the bonus game to learn how the curse was started!
Get soundtracks, wallpapers, screensavers, and concept art
Try the Strategy Guide
Play bonus puzzles!
Game System Requirements:
OS:

Windows XP/Windows Vista/Windows 7/Windows 8

CPU:

1.6 GHz

RAM:

1024 MB

DirectX:

9.0

Hard Drive:

1183 MB
Game Manager System Requirements:
Browser:

Internet Explorer 7 or later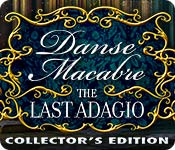 The Big Fish Guarantee:
Quality tested and virus free.
No ads, no adware, no spyware.

Reviews at a Glance

Danse Macabre: The Last Adagio Collector's Edition
0
out of
5 (
0
Reviews
Review
)
Customer Reviews
Danse Macabre: The Last Adagio Collector's Edition
35
35
Wow, nice!!
A game by Eipix Usually Eipix made adventure games but this time it's a little bit romantic and fortunately fit for beginner gamers. The story and plot is very easy to understand and with although not the most original story, it's still engaging. There are 4 levels of difficulties. Crisp and clear graphics and nice VO. I can't make sure whether the game is set in Italy or in France but it's definitely in Europe, which I like. HOPs are of the very easy variety, simply find items from the list. Mini games are also very easy and the ideas have been used before. Bonus contents are pretty diverse, too bad some are locked until you finished the main game. There is map but it's not so useful because it's very easy to follow, and almost all inventory item will be used immediately so there;s no hard thinking needed. Definitely my kind of game.
June 25, 2014
Really Good game
The scenes were beautiful. I loved the ability to revisit them when collecting for the souvenir room. The game was beautiful and complex, although I do not think that the bonus chapter was anything great but I would definitely buy the CE for the other inclusions. I liked the movie about making the game.
March 23, 2014
Obsessive Love
Danse Macabre is the story of a curse that exceeds the bonds of time and burns from the soul of a spurned love. Your sister a prima ballerina has been caught in the curse and now you must free her and others from its wicked grasp. Over the past year or two, EIPIX has emerged as one of the top developers of casual games, consistently presenting us with top quality games. In Danse Macabre the Last Adagio we again have the excellent, crisp and colorful graphics that are typical of EIPIX. I love ballet and opera so when I find a game centered around the opera house theme it grabs me. As much as I love this developer, it is unfortunate that the voice overs in this game are terrible. The exaggerated accents are so phony and as a consequence just a bit too much to seem realistic. The other issue is that sometimes we have lip-syncing and at other times none. There is a diary that contains our objectives as well as notes that will help us as we progress in our adventure. The interactive transporter map that indicates where we have tasks to accomplish is located on the lower right of the screen. There are various types of interactive HOS, some are the standard list type and others are a grayscale silhouette type. Although the puzzles are nothing new, they are still fun and some do present a challenge. During the demo the puzzles were easy enough but I suspect they will progress in difficulty as I move forward in the game. EIPIX certainly loaded this CE with an abundance of extras. Not only can we replay the puzzles and HOPS from the game, there are also bonus HOPS included with the extras. There are game based achievements to be earned and morphing objects to be found. During the course of the game we will find 44 collectible roses for Marie?s bouquet but not to worry if we don?t happen to find all of them because there is another opportunity at the end to find the ones that might have been missed. Whether you choose the CE or SE release is a matter of personal preference but EIPIX has surely added so many extras to Danse Macabre that, IMHO, it is a true CE value. In spite of the flawed voice overs, I love this game and when the demo ended I wanted to keep playing. Danse Macabre the Last Adagio is a worthy CE and one that I want in my game collection. As always, I recommend that you at least try the demo to see if this is a game you will like.
February 20, 2014
Sister sister oh what a mister
Very excellent game. Ran smooth and lots of characters. Jump map collectables morphing objects. Plenty to do. This game is a must have for me. HO's were just fine and if you don't like them you can switch over to some sort of marble game. Music was good without irritation, You can change level of challenge during game, And I too like that I could lock the inventory bar. Otherwise it would have driven me mad when moving curser over it.
February 23, 2014
Lots to do...
Morning all. Yes, same story different day, but this game had a wonderful introduction to the story. Graphics are well done, although more monochrome than color (a lot of yellow/gold tones), but clear. Too much of this color makes my eyes tire quickly. Game play was good, no problems along the way. Locking inventory bar, which seems to be the norm these day (thank you very much). Music wasn't too bad. Voice overs were a bit sketchy...I heard a bad Italian accent, an okay Spanish accent and a little hint of French in there too. Guess they couldn't decide which one to use. The ghost voices were hauntingly well done. HOGs were a combo of silhouettes and standard HOP. Items were not difficult to find or figure out what to do with, but they didn't stand out either. Puzzles were extremely easy. The SG is the standard, and of course, you can't get a feel for the game length without all chapters being listed...why do they do that? I found that you don't really need the SG. The game flows well enough without. I didn't even have to use the hint, so don't know how quickly that may fill. When you have accomplished a task or put something together, it automatically disappears and/or closes the screen (I like that, no extra clicking#. Lots of standard achievements, along with collectibles, e.g. 44 yellow roses #easy to spot# and 15 morphing objects #kept forgetting about them and had to go back). The morphing objects are no as easy to spot and are not in every location. I have a lot of games by this dev and have enjoyed them all. This one isn't extremely challenging, but I became engrossed in the story. I think all levels of players would find this enjoyable and interesting enough to spend the time and money. I keep trying not to buy so many CE games, but it takes too long for the SE versions to come out and I want to play...I have to stop doing that. I don't give 5 stars easily and because of the color, this one won't get it either. Yes, this will be a definite buy for me too. As always, try it for yourself and see what you think. We all have different tastes in games and you may not care for this one at all. Thanks for the reviews.
February 20, 2014
surprisingly good animation
the rooms look amazing the animation is way better than i expected wwwwwaaaaaaayyyyyy iv just playd the demo though the only thing im not shor of is in one of the rooms after you finish listening to what the ghost playing the chelo has to say theres a pile of papers like 2 or 3 that i cant pick up and it looks diffrent from the back ground it stands out like your suppose to pick it up but its towards the bottom of the screen so you exit the room insted of getting it as i siad befor i just playd the demo so i dont know if you realy need thos papers its a sitting room with a fire-place were you have to do the ballerina trophy mini game challeng thing
February 24, 2014
Dance of death... so to speak...
If I was judging just from stills provided, I would give this game an A+. Graphics are top notch, even thou I don't like games which are set in the dark. I loved the combination of black and gold, and all delicate shadows and glows. The game itself has no special features. No gadgets or pets. HO scenes are well made, but still very easy. Items are pretty big and easy to spot. Considering mini games... most of them are very easy, but than you stumble upon some mini game that is almost impossible to pass without consulting a strategy guide! That is the case with the fish pond. I laughed at the characters in opening video. I even laughed remembering the cheesy smile on composers face when he carries his roses to the ballerina. His clapping was also hilarious, somebody should make a gif out of it. And the stage manager lost a tremendous amount of weight between the beginning of the game and survey screen, if I'm not mistaken :)
February 21, 2014
A nice game to play
BUT you might like to turn the sound waaaaay down. The music is repetitive and irritating, which is a pity because the rest of it is enjoyable. Yes lots of gilt, but that is a nice change from some of the dark and rather drear games we come across. Lots of gold light and not really dark corners. The characters are interesting and although the story line is very much same old, same old, it has some fun factors that make it individual. I enjoyed it, but with the sound mostly off !
March 1, 2014
Good Rendition of Phantom of the Opera
Good ambiance with music and voiceovers. Enjoyed the mysterious feeling of the game. Not an outstanding game and nothing really unique about it but good to play. HOS were good but typical. You collect roses and earn some achievements which are standard for the CE. Mini games are typical as well but fun to play. Just enough adventure to peek your curiosity to continue playing. Not sure I would want to pay the CE price so I may wait for the SE if I consider purchasing this one.
February 20, 2014
Not Particularly Macabre; Definitely NOT Adagio!
I played this game for 4 hours on an Apple Macbook Pro. As you can guess, I'm sure, Danse Macabre is the Dance of Death. Adagio in ballet, more than just the "slow" of music also means a gentle unfolding. Well, this game doesn't play deadly...it's not at all scary or frightening. Actually, the only fright is the lightening fast pace. So, not really adagio either. The first thing I think Eipix needs to do is change the title!!!!! FUN FACTOR: This game, like the other offerings from Eipix is a high-powered object acquisition game. In fact, among the "achievements" is the acquisition of 100, 150 and finally 200. The Last Adagio moves at a rapid pace and the player collects item after item pushing the game along. If collecting "things" is what you're about in hidden object gaming then you will love Danse Macabre. It's what you do start to finish. It's not fun for me, but I know quality when I see it and this is a quality game. VISUAL/SOUND QUALITY: Sights: Eipix might also change its own name to Eicandy. This is a very richly designed game. It's a beautiful thing to behold. Lot's of color (lots of gold!) and very brilliant. Visually it doesn't get much better than this. Sounds: The music is appropriate for the balletic theme: classical and orchestral. It's not my cup of cognac, but again, if it's the style you like, you'll be very pleased with this game. LEVEL OF CHALLENGE HOGs: There are 17 HOGs throughout the game and they are either list-pick or silhouette finds. As usual, the list pick is pretty easy with each one having a couple of interactive items. The silhouette presents much more of a challenge but not daunting by any means. Mini-games: This is the weakest part of any Eipix game. The mini-games are way too easy. Someone who prefers to avoid puzzles will suffer through 28 of them but without breaking a sweat. Conceptually they are simple. Again, no new ground is broken. The most difficult puzzle came very early and, I think, quite by accident: there's a safe opening game. It's not meant to be difficult, it just turns out that the dialing the combination is very touchy. You'll know what to do, that's not the issue. It's just the execution is very delicate. As a result, this puzzle, in particular, is just an annoyance because of needing to retry the same thing over and over again. General Play: This is not a challenging game by an stretch of the imagination. Beautiful to behold, uninteresting to play. STORYLINE; You guessed it: an ages old curse. Love, unrequited, interrupted. Gaspar has imprisoned many souls as revenge for his own pain. (BTW, how do you do that???? If you know, please write me a note in the forums. I'd imprison a soul or two if only I knew how!!). You've shown up to see your sister perform the recital of a life time only to discover her disappearance. Several ghosts, most notably Pierre, will point you in the right direction. COLLECTOR'S EDITION ENHANCEMENTS As a Collector's Edition, you certainly get your money's worth!!! For the extra lucre, you get: a. Bonus Chapter b. A VERY INTERESTING video about the making of the game. There are dancers practicing moves you'll see in the game. It's the most fascinating extra I've ever seen in a game. c. Re-playable HOGs and Puzzles. d. BONUS HOGs. e. Re-playable Music/Reviewable Pics and Cut Scenes. f. Achievements. Nothing spectacular. Some particularly weird ones, including one for SKIPPING 5 Puzzles and one for finishing 3 HOGS with the alternative Bubble Shoot game instead of the HOG itself. I understand offering the alternate, but to make it an achievement? That seems strange in wha is overall a hidden object game. g. 15 morphing objects. h. 44 collectible golden roses that are not at all sneakily hidden. i. A souvenir room which I haven't quite reached yet. j. Last but not least: I KNOW this isn't a CE feature, but there is no SE yet so I'll include the map here. As per usual for Eipix, IMO the format of the map is useless. There's all the regular information inconveniently organized. So, two conclusions from me: a. If this is the type of game you like, you will love this offering from Eipix. You'll recognize it also. It's the same as virtually everything else they do now....different storyline but same actions. Final Cut was fun 8 months ago but this is just another book in the same prolific series. b. If you prefer a game that's got you biting your nails, giving you white knuckles as you hang on for dear life, scared to death of what's just around the corner, you will not enjoy this game. I'm in this camp. No matter what type of game you prefer, I think you'll have grown tired of the same old-same old from Eipix. I suggest they back off for a bit and perhaps come up with a new twist. Maybe they can hire someone to develop a completely new puzzle. That would be exciting!!! Until then, I think I'll be taking a sabbatical from Eipix.
February 20, 2014
The Apple logo is a trademark of Apple Computer, Inc.