Danse Macabre: The Last Adagio Collector's Edition
Exclusive
Your sister's invited you to attend the biggest performance of her life: she'll debut as Donatella di Fiore, every ballerina's dream role. She tells you to meet her after the dance but never shows up! What's happened to your sister on this fateful night?

Get into the theater and find a cast of ghosts all trying to tell you something. Some of them are better at playing music than talking, so this could take some digging on your part... Save your sister from a decades-old curse so this doesn't become her last encore.

This is a special Collector's Edition release full of exclusive extras you won't find in the standard version. As a bonus, Collector's Edition purchases count toward three stamps on your Monthly Game Club Punch Card!

The Collector's Edition includes:
Play the bonus game to learn how the curse was started!
Get soundtracks, wallpapers, screensavers, and concept art
Try the Strategy Guide
Play bonus puzzles!
Game System Requirements:
OS:

Windows XP/Windows Vista/Windows 7/Windows 8

CPU:

1.6 GHz

RAM:

1024 MB

DirectX:

9.0

Hard Drive:

1183 MB
Game Manager System Requirements:
Browser:

Internet Explorer 7 or later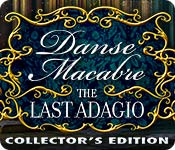 The Big Fish Guarantee:
Quality tested and virus free.
No ads, no adware, no spyware.

Reviews at a Glance

Danse Macabre: The Last Adagio Collector's Edition
0
out of
5 (
0
Reviews
Review
)
Customer Reviews
Danse Macabre: The Last Adagio Collector's Edition
36
36
The Performance That Never Ends
Marie stole his heart, he the composer, she the performer who danced so beautifully and truly made his music come to life! But when he realizes that her heart belongs to another, it's more than he can bear. He burns the theater to the ground. If he can't have her, nobody else will either! As time passes by, everyone has long forgotten the tragedy, the horrible accident, or so everyone believes! Your sister performs this beautiful ballet wonderfully, but, she hasn't been seen since. You break into the theater to find her, something terrible must have happened to her. You soon find out the horrible truth when the souls of that tragic night plead for your help in breaking Gaspar's curse. Gaspar has another agenda, the never ending performance and everyone's invited including you and your sister! You will collect 44 flowers for Marie's bouquet and this edition has several "extras" such as unlimited mini games and HOS, a bonus game and even a souvenir shop. The hidden object games are a mixture of interactive list finds and finding items that match the silhouetted shapes. If you choose to customize the game play, you can opt for easy, medium or hard hidden object scenes! If you don't like the HOS you can switch to a game of bubble shoot instead. The mini games are for the most part easy. My favorite ones were recreating poses on several ballerina statues to recreate the picture and placing the ballet shoes on two shelves in the correct place with only a few torn up pictures to use for hints. This is a very professional quality game with exceptional graphics, and cut scenes. Whether you are a fan of the performing arts or not, I truly believe this game will be entertaining for almost any audience, enjoy!
February 20, 2014
Deadly Romance
BASED ON DEMO FIRST IMPRESSIONS I?ve played this demo twice now (did the beta) and still got so caught up in the game that I forgot to takes notes! Wonderful introduction gives you all the backstory you need, and a fair indication of how this story is going to go. No dramatic train crashes or air disasters, but a good old-fashioned love-crazed villain with a taste for fire. SIGHTS & SOUNDS As usual with this developer, the graphics are superb. This is a somewhat darker game than is their usual, but they handle it well and most locations are in fact very well lit. The darkness is more an atmospheric thing. There is a certain glossy shine to the theatre scenes that I find a bit off putting personally. But then I?m not European and am therefore not used to seeing that much gold gilt! All items are easy to see and not small. The voices are excellent fun, done in pseudo-Italian (?) accents, that fit wholly with the characters and the story. The flautist is my personal favourite. The characters in the location are still, while there is a smaller pic beside the speech box where lips do move. I always like this feature. The music is a little different, though don?t ask me to describe how. But it is low key ominous and quite pleasant. As the game is about ballet, I was a little disappointed not to hear any classical stuff. WHAT?S HAPPENING? You are meeting your sister after her performance as star of the most popular ballet, written for the love of the composer?s life. It was performed here for the first time 30 years ago, immediately prior to the theatre burning to the ground. Having watched the intro through, we know that the composer burnt the place down in revenge for finding his loved one, the prima ballerina, with another man. Your sister does not show, and you are outside wondering what to do when the stage manager opens the door. No, he says, the theatre is empty, there?s no one here. But there is a light in an upstairs window, and voices. You must get in and find your sister! In keeping with demo tradition, we finish with a cliff hanger, but how we are going to get out of this particular predicament totally escapes me! Can?t wait to find out! GAMEPLAY The play is dominated by HOPs. So far, there have been several, either interactive lists or simple silhouettes, which are introduced four at a time only, which requires a slightly different search strategy. What may have been irrelevant before could be needed now. As an alternative, there is a bubble popper game, in which each sparkling bubble you pop removes an item from the list. Again, an somewhat unusual strategy is required. The puzzles so far are incredibly easy. I hope they get harder later on, because if I think they?re easy, a lot of people will think they are laughable. One puzzle got on my nerves. A simple follow the notes memory game. But if you missed once you had to go right back to the start from one note again. There is an interactive jump map that shows objectives as well as active tasks and current location. I don?t like how long it took to unfold it each time we use it. Hint is directional. The journal has a diary and objectives. The tutorial is particularly well written. CE BLING! *Takes a deep breath* In-game SG, and bonus chapter. The gallery includes a ?making of? movie, game movies, 8 Wallpapers, 8 Concept Art, 16 Photos, Music. There are replayable HOPs (17) and puzzles (28), as well as bonus HOPs which are played for a separate achievement. Two types of collectibles, 44 yellow roses for Marie?s Bouquet (a mini-game where you can go back to the places where you missed the roses). These are easy to spot, and 12 morphing items, which are a lot harder to find. There are 18 Achievements, all performance based. There is a Souvenir Room, another mini-game, where you go back through the locations finding one new item. COMBINED IMPACT I loved this game. It is not, however, my favourite Eipix. But it is up to their usual excellent standards. My enthusiasm is tempered, I think, by the lack of anything unique to this game, and all that golden gilt!
February 20, 2014
Dancing with Ghosts
Dance Macabre is a beautiful game with a haunting storyline that will definitely rank high on my list of favorite games for 2014. Our story originates with unrequited love, obsession, a vengeful act and tragic deaths of Marie, a prima ballerina and Gaspar, a young composer. Now 30 years later, your sister has invited you to attend her debut performance as Donatella di Fiore, a role written for Marie by Gaspar. Suddenly Adele disappears and your adventure begins as you set off to find her. A series of tasks await you and you soon discover that you are not alone; also present is a cast of earth bound spirits needing your help along with Adele, all victims of an old curse. I am happy to say that today we have a very entertaining Collectors? Edition game with all the bells and whistles making it well worth the extra cost. Customized settings, beautiful graphics and artwork, very good voice-overs with synchronized mouth movements, good sound and visual effects and well designed animation cut scenes. These developers are always on the mark and continue to deliver top-notch games. I loved the story and I love all the features which include a journal with various tasks that are listed, objectives that need to be met, Hidden object scenes that come in variation and the choice to play the Bubble game instead. There are very well conceptualized mini-games, not terribly difficult to solve but there ia a factor of fun to them. You have 44 roses to collect along with a list of achievements to earn. There is a souvenir room that can only be accessed upon purchase of the game which I intend to do so immediately after writing this review. Depending on your settings for level of difficulty, the game also offers a enough challenge to please hard core players. Although we have all played similar games like this one, I could go on and on about what why I do love about this game but it is suffice to say that I am an avid fan of ghost stories and since the theme reminds me of the famous Phantom of the opera, I am looking forward to playing this gem tonight with lights turned off and sound turned up.
February 20, 2014
TA DA - my 1st review :)
I have only played the Demo, but, plan to buy this game. For a "newbie" to game play, I found this to be an immensely enjoyable game. I especially enjoyed the "customization" feature in the difficulty section. The hour flew by I was so caught up in the story and playing. The hidden object scenes were not too dark and seemed to be entirely in keeping with the story line. The music was appropriate for the game and not intrusive. The game play did not have a great deal of going to and fro from one place to another (a personal pet peeve) and seemed to follow a logical path. Overall, I am very pleased with this game and the developer, Eipix.
February 20, 2014
Dance, ballerina, dance!
This is a tale of the composer Gaspar and his unrequited love for the ballerina Marie, which drives him mad enough to burn down the theater, making ghosts of all the players. Gaspar's finest work is the character of Donatella di Fiore, which in this first performance since the fire is being danced by your sister Adele. Unfortunately, after the performance, Adele is held captive by the theater manager and Gaspar's ghost! To save Adele, and to rescue the souls of those killed in the fire, freeing them from the ghostly life, you must find Marie who can evidently lift the curse Gaspar placed upon the theater. You are helped along the way by several ghosts - ballerinas and musicians - who lead you on a kind of "find this person next" type of hunt, or "follow me." The one thing EIPIX does best is carry the theme throughout. Not just the graphics and the music, but the puzzles and HOS are part of the theme as well. Even the hint button is a jewelry box with a ballerina on top. There are four modes of play, plus a teleporting map with activities marked (if you want it). The way the map opens is a bit annoying with an extra step of animation to open the document. The HOS are lists - with the interactive objects self-deleting when completed - or silhouettes, or you can play the Bubble Shooter instead if you feel like a bit of action. The inventory box locks open, but it could be a bit longer because you gather a lot of stuff! OK, I am nit-picking now! There are 18 achievements to earn. The CE extras are a Bonus Chapter, the Strategy Guide, a Making Of, replay of the HOPs and Puzzles, Music, Pictures, Movies and Bonus HOPs. There is a Souvenir room which doesn't unlock until the game is finished, and Marie's Bouquet which holds the 44 roses - one per scene - you can find. A nice touch EIPIX always adds is letting you know if you've found the rose in that scene with an icon that lights up. There are also 15 morphing objects, but they are well-hidden as I found exactly none during the demo. But I get so busy with everything else I forget to look! One of the best parts of the demo is the ending. There is a cut scene summary of what seems to be most of the scenes in the game, giving you a preview of what comes next and reminding you of what you just completed. Again, another nice touch from these developers. I am off to buy.
February 20, 2014
Haunting Love Story
Danse Macabre is an absolutely beautiful game by one of my favorite developers. It does share similarities to other games (I see Phantom of the Opera noted by many reviewers). However, it does have a story all of it's own. The graphics, cut scenes, and music are beautiful. I found the game to be suspenseful and intriguing and I wanted to know what happens next. The HOS were interactive. Puzzles were in the easy to medium range and were very standard for Eipix games. The bonus features are awesome. Especially the making of, where you can see quite an uncanny resemblance of the males in the game to the developers in real life :) Just saying. The game mechanics have been very well described by other reviewers especially Just The Facts and Nilosh so no need to go further into that. I found this enjoyable and entertaining. Absolutely love anything involved with dance and music, so that is an added bonus for me. A certain buy :)
February 21, 2014
This game is EPIC!
Everything about this game: Sound, music, characters, voice-overs, acting, mouth matches with words, hog scenes, graphics, extras for CE, ect is a 5 star. This game is RICH on all levels. Beautiful beyond words. These guys put a ton into this game. Deff buy the CE!! The story line reminded me a bit of The Phantom of the Opera, BUT it is still unique in a million ways. The graphics and scenes are so detailed and beautiful I felt I was being pulled through the monitor and into the scene. I couldn't get enough. Great job EIPIX!! This is the best you guys have done yet, you just keep getting better and better. This was SUPERB!
February 22, 2014
A Very Enjoyable Game ...
Great Graphics, Sounds, Effects, Animations, Voice & Video Bits ... A Very Enjoyable Game, But Seemed A Bit Small ... Perhaps Needed A Few More Locations To Feel A Little Bigger In Adventure ... Short Extra Game ... Got Mine On A Special Deal, So Worth The Little Extra For The Little Extra ...
February 23, 2014
GHOSTS...OH MY!
I like this game. All the good things about a game you could want. Graphics are good....great atmosphere. Once you complete the current objective follow the ghost. Hogs are mixed-standard & silhouette with an option of bubble pop instead. Puzzles are challenging without being too difficult to figure out. The map is great. You are here. There is something to do there. Click on the location & go there.... The hint button recharges fast enough, but I used the map more when I needed help. Collect roses from Maries bouquet...... Good story line. Based on the trial version in casual mode & using all the "buttons" I really enjoyed this game. I recommend this game. The music is a bit too repetitive for me but appropriate for the game.
February 20, 2014
MORE FUN THE LONGER YOU PLAY
At first, I thought this game was just a middle-of-the-road production, but the longer I played, the more engrossed I became. The story and events became more interesting - love mysteries. Your sister who is the lead ballerina does not meet in front of the theater as you had planned after her performance. The mystery increases from there. BASICS: customize your level of difficulty; good voice overs; play bubble shoot instead of HOS; unintrusive music; diary; map with objectives and active areas shown and good sound effects. GAME PLAY: The special effects are good, though not abundant. For some locations, you need to use several pieces of inventory in succession (ex: a ribbon, then an empty doctor's bag to hand on it and finally bricks to put into the bag in order to crash a door open). You combine objects where they are used, not in the inventory tray. HOS are list or silhouette-based and puzzles are different and can be figured out with a little thought. Well thought out story and gameplay. Game is a lot of fun and full of entertainment, the deeper you get into it. The CE vs. SE: CE has morphing objects, making of, replay puzzles and HOS, play new HOS, movies, souvenir shop, pictures (wallpapers, context etc), collectibles and the bonus game.
March 16, 2014
The Apple logo is a trademark of Apple Computer, Inc.