Danse Macabre: The Last Adagio Collector's Edition
Exclusive
Your sister's invited you to attend the biggest performance of her life: she'll debut as Donatella di Fiore, every ballerina's dream role. She tells you to meet her after the dance but never shows up! What's happened to your sister on this fateful night?

Get into the theater and find a cast of ghosts all trying to tell you something. Some of them are better at playing music than talking, so this could take some digging on your part... Save your sister from a decades-old curse so this doesn't become her last encore.

This is a special Collector's Edition release full of exclusive extras you won't find in the standard version. As a bonus, Collector's Edition purchases count toward three stamps on your Monthly Game Club Punch Card!

The Collector's Edition includes:
Play the bonus game to learn how the curse was started!
Get soundtracks, wallpapers, screensavers, and concept art
Try the Strategy Guide
Play bonus puzzles!
Game System Requirements:
OS:

10.9/10.8/10.7/10.6

CPU:

1.6 GHz (INTEL ONLY)

RAM:

1024 MB

Hard Drive:

1162 MB
Game Manager System Requirements:
Browser:

Safari 4.0 or later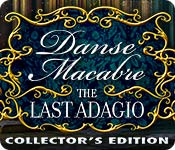 The Big Fish Guarantee:
Quality tested and virus free.
No ads, no adware, no spyware.

Reviews at a Glance

Danse Macabre: The Last Adagio Collector's Edition
0
out of
5 (
0
Reviews
Review
)
Customer Reviews
Danse Macabre: The Last Adagio Collector's Edition
36
36
Not Particularly Macabre; Definitely NOT Adagio!
I played this game for 4 hours on an Apple Macbook Pro. As you can guess, I'm sure, Danse Macabre is the Dance of Death. Adagio in ballet, more than just the "slow" of music also means a gentle unfolding. Well, this game doesn't play deadly...it's not at all scary or frightening. Actually, the only fright is the lightening fast pace. So, not really adagio either. The first thing I think Eipix needs to do is change the title!!!!! FUN FACTOR: This game, like the other offerings from Eipix is a high-powered object acquisition game. In fact, among the "achievements" is the acquisition of 100, 150 and finally 200. The Last Adagio moves at a rapid pace and the player collects item after item pushing the game along. If collecting "things" is what you're about in hidden object gaming then you will love Danse Macabre. It's what you do start to finish. It's not fun for me, but I know quality when I see it and this is a quality game. VISUAL/SOUND QUALITY: Sights: Eipix might also change its own name to Eicandy. This is a very richly designed game. It's a beautiful thing to behold. Lot's of color (lots of gold!) and very brilliant. Visually it doesn't get much better than this. Sounds: The music is appropriate for the balletic theme: classical and orchestral. It's not my cup of cognac, but again, if it's the style you like, you'll be very pleased with this game. LEVEL OF CHALLENGE HOGs: There are 17 HOGs throughout the game and they are either list-pick or silhouette finds. As usual, the list pick is pretty easy with each one having a couple of interactive items. The silhouette presents much more of a challenge but not daunting by any means. Mini-games: This is the weakest part of any Eipix game. The mini-games are way too easy. Someone who prefers to avoid puzzles will suffer through 28 of them but without breaking a sweat. Conceptually they are simple. Again, no new ground is broken. The most difficult puzzle came very early and, I think, quite by accident: there's a safe opening game. It's not meant to be difficult, it just turns out that the dialing the combination is very touchy. You'll know what to do, that's not the issue. It's just the execution is very delicate. As a result, this puzzle, in particular, is just an annoyance because of needing to retry the same thing over and over again. General Play: This is not a challenging game by an stretch of the imagination. Beautiful to behold, uninteresting to play. STORYLINE; You guessed it: an ages old curse. Love, unrequited, interrupted. Gaspar has imprisoned many souls as revenge for his own pain. (BTW, how do you do that???? If you know, please write me a note in the forums. I'd imprison a soul or two if only I knew how!!). You've shown up to see your sister perform the recital of a life time only to discover her disappearance. Several ghosts, most notably Pierre, will point you in the right direction. COLLECTOR'S EDITION ENHANCEMENTS As a Collector's Edition, you certainly get your money's worth!!! For the extra lucre, you get: a. Bonus Chapter b. A VERY INTERESTING video about the making of the game. There are dancers practicing moves you'll see in the game. It's the most fascinating extra I've ever seen in a game. c. Re-playable HOGs and Puzzles. d. BONUS HOGs. e. Re-playable Music/Reviewable Pics and Cut Scenes. f. Achievements. Nothing spectacular. Some particularly weird ones, including one for SKIPPING 5 Puzzles and one for finishing 3 HOGS with the alternative Bubble Shoot game instead of the HOG itself. I understand offering the alternate, but to make it an achievement? That seems strange in wha is overall a hidden object game. g. 15 morphing objects. h. 44 collectible golden roses that are not at all sneakily hidden. i. A souvenir room which I haven't quite reached yet. j. Last but not least: I KNOW this isn't a CE feature, but there is no SE yet so I'll include the map here. As per usual for Eipix, IMO the format of the map is useless. There's all the regular information inconveniently organized. So, two conclusions from me: a. If this is the type of game you like, you will love this offering from Eipix. You'll recognize it also. It's the same as virtually everything else they do now....different storyline but same actions. Final Cut was fun 8 months ago but this is just another book in the same prolific series. b. If you prefer a game that's got you biting your nails, giving you white knuckles as you hang on for dear life, scared to death of what's just around the corner, you will not enjoy this game. I'm in this camp. No matter what type of game you prefer, I think you'll have grown tired of the same old-same old from Eipix. I suggest they back off for a bit and perhaps come up with a new twist. Maybe they can hire someone to develop a completely new puzzle. That would be exciting!!! Until then, I think I'll be taking a sabbatical from Eipix.
February 20, 2014
The Last Danse?
The story, a spurned lover, this time in a phantom of the opera-esque setting, has been done many times before. This effort is not bad, but neither does it particularly stand out. The drawing style varies somewhat from scene to scene as if different artists created them. Not too fanciful, but then again not pure realism. The character voices are ok, but their accents are not consistent, making the setting unclear. The "bad guy" has a somewhat cartoonishly bad voice. Also, if you've played a recent #great# game about a certain mountain, one of the characters here, Pierre, is a virtual twin of a character in that game. Hidden object scenes are standard fare, drawn well enough, and fairly easy. Puzzles and mini games even more so #easy, that is#. The first puzzle was so easy I'm not sure it even qualified as a puzzle. The story is pretty predictable. Now that being said, some fishes LIKE predictable, and they will no doubt give this game four or five stars. Others #ahem# will say this has been done before, nothing new here, move along. So I'll sit out this death dance, but keep me in mind for the next one.
February 22, 2014
Almost a great game...
Danse Macabre: The Last Adagio jumped out at me when it was released. I read about it and immediately knew it would be one I'd enjoy. My expectations were that it would be a relaxing game with great graphics and great music. A game with a ballet dancer and a classical composer as the main surely would have these things. Well, it does all but for what is, for me, a most critical element; the music. The graphics are well done and richly detailed. The storyline is well presented, and flows coherently throughout the game.But the music is a HUGE disappointment. I expected this to be game filled with great classical music but it isn't at all. The music used isn't that bad, but all it is is typical and includes, unless my memory's wrong, music used in other of this developer's games which I personally find beyond lazy and, frankly, inexcusable. And they subject us to a dirge of song used for each and every hidden object scene; ugh! this drives me nuts when developers do this! Disappointingly, the makers of this game missed the opportunity to have made this game a rich and fully immersive five star experience. So, if you're hoping to get some great classical music with this game, you won't. Music has a significant impact on the gaming experience and, unlike some games, this one's not one with sufficient ambient sound, or a specific ambient sound slider such that you can simply turn of the music. Do I recommend Danse Macabre: The Last Adagio? No and yes. I really don't know which button to choose but, in writing any reviews here, we have to choose, so I guess I'll pick 'No'. Or 'Yes'. Or 'yes', or 'no'.... sigh ;-)
March 2, 2014
Just OK But Definetly NOT 5 Star Worthy
Based on Demo. Here we go again with over the moon ratings for a mediocre, rehashed game at best!!! I just don't understand how this game deserved these ratings. Same old kidnapped mortal with ghost intervention story. Excuse me while I yawn. Color/graphics are good but the characters & their mouth movements are quite odd. Same old itsy, bitsy, teeny, weeny junk pile HOG's. Nothing new/exciting with the mini games. I found one collectable quite by accident. There doesn't seem to be a rhyme/reason to them. Scenes moved very slowly & the map could have been better. The devs need to take the "Pix" out of their "Ei" to see more clearly & develop new games & just not reconfigure old ones that have already been played to death. Give the demo a whirl. Who knows it just might float YOUR boat!
February 20, 2014
Waiting for a great game
for a great game! This was good but not five star great! It's slow, and it's been done before, and although I like this story line, I'm still waiting for that game that's different and fast paced and exciting, and this just isn't it AGAIN! It's got a couple of different options for games, but all in all it's still just the same stuff. It was good but I'm waiting for something different and great and I'm not seeing it with many of the games anymore. Maybe as a freebee. A beginner would like this so that being said I'll recommend it for that reason only.
February 20, 2014
OK game
I was very disappointed in this game because it was a CE and i got a very short ho-hum game. I don't usually buy CE, but the theme seemed interesting. I found nothing really exciting in the game, and was shocked at how short it was. When I pay that much for a game, I want it to keep me occupied for a while. This game missed the mark for me by a long shot.
February 26, 2014
The Apple logo is a trademark of Apple Computer, Inc.
The Windows logo is a trademark of Microsoft, Inc.