True Fear: Forsaken Souls Collector's Edition
Warning: True Fear: Forsaken Souls is an intense psychological thriller intended for mature audiences.
What if everything you knew about your life, everything your family ever told you, turned out to be a lie? A strange midnight visitor could change your life forever... Find out the truth about your past in True Fear: Forsaken Souls, a chillingly exciting Hidden Object Puzzle game!
This is a special
Collector's Edition
release full of exclusive extras you won't find in the standard version. As a
bonus
, Collector's Edition purchases count toward three stamps on your
Monthly Game Club Punch Card!
The Collector's Edition includes:
Uncover more secrets in the bonus game
Downloadable soundtracks and screen-savers
Gorgeous wallpapers and concept art
Integrated strategy guide
Game System Requirements:
OS:

Windows XP/Windows Vista/Windows 7/Windows 8

CPU:

1.2 GHz

RAM:

1024 MB

DirectX:

9.0

Hard Drive:

1703 MB
Game Manager System Requirements:
Browser:

Internet Explorer 7 or later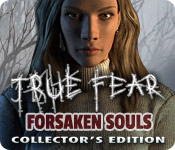 The Big Fish Guarantee:
Quality tested and virus free.
No ads, no adware, no spyware.

Reviews at a Glance

True Fear: Forsaken Souls Collector's Edition
0
out of
5 (
0
Reviews
Review
)
Customer Reviews
True Fear: Forsaken Souls Collector's Edition
250
250
It was ok
I did find the game a bit creepy, but if it didn't have the gore, I think my 8 year old would have been fine watching me play this game. The story was a bit slow to develop, but I found it interesting enough to buy the game and play until the end. I was a bit disappointed that it cuts off and is not the entire game! I looked over the info and it doesn't say anything about being part one. In the game is says something about being a trilogy. So I need to buy two more games to find out what happens? That's frustrating. So it was ok and interesting, but.....
March 4, 2014
Only the 1st part of a trilogy!
This game is only the first part of a trilogy, and I would have appreciated if the developpers had mentioned that fact a bit earlier. The whole thing ends rather abruptly, and this was quite a letdown for me. I hate being cut short in the middle of a story. In my opinion, this shouldn't be done without mentioning, especially not in a collector's edition where you already pay quite an amount and should at least get a working story for your money. So only purchase the game if you don't mind waiting for the 2nd part to come!
March 2, 2014
A Good Attempt at Creepy Falls Short.
I usually jot down notes while playing demos and I began with: dead patients, ghosts, creepy abandoned asylum? Rate this R for Violence. It did have bloody cartoon figures being dragged away and a rather comic female zombie, sulking behind our heroine. The opening sequence had promise, but went steadily downhill. The demo lasted 54 minutes. I was looking for another CE to use the "Buy One, Get One" special pricing, that I love. I was hoping it was this game - not so much. Everything was flat and dark. I supposed it was to emphasize the deep red blood puddles. The bugs didn't even creep me out! It felt like a very old game, before bells, whistles or realistic graphics. It did have scary dolls which always give me the creeps, so I did get a little rush? I even played it alone in the dark. Sorry, I know how much work goes into game development but I can't give it more than an average rating and that would only be for a SE not a CE. I am glad that so many people really enjoyed this game. The "molasses" remark by another reviewer, made me laugh out loud. Scary - not so much.
March 1, 2014
Not a CE, needs a patch to improve programming, good story
True Fear: Forsaken Souls Developed by Goblinz Collector's Edition Review based on demo IN THE BEGINNING... After awakening from a horrific nightmare, you receive a letter from your estranged twin sister. She writes that there are things about your past you don't know, and invites you to her house. When you arrive, the house looks as if it's been abandoned for decades. To your horror, you discover the windows nailed shut from the inside, notes from your sister about an asylum, and the image of a creepy spectre on the premises. Who is Dahlia, and where is your sister? What does the asylum have to do with any of this? And why is the basement door at your sister's house padlocked shut, and her bedroom barricaded? These and many other strange enigmas await your investigative skills if you are to discover your family history. PLAY THE GAME... Standard adventure mode consisting of exploration, finding and using of items, unlocking of doors and boxes, and the like. HO scenes are interactive in two ways: red items on the list require an action, and muted items on the list are located in a zoomed-in area. Puzzles are familiar and simple. SIGHTSEEING? Graphics are somewhat dated, as well as muted and gloomy which, I guess, befits the theme of abandoned house. Animation, including posers, is fairly well done. The "stop motion" spectre (who resembles Samarra from "The Ring") is quite creepy. SOUND WAVES? The music is very "horror movie" rather than "casual game." Lots of moody strings, strident accents, and sounds to keep you on edge. Voiceovers are okay. For an abandoned, creepy house, I found the environmental sounds lacking. No creaking doors, muted voices, or strange footsteps. TOOLBOX? The map transports and shows areas with available actions. The journal keeps track of the story, notes, and clues. I did find that "full screen" did not work on my MacBook. When I tried using it, a portion of the scene was off the bottom of the screen, making the game unplayable except in windowed mode. EXTRA, EXTRA? Extras include a bonus game, SG, and the developer's portfolio of sights and sounds. Not nearly enough to qualify this game for CE status, in my opinion. THE LAST WORD? I admit I am extremely curious as to how the story will play out, and I do love a good horror game. However, the lack of full screen functionality, slow loading, unresponsive cursor, basic gameplay, no worthwhile extras except the bonus game, and the fact that many reviewers said this game ends abruptly in a "to be continued" fashion make this a "no" for me. I'll probably pick up the SE with a PCC, but I don't recommend the CE. I do recommend that this dev work on their gameplay and programming.
March 11, 2014
Little scary
When i saw the demo for this i thought i have to try this. Im not one for scary movies but something about this game made me want to try it. Unfortunately i was a little disappointed with it. Yes the music and that gives a little chill in the spine and u might jump a little when the weird girl pops up in front of you but it was so drawn out. i felt like i was going back and forth between the same rooms constantly and when i finally got finished in the childhood home something then pops up to tell me that its to be continued and the next installment is not until the fall of this year! Seriously?? I really wanted so much more from this game. I play a lot of big fish games and to be honest ive played a lot more difficult and gripping ones than this. I think ill wait when the next installment comes out as a standard edition before wasting money on the collectors one. Its worth a look at but really i think they could have done so much more with it.
March 4, 2014
A great game, but..
((Minor spoiler)) When i first saw this game i was almost going bananas, because it seem'd so great, so it is my own fault, i was a bit disappointed about it. At first - TF: Forsaken Souls is a GREAT game, worth trying. But there is a few things about it, i didn't really like: At first the storyline is a bit messy, and you have a feeling of reading a book you already have read twice. All this about a sister you didn't know you had and a sister there was going insane - And what was all that with the girl in Heathers house? This lead just to the other thing, i dislike: I CAN'T COMPLETE THE GAME. I didn't got the thing i needed after finishing a HO, and i have tried and tried to get it but i just can't. And this happened in the final chapter - It is like (again) reading a book and when it is at it's climax, bam, the last pages are gone. And i bought this game, so really, it sucks. But that isn't a part of my review of this game, because it has nothing to do with the gameplay, storyline, etc. But it is a error. (A fatal one) Then there is only one thing back, and that is the music. Honestly i normally love the soundtracks to BFG, but this one was at time so annoying that i needed to turn the sound off. But other time it was very great and clicked right to the situation. And now to all the good things: BEAUTIFUL graphics and great, yet creepy, locations - HO' scenes there don't last forever - The comments, you will see when you click at several things are funny and suitable - Epic clips/scenes - A map. Not as scary as it seems. I spend about 3 hours on it. ALL IN ALL - A good game, you defiantly should try! But all after what you like, not a must-have game.
March 5, 2014
This game has so much potential!
I was finally happy to see a game for an adult with no pets or a fantasy cartoony game. If the graphics were just a tad more realistic without the cartoonish overtone and if you get rid of the bugs in the game play I would have enjoyed playing this game! I hope this developer makes more games in the future, but just fixes these problems. I would love to see more games like this!
March 2, 2014
Pass.... wait for the SE
I really wanted to like this game. I love gritty graphics and story lines. I felt like maneuvering around was a challenge. During the trial period the game froze on me twice and I had to reboot to get out of it and start again. Certainly not worth the trouble. I was very disappointed.
March 1, 2014
Too short
I'm glad I got this one on sale for under 5 bucks. I did find it enjoyable but for what they are charging for it it is way too short and the puzzles really aren't very challenging. Storyline was good but ended in the middle so you'll buy the sequel which I have always found obnoxious in games, books, and movies.
March 5, 2014
YOU HAVE TO WAIT UNTIL FALL 2014 TO GET THE NEXT CHAPTER!!!
BASED ON COMPLETED GAME AND BONUS CHAPTER. Everybody else has written about this game and done it much better than I probably could except only one other person has mentioned the most crucial negative to this game.... YOU WON'T GET THE END OF THIS STORY IN THIS GAME. It ends VERY ABRUPTLY and you have to wait until fall 2014 for the next part. NOT FAIR!! I wasn't going to write a review, but I honestly thought you all should be warned of this. I would suggest you wait for the SE and SAVE YOUR MONEY.
March 6, 2014
The Apple logo is a trademark of Apple Computer, Inc.