True Fear: Forsaken Souls Collector's Edition
Warning: True Fear: Forsaken Souls is an intense psychological thriller intended for mature audiences.
What if everything you knew about your life, everything your family ever told you, turned out to be a lie? A strange midnight visitor could change your life forever... Find out the truth about your past in True Fear: Forsaken Souls, a chillingly exciting Hidden Object Puzzle game!
This is a special
Collector's Edition
release full of exclusive extras you won't find in the standard version. As a
bonus
, Collector's Edition purchases count toward three stamps on your
Monthly Game Club Punch Card!
The Collector's Edition includes:
Uncover more secrets in the bonus game
Downloadable soundtracks and screen-savers
Gorgeous wallpapers and concept art
Integrated strategy guide
Game System Requirements:
OS:

Windows XP/Windows Vista/Windows 7/Windows 8

CPU:

1.2 GHz

RAM:

1024 MB

DirectX:

9.0

Hard Drive:

1703 MB
Game Manager System Requirements:
Browser:

Internet Explorer 7 or later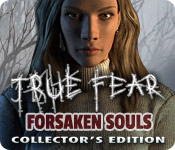 The Big Fish Guarantee:
Quality tested and virus free.
No ads, no adware, no spyware.

Reviews at a Glance

True Fear: Forsaken Souls Collector's Edition
0
out of
5 (
0
Reviews
Review
)
Customer Reviews
True Fear: Forsaken Souls Collector's Edition
248
248
Not CE worthy, but an okay game..
Well, I guess I'm about to be the minority here on this one. The graphics weren't too bad, although a bit old school and cartoon like. What little animation I saw was pretty good, even the eyes moved in thought. Game play was good and somewhat slow on the up-take. Very few voice overs, but what there was fit very well. Music isn't bad, needed to be spookier for affect. Not sure why there is a "warning" on this one, as it wasn't creepy at all. Maybe it gets better later in the game play. The game is very quiet. As I said, a different music would have helped this one a great deal. Not much in the way of sound FX. The SG was a bit sparse and ho-hum. Here again, they could have had a "creepy" font. Hint system worked pretty well and filled quickly. One thing I didn't care for was that the hint would point you to an item or task, even if you didn't have the part you needed to complete it. This happened more than once in different areas. HOGs were very simple, items easy to find and graphics very cartoony. Of course, you had to open this to find that, but after you found everything that was in that area, you could continue to open that area again for no reason at allm since there was nothing left to pick up. Puzzles were the same old, same old and not difficult at all. I like the spooky games and don't mind a scare now and then, but this game was a bit boring for me. No real challenge at all. It could have been a very nice game with some creepy sound FX. It just didn't grab me at all and I do not feel it is CE worthy, so no buy for me today. I feel it was geared more toward the beginner. Of course, I have been known to change my mind and buy the SE when it comes out, after I have had a chance to re-play the game again. Definitely will not get the CE version. As always, try it for yourself and see what you think. We all have different tastes in games and you may find this one to be exactly what you are looking for today. Thanks for the reviews.
March 1, 2014
There's no ending! It's a sequel.
Man do I wish I'd read through these reviews first. It's so frustrating to spend hours on this game only to find out the story is "to be continued" in 2014 - meaning, more money for the next game and the game after, more waiting ... I don't know. The sequel thing just doesn't work for me. I had fun playing it, but the end dropped off in a really messy place and felt rushed and weird, without any true idea who the culprits are, just suggestions of who you're working against and what the problem is. The ending then reneged on all the other parts of the storyline you were led to believe. That's just messy. I loved the game - it was fun, the visuals were great, liked the storyline - but I really think we should get an opportunity to decide whether we want to deal with a trilogy when downloading casual games. I'm going to have to say pass.
March 15, 2014
play the demo fishies
well well. I didn't look at the reviews before playing the demo. hit try demo just by glancing at the stars reviews..soooo glad I did . I was all set to take advantage of the sale this weekend .I played for 30 actually 28 and said okay where's the warning. if you didn't see the jump coming in the beginning you need to get out more often.that's so old it's older than me, and I'm old. got really sick of looking at peeling wallpaper there just was no umph to this game..and I was so looking forward to an adult scary game. not a buy for me ce or se..boring,
March 1, 2014
Review of a finished game....
My overall gaming experience w/ this game was boring. The opening cut scene was deceiving. That was the scariest part of the game. Alot of back tracking, thank goodness for a good map. The developers did achieve to create a spooky environment. Other than that, nothing else stood out. A average HO game @ best.
March 12, 2014
Horrible nightmare game
Idk but I play alot of hidden object game and this 1 I'm so scare about that I think I will get a nightmare. Is like watching the movie about the Japanese girl 1. OMG I think lots of ppl will have nightmare about it.
March 14, 2014
Disappointing game
I was really looking forward to playing this game after the demo, so I bought the CE. A huge waste of money! Production: I think the artwork is good in that it fits the theme. Same with the music. The journal is good. Story: It started out like it was going to be really good, but then the game ended abruptly without a clue as to what was going on. There was a "to be continued" message, and that was it. Same with the bonus chapter - no sense. In the bonus material they do say that yes, this game makes no sense because its one part of three. What a bummer! Terrible! Game play: OK but there are way too many mechanical problems - things don't work right. Sloppy work and poor QA. The closeup scenes don't close either when you are through with them - annoying. Some poor naming of objects to add to the annoyance. There is a informative jump map and the HINT button works well. Puzzles and HOS are average. I don't recommend this game as a CE for sure. I would recommend the SE except for the bummer story trick. That is unacceptable in my opinion. I sure would not have purchased this game if I had known about this before hand.
March 31, 2014
True Fear: Forsaken Souls Collector's Edition
Don't be fooled by the "warning", which is something I have never seen on a BF game. I assumed it meant this was going to be a really good game and bought it without playing the trial first, but in my opinion, it's not a good game. It's "old school" graphics AND it's slow and jerky - and I only played for about 45 minutes. Maybe it will get better but today, I don't have the patience to muddle through this terrible beginning.
March 1, 2014
Very Frustrating! AND it's Part One People!!
This game really is a mess. The story line is one confusing clue/note at a time, and you have no real idea what the heck is going on! Very disjointed, no continuity. Looks like the writers lived with the story for so long, they did not check to make sure they were telling US the story. Too many clues make no sense, and others felt like we started on chapter 3 and they referenced chapter 2 items. The ending is not abrupt, it just stops!! I thought it was one of the bugs, since I had problems on and off, especially with my regular cursor running at the same time as the game cursor. I went looking at all the extras to see what I did wrong, and there is a note that this is a trilogy??? Not worth the CE price, and will not pay more to get the ending and questions answered.
March 24, 2014
UGH....This was a stinker!
What drew me to this game, and I suspect most other people, was the disclaimer and the fact that is is being touted as a large file (almost 2GB). On the surface this looks like it is going to be a big budget version of Vanishing Hitchhiker or Scratches. OHHH how wrong I was. The opening screen does not represent what is actually in this game as we have to wait till next year for the other two titles to be released. The graphics are, well, really bad. Very bad in fact. The story is so disjointed that it makes no sense at all The game play is just doing random stuff and doing it slowly. It's actually rather silly and does not create a feeling of fear or even mystery. The sound is one of those annoying Fifteen Second musical loops that drives you insane listening to it. It has good cut scenes but that's it and I have no idea how these cut scenes are actually meant to relate to the game at all. Then after doing a bunch of stuff that seem to have no reason to actually be there the game just ends. No cliff hanger leaving you wanting the next episode, no resolution or explanations, it literally just stops! And unless there is s substantial, and I mean SUBSTANTIAL, hidden game or easter egg than there is no way that this uses almost 2GB. Take for example the beautifully rendered graphics and and fully interactive 3D experience of "Stroke of Midnight" that comes in at fraction of the memory at 136 MB which is VASTLY superior to this. What on earth did they do with 2GB? This isn't what it is cracked up to be so avoid or at least try the demo first.
April 6, 2014
Confusing
I love spooky asylum games, but this one didn't grab me. It seems like it might be more for the advanced player. I consider myself to be only intermediate. Even though I played on the casual level, I felt continually confused.
March 6, 2014
The Apple logo is a trademark of Apple Computer, Inc.