True Fear: Forsaken Souls Collector's Edition
Warning: True Fear: Forsaken Souls is an intense psychological thriller intended for mature audiences.
What if everything you knew about your life, everything your family ever told you, turned out to be a lie? A strange midnight visitor could change your life forever... Find out the truth about your past in True Fear: Forsaken Souls, a chillingly exciting Hidden Object Puzzle game!
This is a special
Collector's Edition
release full of exclusive extras you won't find in the standard version. As a
bonus
, Collector's Edition purchases count toward three stamps on your
Monthly Game Club Punch Card!
The Collector's Edition includes:
Uncover more secrets in the bonus game
Downloadable soundtracks and screen-savers
Gorgeous wallpapers and concept art
Integrated strategy guide
Game System Requirements:
OS:

10.9/10.8/10.7

CPU:

1.2 GHz (INTEL ONLY)

RAM:

1024 MB

Hard Drive:

1106 MB
Game Manager System Requirements:
Browser:

Safari 4.0 or later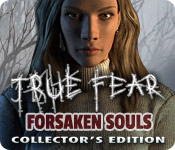 The Big Fish Guarantee:
Quality tested and virus free.
No ads, no adware, no spyware.

Reviews at a Glance

True Fear: Forsaken Souls Collector's Edition
0
out of
5 (
0
Reviews
Review
)
Customer Reviews
True Fear: Forsaken Souls Collector's Edition
251
251
Very Frustrating! AND it's Part One People!!
This game really is a mess. The story line is one confusing clue/note at a time, and you have no real idea what the heck is going on! Very disjointed, no continuity. Looks like the writers lived with the story for so long, they did not check to make sure they were telling US the story. Too many clues make no sense, and others felt like we started on chapter 3 and they referenced chapter 2 items. The ending is not abrupt, it just stops!! I thought it was one of the bugs, since I had problems on and off, especially with my regular cursor running at the same time as the game cursor. I went looking at all the extras to see what I did wrong, and there is a note that this is a trilogy??? Not worth the CE price, and will not pay more to get the ending and questions answered.
March 24, 2014
UGH....This was a stinker!
What drew me to this game, and I suspect most other people, was the disclaimer and the fact that is is being touted as a large file (almost 2GB). On the surface this looks like it is going to be a big budget version of Vanishing Hitchhiker or Scratches. OHHH how wrong I was. The opening screen does not represent what is actually in this game as we have to wait till next year for the other two titles to be released. The graphics are, well, really bad. Very bad in fact. The story is so disjointed that it makes no sense at all The game play is just doing random stuff and doing it slowly. It's actually rather silly and does not create a feeling of fear or even mystery. The sound is one of those annoying Fifteen Second musical loops that drives you insane listening to it. It has good cut scenes but that's it and I have no idea how these cut scenes are actually meant to relate to the game at all. Then after doing a bunch of stuff that seem to have no reason to actually be there the game just ends. No cliff hanger leaving you wanting the next episode, no resolution or explanations, it literally just stops! And unless there is s substantial, and I mean SUBSTANTIAL, hidden game or easter egg than there is no way that this uses almost 2GB. Take for example the beautifully rendered graphics and and fully interactive 3D experience of "Stroke of Midnight" that comes in at fraction of the memory at 136 MB which is VASTLY superior to this. What on earth did they do with 2GB? This isn't what it is cracked up to be so avoid or at least try the demo first.
April 6, 2014
Confusing
I love spooky asylum games, but this one didn't grab me. It seems like it might be more for the advanced player. I consider myself to be only intermediate. Even though I played on the casual level, I felt continually confused.
March 6, 2014
Not auy for me !!!!
When I saw a CE I was thrilled. You can do a thriller but still can be with better color. One reason not to buy. It would not change the being spooky at all. So not worth the wait on a CE.
March 1, 2014
OH! HECK NO!
I found this game very hard to grade. I think if you are into this sort of visual chaos, then you might actually enjoy it. I didn't. I couldn't finish the demo. This ugly decrepit house is the setting in the beginning of the game...dark and menacing. A ghost or person from another dimension appears though the person you are playing feels it rather than sees it. It is the same creature you see in the beginning on security cameras in what I believe is some sort of institution, dragging a dead person by the legs in a room where a slaughter of several people obviously took place. A sinister creature in the form of a hunched over little girl with a gaping large blood encircled mouth so I gathered she is probably killing humans and eating them. Did not play long enough to find out actually what she is. This game is for people who enjoy this sort of macabre adventure. So, take my grading with a grain of salt. It is all about personal preference.
March 6, 2014
Good Reviews?!
Played for 30 minutes and quit.....almost "nodded off" waiting for scenes to unfold. Hidden object scenes not very clear and lacking in imagination. Soooooo slow and boring. Am amazed by all the good reviews. I, too, would love a good old scary game but this is not it.
March 2, 2014
One of the worst games I have played
I LOVE creepy, disturbing games and was really looking forward to this one, which claimed to be, just that. I finally finished the CE and still don't understand what the story really was. It was like it was S L O W L Y building up to something and then never did. There were too many clues telling you what you needed to do next, so there wasn't much to "figure out" and I wasn't even playing on the "easy" level. I only finished it, because I expected that the story would get moving at some point...and it never did and because I don't have anything better to play, I kept playing and hoping. This game was just AWFUL. Waste of time and money. Don't bother!
March 28, 2014
GIVE ME A BREAK!!!
i survived through every bit of 6 minutes of this game. i hated it. the graphics were bad, the scenes were rotten and there was absolutely nothing about this game that made me want to play. i can't figure out why so many people liked it.
March 24, 2014
what child drew this
I have played about half of an hour and the graphics are so poor, I gave up. I have requested BF change it for a 'proper' game
March 6, 2014
Feedback For Developer Only - Based on Demo
FUN FACTOR: Sorry developer I honestly was really looking forward to this game. I'm really into psychological thriller type of games/story but at least for the demo time the so called "warning" on this game is purely all hype for me. I found absolutely nothing scary about this game. About the only thing I found in the way of creepy was the hint button which looks like the cross between Linda Blair from the Exorcist and a female version of the "Chucky" doll from the Child's Play movie. If the game does get to be more of a "thriller" past the demo time well sorry but you shouldn't put all of your best work past the demo as you should not only have my attention during the demo to get me to purchase but keep it throughout the game. I will say I sure appreciated no "cutesy" or not so "cutesy" animal helpers that I had to name/feed/dress up! VISUAL/SOUND QUALITY: I don't mind buildings that are a bit rundown and grungy looking in games but sorry I don't understand why not only you but other developers have to make things look so gross with the creepy crawlers, rats, etc. I do believe a game can still have the "thriller" "eerie" feel to it without this as I've watched quite a few TV shows/movies that are psychological thrillers that don't have this stuff. For me the graphics were just plain awful especially the cut scenes. They were grainy and blurry. In regards to the sound I found this to be a very quiet game and not much in the way of music which is where I think you could of worked on to get the creepy/eerie feeling. The voice overs what little there were I thought were really good and could of been just a bit more. LEVEL OF CHALLENGE: Here you have 3 play modes I just checked out the harder two modes. I ended up on the middle of the road mode because I like to have hint/skip available just in case needed. The only difference I found is the hint/skip are disabled on the hardest mode. Neither have sparkles however both are overloaded with black bar tips. I don't understand this at all. Why have 3 modes of play if all are going to be overloaded with black bar tips telling me what I need to do in the game? The HOS I like interactive word list and usually enjoy these but were Sanford & Son junkyard to me. I also found a bit confusing with several items opening up into more complex items but I did find that the HOS list helps with transparent, black and red items representing which items are visible at any time. The puzzles I'm not a fan. Less the better. Having said this: The same ones I've come across in many games. I found them rather simple. Nothing difficult here. The demo of this I didn't find much on the "adventure" side at all as it was basically the same 3 maybe 4 locations over and over again so not really much back/forth. STORYLINE: The storyline itself definitely sounded intriguing but that is where it ended for me. As I mentioned I'm definitely into this type of storyline but I found nothing "psychological thriller" about this game.While there are voice overs I found the story very hard to follow because I had to find pages from the sister's journal that are not always found in order and some not from the journal. It just didn't make much sense to me.The story just didn't grab me at all by the time i reached the end of the demo. The CE extras: Achievements/collectibles and the other fluff no longer appeals to me. I will say while I rarely use strategy guides those are nice to have with the game in case needed. As for the bonus chapter for this game I will say people should definitely check out the reviews of the people who completed the game just so they know what they are getting for their money. Overall 1 star from me! I just found this game downright boring with no challenge at all and there was nothing "psychological thriller" about this game for me. By far one of the worst games I've ever played. Sorry no recommendation here!
April 3, 2014
The Apple logo is a trademark of Apple Computer, Inc.
The Windows logo is a trademark of Microsoft, Inc.