Clutter 3: Who is The Void?
The Void has taken the Clutter game to whole new heights, but his or her identity remains a mystery. Can you sift through the clutter and reveal who he or she truly is? More challenging and more addictive than ever before, Clutter 3 will keep you playing—and guessing—for hours and hours! Rummage through 30 fiendishly crafted Clutter puzzles, play nine exciting new mini-games, and embark on two bonus quests in the most challenging and addictive Clutter game yet!
Reveal the identity of The Void!
Randomly generated for maximum variety!
Best clutter yet!
Game System Requirements:
OS:

Windows XP/Windows Vista/Windows 7

CPU:

800 Mhz

RAM:

256 MB

DirectX:

9.0

Hard Drive:

184 MB
Game Manager System Requirements:
Browser:

Internet Explorer 7 or later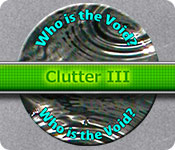 NEW299
The Big Fish Guarantee:
Quality tested and virus free.
No ads, no adware, no spyware.

Reviews at a Glance

Clutter 3: Who is The Void?
0
out of
5 (
0
Reviews
Review
)
Customer Reviews
Clutter 3: Who is The Void?
50
50
The Void Doesn't Exist!
I haven't played Clutter 1-2 YET, but I certainly will now! Who would think that a giant pile of junk all crammed together could be entertaining? The object of this game is pure and simple, find matching pairs of items, that's basically it in a nutshell. You will collect single coins to refill your hint meter and collect letters that will eventually spell a certain phrase, and you collect puzzle pieces that you put together when all are collected. There is a conveyor belt that tells you how many laps the belt will make before time runs out and the remaining number of items you have to find. There are discs that block your view and they will be removed one at a time as you make matches of the items pictured at the top and or bottom. There are mini games such as a combo of suduko and tetris and between games you will get clues and tidbits about the true identity of the Void, enjoy!
February 10, 2014
Its A Really Cool HO/Puzzle Game!
BASED ON DEMO FIRST IMPRESSIONS I wish we had underline or italics, so I could make the point more clearly. This is a great game for what it is and should not be approached as a comparable game to what we usually play, i.e. HOPAs. What this game is, is a very entertaining and well constructed puzzle game with a lot of HO puzzles, and 20 other kinds. There is NO adventure play here, but there is a story of sorts that I?m keen to find out more about. SIGHTS & SOUNDS The graphics are okay. Certainly clear enough, bright enough, the items are all quite visible. I didn?t notice any graininess or rough edges. But it is not art. The main menu page implies a certain tendency towards mechanics and electronics, the colours reminding me of ?The Matrix?, but the HOPs at least incorporate images from everywhere. The music is pretty annoying, very upbeat, varied enough, just not what I?d like for background noise while I?m trying to concentrate. There is no voiceover, the Void communicates by way of pop-ups that are very frequent at first, as help and explanations of what is coming are given. Only this first bit is unskippable, after that, comments and tips are all skippable. Personally, I was grateful for them. WHAT?S HAPPENING? This is not an adventure, but you do have a quest. To find out who is really the Void. I have not played or even known about the earlier Clutter games (but I?ll certainly be checking them out now), so I don?t know to what extent this game follows on from them, but clearly we have had previous encounters with the Void. Our quest is to establish its identity, and also to challenge ourselves and our ways of thinking about games, and find out generally how games are created. This is very interesting to me and even though pure puzzles would not normally tempt me, I will be buying this game - largely on the promise of these questions. Answers and revelations are your own of course, however, the end of each chapter gives us a quote on games and something to think about. GAMEPLAY The first quest for this game is ?The Void Speaks?. It is the tutorial game of sorts I guess, certainly there is a lot of information given on how the game works and how to do each style of puzzle. This chapter is filled with very hard matching pairs HOPs. There is a lot to match ? up to 50 pairs so far. Also, there are bonus items that are shown only at the top and/or bottom, which require special action. And they are hard because the items are often well hidden, and sometimes only part of one will show from beneath the array of non-list items that can be collected. These include (so far): letters that form the words of a relevant phrase, coins which go towards additional hints, jigsaw pieces which go towards a 200 piece jigsaw to be solved at the end of the game, and ?blocker discs?, which are not removable in the usual way, You must find 5 matched pairs to get rid of one pair of blockers. At the end of a HOP, you will get another type of puzzle to solve. And the next chapter will give you a different style of HOP. At the end of each quest, you get one of 5 answers, only one of which is correct. To find out the truth, you must complete all puzzles and the jigsaw, but you can skip all of them. And you can play them directly from the main menu. So after the first chapter, you could play just the puzzles if that?s what you want. The number and range of options is amazing. Sliders for music and sounds, choice of 5(!) levels of difficulty, and a total of 15 other toggles for things like blocking pop-ups. There is also a choice of timed or untimed. I found the HOPs hard, and spent a lot of time on them, but never ran out of time (got very close on one). COMBINED IMPACT This game is wonderful. I haven?t bought a purely HOP/Puzzle game in years, but I can?t wait to get this one! So ingenious, so flexible. Wow!
February 10, 2014
Clutter Lover
I am a Clutter lover and at first I was a bit disappointed by this game...it didn't look as nice as the ones before...but hey, like Joe says "would you rather play a beautiful and boring game or a not so beautiful but interesting one?". Actually the first hour made me unsure if I would buy it but since I had a free game I did and YES it gets better! The story gets much better and you can do so much. You can customize nearly everything and most of the games are random so you can play them again and again! This is a game slow at start but it finally gets there!
February 10, 2014
Extremely Addictive
If you are a puzzle person like myself and a fan of Hidden object scenes that will absolutely blow your mind, this is the game for you. I am embarrassed to say I have not played any of the previous Clutter games but will now definitely be looking them up. Who is the Void? What is the Void? That is for you to find out but first you need to solve a multitude of puzzles and play various Hidden object scenes in order to collect your clues. Apparently there is a giant jigsaw puzzle to complete at the end, OOOH what fun! Graphics are sharp and clean and you get to cutomize your settings. There is alot of text to read, proverbs to go through (which are my personal favorites) and you can also skip these from your option menu. I liked the piano playing in the background which does not distract you from the game. Hidden object scenes are cluttered objects with obstacles that need to be eliminated. There are letters to pick up and coins as well as puzzle pieces within each scene. Then you have pictures of the objects you need to match or find and let me tell you, it isn't easy as you think. I found myself scanning the scene for what felt like minutes and still couldn't find what was staring right before me. Thankfully you have hints to help you out. Puzzles are a blast here and you have a variety of them. There is the Tetrisudoko which I simply loved and the mini-jigsaws as well. There really is so much here that it made my head spin. I should warn you though, it looks to be highly addictive with an amount of frustration level that will no doubt keep me awake tonight. I loved it and highly recommend it to those who enjoy a bit of challenge. Now I need to go back to discover the other Clutter games that I apparently have missed. I am now trying very hard not to continue to play this as I really have to go and start my day. Enjoy!
February 10, 2014
Loved the Third Installment
This games is the best so far in the Clutter Family. Not just one game but it branches into a lot of different games, which can occupy me for hours. Love the ability to personalize the games with lots of options. Better than a "matching game," not a "HO" game - just in a class of its own. If you are looking for something different and addicting, this game will send you in the right direction.
February 10, 2014
Crazy, Fun Puzzle Game
This is the craziest game I have ever played. There are junkpiles to find pairs of hidden objects and not to hidden objects. There are sudoku games. There are jigsaw puzzles. The music is crazy. The games are crazy. All the while you are playing you receive mysterious messages from the mysterious "Void". It was a lot of fun. Try it. It's not for everyone, but it's for me.
February 10, 2014
Love it!
I've played and purchased the other clutter games and this one is much better. Same concept of finding hidden objects but with more nuances that change up the play to make it more challenging. If you're beaten by the time, you must replay the game 3 times before it'll let you skip the puzzle. The replays are not necessarily the same objects, so it keeps you intrigued. By the third time though, I was able to beat the clock, so wasn't necessary to skip. Music is a bit distracting after a while, but I just turned it down. Mini games are fun. Found the jigsaw puzzle aspect pretty easy so far; don't know if it gets more complicated the more you play. Story line of finding the Void is a bit perplexing, but hopefully it'll make sense in the end.
February 11, 2014
Fillilng the void and loving it!
Love everything about this game! The story, the puzzles and of course finding all the parts and pieces that make this game so enjoyable.
February 10, 2014
NEW ADDICTION!
I have not played any of the other clutter games but thought I'd try this one. LOVE IT! The 1 hour trial went by way to fast! Very addictive. I'll have to use my game credit and buy this one right away.
February 10, 2014
Great Puzzle Match Game For All Ages!
Enjoyed all the Clutter games so check out I and II as well. Fast moving fun and challenge with a variety of puzzles picking out matching items in a kaleidoscope of objects crammed together. Entertaining and addictive, the fun never stops! Enjoy! -Mama Mia-
February 10, 2014