Haunted Train: Spirits of Charon
Exclusive
Charon's train has left the station, and you'll never believe who's on board.

You and your fiancée were supposed to be happy, but someone's destroyed your wedding day, and your lives together. Now her ghost beckons to you from the train of death. Can you put this vicious deed to rest – and help Charon bring justice to your love's tragic end?
Game System Requirements:
OS:

10.9/10.8/10.7/10.6

CPU:

2.0 GHz (INTEL ONLY)

RAM:

512 MB

Hard Drive:

626 MB
Game Manager System Requirements:
Browser:

Safari 4.0 or later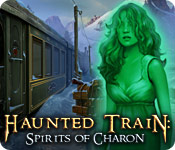 NEW299
The Big Fish Guarantee:
Quality tested and virus free.
No ads, no adware, no spyware.

Reviews at a Glance

Haunted Train: Spirits of Charon
0
out of
5 (
0
Reviews
Review
)
Customer Reviews
Haunted Train: Spirits of Charon
20
20
All Aboard...Destination Up Or Down!
Daniel and Olivia were about to be wed, leaving all their troubles behind and starting anew. What happens next, the unthinkable, this should never have happened! Daniel wakes up, laying on the ground, hazy, confused, and clutching a single train ticket, he runs to catch this train before it departs. Destination unknown.....for now. Aboard the train Daniel finds his love, Olivia who is dearly departed and a trapped soul, never to leave this train of souls, ever! This is no ordinary train, this is a transport train. The Trainmaster Charon is the Judge and the Jury, deciding where to transport your soul, up or down! Charon has made a deal with Daniel, find the evil responsible for Olivia's death and he will set her soul free. This game has a very interesting story, some of the game takes place on the train itself but you will stop at different destinations to capture the men who have eluded Charon and his death train for centuries, rendering the lost souls young forever while their victims are trapped on the soul train. The HOS are interactive list finds and unfortunately they do double up on some of them, but I loved the HOS that was a collage of theater posters, it was unusual and fun. Many of the mini games were new, such as recreating a shadow on the wall of a man holding a lantern. You had to move different shapes of colored glass to several hooks hanging in order to cast a shadow. I personally like the Collectors Edition better because I'm a big fan of all the extras, but for a SE this is a great value if you don't care about the bells and whistles, enjoy!
February 9, 2014
Glad I got onboard!!
I had SO many games backlogged in my Game Manager, I hadn't downloaded the CE of Haunted Train Spirits of Charon when it was released. This morning I noticed the SE and, WOW!! I am so glad this was offered so quickly as a SE... despite all the games I need to play, this one is getting priority after playing the demo. Many details of the game are covered in numerous reviews here or on the CE reviews page, so I will give a summation of what I found in today's offer of the SE: Firstly, I used headphones and the character's voices were fantastic. The quality of sound in general is great and the background music is pleasant and appropriate to the settings. There are numerous cleverly designed, intricate and interactive H0S and puzzles [on the simple side, yet very appealing and pleasing to play] and very well connected to gameplay as the story unfolds. The graphics are extremely well designed and appealing, very artistic and original... I would rate the graphics as 10+... just gorgeous [though some scenes per the Demo were a bit sparse, such as entering the first character's home, yet I actually appreciated that aspect due to many games now are clutter city]. Overall, the storyline was different and interesting... a spooky themed adventure requiring the player to 'solve' 6 mysterious deaths in order to move forward and 'capture' the culprits responsible for untimely deaths. There is also a supernatural aspect to this and definitely, you have to put on your fantasy 'hat' to be immersed in participating in the gameplay. The storyline, to me, was not the strength in the game... the interactive and well convoluted mini-games/puzzles/HoG's were; alonge, again, with the gorgeous graphics! They were absolutely top notch quality to the point were one wants to step into the monitor and enjoy the environment [same with the sound]. Give this a whirl and have fun... I'm torn between purchasing SE and CE now since I was greatly impressed with this well designed game! Thanks BFG & devs! Lol end note: As a final comment... I had to chuckle when I would have sworn I noticed Einstein's ghost traveling along in the windows of the train in the beginning segments of the game!
February 10, 2014
Dark and Eerie Hidden Object Adventure Game
The storyline is excellent. Charon, who always transported the souls of the damned to Hades in a gondola via the River Styx has taken to transporting them via the Haunted Train. On what was to be the happiest day of your life, your wedding day, your beloved bride, Olivia is murdered by an evil Count and his minions. She and her soul are on the Haunted Train en route to eternal damnation. Can you help Charon to bring her killers to justice and save Olivia from a terrible fate? The graphics in this game are beautiful, that includes the mini puzzles and the hidden object scenes. The mini puzzles are unusual, some time consuming, but all of them are a lot of fun. Hidden object scenes are clear, crisp, and clean, with a lot of interactivity. It is the straight list type, easy to know what you are looking for. The soundtrack and voice overs are well done. It adds to this game being the total package. There are three aids to assist you: a portfolio instead of a journal that has postcards of the places you have been, a magnifying monocle that can sense evil activity when you use it, and an interactive map, that really is interactive and a pleasure to use. If you like beautifully crafted games, some scenes that look like they belong hanging in the Louvre, with sinister characters and eerie, creepy, and haunted special effects this game is for you.
February 9, 2014
I truly enjoyed this game
I waited for the SE to come out since I don't care about extras and the CE seemed unnecessary. glad I waited. I thoroughly enjoyed this game, great hint button which was necessary. and you save everyone which is always nice. the end was a bit odd, I know I saved everyone although that could have been clearer but over all a great game I recommend. I don't use sound so can't rate that but otherwise great.
February 11, 2014
TERRIFIC LONG ADVENTURE
This is one terrific adventure. 12 chapters as you try to bring Count Orlok and his cohorts to justice so that Charon will release your wife from her trip to Hades. Orlok killed your wife on your wedding day and is now on Charon's train (he prefers the more modern mode of transportation to crossing the River Styx). Artwork is handdrawn and lovely to look at. Looks like old-time art. Good sound effects and the narration is superb. Fun to play. Lots to do and locations to visit. You get a map for each chapter. Somewhat linear in that you meet other souls trapped on the train until their killer is brought to justice and must lure their killer to the train in succession. If I can find one con, it's that the area where you have binoculars (I play casual), showing where you can look closer or pick up or find objects, continues to show binoculars when you scroll over. They should just close automatically. Did like the lens that showed you where you might see things that aren't as they seem. Well told story. Don't understand the low ratings from some, unless they don't appreciate hand-drawn art -contrary to their opinion, it is not low graphics, it is the hand artwork.
March 14, 2014
I enjoyed it...
I thoroughly enjoyed this game...played intermediate level...not too easy.. not too hard...was a fun likable game...not too short...just right!. oh and not to many hidden object games....some games are just way too over the top...this only had a few. :)
May 4, 2014
Interesting
I waited for this SE to come out since I had a lot of fun playing the demo of the CE. CE has absolutely nothing to qualify it being a CE. No collectables, achievements etc. But I wanted to play it since the story seems really interesting. Graphics could be better, HOS are plenty, but sometimes really small so hard to find. There is a map and journal, and a magnifying glass that lets you pick up on ghostly scenes. I like everything connected with ghosts and this is no exception. You have to lure the murderers of these lost souls stuck on the train onto the train and bring them to justice. It seems to be fairly long but not a hard game to play. Pretty straightforward. Give it a try, it is definitely worth it and a very good SE. Skip the CE
February 9, 2014
Huh? I Guess I Got It Wrong!
BASED ON COMPLETED GAME FIRST IMPRESSIONS If you haven?t read my review of the CE for this game, please don?t. I don?t know where my head was that day, but clearly it wasn?t on the job! While the facts are correct, some of my responses to the game seem way off, having completed the game! *shame-faced teary-eyed * So. This game starts out with a wedding, but the honeymoon?s not all it could be. The bride is murdered at the altar, and we, the groom, are left unconscious. The graphics are fine, nothing brilliant, but quality. As are all aspects of this game. Except a couple of niggling bits. SIGHTS & SOUNDS The graphics are good, but not great, although the artwork is appealing and has that eerie magical ?ectoplasmic? green that works so well for anything supernatural. The HOPs are bright and colourful without seeming out of place. One thing I liked, we find a newspaper with a relevant story on the front page. The photo comes ?alive? and the narrator tells us some back history, all with the newspaper still encasing the ?photo?. I thought it was nifty. The narrator/main character?s voice is used wonderfully. Some of the other voices are not so good, but none are bad. The music has a lot of crashing piano chords and other exciting stuff, orchestral for the most part ? always at one extreme or the other. Sometimes, it is beautifully ethereal. WHAT?S HAPPENING? Your bride is killed on your wedding day, you are knocked unconscious, and wake with a train ticket in your hand. You just manage to catch it before it leaves the station. On board, the ghost of your bride begins the explanation of what has happened and what you must do. The train belongs to Charon ? the ferryman who takes souls over the Styx. Caught up in a battle between Charon and a gang of evil doers, your wife and the others aboard cannot pass over until these men are lured to the train and disposed of . That?s where you come in. The game is broken up into the capture of 4 of these villains and thereby rescuing your wife. Another reviewer called the story preposterous, and it is. But it?s also an involving story, that kept me playing. My problem with it is the inconsistencies. From the pronunciation of the name Charon, of which there are 3 variations, to the book referring to the train as the ?Phantom (i.e. not the Haunted) train, to the villain who loudly declares he?s going to follow you onto ?that train? - the train that he has spent hundreds of years avoiding in order to stay immortal - it seemed like someone else besides me was falling asleep behind the wheel. GAMEPLAY There seemed to me to be more adventure tasks than either puzzles or HOPs. Despite the fact that the HOP scenes are visited twice, they feel scarce. They are interactive lists with a greater degree of interaction than the norm, but they are still not all that exciting. There are more puzzles, and they are a problem for me. A lot are very well done original games, which unfortunately had vague or confusing instructions. Others required 5 steps of the same mini-game to open the lock. And some were just plain difficult. And the worst of all, where to me it looked as though the puzzle was solved, even after resetting and doing it all again, the game insisted I hadn?t solved. And without a SG, no way of knowing why/how! There is a journal, an interesting interactive jump map and directional hint to help you, and 3 degrees of difficulty to confound you. COMBINED IMPACT I did like the game. I am not as ecstatic about it as I was for the demo. The weird inconsistencies in story, the difficulty of the puzzles, detracted a bit from my enjoyment of it. But it is still a good game, worthy of an SE price.
February 12, 2014
Not too Bad of a Game
This is posted after completing the entire game. I rather enjoyed this game. There were parts that didn't seem to make sense to me, but all in all, I'm glad I bought it. It is full of dark horror, murder and revenge, but that's what the game is about. I did get bored a few times, but then something would catch my attention and off we would go again. The graphics were good, and the voice overs and cut scenes were well done. The various voices depending on where you were in Europe were funny. I know they were to be serious and they did go along with the game, but I got a tickle each time they spoke. Level of challenge is rather difficult to determine. The hidden object scenes were at times rather difficult to complete and I was forced to use the hint button more than I would like. Where I had my most sever challenge was the mini games. Half of the time, or more, I could not determine what I was suppose to do and would end up skipping them. The instructions were the challenge. I will play this again sometime and I'm sure I will understand them better, but for this I just did not understand. There are mini games I haven't seen before and some odd items in the hidden objects. Kept me on my toes. There is a wonderful hint button which recharges quickly and an interactive map which is just marvelous. There are times when the story just doesn't let you know what you are suppose to be doing or where, but the map will save you most of the time. There is also a journal uniquely written as postcards. Going back to them helped quite a bit and made the journey much easier. Keep an eye on the lens which will be given to you at the beginning. It will show you the dark sides of the scene and give you and idea of what is to come. The story is pretty much explained in the details of the game, but I have to admit I did get lost in the story line. It begins in a rather confusing manner, but alas at the end it all comes together. It appeared to me that perhaps the designers ran out of some things to do and started making up the story as they went along. It was a decent story with new characters I haven't seen. I am not sorry I bought it and look forward to playing it again in the future.
March 4, 2014
Great Game.
I liked the story line and the mini stories within the game.
May 14, 2014
The Apple logo is a trademark of Apple Computer, Inc.
The Windows logo is a trademark of Microsoft, Inc.