Haunted Train: Spirits of Charon
Exclusive
Charon's train has left the station, and you'll never believe who's on board.

You and your fiancée were supposed to be happy, but someone's destroyed your wedding day, and your lives together. Now her ghost beckons to you from the train of death. Can you put this vicious deed to rest – and help Charon bring justice to your love's tragic end?
Game System Requirements:
OS:

Windows XP/Windows Vista/Windows 7/Windows 8

CPU:

2.0 GHz

RAM:

512 MB

DirectX:

9.0

Hard Drive:

684 MB
Game Manager System Requirements:
Browser:

Internet Explorer 7 or later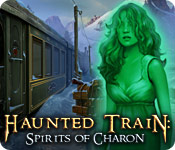 NEW299
The Big Fish Guarantee:
Quality tested and virus free.
No ads, no adware, no spyware.

Reviews at a Glance

Haunted Train: Spirits of Charon
0
out of
5 (
0
Reviews
Review
)
Customer Reviews
Haunted Train: Spirits of Charon
20
20
Not a Bad Game At All
I wasn't expecting a lot from this game, since I got it on sale for $2.99. What a surprise! It was actually a lot of fun! There were quite a few HOS's, and each scene came up twice, but I never mind that because it tests my memory from finding objects the first time the scene comes up. Puzzles were good, except where it was difficult to understand the instructions. I didn't skip any though. Voice overs were adequate. The young German (I think?) boy's accent gave me a chuckle, however. At times he almost sounded Hispanic or French. The actor didn't quite have the accent down. It didn't detract from the game though. The length was good. I think most people will enjoy this one.
August 29, 2014
"Haunted Train" Fails To Leave The Station
Sorry, I did not like this one. It did not feel "creepy" as some others have described. It was certainly trying to, but instead came off as ... uh... silly? Others have described the basic story behind the game. Though the premise is kind of "out there," it definitely had potential. However, the developers did not manage to pull this off. Trying to rescue your wife's soul, wonder what sort of woman you married?. Second, the game is way too easy. Many times an object is picked up, then used almost immediately. Puzzles require little or no thought. Third, I felt the voice acting was not convincing. This is where the train truly breaks down. Voice acting, if done well, can help to "suspend your disbelief." That didn't happen here, not even close. The actor sounded to me like they were just reading lines off a page. The drawing is well done and is of a standard with the better games. The story is set in the past, as far too many are, and a good job was done with the artwork in capturing the spirit of times gone by. The music and sound effects are helpful in this respect as well, just enough to capture the mood without being heavy-handed. Just barely 3 stars. I'd buy only with the sale or when I have an extra credit. Possibly even as a DD. Otherwise, I will wait for the "next train."
February 9, 2014
Get Off My Train
This is a nice creepy game... the kind I like. You are set to be married and someone kills your bride. Now to set her soul free from the train of Charon, you must find her (dead) attackers. The graphics and color are just delightful. The music is unobtrusive, I did not notice it. There are nice HOS, some interactive, some where you put things back into a scene. There are very few HOS which to me is a plus. To HO lovers, however, this may not be a good thing The puzzles are cute and original but very very simple. One puzzle you repeat quite a few times, and a few others you just copy the info out of your journal. The game itself is very very linear. Not much challenge here. You get a journal and a map. Also, you get a pair of "supernatural detector" glasses? I think the developer did a wonderful job with this story. I did not feel this game was worthy of CE status so I did not purchase at that point. Yes there is a strategy guide and a bonus chapter. That is it. No achievements, no extras of any sort. Unless a game has a wonderful bonus game, I tend to lean toward the SE as I am not a fan of wallpaper, etc. Today, being offered as an SE, I took another look at it. The game is easy. Very easy. The story is good. Not great. But decent. Some parts of the story are so far out in left field, they stop being believable. I'm on the fence with this one. I believe the games being offered as of late are lacking any sort of challenge. As always, try it for yourself.
February 9, 2014
A Lazy Sunday Afternoon Game.
I won't go into detail about the story as other reviewers have done a splendid job -- thank you so much. I will tell you why I rated this game as I did. I liked the story premise, but it could have been so much better and the ending certainly could have been longer. It has a terrific interactive map, showing areas where things could be done and transporting you there. I always love this feature. The help feature had free directional hints and acted normally other times by pointing things out with a circle affect. The hint recharges reasonably fast. I read so many reviews that complain about the number of HOS in a HOG, but I'm complaining there weren't enough HOS in this HOG! The ones presented were very easy and sometimes repeated. Some of the mini games were okay and fun, but some of them I didn't understand and used the ever so lovely skip button which recharges rather quickly. I disabled the custom cursor because of the drag; there were times the game sort of lagged; and the one scene on the bridge where the statue holding the book of crystals sort of merged with the guy in the coffin in the carriage (changed scenes and went back and it was normal again) -- other than those minor things there were no technical issues. This would be a great game for a beginner because there is a lot of "hand holding", i.e., pointing out what to do next. I don't mind the help but some "expert puritans" might. I always play in the relaxed mode. I don't think it's suitable for young children. It's not an R rating in my opinion but definitely PG because of the mature subject matter, e.g., murder and death. As always I suggest you play the demo and read several of the reviews. I hope you read mine and it's helpful.
April 13, 2014
WHY A 3-STAR RATING
This game is very good with a very good storyline; HOWEVER, I will NO LONGER give a game higher than a 3-star rating when said game has a hint system that REFUSES to recognize that the "rest the tools" are NOT within my inventory and I STILL NEED to collect them in order to proceed. After returning to all the other areas that I'd already played in, the hint button STILL would NOT even recognize the fact that I'd even returned to the area in which I needed to gather the "rest of the tools". After much frustration, I resorted to coming onto the BFG game site and opening up the walkthrough (thank goodness this game has 1) and ascertained where I would find the 1 item needed to open up the other item to gather the "rest of the tools". I play games to relax and to have my gray brain cells to continue to work (at my age, I need to start using as many as I have to continue to stay in the "real world") not to "knock any of them out" by banging my head against the wall.
May 26, 2014
Lots of Issues
I loved and hated this game. While it was interesting traveling to different countries to save your betrothed, the cursor was real "iffy" and sporadic. The reason the challenge was excellent was because the explanation on some puzzles made no sense to me. That being said the skip button works well. :) I think it could have been better.
March 17, 2014
boring
I bought this after playing the CE. As I got into this, I felt I had made a mistake. It just bored me. It didn't flow well, and compared to the new games that are out, the scenery wasn't even that great. It was too easy, no challenge, and while it had a good story line, it was just not enough for me. I think this is a great beginner game, so I'll recommend it for that reason only. With some of the great games that are out there, I'm just going to have to be more selective as to where I use my "free" game codes.
February 12, 2014
The Little Train That Couldn't
My review is based on completing the game on a Mac and then studying the strategy guide again to prepare for this review. I purchased the CE version but this review is of the main game with references to the CE . I didn?t care for the game and I?ll try to explain why as fairly as possible. Of course I wanted to like it. I spent the money on it but it just didn?t work out. There were some positives: A. The Sights: It was a winner artistically. Throughout the game you progress through a variety of cities beginning in Western Europe and ending in Eastern Europe. Each one of the locales had a particular European feel to it. So, props to the environment, or "set design" people. B. The Sounds: The voice actors were good and the lip-synching was as well. (Just a little editorializing here: how come this bad game has great lip-synching while some great games recently have no synching or terrible synching? It doesn?t make sense to me.) C. The other thing that was good was?er? Wait. I'm sorry. That's all I can say about the game that is positive. Two schools of thought now: 1. If you can't say anything nice don't say anything at all. 2. If you can't say anything nice come sit by me. Come sit by me and I?ll tell you about the game?: A. The animation was very poor. Here are a couple of examples to illustrate: 1. In one scene a lemon was being squeezed into a cocktail shaker. The lemon hovered over the shaker, there was no "liquid" going from the lemon to the shaker. After a moment the lemon was gone. Big deal? Maybe it?s not, but we have certainly seen games where you'd know that liquid was being poured into a container from another source. 2. An item, fallen between the cracks of a grate on the ground needs to be extricated. I had a hook in my inventory. As the hook neared the grate, but before it actually reached it, the grate mysteriously rose. Hmm, maybe the grate was haunted. These don't seem like fatal flaws, but they are very typical of the play throughout the game. There is a serious lack of attention to detail. B. The story line that propelled us through Europe was preposterous: A bride has been murdered by the evil Count Orlock on her wedding day. The husband (whom you play in this first-person adventure) mentions that it?s supposed to be the best day of their lives and he thought all their troubles were behind them. RUH ROH!! There was already trouble in Paradise and this trip hadn't even begun yet!! Somehow the Mrs. boards Charon?s train to Hades and the undead husband gets on as well. In the ?old days" Charon ferried across the river Styx but now he prefers to travel by train. Life is so complicated since the invention of the wheel?but I digress. Earlier, several souls who weren?t too keen on Hades as a destination ganged up, revolted and escaped. Charon is searching for these malcontents. In the meantime the souls headed to Hades are stuck on the train (STUCK????, depending on the quality of the food and service, the train seems like a much better deal than Hades any day of the week). It turns out that Charon release your (dead?) wife IF YOU HELP HIM CAPTURE THE EVIL COUNT ORLOCK. In other words, Charon has the power to release your wife's soul to you, but he won?t do it unless you help him. That?s just NOT COOL!!! C. It's a hidden object game and there are many items to ?collect? that move the game forward. I think most gamers are looking for HOGs and/or mini-games when they buy a Hidden Object/Puzzle/Adventure. If it?s HOGs you seek, you?re not going to be happy: There are 10 total. They are of the list-pick variety. There are 20 mini-games/puzzles. The HOGs are uninspired. The mini-games never leave the train station. Here are some examples: 1. 5 times you play a game in which you place tokens on the map that details your path. You?ll play this game on your way to France, Italy, Germany, Czechoslovakia and Transylvania. The tokens represent various aspects of the locale to which you're headed. On your way to France for example, the first set of tokens might include Croissant, Borscht, pasta and, Paella. OK. Guess. Yes! Croissant. The next set of tokens might be famous buildings. Place the Coliseum instead of the Louvre and it's back to the start for you. (I'll save you time: this is the first puzzle of the entire game, of course, and it's not the best. Nothing about it is fun. It's pedestrian). 2. Three times you?ll complete puzzles which require no more skill than a trip to your journal. There you?ll find out how to properly accessorize french characters on a poster; properly arrange the limbs of two mannequins, and later on, correctly position two armored knights. (The accessorizing one is the second puzzle of the game. It, too, is boring and requires no skill. The answers "are out there.)" 3. The final puzzle of the main game of Spirits of Charon asks you to align concentric circles with symbols on them in a way that will form a path to the center. Uhm, no. As I mentioned, I purchased the Collector?s Edition and tried to access the bonus chapter. I couldn't retrieve any inventory nor could I access the monocle (a tool that allows you to "see" para-normal things the ordinary eye cannot grasp). This monocle is part of the main game as well. Without inventory or monocle it's really "game over.? So, the game was over for me. TO BUY OR NOT TO BUY. TO CE OR SE. Your first decision is whether you want the game at all. If the answer is yes, you need to decide on the CE or SE. If you buy it this weekend you?re going to get a good price no matter which one you buy. Too bad this is the featured game. Here?s what I think about the Collector?s Edition: I don't know why there is one. I have no idea what the value proposition is. Maybe you can figure it out: This is what you get (and don't get) if you purchase it: A. The ?who cares? assortment of wallpaper, concept art and music that's re-playable. B. A bonus Chapter that I couldn?t play. I can only tell you that the strategy guide says there are 8 HOGs and 5 mini-games/puzzles. C. An ok strategy guide. D. There are no morphing objects, collectibles or achievements in the main game of the CE (or in the bonus, I imagine). While I think gamers make too big of a deal about these things, the reality is, if we are asked to pay more than twice the price of an SE for a CE, there better be some pretty good features for all that extra money. I don't recommend this game as a CE for sure and if you're even contemplating buying it as an SE make well sure you use a coupon or it's on serious sale (like right now). This isn't a full game. I don't think you should pay full price. Sorry Ladies and Gentlemen. IMO this game does not deserve a recommendation. I do recommend trying the hour-long trial (the one I didn't take advantage of). Caveat Emptor.
February 9, 2014
Don't waste your time
Not a true HOG game, and the few HOG's were repetitive and poor. Boring story and just plain silly.
October 11, 2014
Stuck
When I start a game and I am in trap. I did got towel, window knob and map. I did look a stragery guide to following and I did all of them and still stuck.
March 5, 2014
The Apple logo is a trademark of Apple Computer, Inc.