Holiday Jigsaw Valentine's Day
Love is in the air with Holiday Jigsaw Valentine's Day! Enjoy over 500 adorable and amazing photo puzzles that will touch your heart and challenge your mind! Who needs a box of chocolates when you can savor four unique boxes of puzzles? With over ten hours of gameplay, saves, trophies and more, Holiday Jigsaw Valentine's Day will have you falling in love all over again!
500+ beautiful photos of love
Four unique boxes of puzzles
More than 10 hours of gameplay!
Game System Requirements:
OS:

Windows XP/Windows Vista/Windows 7/Windows 8

CPU:

1.0 GHz

RAM:

512 MB

DirectX:

9.0

Hard Drive:

124 MB
Game Manager System Requirements:
Browser:

Internet Explorer 7 or later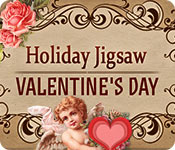 NEW299
The Big Fish Guarantee:
Quality tested and virus free.
No ads, no adware, no spyware.

Reviews at a Glance

Holiday Jigsaw Valentine's Day
0
out of
5 (
0
Reviews
Review
)
Customer Reviews
Holiday Jigsaw Valentine's Day
7
7
I'm Still A Jigsaw Freak!
Another wonderful jigsaw puzzle game with a slight hint of Valentines Day. I say slight hint because most of the pictures are of animals and landscapes, but there are also candy hearts, flowers, balloons and the usual Valentine gift items as well. There are 4 boxes of puzzles and each box has 125 different puzzles, that should keep you busy for a long time. There are 7 trophies or achievements to earn and you can keep tract of your top scores as well. There is a modify feature that allows you to customize any puzzle with exactly how many pieces you want and exactly how the cut or shape of the puzzle pieces are. You can ghost the image onto the background or hang up the picture on the left corner (or none at all) You can choose whether or not to have the pieces rotate, choose border only to start with and you can store extra pieces in the box until there is more space available. There is an auto sort option, a magnifying glass, and a hint feature. You can choose from 4 different colors for the background and control the music and sound, but I like to turn the music off and turn my own music on the computer so I always have music I like, enjoy!
February 12, 2014
It's Pink, It's Girly, It's Colorful! Perfect for Valentine's Day!
I'm lovin' this game! Lots of puzzle choices with 4 "boxes" of puzzles, 16 pages each, 8 puzzles to a page. Some with as little as 12 puzzle pieces, some with pieces in the hundreds and every size in between, making the difficulty levels range from easy to very challenging. Puzzles are high-quality color photos with girly themes - candy hearts, buttons, floral bouquets, bridal shots, teddy bears, kittens, swans, etc. I love the color pink and the background is a bright, cheery pink, like a pink textured wallpaper, with roses, Valentine hearts and cupids and a little tabby cat that peeks its head out from behind the puzzle menu at the bottom. That sold me right away - LOL! What girl can resist roses, Valentines, cupids and kittens? At least not this middle-aged gal, anyway. Not saying that guys wouldn't love this too, of course! I'm enjoying playing it so far. No technical difficulties. The music is okay - relaxing, pleasant, not irritating, but just so-so, nothing to get excited about, which is okay, because it's the perfect game to play while listening to TV! And did I mention there was lots of pink? There's a timer at the top that keeps track of how long you take to complete a puzzle, but there doesn't seem to be any hurry to finish, unless you want to win one of the trophies that are available. There also a leaderboard, but I'm not sure yet whether you're competing against other online players or just to better your own score. There's also a modify tool that lets you increase or decrease the number of puzzle pieces, so you can increase or decrease the level of difficulty. One thing that took me a moment to figure out was that you can rotate the pieces of some puzzles (these are noted on the puzzle selections) and some already have their puzzle pieces at the right angle, requiring no rotation. Kind of different, but okay once I figured that out. Puzzle choices and options are not quite as extensive as Ravensburger, but I'm enjoying this one more because it's a little easier for me to figure out than that one. A perfect casual game for Valentine's Day and I highly recommend it for all jigsaw puzzle lovers, whether you're looking for a challenge or just relaxing play on a lazy afternoon!
February 13, 2014
Beautiful jigsaw puzzle game!
I've been playing this game on another site. The pictures are gorgeous and the music has a catchy, island beat. I'd heard the music in another game, but it took me a while to figure out which one. It's Katy and Bob: Way Back Home. This game has all the features of the other holiday jigsaw games except the option to lock the pieces on the board. If it's there, I can't find it, but that's the only gripe I have. You can play with 12 pieces or select a photograph from one of the 4 boxes with hundreds of pieces. There are trophies to win for completing a certain number of puzzles. I like that you can choose whether you want to rotate the pieces by selecting a box with a picture of a rotating puzzle piece, you can choose the size and shape of the pieces, and you have the ghost background or the image showing while you put the puzzles together. There's an option to sort the pieces and play with just the edges. As always, there's a box in the upper left corner to place extra pieces. The game fits my widescreen monitor. There are slider bars for the sound and music. I love the Valentine's theme and colors. If you like jigsaw puzzles, this is definitely worth demoing. Give it a try and see if it's for you.
February 12, 2014
?Puddycat, Puddycat, I Love You?! *sigh*
BASED ON DEMO The developers have found a new formula for their jigsaws, and they?re sticking to it! The third in the Holiday Jigsaw series is almost identical to the others in the series. Except for 2 vital points. All new images of course, and now increased to over 500. There are 4 boxes with roughly 128 photos each. There?s all sorts of stuff in them and no individual theme to the boxes that I could see. The photos are good, clearly professional (this is an improvement over the first game too), but nothing sensational. They are mostly in theme ? plenty of hearts, flowers and couples. There are also oodles of cats, and bucket loads of dogs. I don?t know, I just never saw my cats as the romantic types! *snicker* The game seems pretty standard for the better sort of jigsaw game, you can edit the puzzles by number of pieces (from about 15 up to 345) or degree of irregularity of the cuts. Some of the games have pieces that must be rotated, others not. And you can toggle to your preference. Within the puzzle itself, you can choose to have the image pinned to one corner and use a magnifier or not, or you can have a ?ghost? . You can also have the pieces sorted or the edges separated. There is also a box for putting away some pieces manually, and you can have the pieces stick to the desktop when they are correctly placed. You also have a magnifier. And there is a choice of background colour. The interface is clean and professional. The music is pretty non-descript, neither romantic nor relaxing. They could have done better here. You can get scores based on speed and you can get trophies for completing jigsaws of specific sizes. There are only 7 of them. There?s nothing original about this game, there are dozens like it floating around, most of them made by the same developer! But then, provided there are good and new images, and all the little options, a jigsaw game doesn?t need to be different.
February 13, 2014
Another Holiday Jigsaw
I used to do 1500 piece jigsaws in my family room and always loved the challange. But now we've downsized and I no longer have a place to set up a permanent cardtable for puzzles so I've transitioned to online jigsaws. I usually get these holiday puzzles when they come out and will probably get this one. You get 64 puzzles and you can choose up to 270 pieces. It's also possible to alter the shape somewhat. There are other jigsaw programs out there that give you many more choices, but I like having these holiday puzzles in my BigFish repertoire.
February 12, 2014
Two flaws mar a good game
Gamewise it is a good puzzle. Lots of variety from very easy to hard. But two flaws mar the game for me: 1 you cannot tell what you played 2 you cannot get out of the puzzle if you accidently hit one you did play without replaying the puzzle. That's ok in small puzzles but deadly in large ones. Lobstermann
February 17, 2014
Holiday Jigsaw Valentine"s Day
I like a puzzle where I can choose the number of pieces in the puzzle. There was no challenge in most of the puzzles. There are also shadows behind the pieces. It would be fine for children. My fault for not trying to do it before I bought it. If you like small puzzles this is for you very pretty..
February 12, 2014