Bluebeard's Castle: Son of the Heartless
Exclusive
Eighteen years have passed since the last of Bluebeard's wives managed to escape with her life, and the life of their unborn son. As he approaches manhood, the young man now faces nightmares that threaten to drive him mad. His aunt reveals the true tale of his father's past. If he does not destroy the immortal heart that cursed his father, he shall die before his next birthday. Even as he approaches Bluebeard's Castle he can feel his heart slowing. He doesn't have much time. He must find the dark heart... or die trying in Bluebeard's Castle: Son of the Heartless, a heart-pounding Hidden-Object Puzzle Adventure game!
Return to Bluebeard's Castle
Challenging mini-games
Beautifully rendered, traditional art style
Game System Requirements:
OS:

10.9/10.8/10.7

CPU:

1.6 GHz (INTEL ONLY)

RAM:

1024 MB

Hard Drive:

671 MB
Game Manager System Requirements:
Browser:

Safari 4.0 or later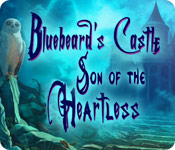 NEW299
The Big Fish Guarantee:
Quality tested and virus free.
No ads, no adware, no spyware.

Reviews at a Glance

Bluebeard's Castle: Son of the Heartless
0
out of
5 (
0
Reviews
Review
)
Customer Reviews
Bluebeard's Castle: Son of the Heartless
53
53
visual pleasure
I loved this story and the little games in between that stopped boredom creeping in, the graphics are gorgeous and instead of trying to be as human like as possible i loved the puppet style and cartoon figures. Story is interesting enough but it just looks so lovely that I wanted to see more and more, played with grandchildren who also loved the entire game. Just difficult enough to spend a quiet evening and complete.The drawing style reminded me of Drawn and the Dark Side.
April 4, 2014
i love it
I came across this game by chance and still wonder why its position in the Top Games rating is so low. Graphics is superb ? something between Drawn, The Cave and Corpse Bride. You can actually see how much work and passion was spent on creating of those lovely animations. I love the moment when you use the crown and then appears an hand from the coffin and takes it away. I discerned every single detail in locations and giggled every five minutes. Maybe programming is something that is still worth improving, some navigation spots and areas were a little difficult to find but it doesn?t prevent it from being the best of the newly released games in last few months in my personal list. P.S. I?m not one of its developers, it is rather quite the opposite. But it is a bright example of inspiring work.
February 27, 2014
Imaginative and fun
These devs obviously took some inspiration from the Drawn series. Ten minute demo was enough for me to know that I was going to own it. I did play it on the hardest setting and I was absolutely charmed by every minute, every HO scene and every mini game. This one is not overly hard but really fun. I especially loved the library with the four pop up books. You must interact between these books to complete all the tasks. Each book even had it's own music. The HO scenes are bright and colorful, slightly interactive. The mini games are imaginative and numerous. This one only came in a SE version so it is really worth every penny. I would like to see Fanda games expand and do CE's as well. This game really took me back to all the fun and atmosphere of Drawn (my all time faves), and although it's not as long or epic.. it is a SE after all.. it is just as fun, entertaining and beautiful to look at. Really Really enjoyed this. Give the demo a shot and you'll see what I mean.
March 3, 2014
Don't miss this delightful game!
I do not often submit reviews but had to share my unexpected enjoyment of this game! Had almost passed on even trying it because of some reviews of tech problems and the fact that there was no walkthrough for it ...:( But.. decided to give a chance... and was quite surprised to be drawn into the game by its delightful art work and its novel and fun gameplay. I'm SO glad I gave it a try and bought it because I have enjoyed quite a few fun filled hours playing in it's charming world! And even look forward to playing it again sometime... which is also quite unusual for me. This game might not be for you but I think many of you would love it as much as I do.... at least give it a try...you, too may be delightfully surprised! Also at the end of the game I was reading the names on the credits and realized that it was made by a very small group of artists/producers.... hope they will be able to continue making many more delightful games like this one!!
March 9, 2014
love these kind of adventure games
this looks a lot like Drawn but the story is very different. fun game, lots of interactive puzzles to play with. my only complaint would be that sometimes the scene would get stuck and not take objects. I would have to exit the game and come back in for them to work. also it was very short. should have had at least 5 portholes instead of just three. but this was definitely worth getting.
March 8, 2014
this game surprize me!
i really enjoy playing this game so much i bought the first game blue beard castle.
February 12, 2014
GREAT GAME!!
I loved this game. It reminded me a little of the "Drawn" series and they are one of my favs. Great graphics, story line, voice overs and mini games. I wish it was a CE. It's worth the purchase or a free game buy. Happy Gaming! Addy
March 26, 2014
A Class B game, but an A in most every way!
You've heard of B movies; this is a B game or as some other reviewer mentioned, one of the low budget games but I give it an A or 5 stars even with the negatives. It may not have the esthetics of a Blue Team Game or Elephant Game, but it's no slouch, to say the least! I'm almost finished with this SE version and I love the challenges of the puzzles and the unique HOS, some of which have moving critters within the scenes and you had better be fast on the draw with your mouse! Cool! VOS are very good, but there is one actor that speaks soooo slowly that I've opted to read the text rather than wait for him to finish. In this case, I don't mind all the HOS as even though there are quite a bit, but I look forwarding in doing them. The developers knew what they were doing with this one! It's not a difficult game but unique and exciting; the gameplay has momentum which is a plus! Some scenes are dark but the activities and the fun things to do keep you busy and engrossed. I'm playing in advanced mode and having the time of my life. Bravo to the developers on this great game.
March 18, 2014
Delightful If Unexpected Sequel
BASED ON DEMO FIRST IMPRESSIONS I remember having a lot of fun with the first Bluebeard?s Castle, but I don?t think it was ever a big hit and I certainly didn?t expect a sequel. But then, who would have guessed Bluebeard would keep a bride alive long enough to have an heir? SIGHTS & SOUNDS This game is somewhat different in looks, but it is still clearly Bluebeard?s Castle that we arrive at, even if it is totally dilapidated. The intro shows us a marvellously clear image of ourselves, the unfortunate son of Bluebeard. This is followed by the complete backstory of Bluebeard and his curse, told in an almost graphic novel style. The graphics for the rest of the game are fantasy graphics ? bold and colourful, surreal and a bit cartoony. It is not a bad choice, though I suppose many will criticise. But to me it was similar to the fantasy graphics in Nightmare Realm. In any case, they are clear and very high quality, whatever you think of the style. The music in the intro is dramatic and arresting, but in the rest of the game so far, is eerie and non-intrusive, and in keeping with the first game, there are no voiceovers. One thing I do miss from the original is the rhyming hints. They added a little something different. WHAT?S HAPPENING? You are having nightmares in which you are a monster, stealing the lives of innocent women. Your aunt is forced to tell you the truth about your father, and how she defeated him and saved your mother?s soul. (This is the character we played last time.) This has brought a curse down on the castle and on the heirs, who are all doomed to dying young. You must find the ?dark heart?, which is the demon force of the curse, to save not only yourself, but also the castle inhabitants and the town below. GAMEPLAY There are more puzzles than HOPs so far in the demo. The puzzles are easy, with the exception of a couple with unhelpful instructions. The HOPs are interactive lists, with a fair amount of interaction. You can click on an item in the list and see a silhouette of it on the side. The scenes are not animated, except for a specific item on the list which must be caught on the move. This fun and not hard. There are a lot of fun animated graphics outside the scenes to make up for their absence here. Adventure gameplay is not too difficult, the journal is useful. The hint shows you what item you need next and where it is, but you must go to the map if you want to jump. And the map does not indicate active tasks, so the two must be used in tandem. The game moves a little slowly at this point, but the exploration of the old castle holds many little quests. There is a game timer, and achievements based on the statistics collected. These are all based on the time it takes to complete puzzles, including HOPs. Each achievement is awarded on a different time range, so you get awards of one sort for doing a puzzle under 1 min, and another for under 3 mins. Etc. COMBINED IMPACT I really enjoyed myself, despite the somewhat old-fashioned style of the game, and it?s slightly cartoony feel. I played the beta for this game ages ago, and am glad to say that specifics have been changed, obviously as a result of the survey. I love a developer that listens to its players! Extra brownie points for this entertaining surprise package!
February 12, 2014
A Creepy Castle Worth a Closer Look
When I saw the dark, eerie but cartoon-like graphics I nearly deleted it right then. The weird, distorted figures and scenery faintly reminded me of "The Old Mill" sequence in Disney's Phantasia. But I decided to stick with it a bit and I'm glad because there are some very good things about this odd "good vs. evil" romp. The game is more adventure than HO although the HO scenes are plentiful. You've got lots of small well hidden objects to find and use outside those scenes and a slooooly recharging hint button which when usable, is actually very helpful. Hints are images of a location with the objective circled and all you need do is go there and try to relate what you saw to the actual scene. The shadowy inventory is lockable and the objects within it are labeled so can easily be found. HO's are mildly interactive with hints as to what to do to find 2 or 3 step items. Puzzles have many missing parts you've gotta find to solve them. Skipping is an option on the "easy" level, with no penalty for misclicks in HO's. All this assembly slows the story but makes for suspense and a desire to find out what the heck's gonna happen next. So my advice is to give it a fair trial and not be "put off" by graphics or darkness #It's a cursed castle after all!# and you may find it a creepy pleasure.
February 12, 2014
The Apple logo is a trademark of Apple Computer, Inc.
The Windows logo is a trademark of Microsoft, Inc.