Bluebeard's Castle: Son of the Heartless
Exclusive
Eighteen years have passed since the last of Bluebeard's wives managed to escape with her life, and the life of their unborn son. As he approaches manhood, the young man now faces nightmares that threaten to drive him mad. His aunt reveals the true tale of his father's past. If he does not destroy the immortal heart that cursed his father, he shall die before his next birthday. Even as he approaches Bluebeard's Castle he can feel his heart slowing. He doesn't have much time. He must find the dark heart... or die trying in Bluebeard's Castle: Son of the Heartless, a heart-pounding Hidden-Object Puzzle Adventure game!
Return to Bluebeard's Castle
Challenging mini-games
Beautifully rendered, traditional art style
Game System Requirements:
OS:

10.9/10.8/10.7

CPU:

1.6 GHz (INTEL ONLY)

RAM:

1024 MB

Hard Drive:

671 MB
Game Manager System Requirements:
Browser:

Safari 4.0 or later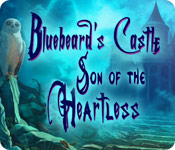 NEW299
The Big Fish Guarantee:
Quality tested and virus free.
No ads, no adware, no spyware.

Reviews at a Glance

Bluebeard's Castle: Son of the Heartless
0
out of
5 (
0
Reviews
Review
)
Customer Reviews
Bluebeard's Castle: Son of the Heartless
52
52
Based on the demo: Ack!!
Where do I start? Ok... the beginning!? From the very beginning, I was struck that this game was a cartoonish nightmare with nowhere to go and it didn't seem to improve as I continued to play the demo. The voice acting not only didn't have characters to go along with same so as to involve the player in the game immediately, what voice there was, was very amateur and awkward (not believable)! The mini games were poor and disjointed and unrelated to gameplay entirely. The H0G, average, everyday, nothing out of the ordinary. I felt as though I were being instructed the entire Demo time despite the fact that I had turned off the cue bar in the Menu controls and worked in most difficult settings. To me, this game is just a mangled mess... not fun and almost painful to play. So, NOT for me.... and to think I almost purchased w/o demoing... PLEASE TRY BEFORE YOU BUY!!!
February 12, 2014
Don't like it!
I am sorry to disagree with the majority here, but I didn't like this at all. The story is unpleasant and leaves one wondering why the father of the hero didn't do away with random people, instead of 6 wives! Sheesh...what?? ..no one was suspicious at the time? Also, why did the Aunt wait until the last minute to fill her nephew in..."Oh, by the way, sonny...you're gonna die soon. See ya later." ...okaaay. On to the graphics...I really dislike bad comic book style art work. Some of the drawings in the action parts were really beautiful, but all the exposition segments were in really cheap cartoon mode. Then the play value: nothing worked. I solved the mini games, but the game wouldn't acknowledge that fact, so I would have to skip, only to have the same solution given to me as I had come up with. Also, each scene took too long to load and the cursor was cumbersome and slow. The map didn't seem to be a transporter and the HO scenes had nothing interactive in them and everything is quite small. All in all, a miss for me...sorry.
February 12, 2014
So Slow
OK, graphics are kind-of paper doll like, but we all can live without awesome graphics, but mode of play needs to be at least good. I know this takes place in dark castles and dungeons, but when HO scenes, inventory to collect, and puzzles are so dark it's hard to see, that is taking the dark to an extreme. Puzzles directions made little sense and interaction throughout the game was very slow. HOs were OK, nothing new and rather old. Don't waste your money on the CE and if you must have it, wait for the SE. Wasn't even worth the time to load.
February 12, 2014
Doesn't flow well
The game takes too long between scenes and doesn't flow well. Not one I'll add to my collection.
February 17, 2014
Childish at best
I got this as one of my earned free games. Very glad it was free. The storyline started out okay - the puzzles became cartoony and childlike. I would not spend money on this game.
March 2, 2014
Disappoiting compared to the first episode
The minigames were really fun, but the rest of the games was dull. The storyline is truly disappointing, as if the authors really put no effort into it. This is just a bundle of miniganes and hidden objects scenes bundle together in an old-fashioned plot of "good-vs-evil", but the Bluebeard theme was looking like a useless extra. This is truly disappointing, especially compared to the first installment that was truly better.
March 15, 2014
BlueBeard's Castle: Son Of The Heartless
Some Puzzles not explained appropriately. Story line boring to the point that I couldn't wait for the game to finish. I would not recommend this game.
March 10, 2014
Based on the demo
Time has passed since the first Bluebeard was developed but very little seems to have changed: yet no full screen option, quite basic graphics and a poorly responsive mouse function. Not a buy for me.
February 12, 2014
slow and boring
his game is so slow and there's no help unless you wait which seems like forever. you can have this in full screen so you can see better and the colors are kind of dark and make it hard for some people to see what they are looking for
February 13, 2014
Okay......................It Was Awful
Please refer to my review of the previous game "Bluebeard's Castle" to better understand the following. Based on Completed Game - no spoilers. Storyline: Years have passed. You have, through your Aunt, found out about the Curse of Bluebeard and you are in danger. You, Jack, the son of Bluebeard decide you must go to the Castle, find an important item, and destroy the curse. I think there were 2 modes of play. Can't remember. I was a bit distracted by the actual game. Graphics: Extremely, extraordinarily cartoonish. Sound Quality: Voices - very good; music - better suited to an opera than Bluebeard's Castle. Gameplay: Here I became at first confused, confounded, disheartened and finally just plain flummoxed. But, YOU will have to play to find out if you do too - HA! Actually, you would have to play the first game, "Bluebeard's Castle", because the 2 are as different as night and day. Pros: Not a thing. Okay. Maybe a pro would be it's extremely hand-holdy (is that a word?). The hints are fabulous and recharge fairly well. Remember - the hints are fabulous - now you figure out why. Cons: Everything. HOGs - Overloaded with items. Items mislabeled (i.e., a crest was actually a comb, pruning shears were actually scissors). Of course, I suppose that could have been done on purpose to make it more interesting. Everything was small to tiny. There is a secret, however, that I hope you find that will at least make the items easier to locate. Again, I had to find it and so will you. There is no click penalty that I could tell so hint away because there are also no achievements you need to worry about not getting. Mini-Games - Most were relatively challenging. The instructions were not very good. But most times, once you caught on you could figure things out. The game atmosphere was creepy in a cartoonish sort of way until it just became silly and cartoonish...period. You know you have to go from Point A to Point Z and get there through the whole alphabet (it's an analogy - there is no Point A, Point B or alphabet). After listening to and watching the opening scene, there is an expectation of how the game will go - ambiance, gameplay, etc. - for every game we play. However, Point A to Point B went through a w-h-o-l-e different alphabet than the one I'm used to (another analogy ok?). There was nothing, absolutely nothing that had anything to do with the Jack's story that you heard - or maybe I was on a different television station (analogy). All I can give are analogies because anything else would be spoilers and I would get my wrist slapped big time - lol. Besides, it's funny - not the game - the game is cheesy. If I had not played the first game and fallen so in love with it perhaps my review of this game would be more stellar - nah - it was cheesy to the extreme. And Bluebeard is probably rolling over in his grave - oh, wait, that's right - never mind you'll find out - ha again. Glam-ma says please, please, please try it before you buy it. If you didn't play the original chances are you may actually love this game. I was bored to tears and only finished because I paid for it and that's kind of a thing with me. Oh, yeah, DEVS of this game - try to keep to this old adage - and it's time tested - "if it ain't broke, don't fix it." 'nuf said. Oh, again, PERFECT for beginners, Intermediates and Experts - seriously - not so much.
May 13, 2014
The Apple logo is a trademark of Apple Computer, Inc.
The Windows logo is a trademark of Microsoft, Inc.