Lost Lands: Dark Overlord Collector's Edition
Susan had just stepped away to answer the phone, but when she returned she saw something pulling her son Jimmy through a shimmering portal. It closed before she could pull him back. To save him, she must find a way to this other world. Before Susan lies a world that no one else has ever seen before... a world where magic is real and anything is possible. Find out who took Jimmy and what they want in Lost Lands: Dark Overlord!

This is a special Collector's Edition release full of exclusive extras you won't find in the standard version. As a bonus, Collector's Edition purchases count toward three stamps on your Monthly Game Club Punch Card!

The Collector's Edition includes:
Beautiful cinematics and gorgeous graphics
A story spanning multiple worlds
Challenging mini-games and puzzles
Explore an underwater world in the bonus chapter
Game System Requirements:
OS:

10.9/10.8/10.7

CPU:

1.6 GHz (INTEL ONLY)

RAM:

512 MB

Hard Drive:

809 MB
Game Manager System Requirements:
Browser:

Safari 4.0 or later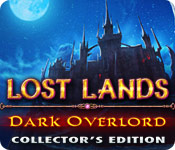 The Big Fish Guarantee:
Quality tested and virus free.
No ads, no adware, no spyware.

Reviews at a Glance

Lost Lands: Dark Overlord Collector's Edition
0
out of
5 (
0
Reviews
Review
)
Customer Reviews
Lost Lands: Dark Overlord Collector's Edition
51
51
FIVE STARS FOR LOST LANDS!!!
YES YOU NEED TO FIND YOUR SON. AND YOU WILL FIND A MAGICAL WORLD THATS BEAUTIFUL FULL OF SURPRIZES, ENDEARING CARACTERS. FOUND THIS GAME REFRESHING. BASED ON DEMO YES WOULD PURCHASE THIS GAME!
February 22, 2014
Fun fun
This game is very fun and it has the right challenges and love the graphics they are beautiful.
February 22, 2014
This Game is Nearly Perfect
Based on completed game. This game has everything I like: A good storyline. Perfect balance between adventure, HOS, and puzzles. The HOS varied between list, silhouette, and move object to scene, and there weren't so many that you'd get tired of them. The puzzles were varied, fun, and just the right length--not too easy and not too hard. The scenery was beautiful. I really enjoyed the collectables. The bonus game was as good as the main game. And most important: IT WAS FUN! I even liked the length although most people would probably consider it too short. But I like being able to finish in a day (I only have one day a week that I have time to play). Plus a lot of longer games often get tiresome and repetitive IMHO. To me the game was just right. Any more from this developer? I can't wait.
August 11, 2014
A Familiar Story But A Good Game
At first glance a game that looked a bit dated however once I began to play, I found myself enthralled with the story along with the mechanics. Our story is a familiar theme of a young mother who searches for her lost son inside a world of enchantments. Playing as Susan, you realize that your son Jimmy is suddenly ensnared in roots and is dragged off into an old tree which turns out to be a portal that leads to another world where magic rules. As you venture off, you encounter an array of mystical creatures and realize that there is a dangerous adversary who you need to deal with in order to get your son back. Visually I thought the graphics could have been better yet I will give merit for the artwork. Although there are ambient sounds in the background, silence also prevails due to a minimal use of voice-overs. Main menu offers customized settings for level of difficulty which is always a great plus in my books. Game features include a journal, list of tasks and objectives if desired as well as a map that allows for travel and will indicate areas of interests if also desired. After having played the demo, I found myself immersed inside the game. Although I found some of the tasks very routine, the mini-games that I came across were somewhat challenging and fun to play. Hidden object scenes are varied which tells me that the developers have researched well; you have a selection of finding silhouettes, picking up objects and using them on others or a standard list to find that also include mini-puzzles to solve. Game mechanics also include searching for a list of collectables which include snails, snakes, pine cones and skulls. Not all were easy to find due to the poor graphics and lighting of some of the scenes. You also have a list of achievements and what I did find discerning was that there is an achievement of completing the main game in less than three hours. Than unfortunately mean that although there are 8 chapters, the game is on the short side and that may be a problem for some. Despite the visuals, I liked the game! While it doesn?t have the WOW factor and the storyline has been hashed out many times, I enjoyed many of the tasks and puzzles. I realize that there are no great surprises with many of the games that are coming out, however taking into consideration that there are frequent sales on CE; I will most probably add this to my list of games to buy. I just need to pay off this month?s credit card which unfortunately means I need to wait on this for a while.
February 22, 2014
Game Good..Bonus So-So
Liked the game a lot and played quite a while. BUT the bonus was good play but ended abruptly. The "situation" was solved by the character, but the story ended right then and there. She didn't go home to her son, get in her car and leave, just blank black screen. Bummer. I like closure. Liked the story, liked the artwork, and the music wasn't irritating. One thing that I #and some others I have talked to# would like is to kill off the wallpaper, music, etc. extras and just beef up the bonus play. How many people use the music or wallpapers?
February 23, 2014
Another mother, save your child adventure
While you are on your cell phone, your son Jimmy and his teddy bear are snatched by a tree and dragged into a portal! That'll teach you not to watch your child! So of course you follow him. Your first mini-game makes you find and match tree disks, so the tree will talk to you and take you into Firefly Forest in the world of Lost Lands, which has been taken over by a Great Evil - according to a sign when entering the Land. You save a baby owl from some crows, so the owl becomes your pet and helps you with the high stuff you can't reach. Your also meet the gnome Uri, who gives you a map and volunteers to help you. Just one problem -- Uri's brother now has Jimmy and keeps one step ahead of you. In Uri's house, you can make a potion to summon the Lake Spirit, who will help you cross the Lake if you find her pearl (or his -- they use both pronouns in the text.) A clever new feature implemented by the developers is a "back arrow" on your inventory panel, which eliminates the problem of how to position your cursor in order to go back to the previous screen. The HOS are either lists, silhouettes or "find then use the inventory" -- well covered by all the types. Unfortunately, the HOS are a bit dark and hard to see the objects - part of my rating of 4 for this game. The other reason is, it is not clear why Jimmy was taken -- you just wander around following the gnome who has Jimmy but you never find out why during the demo. There are several collections for you to find -- shells, pine cones, skeleton heads, ornaments -- but the screens are so dark I only found about 3 shells. And there is no indicator if there are any on the screen or not. The map is interactive and you can choose from three game modes. The extras include the normal add-ons, plus 15 achievements. While I like the game, it is not as good as several recently released ones by more prolific developers. You will have to try it for yourself!
February 22, 2014
WELL DONE AND SOLID HOG-ADVENTURE
Good well-developed story. 3 difficulties - Hard mode allows you to only set the time to charge hints and skips. HOS are silhouettes, put items where they belong and list-based - but scenes are quite crowded and it's difficult to find everything easily. Many more puzzles than HOS and they vary in degree of difficulty and type. Mostly adventure game. Graphics are very pretty, although sometimes they are hazy (which the developers probably intended, but I didn't think it was necessary or worked that well). Cutscenes were many and well done. A nice afternoon of gameplay.
March 22, 2014
One of the better hidden object games
I enjoyed this game and followed along with the story easily enough. I like the map and movement between the map and game was smooth. One of the reasons I enjoyed the game more than others was the interaction between story and game play was long enough so I wasn't feeling interrupted all the time.
March 17, 2014
Really Good Game
This game was flawless. No bugs or crashes. I really liked the artwork and the story. It was an enjoyable game.
March 14, 2014
Kitty Thoughts: Why didn't I reschedule it?
Kitty is in with another Kitty's Thoughts! Well, this is the first time I played a game from this company, and I had to say: "I am impressed but not enough to give this game a 5." This game has it's good, bad, and ugly. So, I might as well get started. Note: This is based on a 32 minute review because it has those demo limits, and I finished it around that much time. First off, the story started out as you stopping in a strange woods at night talking to someone on a cell phone (Kinda wish people in real life would do that). Unexpectedly, while you were gabbing away about driving your child to the dentist... at night...... a tree took him away. You get sucked in afterwards, and your adventure begins. Well, I kinda found this plot laughable in a way. The story lacked originality. A child gets kidnapped, and suddenly you have to rescue them from this evil force. How many people seen this plot before? However, regardless of the unoriginal story, I was pretty much pulled in by the difficulty of the puzzle. The level of challenge to me kinda varies by the player on this one. If you're not well observant, you can easily miss something very important that might take you minutes of looking. And I don't mind the sparkles not glaring at you everywhere acting like you can't find anything yourself. However, you can turn off the sparkles to increase your difficulty. The hidden object scenes vary from putting stuff back, or finding things and using them to progress in the scene. I kinda favor these more than searching through random junk because it's a like a puzzle itself. Overall, I was very debatable about the sound and the visual quality. The backgrounds, and scenery I found were really good. I felt like it matched the mood of the game. You're in a fantasy world taken over by evil, so I expect that world will be dark, dreary, and etc. The animations on the other hand felt a bit granny. I didn't understand why each animation scene felt like you were watching though an old television screen. It would make sense if you were a 3rd person character solving a case, but you play as the mother in present time. So, it kinda feels out of place. The sound doesn't distract me much while playing, so overall I believe it's okay. Regardless of lacking story. I found the game pretty addictive in a way. From trying to find the puzzles, to getting past obstacles that stop you from saving your son. I feel like this plot is predictable, but it's fun. Lots of fun. In the end, I give this game a solid 4 stars in truth. And I hope this company makes more games. Tiger Out!
February 22, 2014
The Apple logo is a trademark of Apple Computer, Inc.
The Windows logo is a trademark of Microsoft, Inc.