Lost Lands: Dark Overlord Collector's Edition
Susan had just stepped away to answer the phone, but when she returned she saw something pulling her son Jimmy through a shimmering portal. It closed before she could pull him back. To save him, she must find a way to this other world. Before Susan lies a world that no one else has ever seen before... a world where magic is real and anything is possible. Find out who took Jimmy and what they want in Lost Lands: Dark Overlord!

This is a special Collector's Edition release full of exclusive extras you won't find in the standard version. As a bonus, Collector's Edition purchases count toward three stamps on your Monthly Game Club Punch Card!

The Collector's Edition includes:
Beautiful cinematics and gorgeous graphics
A story spanning multiple worlds
Challenging mini-games and puzzles
Explore an underwater world in the bonus chapter
Game System Requirements:
OS:

Windows XP/Windows Vista/Windows 7/Windows 8

CPU:

1.6 GHz

RAM:

512 MB

DirectX:

9.0

Hard Drive:

809 MB
Game Manager System Requirements:
Browser:

Internet Explorer 7 or later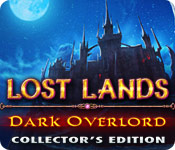 The Big Fish Guarantee:
Quality tested and virus free.
No ads, no adware, no spyware.

Reviews at a Glance

Lost Lands: Dark Overlord Collector's Edition
0
out of
5 (
0
Reviews
Review
)
Customer Reviews
Lost Lands: Dark Overlord Collector's Edition
53
53
Really Good Game
This game was flawless. No bugs or crashes. I really liked the artwork and the story. It was an enjoyable game.
March 14, 2014
Kitty Thoughts: Why didn't I reschedule it?
Kitty is in with another Kitty's Thoughts! Well, this is the first time I played a game from this company, and I had to say: "I am impressed but not enough to give this game a 5." This game has it's good, bad, and ugly. So, I might as well get started. Note: This is based on a 32 minute review because it has those demo limits, and I finished it around that much time. First off, the story started out as you stopping in a strange woods at night talking to someone on a cell phone (Kinda wish people in real life would do that). Unexpectedly, while you were gabbing away about driving your child to the dentist... at night...... a tree took him away. You get sucked in afterwards, and your adventure begins. Well, I kinda found this plot laughable in a way. The story lacked originality. A child gets kidnapped, and suddenly you have to rescue them from this evil force. How many people seen this plot before? However, regardless of the unoriginal story, I was pretty much pulled in by the difficulty of the puzzle. The level of challenge to me kinda varies by the player on this one. If you're not well observant, you can easily miss something very important that might take you minutes of looking. And I don't mind the sparkles not glaring at you everywhere acting like you can't find anything yourself. However, you can turn off the sparkles to increase your difficulty. The hidden object scenes vary from putting stuff back, or finding things and using them to progress in the scene. I kinda favor these more than searching through random junk because it's a like a puzzle itself. Overall, I was very debatable about the sound and the visual quality. The backgrounds, and scenery I found were really good. I felt like it matched the mood of the game. You're in a fantasy world taken over by evil, so I expect that world will be dark, dreary, and etc. The animations on the other hand felt a bit granny. I didn't understand why each animation scene felt like you were watching though an old television screen. It would make sense if you were a 3rd person character solving a case, but you play as the mother in present time. So, it kinda feels out of place. The sound doesn't distract me much while playing, so overall I believe it's okay. Regardless of lacking story. I found the game pretty addictive in a way. From trying to find the puzzles, to getting past obstacles that stop you from saving your son. I feel like this plot is predictable, but it's fun. Lots of fun. In the end, I give this game a solid 4 stars in truth. And I hope this company makes more games. Tiger Out!
February 22, 2014
Hoping for regular ho's.
Nice story exciting. I finished trial period. I don't mind some of their doing it their way. I love the old way with some of their way. I hesitate to buy for this reason. I hope for regular ho's in this game. I don't want to waste my money.
February 22, 2014
Who hoo hoot is that in the Dark
Love how I had to accomplish a small task to activate a HO. The HO's were very nice too. The voice overs were perfect and like the characters. Lots and lots to do. A map to help you jump. Music was used in a very nice way. More the way a movie uses music. Just bit pieces here and there. The game flow was great and had some collectable that I found only one of. Going to add this to my must buy list.
February 26, 2014
Doesn?t Quite Have What It Takes
BASED ON DEMO FIRST IMPRESSIONS The intro to this game, while realistic, is a bit lacklustre I think. I would have added extra drama up front. The game is a bit that way in general. I can?t put my finger on it, but it somehow doesn?t seem to involve or intrigue. It has the right ingredients, just no pizzazz, maybe? SIGHTS & SOUNDS The cut-scenes are well done, even if a little boring, and the graphics in general are good. A bit too dark, I would say. Nothing here to complain about though. The art is not bad, but not inspired. I do like the gnomes. Some of the animations are shoddy. At one stage we dig for something, and the movements of the shovelsful of dirt ? terrible. The voiceovers are good, the music totally forgettable. And I don?t remember much in the way of ambient sound either. Which is a shame, perfect place for it ? murky creepy swamp. WHAT?S HAPPENING? A strange tree grabs your son Timmy when your back is turned, and drags him inside itself. You do the only thing you can, you let the tree swallow you up as well. You land, unharmed, in a totally unfamiliar place, and some shadow? is making off with your boy. You cannot immediately follow, because the bridge is broken, and in your efforts to solve that dilemma you save an owl being bullied by crows, and meet a helpful and knowledgeable gnome. Together the three of you must appease the Spirit of the Lake ? something of a surprise there ? in order to get out of the swamp. GAMEPLAY A couple of the nicer touches in this game first up. Something I?ve not seen before and wholeheartedly recommend to other developers, a fixed back arrow in the middle top of the inventory bar, so from anywhere or anything, backing out is simple. A splendid innovation! And a solution to all those games that frustrate us with the awkwardness of the back arrow. Another nice one, the dagger we get when we first arrive in the strange land we get to keep. And use frequently. The game also has those other things we?d like to be able to take for granted. Lockable inventory bar, 3 levels of difficulty in which you can toggle specific features on/off, directional hint and interactive jump map that shows available tasks. If you wish, the map will also show you where the collectibles are, or you can toggle it to be indicated with the cursor within the game. A useful journal and a task list. There are plenty of puzzles, all of them easy even for me, so very easy. None of them take very long and do not slow down the pace of play. There are only 2 HOPs in the demo ? a progressive silhouettes game and a replace the items game. There is a reasonable amount of to and fro, and the adventure play is a large component of the game. It too is very easy, fairly obvious at all times. CE BLING! There are an odd bunch of collectibles (8 or 9 each of snails, pine cones, skulls and gold chains), and 24 achievements. The usual SG, bonus chapter and gallery items ? Wallpapers (9), Concept Art (9), Videos (16), Music (6). There are replayable Mini-Games (27) ? this doesn?t include HOPs, which apparently you cannot replay. COMBINED IMPACT I don?t think it cuts it as a CE myself. The graphics just aren?t that good, the gameplay just isn?t quite that interesting, the story isn?t all that involving. None of the CE Bling! is essential to my happiness. Personally, I would certainly be waiting for the SE before I bought. I don?t recommend this game, as a CE!
February 22, 2014
Very good mechanics, but missing something....
Just from the trial.... Could change farther in. I agree with the others that all the mechanics and overall game play are well done! Don't want to repeat all those details here. And I usually am impressed by those things, and they will cause me to buy the game. But, for me, there was something missing here. From the beginning to end of trial, it never really engaged me. I can live happily with an overdone story, and I'm not generally critical of halfway-decent characterization. It's a game. If the game is fun to play, that works for me. But the characters here were more than just wooden. They were almost nonexistent. When the trial ended, I had *no* feeling of wishing it hadn't ended. I was fine with just uninstalling the trial. That, for me, is a huge "don't buy" sign. The 'bones' of the game here are excellent! Keep it up, devs! But the characterizations need a lot more work....
February 22, 2014
Review based on the CE
For some reason, this game did not impress me. I do like the story ... boy gets pulled into a tree, taken to another world, mom follows. The graphics and cut scenes were great. The voices, which were few and far apart, were nice. There is no music, only the ambient sounds of frogs and other swamp life. You get a journal which lists your tasks, a map which does transport you which is a great thing for this game because there are quite a few areas to jump to. The map also tells you if you have a task left in a location and if there is a collectible in that location, which is also a good thing because the collectibles are very hard to spot. I came across only 2 or 3 HOS. I did not care for them. They were small. Actually everything in this game was small even though the game filled my wide screen just fine. There are many puzzles which I found to be on the easy side, which must mean they are very very easy :) There are achievements to earn, such as not skipping a puzzle throughout the entire game, or not skipping over the cut scenes. I don't feel it is a CE worthy game. However that's just my opinion. There was just a lack of something in the game itself. Maybe it was the fact that there;'s no music. Perhaps it's because everything seems so small. I'm not sure what it is, but this is a pass for me. I shall give it another look when it comes out as an SE. Enjoy :) I do recommend the game because it will appeal to other players. Also, as an aside, the level of difficulty was nil.
February 22, 2014
Family game
It's a nice little game. The Graphics are darkish, but well done. Not a very challenging game, but you do get a good variation of minigames and HOS - even though they were easy some of them were well thought out. The map is excellent (transports) and the tasks are clear. The linearity makes it easy to figure out what to use where and when. Easy and well-flowing gameplay makes this one a good game for either beginners or families. I for one kept thinking that there had to be more into it, but there wasn't. I finnished the demo in about 30 minutes, so there is no way I'll pay CE Price for it- also - one of the achievements is for finnishing the game in less than 3 hours, so I am sure the game is rather short. In my opinion a CE should be at least 5-6 hours in the main-game and at least 75-90 minutes in the bonus....... Even though I can recommend the game I miss both challenge and a longer game .... I might get the SE, but don't think the game lives up to my personal CE standards Try it out - others could just love this game :)
February 22, 2014
Not what I was expecting
Your son is kidnapped and drawn through a portal in an old tree. You have to solve a puzzle to go through the portal to save your son. There is a lot of going back and forth (thank heavens for an interactive map), between places to gather all the stuff you need to be able to go on with the adventure. I couldn't get into the story as there was little interaction with the characters, music that was really not there and visually difficult to find objects in the hos and collectibles. I really liked the variety of collectibles, pine cones, snails, snakes and skulls. I also liked the fact that on the map you knew where you had missed one of them. The normal extras were available and the achievements were based on what you did in the game, like no skipping, no hints, etc. There were three levels of difficulty, casual, normal and hard. I got bored before the demo was over and kept checking to see how much time I had left. You really need to play to decide whether you want the collector's edition, but I'll go ahead and wait for the SE.
February 22, 2014
Not Grabbing Me
Even though the graphics were well done and in great detail, I didn't like the fact that it didn't fill the screen. I just don't get the same impact when the whole screen isn't filled in. Maybe it's just me but this game looked a bit old school compared to what we've been used to seeing nowadays. Not much to say about this one since I didn't care much for it overall.
February 22, 2014
The Apple logo is a trademark of Apple Computer, Inc.