Lost Lands: Dark Overlord Collector's Edition
Susan had just stepped away to answer the phone, but when she returned she saw something pulling her son Jimmy through a shimmering portal. It closed before she could pull him back. To save him, she must find a way to this other world. Before Susan lies a world that no one else has ever seen before... a world where magic is real and anything is possible. Find out who took Jimmy and what they want in Lost Lands: Dark Overlord!

This is a special Collector's Edition release full of exclusive extras you won't find in the standard version. As a bonus, Collector's Edition purchases count toward three stamps on your Monthly Game Club Punch Card!

The Collector's Edition includes:
Beautiful cinematics and gorgeous graphics
A story spanning multiple worlds
Challenging mini-games and puzzles
Explore an underwater world in the bonus chapter
Game System Requirements:
OS:

Windows XP/Windows Vista/Windows 7/Windows 8

CPU:

1.6 GHz

RAM:

512 MB

DirectX:

9.0

Hard Drive:

809 MB
Game Manager System Requirements:
Browser:

Internet Explorer 7 or later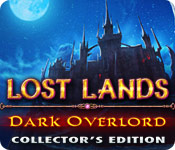 The Big Fish Guarantee:
Quality tested and virus free.
No ads, no adware, no spyware.

Reviews at a Glance

Lost Lands: Dark Overlord Collector's Edition
0
out of
5 (
0
Reviews
Review
)
Customer Reviews
Lost Lands: Dark Overlord Collector's Edition
53
53
The Dark Overlord....Cue Epic Music..!!
Fantabulous epic game. When the introduction video started playing, I was so impressed by the epic tale and quality that I almost paused the game to cook some popcorn! (then I remembered it's still morning) You and your son are headed home after a cabin retreat when a huge majestic tree opens up and swallows little Jimmy! Naturally you follow, always one step behind. A kind Hobbit offers to help you find Jimmy and destroy the evil entity that binds him. This forest is vast and you will help the dwellers of this forest in exchange for their help. There are numerous puzzles in this game, and several forest collections hidden within such as fossils and pinecones, and achievements to earn. The hidden object games are a bit scarce in this game but they are a mixture of finding the items that match the silhouetted shapes and progressive finds where you find the first item and use that item in the scene in order to find the next item. I love the puzzles! They aren't really new but they are fun such as swapping tokens to match the pictures around them but you have to swap them in the correct spots so they all match up as a continuing loop. I was really blown away by the quality of this game, but I was mostly impressed with the story and the mini games, this is one of the good one folks, enjoy!
February 22, 2014
A Tale of Three Worlds
WHOLE GAME AND BONUS This game starts out like most others. You find yourself in a forest and, whilst you are diverted, your young son Jimmy goes off and gets sucked into a tree and a whole lot of trouble in different worlds. Of course, you follow. Only you can save him. What seems like just another cookie cutter soon becomes something else the further you travel. For one thing, your teleport map takes you to three different worlds: Forest, Mountains and Castles and does so without lagging and lets you take yourself back to each world whenever you like. This is important because you have four sets of collections in the form of snails, pine cones, skulls and snakes. All of these are incredibly well hidden so you really need to keep an eye out and they all make up achievements, with another achievement for collecting all of them. If you miss any of them, don't worry because your map will show you if there's one to be had and it will also tell you when there are no more to collect in a scene. Voiceovers are well done and lip syncing not half bad either. You have 24 achievements and they are wide and varied, but not the usual we see. These are based on not skipping puzzles or using hints in HOPs, listening to all dialogue etc, and by this I mean NOT just the first hour or so, but throughout the whole game AND the bonus. On top of this, you have achievements for finding something in a puzzle in 20 seconds or less or solving a puzzle on your first attempt. Pretty tough! I only found there to be one 'find 3 items in 3 seconds' achievement. Wallpapers can be set from the start. The HOPs are lists, silhouettes and 'put things back where they belong', but there is no alternative M3, shooter or jigsaw. The puzzles are on the easy side, but they are much more plentiful than the HOPs and I found them a lot of fun. It isn't too hard to achieve the 'no skip' or 'no hint' achievements. I found the music very pleasant and non-intrusive, but there are moments it becomes dramatic in keeping with certain scenes. The main game ends with a really dramatic 'Wow' and a very touching outcome. The bonus sees Mom back where we first started and, yes, whilst you are helping to rescue the poor underwater creatures, you are not spending all your time in an underwater world. This game really comes into its own once you get to the Castles world which goes on and on in a very good way. Highly recommended for a good 6 hours' plus play in total.
February 22, 2014
Incredible
5BN has done an incredible job in this fantasy style game. I'm super picky about the games I buy - especially CE's, but this one had everything I love: - Custom cursor opt-out (custom cursors drag my system# - 3 modes that can be customized - Fast click through dialogue - A variety of hidden object scenes #highly interactive, place into scene, etc# - LOTS going on in every beautiful scene - Full interactive map #to-do locations & jump# - So far #25 min into game# the puzzles have been fairly easy - Crisp, stunning graphics - Not too many long, drawn out, cut scenes - Built-in strategy guide - Collectables #5 different kinds) - Achievements - Objectives list - Clear hints I rarely get CEs, but it took me 5 minutes to know I had to have this game. My overall rating is a 4.9
February 22, 2014
Easy To Become Lost In "Lost Lands"
Your son Jimmy was snatched into a tree portal while you were talking on your cell phone next to your late model SUV #never lose sight of your kids for a second - bad things happen #. You are able to follow him into a hidden world, but he is being taken to the Dark Overlord, who appears to be literally a dark cloud, by an evil dwarf. The dwarf has a good brother who is willing to help you find your son. - Ok, so it is not really a new concept, but let's play along. The production values used here are first class, although because the game is somewhat dark it can be hard to tell. The style is an appropriate fairy tale-ish look but there is enough realism to keep you grounded in the story. The game opens with a well executed cut scene #as they all are#, but the start of actual play is a little disjointed. You perform various seemingly unnecessary tasks considering your son has just disappeared, and there is no backstory provided about your character. Eventually you are able to follow him. Sounds are well done, in the beginning they are the sounds of a forest. Based on the map you receive from the good dwarf there are other environments you will travel through later #the Lost Lands#. Music is soothing and unobtrusive, rising and falling in tempo and tension. The character voices are spot on, and well suited to the character's appearance. All of the above creates the "draw you in" type of feeling and atmosphere that the better games are able to capture. The hidden object scenes are on the more difficult side, and they don't seem too numerous. There was a silhouette type and a "put back the items" type during the trial in addition to the usual. On the other hand, the puzzles and mini-games were fairly easy but some required clues from various locations in order to solve. There is also a potion to be made during the trial period. There are many areas to explore so you will need to search around a lot and be aware of what you need and where to use it. The CE includes various "collections" of objects to collect, i.e. a certain number of several different items. The pseudo-extras include wallpapers #9#, concept art #9#, videos #16#, music #6#, mini-games #27#, puzzles #4#, and achievements #24#. Also there is a strategy guide. I did not see an option for a bonus chapter, but it could become available after you finish the main gfame. Dark Overlord or not, the Lost Lands are truly worth exploring.
February 22, 2014
Beautiful game
This is a stunning game. I absolutely love the graphics. Just look at the shadows that the moonlight creates when you first step on the ship. It is beautifully done with a feel of 3 D. Yes, story is really nothing new, same goal as most of the games out there unfortunately, someone lost.....go find them. But still, it did not get boring. Good map, with the option to tell you where you forgot to pick up a collectible. There is a lot of back and forth with lots of locations but it all makes sense, very logic, so therefore no need for the SG. HOS are sometimes very interactive and mini games are not too hard. The whole game has beautiful colors, look at the close up of books in the tree's library. These things make me want to play a game. It is so good on your eyes and it is fun to play. And you also have a little owl helper that comes in handy at times. I really enjoy playing this game. Seems of good length too, which is important to me.
February 23, 2014
Great!!
I loved this game. The main things i loved about it were the game mechanics and gameplay. There were no annoying music diddlies every time you clicked on something in a HOS or anywhere else in the game. It was a nice simple click sound. I hate feeling like I'm playing a musical orchestra every time I click on an item in a game. The game was a little short but the bonus chapter was a decent length so it made up for it in my opinion. The graphics were crisp and enjoyable to look at. Very beautiful scenes. And another very important thing for me.... it had a jump map that let you know where something needed to be done right away. Lots of collectibles to find and achievements. A great game. Instant buy for me.
February 23, 2014
Bravo!
I love this game. It is more adventure then all hogs or puzzles. They are easy and I like that because it doesn't interrupt the story. The music is tops. I usually don't save music but with this sound track I will listen to it allot. Story is a nice break from spirits and creepies. Visually it is beautiful. 5 fins!
February 23, 2014
FANTASTIC GAME
I do not get bmn5772 rating! It is NOT dark nor boring. This is one fabulous game with the most wonderful graphics that are out of this world, and the game play is just..........FUN! One of the few CE's I will buy cuz I usually wait for the SE, but this is just too good to pass up. I want it all!
February 22, 2014
Best Game So Far This Year ...
Great Graphics, Sounds, Animations, Effects, Voice & Video Bits ... Great Game, No Bugs Or Faults ... Just A Seamless Trip From Beginning To End ... The Jump Map Gets A Lot Of Use As There Is A Lot Of Back And Forth In This Game ... Great Entertainment, But The Whole Game And Extra Chapter Seemed A Little Short. I Got My Copy On A Special Deal So It Offers Great Value For Money ...
February 22, 2014
Stunning game.
I beta tested this game and knew then it was a winner, and a definite buy for me. Beautiful game, has all I want in the CE version. There nothing disappointing about it, graphic's, playability, storyline is all there to be enjoyed.
February 23, 2014
The Apple logo is a trademark of Apple Computer, Inc.