Riddles of Fate: Into Oblivion Collector's Edition
Exclusive
The kingdom of Riddlestone was renowned for its virtues and arts, but ever since the seven deadly sins came to town, the people's hearts have turned to darkness. Their rioting has plunged the city into chaos. Even the royal family is not above the suffering. The king is ill, his sons are behaving strangely, and his daughter has disappeared. The Queen has heard of your reputation and summoned you to help. Will you return Riddlestone to its former glory, or it will be swallowed forever by the darkness? Find out in the exciting hidden-object puzzle adventure Riddles of Fate: Into Oblivion!

This is a special Collector's Edition release full of exclusive extras you won't find in the standard version. As a bonus, Collector's Edition purchases count toward three stamps on your Monthly Game Club Punch Card!

The Collector's Edition includes:
Gripping bonus gameplay
Unlockable collectibles and achievements
Stunning wallpapers and concept art
Downloadable soundtracks
Integrated strategy guide
Game System Requirements:
OS:

10.9/10.8/10.7/10.6

CPU:

600 Mhz (INTEL ONLY)

RAM:

128 MB

Hard Drive:

927 MB
Game Manager System Requirements:
Browser:

Safari 4.0 or later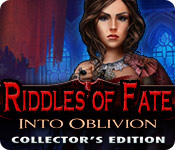 The Big Fish Guarantee:
Quality tested and virus free.
No ads, no adware, no spyware.

Reviews at a Glance

Riddles of Fate: Into Oblivion Collector's Edition
0
out of
5 (
0
Reviews
Review
)
Customer Reviews
Riddles of Fate: Into Oblivion Collector's Edition
41
41
An Enjoyable Game ...
Good Graphics, Sounds, Effects & So On ... Seemed A Little Short, And The Extra Chapter Was Very Short ... An Enjoyable Game ... But Not Really Worthy Of A CE Just For A Few Collectible items ... Wait For A Deal Or The SE ...
March 8, 2014
Review of a finished game....
My overall experience of this well put together game was intriguing, The many cut scenes kept my interest as well as a nice addition to the game. There are achievements and collectibles to be had. The music is also pleasant. I am hard to please, and this game passed the test with flying colors. Plz don;t 4get 2 post ur fav. game after u write ur review, so that others can chk it out as I do. game on gamers...
March 31, 2014
Easy but lovely
It's pretty easy but I must admit that I really enjoy it. The storyline is good but it feels like it could be better.
March 11, 2014
I tell you no lies, cause' that's a sin!
As wonderful as the artwork is (somewhat cartoonish, tho), plus the thought that went into this great game, I cannot rate this CE version a 5-star. I can see why some of the reviewers gave it a 5 and I understand, too, why the other reviewers gave it a lower rating. To me, what matters most is the momentum--game flow. The main game did not have this. Also, you would think that the map would have been the actual transporter but it was the hint button that transported you. So, thumbs down for the map. Speaking of which, you were all over the place. You had items in your inventory that seemed to remain there for an eternity. The VOS were okay. Some of the voices didn't go with the character. I love the deadly sin storyline very much. That was cool for a change! More importantly, it was the bonus game that I preferred over the main game only because it FLOWED. The HOS in the main game were easy but the scenes were gorgeous. Very little interaction in the HOS. The puzzles were boring to me and not really puzzles in my opinion. So since I really liked playing the bonus game (short but sweet), I'm giving this game a 4-star. Nonetheless, kudos to the developers. I recommend this CE version.
April 25, 2014
Seven Deadly Sins Always Make Interesting Theme!
I especially liked the theme of this game which makes for an adventurous game. All was done well in the development of this game including the graphics and sound. Nothing so much out of the ordinary for a CE but all was good. HOS were pretty normal and the mini games were somewhat challenging. Crowns to collect and figurines along with some achievements to earn. Obviously a dark theme but a good kind of scary! Great game for my "ominous" collection!
March 7, 2014
Very nice game....
Although I believe it is a very nice game, after playing the sample version, think I will wait until it "goes on sale" to purchase.
March 6, 2014
Mediocre Game
Riddlestone, once a peaceful and virtuous Kingdom, now plays host to the seven deadly sins and everyone is taken hostage. As darkness enters the hearts of all who dwell there, riots, looting and mayhem make way for utter chaos and calamity which makes the Kingdom not a very nice place to visit. Queen Olivia Rockwood, who has been impeached by some mysterious force, has summoned you to find her missing daughter, Anna. It is up you now to try to return Riddlestone to its former glory before it completely it becomes HADES on Earth. An interesting story brought to us by our all time favorite pachyderm group of developers. Although I have to say I was surprised at the rather dismal visuals and sad to say I wasn?t thrown over by the graphics. Although I did like the artwork; beautifully hand painted canvases that unfortunately look a bit distorted by the low quality of graphics employed. There are also a cartoonish feel to some of the cut scenes and overall the game looked a bit old and worn out in some of the scenes. Although there are settings for special effects and ambient sounds, I really didn?t notice any thing that popped up at me. There are voice-overs from cartoon like characters but no realism to any of the animations such as mouth movements. Visually the game looses points compared to some other games that these developers have brought us. There are three game modes to choose from and what you have here is yet another standard HOPA game with collectables and achievements that now seem to be the norm to any CE game. There is no journal but a task list, a rather crude map that does allow for travel and does indicate areas where action is required. Hidden objects scenes had slight interaction and poor graphics along with lighting resulted in some objects difficult to make out. Mini-games that I came across during the demo were really very easy and quick to solve: no brain teasers here. There are 24 crowns to locate throughout the game and some ghostly images to collect that are not difficult to spot. You have also 10 achievements to earn, all not very challenging. Did I like the game? I found the story compelling but found myself slowly losing interest as I just began to go through the motions. The game just did not grab me and in my opinion, I can either take advantage of a sale or simply wait for the Standard version to come out which seems more plausible. Sorry folks, look is like this game earns a three star from me which means I probably will be published last in the review section as criticism seems to be a downfall lately.
March 6, 2014
A nice game for a beginner, but not CE worthy..
Morning all. I was excited to see another new Elephant game today. I already have the other two they are listing in the "special" today, and liked them both. Needless to say, I was very disappointed in this one. Graphics were nice, game play was good, no problems there. Voice overs were good, but needed to appropriate for the age of the person they are portraying, e.g. old man sound about 30 and Mom looked and sounded the same age as her daughter. Music was okay, but got annoying. Clear colors, very nice period costumes. Don't know what it is exactly, but it seems like the dev got lazy with this one. The SG is the standard, but not really helpful. If you don't remember where you saw something, don't bother looking at the guide...it just says, pick up the ruby...where is it! The hint system is quite helpful, as it will actually teleport you to where you need to be, which saves you a lot of time. Definitely don't need the SG on this one. Did not care for the jump map, as it basically takes you to a "general" area and doesn't identify each specific location. There again, you are only running back and forth between two main areas. Hopefully that changes as the game progresses as this is quite boring to keep going to the same 3-4 locations for an hour. HOGs were simple and few, clear and easy to find items. A lot of mini games, but none were difficult. There are quite a few achievements, and you collect crowns and spirit items...none of which are hard to spot. I "accidentally" found the first collectibles, as they just sort of stood out from the rest of the scenery, so then I knew to look for them. Otherwise, you wouldn't even know they were there. This would be a very nice game for a beginner, and that is the only reason I would recommend it. It just didn't have anything that drew you into the game, no excitement, same few locations over and over, not much in the way of sound FX, no real challenge. Nice story, but that's about it. I was very disappointed and do not have the need to add this to my collection of CE games. I may change my mind when the SE comes out and I have the chance to play it again, but I would not buy the CE version. As always, try it for yourself and see what you think. We all have different tastes in games and you may find this one to be exactly what you are looking for today. Thanks for the reviews.
March 6, 2014
This Will Fade "Into Oblivion"
I thought this game had a familiar feel, then I realized I had beta tested it. That was quite a while ago, so those who describe this game as somewhat older are correct, relatively speaking. The town of Riddlestone, the Rockwood dynasty, the seven deadly sins, etc. Queen Olivia's daughter (or should I say "daw-tah" per the supposedly British accents) has been kidnapped. Everything is well drawn and the game has it's own style, although I found the style hard to describe. The game is both very colorful and very dark at the same time. I thought the voices and sound effects were fairly good. The game play and plot is on the simplistic side, suggesting this is aimed at younger (but not too young) fishes. The collectables (crowns) are nearly impossible to miss without tripping over them, and yet there are not too many of them. I did not find them particularly compelling. There are also collectable members of the royal Rockwood family (six, I think). This does not have either an interesting story or new features that would make it stand out as special. Neither does not have that immersive quality. My recommendation would be to wait for the SE, or just leave this riddle unanswered.
March 6, 2014
Not quite there
Game just OK. My biggest complaint about all devs (not just this dev) is the cut scenes where they explain what's happening with the town/forest/whatever and they use drawings that are barely developed. Sketches that are probably developed more for the main part of the game, but look like they don't want to waste the time for the explanation part of the game. Maybe use a journal instead. Game was interesting - but I just couldn't get interested enough. Wish I could yell out the specific reason, but just can't. The hint system was great, looked at the guide which has promise if you use it. Doesn't follow your pace though. The map transported you, but if you hit the hint button when you got to a place where there was an action, the hint button sent you somewhere else. Thought that was odd. Not for me, but try the demo and decide for yourself.
March 6, 2014
The Apple logo is a trademark of Apple Computer, Inc.
The Windows logo is a trademark of Microsoft, Inc.