Riddles of Fate: Into Oblivion Collector's Edition
Exclusive
The kingdom of Riddlestone was renowned for its virtues and arts, but ever since the seven deadly sins came to town, the people's hearts have turned to darkness. Their rioting has plunged the city into chaos. Even the royal family is not above the suffering. The king is ill, his sons are behaving strangely, and his daughter has disappeared. The Queen has heard of your reputation and summoned you to help. Will you return Riddlestone to its former glory, or it will be swallowed forever by the darkness? Find out in the exciting hidden-object puzzle adventure Riddles of Fate: Into Oblivion!

This is a special Collector's Edition release full of exclusive extras you won't find in the standard version. As a bonus, Collector's Edition purchases count toward three stamps on your Monthly Game Club Punch Card!

The Collector's Edition includes:
Gripping bonus gameplay
Unlockable collectibles and achievements
Stunning wallpapers and concept art
Downloadable soundtracks
Integrated strategy guide
Game System Requirements:
OS:

Windows XP/Windows Vista/Windows 7/Windows 8

CPU:

600 Mhz

RAM:

128 MB

DirectX:

6.0

Hard Drive:

984 MB
Game Manager System Requirements:
Browser:

Internet Explorer 7 or later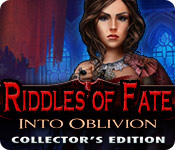 The Big Fish Guarantee:
Quality tested and virus free.
No ads, no adware, no spyware.

Reviews at a Glance

Riddles of Fate: Into Oblivion Collector's Edition
0
out of
5 (
0
Reviews
Review
)
Customer Reviews
Riddles of Fate: Into Oblivion Collector's Edition
41
41
A MUST HAVE ADVENTURE
This is a magnificently beautiful game. Every scene in this hidden object adventure is a masterful work of art, beautiful to look at, fun to explore and interact with. A lot of care was taken in the development of this game to make it a fantastic journey in a highly detailed environment. There are tons of doors and locks and secret passages that need to be opened and explored, rooms full of mysterious objects and elegant royal treasures that fill the many hidden object scenes. There are lots of puzzles that need to be solved, but none of them are too hard or frustrating to finish, the longest I spent on any puzzle was maybe around 7 minutes or so. There are a wide variety of characters you will encounter, some very helpful and many evil characters who will try to stop you from freeing the kingdom from the seven deadly sins. There is a great interactive map that shows where you are, where you can travel to, and allows you to jump from one location to another as long as you have already visited that location. The map also indicates where there are tasks that need to be completed, so if you are not sure where to go next, just consult the map for a good clue. I would rate this as a moderately complex game. You should have some prior experience with hidden object games before trying this one. The game is a lot of fun to play from start to finish and there are lots of awards you can potentially win during the game for excellence at hidden object scenes and puzzles. I strongly recommend this game.
May 5, 2014
exellent interesting and long
long is verry good a like the storry
March 6, 2014
Over the top again !!!!!!
I can buy and play games like this everyday. The story the style. Some developers can take lessons for sure. Please don't waste my time with the very silly games. Every one deserves there selection for sure. These are mine.
March 7, 2014
great game
great game to play when i played i think this is not good game but after sometime this become my number 1 game
March 8, 2014
THERES NO RIDDLE ABOUT ELEPHANT GAMES ...............
THEY HAVE DONE IT AGAIN,GAVE US ANOTHER HIT GAME. SEVEN DEADLY SINS ! WOW! GREAT STORY, ETC. WONDERFUL COLLECTIONS. THANKS !
March 6, 2014
The Seven Deadly Sins Come to Life
Riddlestone was once a prosperous and peaceful town that was ruled wisely by the Rockwood dynasty. Slowly, and with hardly a notice, things began to change and the town?s residents became mean and slipped into depravity, bringing the town to the point of collapse. You play as a detective who has been called upon by Queen Olivia Rockwood who implores you to find her missing daughter, Princess Anne. So many things have gone wrong in Rockwood that even the beloved royal family is feeling the effects. Will you be able to help the queen find her daughter and restore the kingdom to harmony? With Riddles of Fate being developed by the pachyderm team I thought that the graphics would be top-notch but I was disappointed to see that they were rather mediocre. The game does have beautiful hand drawn artwork but the graphics quality lacked the punch that this developer is capable of. Overall the sound package was very good including the voiceovers, music and ambient effects but again the tone of the game seemed very old school, as if this game had been sitting on the self for several years. Maybe it was because there was no lip-syncing. I didn?t find a journal or diary but with the help of the interactive, transportable map and the task button, I was able to keep on track so I didn?t miss the journal. At least in the demo of the game, the HOS seemed to be all standard list type with minimal interaction. That being said, I really enjoyed the artwork in the HOS and finding the objects, none of which were overly difficult to find. The puzzles in the game were another story and a huge disappointment since they were ridiculously simple; either that or I am getting very good at solving the puzzles in HOPA games - lol. However, I doubt this is the case and the developer made the puzzles very easy in order to appeal to a wider audience. I enjoy a challenge in a game and for me that challenge usually comes in the form of the puzzles I encounter on my journey, so with the simplicity of the puzzles, the game was a bit of a disappointment in that respect. Aside from a few achievements to be earned (all related to gameplay), some almost obscure crowns to find scattered about, and ghostly objects to find, the game has nothing (IMHO) that makes it worthy of being called a CE. It is a hastily thrown together game that somehow seems unfinished, as if the dev ran out of steam and didn?t care about adding a lot of extras. Aside from my disappointment with the simplicity of the mini-games or puzzles in Riddles of Fate Into Oblivion, this second installment in the series is still a good game. I think that given the storyline and the beautiful hand drawn artwork coupled with the gameplay, many gamers will find this an entertaining game. Although I enjoyed the adventure and the unfolding story, it seems like the game is a step back from some of the newer and much better CE offerings we have had. I hate to see a developer I love and who is capable of so much more create games that are sort of ho-hum and fairly old school. It is just my opinion but I think I will wait for the SE to be released. As always, I recommend that you at least try the demo to see if this is a game you will like.
March 6, 2014
Good game
The game is interesting and the puzzles are a little challenging. My only problem with this game is the bonus chapter. This is rather frustrating as it is so short, I would not even call it a chapter. So be warned that your extra $$ for the bonus chapter (collector edition) don't buy you very much.
March 6, 2014
MORE GOOD THAN BAD!
First and foremost, like many others have said, this game contains amazing graphics and a great storyline. Some of the characters weren't convincing, but no big deal. I really loved the idea of the 7 deadly sins as a theme and the story was told well. Some of the puzzles were halfway done when I started, while others were more of a challenge. HO scenes weren't challenging at all, in my opinion. I couldn't wait to get to the bonus scene and found that it was a bit disappointing when I did. Very rushed and short. If I had to do it over I would have just bought the SE version. Overall- very smooth gameplay with a great story. Everything fit and I really enjoyed it.
March 17, 2014
Top class
On overall play, the game gave me a real sense of achievement and I found the graphics were top class. The spelling and instructions were not a put-off as some games are. I did find the map a little confusing at first and was a little disappointed at the shortness of the bonus game. A shame I was not able to give it the four and a half stars it really deserves. I highly recommend this game.
March 11, 2014
Great Game! Even If It IS Really Easy...
I wasn't fond of the first Riddles of Fate game so, naturally, I had low expectations of the second installment. Imagine my surprise when I played this! This is actually a really enjoyable game- one of Elephant's best in a while! The story is actually really interesting. I mean, the Seven Deadly Sins taking over the Royal Family... what's not to love about that? But the thing that makes it so interesting is that it's not illogical, thrown all over the place like ?Oh no, some evil guys are taking over the town! I have to stop them!? it actually makes sense. The SDS (Seven Deadly Sins) take forms of real people to destroy a town. This is all explained really well in a series of cutscenes. As well as making sense, this story was also thrilling and captivating. It hooked me from the beginning of the demo to the end. I really enjoyed it and can't wait to see what happens next. I thought it was risky, but Elephant have manage to pull it off through sheer talent. It would have been really hard to have this story make sense, but they've done it, which is why it's so wonderful. The gameplay, to be honest, is actually pretty easy. The puzzles were easy and the HOS were easy, but I still enjoyed them all. The HOS were all junkpile and, as I said, were very easy. I could solve them all without a hint and all in less than a minute. But, that being said, I was glad when they popped up. I really like HOS, and game had a near perfect ratio. Maybe one more in the demo would have been nice. The puzzles are really easy and solvable, which I kind of liked, but I would have liked a bit more challenge to them. It's fun being able to solve a puzzle, but not if they're that easy! A bit more challenging but still solvable, please! I could literally solve a puzzle in two clicks, and one other puzzle was so easy it wasn't funny. This game features + objects. These are objects that you need to interact with in order to complete them. There weren't many in the demo (there were 3), but I didn't really mind too much. I enjoyed the + objects. I thought they were a nice feature of the game. Other than that, this is your average HOPA. There's no fancy special features, no sidekicks or anything. It's just plain old HOPA and I really liked it. The graphics are cartoon style again instead of real stuff. For cartoon characters, the character designs are actually done really well with lots of detail. The scenes are really clear. The graphics were never grainy, and the visuals were appealing. The graphics really suited the location/time period. The voice-overs were standard. The only issue I have is the voice of Gluttony. It was really annoying and, if it was not important to the story, I would have skipped the dialogue. I don't know if developers realise this, but one annoying voice can be really off-putting. FEATURES 3 modes of difficulty: Casual, Advanced and Hardcore. The differences are hint/skip charge times, sparkles, etc. I played Casual. Hint/Skip- Both recharge at a reasonable rate for their difficulty and the hint is helpful outside HOS. Map- the map is interactive and tells you where your active tasks are. + objects- These are things that you have to interact with to complete. They don't appear too often, but are a nice addition to the game. CE EXCLUSIVES Built in Strategy Guide- great for extra help if it's needed Bonus Chapter- unsure if needed. If I know Elephant, probably not. Collectibles- unsure how many they are. Doesn't say. The collectibles are of the royal family. All easy to find. Achievements- all gameplay based, so they're easy to collect. Replay HOS/puzzles Wallpapers Music Concept Art Overall, this was a really enjoyable game. It earns four stars from me and it would have been five if the game hadn't been so easy. I will definitely be buying this to see the conclusion of this interesting story. I think I will wait for the SE on this one. The CE just doesn't seem worth it. Elephant Games is well and truly BACK!
March 7, 2014
The Apple logo is a trademark of Apple Computer, Inc.