Amaranthine Voyage: The Living Mountain
Exclusive
A brilliant but misunderstood professor, you've been to the Tree of Life, and lived to tell about it. Only no one will believe you. Your students have even begun to make fun of you... Until an elderly gentleman shows up at your door, and your whole life changes once again.

Are the Three Stones really a portal to another world? Find that out and more as you follow your colleague's trail to track down the truth of his strange disappearance. Explore beautiful, strange worlds, and watch out for surprising twists that will leave you wondering. If the tiara fits...
Game System Requirements:
OS:

Windows XP/Windows Vista/Windows 7/Windows 8

CPU:

1.4 GHz

RAM:

1024 MB

DirectX:

9.0

Hard Drive:

1070 MB
Game Manager System Requirements:
Browser:

Internet Explorer 7 or later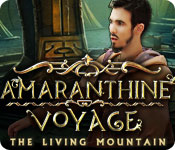 NEW299
The Big Fish Guarantee:
Quality tested and virus free.
No ads, no adware, no spyware.

Reviews at a Glance

Amaranthine Voyage: The Living Mountain
0
out of
5 (
0
Reviews
Review
)
Customer Reviews
Amaranthine Voyage: The Living Mountain
19
19
Another Fantastical Voyage!
I know some critics of this game complained of it being boring, and I agree, BUT, it certainly doesn't stay boring! The beginning of the game starts out by searching Professor Sylvia Burns' house and it is a bit ho hum, been there done that, but as soon as you drive to the village of Three Stones to investigate the disappearance of Jonathan Ferguson, one of your former students, things escalate quickly. You figure out how Jonathan entered the Three Stones portal and you are once again on an Amarathine Voyage! Once you arrive you find one of the villagers lost beagle, Bonnie, so she's along for the voyage as well helping you out in places you simply won't fit. You find a bow and arrow in the guards room and can use this item for things in a distance. Once the King hears of your arrival he mistakes you for a gift from the Gods, and intends to make you his Queen the very next day! You do some snooping of course and learn that long ago a star fell to the ground and was used to make a Sun diamond and a Moon diamond. The Guardians took the Moon diamond to keep balance of the powers it possessed and the King took the Sun diamond with intentions of ultimate power. Now the Guardians are on your side but want you to go ahead with the wedding so they can trick the King and take away his powers. The scenery in this mysterious mountain is stunningly beautiful and the cinematic's are movie quality. The hidden object scenes have interactive list finds as well as finding the items that match the silhouetted shapes. Each HOS will scan over 3 different areas, so when all the items are found in the first scene, the camera scans a little further to another scene and after those items are found the camera scans to a third and final location. When all three areas are finished, a riddle is presented and you need to find that final item that matches that description. You can opt for a marble popping game instead of a HOS, it is just like Tumblebugs or Zuma and it is actually quite fun. The mini games are good, some difficult some easy such as matching symbols from left to right on 2 cylinder's, the exact shape doesn't matter but the lines from the symbol on the left have to line up with the next symbol and so forth until the final symbol on the right side. Be patient with the first few minutes of this game and I'm sure you will enjoy playing this adventure as much as I did, enjoy!
February 14, 2014
Living Mountain-top Experience!
This is possibly the best game, at least from a technical standpoint, that I have ever played. The artwork is absolutely some of the finest I have seen, every scene is well detailed and spectacularly drawn. The voice acting is similarly first class, making the characters and story come to life in a manner that borders on realism. Someone once wrote (ahem) that this aspect of the game helps to "suspend your disbelief" and this game truly does that. The combination of the artwork and voice acting draw you into the story the way a great game does. The hidden object scenes are also clear and sharp, though they are fairly easy to complete. In at least one there were three different "levels," with the camera automatically panning to the next scene as each was completed. Well done! I played the first in the series, Tree of Life, however I don't remember too much but apparently this is a continuation. Nevertheless, if you did not this game stands on its own. Music is nice and soothing and hardly noticeable. Sounds effects are good, including the footsteps of shoes on a marble floor. There is a "cute" helper in what looks to be a beagle puppy, Bonnie. She's so cute that even though I ordinarily do not care for helpers, I cannot "help" but like her. Wish they were all of this high quality. All in all a great game, truly worthy of five stars.
February 14, 2014
Voyage Between The Worlds!
BASED ON COMPLETED GAME FIRST IMPRESSIONS The first Amaranthine Voyage blew me away, and this one is even better yet. From the opening to the credits you are kept involved and intrigued by this delightful fantasy adventure. SIGHTS & SOUNDS This developer makes brilliant games with excellent graphics, which is why I can?t understand why the cut-scenes are so pixelated and blurry. The rest of the game is a visual delight. Much of it is light and airy, as befits a world that floats among the clouds. There is a delicacy to the scenes that make them feel as though they have been created out of gossamer. Lovely. Early on, the music bothered me a bit, it left me feeling a little on edge, but as I progressed it was replaced by some wonderfully ethereal tunes. Loved the ambient sounds! Voices are very good, and I love the way the speakers are given a close up window with lip synch, while there is still the main scene where the lips are not moving. A word here too for the actors. Both professional and amateurs achieve a high level of realism and believability. WHAT?S HAPPENING? A student of yours has found a way of operating a portal that leads to the world of The Tree Of Life, from the first game of this series. His father is concerned and has asked you to return there and bring him back. Well, the world you arrive at isn?t like anywhere you?ve ever seen, floating dreamily through clouds, with 4 satellites in the sky, and some really defective gravity. It turns out, there?s a really defective king as well, and lucky you, you will wed him this very day and fulfil prophecy! Oh joy! Guy?s old enough to be your father! (Apart from that, he?s a bit of alright, with a wonderful voice!) GAMEPLAY This game has a nice variety of (15) mini-games and puzzles. Although some of the puzzles are familiar in concept, they are presented in a new and interesting form. There are 3 levels of difficulty as well as a custom level. And you have a interactive jump map and a hint that allows you to travel to the next actionable area. So getting around is not a problem. The map is unusual to look at, 3D, with some of the locations being under the ground of others. Interesting. The 16 HOPs come in many varieties. The standard interactive word lists come with a riddle for the final (inventory) item, and you can choose to play a lightweight bubble popper game (not the same as others in the Eipix stable). There are also some silhouette HOPs, and a few one-offs of the related pairs and identical pairs category, and 1 that is purely riddles. One addition I love is making the HOP scenes scroll. So a list of 6 silhouettes, you find them, the scene scrolls down, with another 6 silhouettes in the neighbouring area. Beautiful to play! Other features include a dog companion and helper, and a bow and arrow for reaching difficult faraway objects. I also like that skip shows you how the solution is achieved, where it can. COMBINED IMPACT Wonderful! I couldn?t bring myself to stop to eat! Enjoyed every minute of this game, right through to its satisfying ending, and its hilarious credits. I love this game! (Pss... don?t forget to watch the credits)
February 14, 2014
WORLD CLASS GAMEPLAY
SUMMARY: Flawless gameplay; outstanding graphics and color palettes. Well thought-out story development and exceptional production values. Lengthy game with plenty to do and see. A nice day of exciting gameplay. I haven't finished it, but it might just rival my favorite game. GAMEPLAY: Immediately grabs and holds your attention. Superb artistry - full of color. Special effects are outstanding. Voice overs are terrific; music is compelling; lots of HOS (list and silhouette; very detailed and not too crowded, with nice color palettes); fun and interesting puzzles (wide variety of difficulty). Play bubble shoot instead of HOS if you want. BASICS you get: map with objectives and active areas (you can turn off); journal; 3 standard plus one customizable difficulty mode (turn on/off only those aspects you want, including time sets for hint and skip recharges); hint shows snapshot of where you should go; helpful messages. Helper dog (but he won't dig, only fetch). If you're interested in the SE vs. CE: CE includes achievements; collect fairies, souvenirs and dog biscuits; making of; pictures of process of drawing characters, et al.
March 17, 2014
Unexpected Gem
I didn't think I was going to love this as much I did. I played in expert mode where your cursor does not change when you hover over a place of interest. I found that a refreshing change from the norm. Some of the games where super easy but none of them super hard either. I thought it was a great way to spend 6 hours...just wish it were longer. 2014
February 19, 2014
love it ~~
I LOVED THIS GAME IT WAS ONE OF THOSE THAT BEFORE YOU KNOW IT IT IS 4 AM AND YOU BEEN PLAYING ALL NIGHT JUST GETTING LOST IN THE GAME. GIVE IT A TRY I AM SURE YOU WILL LIKE IT TOO. HAPPY GAMING ALL
February 15, 2014
Gorgeous and Fun!
Thank you, Eipix, for the stunning graphics and detail in this game. It was so refreshing to finally see scenery that is full of light and beauty rather than the gloomy pall that most of the HOG games depict! The story is very engaging, and the HOG's are clever with their panoramic sweep from one section to another. The mini-games are challenging enough, and enjoyable. However, what I really enjoyed was seeing each scene unfold - all gorgeous in their rendering. And, the animation sequences and interaction with the characters enhanced the story. Really excellent - I'll look for more games by Eipix - they just keep getting better!
March 11, 2014
Absolutely Loved It!
I The graphics are absolutely stunning. I literally just sat and stared at the beautiful scenes. I also love how you can play a mini game (bubble game) instead of the ever so boring hidden objects. This is one of the best games I've played.
February 25, 2014
i really enjoyed this game
you are a detective that is called in to figure out what is happening in this town. the graphics are great and you can customize hint and skip recharge speeds or just play one of the regular levels. i played on the custom level and the skip and hints recharge almost immediately. low sound. really enjoyed it and the way i set it up there was no stress. just what i wanted. you have a beagle named bonnie to help you and a diary and map. sequel...possiblilty.
March 2, 2014
good game
really good game should try this game
February 14, 2014
The Apple logo is a trademark of Apple Computer, Inc.