Amaranthine Voyage: The Living Mountain
Exclusive
A brilliant but misunderstood professor, you've been to the Tree of Life, and lived to tell about it. Only no one will believe you. Your students have even begun to make fun of you... Until an elderly gentleman shows up at your door, and your whole life changes once again.

Are the Three Stones really a portal to another world? Find that out and more as you follow your colleague's trail to track down the truth of his strange disappearance. Explore beautiful, strange worlds, and watch out for surprising twists that will leave you wondering. If the tiara fits...
Game System Requirements:
OS:

Windows XP/Windows Vista/Windows 7/Windows 8

CPU:

1.4 GHz

RAM:

1024 MB

DirectX:

9.0

Hard Drive:

1070 MB
Game Manager System Requirements:
Browser:

Internet Explorer 7 or later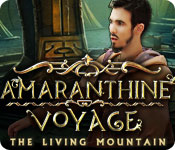 NEW299
The Big Fish Guarantee:
Quality tested and virus free.
No ads, no adware, no spyware.

Reviews at a Glance

Amaranthine Voyage: The Living Mountain
0
out of
5 (
0
Reviews
Review
)
Customer Reviews
Amaranthine Voyage: The Living Mountain
19
19
Beautiful Game.
Really enjoyed playing this game. The graphics and mini games were wonderful. I did have a freeze problem at the very end of the game. Looked at the walk through and saw only 2 activities left. I still wanted to rate this game high. Mac are a problem sometimes.
January 18, 2015
A surprise out of left field.
This game came recommended to me as I usually don't play 'softer' games, being more of the True Fear and Haunted Halls type of player I was hesitant but decided to try it. Immediately I was drawn into it with awesome scenes, challenging play and engaging storyline. This game led me back to AV's first game Tree of Life, which I also enjoyed.
March 14, 2014
Gorgeous game
This game's objectives are simple and fun. It's a beautiful game and not too difficult - enjoyable for all ages.
January 3, 2015
Wishing I Hadn't Purchased!
BASED ON COMPLETED STANDARD EDITION GAME WARNING: POSSIBLE SPOILERS AHEAD I'd never played the first Amaranthine Voyage, so I had no clue what to expect from this one. At the start, I was amazed, but as the game wore on, I began to grow bored. Quite honestly, I was glad to be finished with it. Let me be honest here, the story really isn't the greatest. The opening scene didn't excite me, and the story took a while to get in to. I only really began to get in to it towards the end of the demo, The basic storyline is that a friend of yours approaches you to ask for help to find his missing son, who has gone in to another world of some sort. As I said, the story was really uneventful until the end of the demo. I only bought it because of the gameplay. After the demo, the story did get slightly better. The part of the story with the Guardians was the most exciting part of the game. But once that was finished, the story spiraled downhill. I felt there were some un-necessary elements added that were just put there for length. I think Eipix maybe should have cut down on the whole bit after going in the wrong portal. I think we should have been able to go in the right portal to begin with. The game just seemed a bit long to me. After a disappointing story overall, I was looking forward to a good ending and didn't get one. The ending was conclusive all right, but it was so poor! I couldn't believe how it ended. I felt a bit ripped off. This is the second time this has happened to me in an Eipix game. Come on Eipix, work on your endings! They make a story! The thing that pleased me most about the game were the HOS. I loved them and enjoyed every time I got to play them. I loved them because they were a little different. Some were word lists, some riddles, some silhouette items, and all were equally fun! As well as this, the HOS were a little longer than most. The HOS are spaced out evenly through the game. There are quite a few HOS too, so HOS lovers will enjoy them. The puzzles were fun too, even if they were just repeats of the ones we've already seen from Eipix. I did enjoy attempting them and was able to solve some. What I highly recommend though, is that the developer put some new puzzles in there. If every puzzle is the same, players will get bored very quickly. Like the HOS, the puzzles are spaced out evenly and there are quite a few of them. As far as additional gameplay features go, this game has quite a few, and for that, the developers must be commended. To begin with, this game has something that has been missing in recent games- an animal helper! As much as other players don't like it, I love it, and was so glad when I found that this game had one! Our animal helper comes in the form of Bonnie, a dog who can fit in to small spaces. I enjoyed every time I got to use her. My only complaint is that I don't think she was used enough. I would've liked to have been able to use her a couple more times. This game also features a unique gameplay addition- the bow and arrow. This is a minigame similar to the Healer's Kit one in another Eipix game. This time, you have to click on the red dot when it is in the target to shoot things out of range. This was another great feature, but again, Eipix has been a bit stingy. It should have been used a couple more times. I think it was used 4 or 5 times tops (not counting in the final puzzle). Other than those features, this is your normal HOPA. It's got all the basic features (you know, map, diary, etc.) and even has a custom difficulty level, which is great for those who want to set the game at their own pace. Graphically, this game is great. It has great detail, great colours and is very clear. Each scene is drawn wonderfully; each HOS is clear. The voice-overs I have a bit of a problem with. I think they were bad. They sounded to me like Americans trying (and failing) to do British accents. Here's a tip- if you want British accents, hire British people! FEATURES 4 modes of difficulty: Casual, Advanced, Hard and Custom. Custom lets you set the game the way you wanted. The differences in the other difficulty are the usual. I played Casual. Hint/Skip- both recharge a little bit quickly. I found myself relying on the hint too much just because it was there. Hint is useful outside HOS. Diary- good for keeping track of story events. Map- The map is useful and lets you know where you have objectives to complete. Bonnie- Bonnie is our animal helper. She is not used as often as I'd like. This is a good feature. Bow and Arrow- similar to another feature in a previous Eipix game. It's a minigame. Again, not used as often as I'd like. WHAT DO I MISS OUT ON IF I GET THE SE? Bonus Chapter- not needed. Game ends conclusively. Built in Strategy Guide- would have been nice for puzzles. Collectible dog biscuits (48) Achievements Wallpapers Concept Art Photos Biscuit Hunt Replay HOS & Puzzles Souvenir room- basically just one giant HOS Lore Book WHICH IS THE BETTER BUY? I had a hard time deciding which one to get, but I eventually got the SE. I think you'd be happy with either one. Take your pick. There's a lot of CE Extras in here, so I'd say it's worth the extra money for those of you who like the game. Well, I'd have to say I'm regretting my purchase! Gameplay wise, this game is wonderful, but the story just sucks! I really wish I had not paid for this game. The story was just way too long, so I ended up losing track of what was happening and I got really bored. I was just waiting for it to finish. ON THE GAME LENGTH As I said, the game was really long, too long for me. I'd estimate 3.5-4 hours on Casual mode. WHO WOULD SUIT THIS GAME? BEGINNERS? I'd say be careful. The extra features might throw you off. ADVANCED PLAYERS- go for it. EXPERT PLAYERS- Go ahead, but the easiness of the puzzles might annoy you.
May 21, 2014
Rather Disappointing
Tree of life was quite good, but this failed to live up to that promise. Bow and arrow is very frustrating. Common sense dictates firing when the red ball is in the center of the target; but not in this case. You have to guess where off-target to shoot! The HOS are incredibly simple; virtually no searching at all. Most puzzles are also very simple, and when they are a little more difficult, they are also extremely frustrating. While the visuals are superb, and the music is tolerable, the voice overs are variable and generally not that well done. As the title says; rather disappointing.
February 25, 2014
I really don't like this game...
I purchased this game because the first Amaranthine Voyage really impressed me. This one, not so much. The graphics are beautiful and the music is not overpowering (meaning I didn't feel the urge to shut if off), but it's boring. I mean, really really boring. I literally fell asleep on this game five times. In fact, I would play it just because I knew it would put me to sleep faster. This game is just so random. Characters exist for no reason and there is no danger. In this story you are trying to find a man in an alien world, but you get caught yourself and have to escape a deranged and powerful king, all with the help of some Guardians. But basically there are only three characters, the king does nothing but yammer at you, and the big finale is a huge letdown. It was almost as if by the end the devs were tired of the game, too. The puzzles are old and the voiceovers not so great. The only saving grace is the dog. Love the dog.
March 4, 2014
What a dissapointent
I was really looking forward to play this game. I had read all the great reviews, and had no doubts that I had hours of good entertainment ahead of me. I honestly think that some have been blinded by the bling: a cute Little dog for a helper and the bow/arrow.... and I suppose that there are collectibels in the CE also. When the bling is scraped off we are left with a nonsical story wrapped in nice fantasy drawings Some deatails were nice, and I liked the clear and variated HOS, but the puzzels were way too easy and the storyline was ridiculous.... not to mention the lame ending that really pionted out how childish the developer's minds are put together. On top of that the game felt too short. I am glad I didn't pay for the CE. I have deleted the game, and I won't replay it. In spite of my opinion I'll recommend the game - but only as a Family game. I guess there is the right amount of fantasy, good/evil and the HOS/puzzels are suitable for children also
February 25, 2014
A very silly and not intuitive game
I stopped the demo with 18 minutes left. I kept having to hit the hint button in order to find out where to look and what to do next, and for some reason, the premise and game play seemed incredibly silly and the characters ridiculous. The interaction with the constable is a perfect example. And there's yet another small, terminally cute animal helper. I won't be adding this one to my collection.
March 3, 2014
lousy game
this game is lousy I wouldn't buy it, but you can I don't what the others see in this game its like all the other hidden object game that BIG FISH put out everyday. they're all the same just different titles that's all. mind the hidden object and free the person that's suppose to be free. Just like a broken record if they gave an reward for the same games just different titles where they are like broken records big fish will win. this game is boring and not so hot GLAD I DIDN'T BUY IT
February 15, 2014
The Apple logo is a trademark of Apple Computer, Inc.