Happy Chef 2
Exclusive
Cook a variety of dishes from all around the world and become an expert chef in Happy Chef 2! Start from humble beginnings in an authentic Italian restaurant. Gain cooking expertise and travel to Hawaii, America, China, and France becoming a world famous chef. Upgrade your kitchen with fantastic new equipment, decorate your restaurant and serve a huge variety of customers with unique tastes and preferences in this Time Management game!
Hundreds of dishes from around the globe
Five unique locations to master
Game System Requirements:
OS:

10.9/10.8/10.7/10.6

CPU:

1.4 GHz (INTEL ONLY)

RAM:

512 MB

Hard Drive:

76 MB
Game Manager System Requirements:
Browser:

Safari 4.0 or later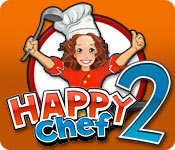 NEW299
The Big Fish Guarantee:
Quality tested and virus free.
No ads, no adware, no spyware.

Reviews at a Glance

Happy Chef 2
0
out of
5 (
0
Reviews
Review
)
Customer Reviews
ABOUT TIME
I have been going through TMG withdrawal. It has been over a year and finally Big Fish got a totally real TMG.. This game is amazing and so worth the price. Keep them coming Big Fish.
August 6, 2013
Dragging, dragging, and more dragging.
This game was really cute and fun, but the fact that you have to drag every single item ruins it for me. Drag the food from the oven to the plate, drag the add-on items to the plate one at a time, drag the food to the customer, repeat. And if you don't drag to the *exact* right spot, the item will slip back to where it was and you have to try again. What would make this game perfect would be a right-click option, at the very least to serve customers after you've prepared the food.
August 7, 2013
Uncomfortably Difficult... But Fantastic
There is definitely a lot to say about this game. My wife and I both, in our spare time, consider ourselves expert casual gamers and hardcore gamers at that. With that said... this is without a doubt the most difficult, to the point of being painful and unnecessary, time management game I have ever played. The level of difficulty is unreal and a bit insulting. There isn't a need for it to be this hard. It makes you feel a bit incompetent. The first one was the same and I do hope they change that. Furthermore, the two different modes have no difference. At least, I can't tell a difference. Relaxed is exactly the same and believe me, nothing about this game is relaxed. Next, you have to drag... everything. There is no right click even to make it a bit easier. Drag food to cook it, drag it to the plate, drag more food to the plate and then drag it to the customer... oh it's painful. Much about this game is painful and that's sad because this is a really amazing game that obviously had a LOT of thought put into it. So... that said here we go with the pros and cons. I started with the cons because oh boy do you need to read about these before attempting to play this game. You have been warned! Cons || -You drag... everything. Absolutely... everything. -The challenge level is inhuman and painful. To the point where you can't even really enjoy the game anymore at some point. -Customers are horridly impatient. Horridly. You have to max out everything at the START of a new location to get through it. And forget gold at some point. -Remember Cake Mania? You're going to get to a point in this game, inevitably, where you can't play it anymore. This is sad. And unneeded. Did I mention unnecessary? -No more male characters. (In the first one, you had a choice of four and two were male. No longer so in this one.) -No difference between relaxed mode and timed mode. NONE. PROS || -Great Graphics -Moderately Decent Storyline -Different Characters to Choose From -Many Amazing Upgrades, Including Decor and Food with Noticeable and Exciting Visual Changes to Each -Great Levels, Different Locals That Will Keep You Guessing -Coins Roll Over Between Levels (You NEED this. It helps you get desperately needed upgrades to give you any sort of reprieve). -Mini Games to Help You Get MORE Coins (You need this just as bad) -Food Looks Good Enough to Eat -Customers Are Varied, Silent, and Incredibly Thought Out (no bad voice acting here!) -Sound Affects Are Great and Realistic -'Kitchen Aids' (the first game didn't have this at all and it's a nice touch. It's automatic actions that you don't have to do yourself. It helps but it's still a painfully difficult game.)
August 13, 2013
Looking Forward to Happy Chef 3
Enjoyed the original Happy Chef so I knew I'd love this one. I purchased the game without even trying for an hour! I gave it four stars instead of five because I found it difficult to drag and place some of the food items on or in their serving dishes starting with the second level.
August 6, 2013
Exhausting But Fun!
Time management games are my favorite, so I always try them out. This one is very fast paced and demanding. It didn't waste a lot of time working you up to a more intense level. You get there pretty quick. After the first "area" in the game, I was exhausted and ready for a break. The colors are bright and cheerful and the upgrades for kitchen gadgets are fun and interesting. There are even some mini-games. It was an enjoyable hour overall.
August 6, 2013
Good, just misses being great for one simple reason!
Several others have noted this in their posts and that's the drag and drop. For a game like this, utterly ridiculous! Double-click or right-click should have been utilized. Requiring drag and drop in a speed game like this is daunting and the drag and drop seems very tight and if you don't execute just right, it doesn't complete and your food burns or whatever. Otherwise, I like the game, just frustrated that one little thing could have made this so much better.
August 18, 2013
Liked it, but did not love it!
This is a fun TM game, but with lots of dragging instead of clicking. For each item of food you make or serve you have to drag the correct items touching exactly the right spot or they will bounce back to their original location. That is the only real drawback to this game, and stopped me from giving it a 5 star rating. The dev's have added new mini games, new power dishes, and much better graphics, but they never developed the storyline, nor fix the dragging issue. I did enjoy this game, but would have loved it if not for that issue. Hope they fix it if they try a Happy Chef 3.
August 9, 2013
Very Busy Lots To Do
I don't play a lot of TM games, but I like this one. It really keeps a person busy, wasn't bored at all. There are a ton of up grades and new equipment to buy. The sound was good and the graphics, cartoon style are ok.The demo went by quickly and then I wanted more. Do your finger stretches and be ready to click,click,click!
August 10, 2013
Happy Chef 2
I got caught into buying this game because when I played the first location on it, it seemed like fun. Once I went into the 2nd location it started to seem ridiculous. I got about half way through the 2nd location with gold stars then it started to really get ridiculous so I thought I better change it to relaxed mode and guess what. Relaxed mode is no different than normal mode. So if you think you're getting a relaxed mode in this game think again. They evidently didn't have a clue on what relaxed mode means when they made the game. Not a very good game in my opinion. I'm sorry I bought it.
August 11, 2013
Not liking this sequel much
I don't know why I tortured myself for less than a hour with the trial of Happy Chef 2. Just like the first time around, I found it exhaughting, and the customers were the most impatient little peeps I had ever seen since Rollercoaster Tycoon 2. this time we start with a pizza and pasta restaurant where we make bland vegetarian dishes featuring pizza pies or pasta with only mushrooms, tomatoes and snap beans as garnishes. Along the way, we add upgrades to make the customers more patient or more likely to spend more money. After a fortnight, you move on to another themed restaurant, but I never got past the Italian one. There are many cooking games to be found in the casual games market, but I should have learned the first time around not to bother with this one. So many times, when it comes to casual games, the sequel tends to be a little better than the original, due to a new development team, or artists, or just better tech. What this lacked was a storyboard plan and a faster way to earn the items needed for upgrades. Also, a right click option to serve up the food like in the Baking Success game would have made it run smoother. I'm not sure if I'll be trying another Happy Chef game in the future. If the devs can learn from this mistake, I might. I did notice that other players really loved this game in their reviews. What were they seeing that I was not? I'm not sure what happened there, but I don't think I would have the patience to try again, not just yet.
August 7, 2013
The Apple logo is a trademark of Apple Computer, Inc.
The Windows logo is a trademark of Microsoft, Inc.