Demigods
The titans who hold the sky are about to drop it. A trio of heroes—beautiful and clever Leada, mighty Protus and nimble Adoris—embark on a quest to help the giants and save the earth. In their journey, they will visit amazing landmarks of the ancient world, encounter beautiful mythical creatures, and make friends with gods and epic heroes. Take control of your heroes' special abilities and use the power of gods to boost your progress through levels in this stunning time-management adventure!
Play as three characters with unique powers!
Meet dozens of mythical creatures and characters!
Dive into a world of Greek legends!
Game System Requirements:
OS:

Windows XP/Windows Vista/Windows 7/Windows 8

CPU:

1.6 GHz

RAM:

1024 MB

DirectX:

9.0

Hard Drive:

290 MB
Game Manager System Requirements:
Browser:

Internet Explorer 7 or later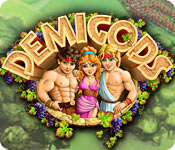 NEW299
The Big Fish Guarantee:
Quality tested and virus free.
No ads, no adware, no spyware.

Reviews at a Glance

Demigods
0
out of
5 (
0
Reviews
Review
)
Customer Reviews
Really fun and addictive!
I bought this game after playing about the first 3-4 levels of the demo - then I played it all day! Very fun & enjoyable road-builder game, with great graphics and just the right level of challenge. You do have to figure things out - where the different paths go, and/or how to open them. Getting to where you want to go is not always obvious! I played on the "normal" difficulty. I may go back and play the "relaxed" version so that I can see everything in the game before trying the "expert" mode. Definitely something for everyone! I wish we had more games like this. I like HO games, but these are my favorites!
February 18, 2014
One of the best time management games!
This game was so fun and addictive I played the entire game today. Now, I am not saying that it was a short game. I bought it around 9 am and it is now 7 pm (I just finished). I loved that I could play an un-timed mode. It made the game much more relaxing. Even though I played un-timed, the game was still challenging. I tried to plan my moves for each level before I started that level. That seemed to help. The graphics are great. I also enjoyed the music. There is no voice over, so you have to read the storyline (there was not an overwhelming amount to read). I recommend this game to everyone. If you are a beginner you may like the un-timed mode, but there is also a regular timed mode and an expert mode for those that want more of a challenge. I hope you like the game as much as I did!
March 2, 2014
Review of a finished game....
If you like TM games....This one's for you. Do not pass this one up!! Because it is a new game w/ better graphics and game play, the levels blow you away. The middle of the game kinda dragged and then things appear better at the end. Very nice. A footnote: I wished the developers would have taken the concept of the last few levels and applied that to the whole game. Plz post ur favorite game so that others can chk it out as I do. ty game on gamers....
March 2, 2014
BEAUTIFUL Game!!!
I'm currently halfway through, but ever since the first level my jaw has been in my lap. The graphics are just GORGEOUS!!! I'm a massive fan of the genre, and Demigods puts all the others to shame. The color, the animation, the ambient sound and the active noises are all just dazzling. I won't lie; it takes noticeably longer for each level to load than your average TM game, but it is soooo worth it. The story is cute as can be (mythology purists please take note: this game was NOT written for you!!), the tasks could maybe be a bit more challenging, but I'm okay with that. I've had to repeat a couple of levels to get my three gold stars, but not to the point that I've wanted to rip out my hair and hope the Amazing Sipason has been working the TM magic on YouTube. At least not yet. ;-) I am thrilled with this game. Here's hoping the developers have only just begun!
February 20, 2014
Best TM in quite a while!!
Love, love, love this game! I do like TM games very much and have been waiting for a game such as this. Although the last few TM from BFG have been fun, they were either too easy, too hard to beat time (almost impossible w/out u tube) or just the same old type game. This game is similar in that you have to remove obstacles, construct buildings, and all within a certain amount of time, BUT there is a difference. It's hard for me to describe it but I'll try. There are levels where you have to figure out how to get through tunnels or take different paths to continue the game. I think a lot more strategy is necessary to beat the clock which, IMHO, makes the game more fun and exciting. There are levels I have had to play 4-5 times before I could beat the clock (personally, I like that since it gives me more playing time for the money and makes me think.# The graphics are great! Love the level with the octopus and the soldiers trying to break down the wall. If you have time while playing, check out the different things going on each level. I would give this game 10 stars if I could! #Oh, and you can play w/out the timer as well, which would give you more time to look at the animation on each level.) If you like TM games, you will LOVE this one!
February 20, 2014
Great TM game
I'm having a lot of fun with this game.I can't stop playing it.Everything about it is teriffic.The water even looks realistic.It also has a no timer feature which I like.I recommend this game.
February 18, 2014
Super Fun!
This game takes a little getting used to, but once you do, you are off and running, having a great old time! It's the best Time Management game I've played in quite a while, with features that are completely original and addicting. I really hope they continue with this series. In the meantime, I'll be replaying this one on a regular basis.
March 14, 2014
One of my favorite games
I seldom write a review, but I loved this game. It isn't about clicking fast as much as figuring out the strategy. And there is a lot of variety in the levels.
February 26, 2014
Such a FUN TM game!
We've had Romans, Tribes and Vikings - now we're into Greek mythology! And we enjoy a wonderful journey through a variety of lands, as is the way with time management games. The story is creative and the graphics are engaging. The game play is fun and requires some strategy on some levels as you can get stuck without the resources needed to progress. I found the pathways a bit unclear at times which made the game more engaging for me. There are also changes in the pathway as you play some levels which is a nice surprise. All in all I found this to be worth the money and a fun ride similar to Viking Brothers, but with a bit more sophistication.
February 25, 2014
There's a reason this game has 5 stars
This developer puts out my favorite games and they never seem to disappoint. Let me start off by saying the graphics are some of the best out there. The water effects and overall texture are amazing. The storyline is great, taking you through the Giants vs Gods mythology. During level one, you meet your first hero, Protus; level two you meet Adoris, and level three you meet Leada. From here on out you control each of these characters to gather supplies, build/upgrade buildings, and defeat creatures along the way. The game-play is very strategic, as there are consequences to taking the wrong path. There are three levels of play, untimed, normal, and expert. You're given clear objectives to meet in order to finish the level with 1 star in untimed mode, 3 stars in normal mode and 4 stars in expert mode. Throughout the game you'll have altars to build that provide you three different kinds of power boosts: the Altar of Zeus (freezes timer), The Altar of Hermes (speed), and the Altar of Aphrodite who summons magical sheep needed to complete your objectives. The power boosts last for 15 seconds and will cost you a minimal amount of supplies to use them. The level of challenge is great on normal mode and even better on expert mode. There are 40 levels to play and I had a blast playing each and every one. I definitely recommend this game!
February 20, 2014