Demigods
The titans who hold the sky are about to drop it. A trio of heroes—beautiful and clever Leada, mighty Protus and nimble Adoris—embark on a quest to help the giants and save the earth. In their journey, they will visit amazing landmarks of the ancient world, encounter beautiful mythical creatures, and make friends with gods and epic heroes. Take control of your heroes' special abilities and use the power of gods to boost your progress through levels in this stunning time-management adventure!
Play as three characters with unique powers!
Meet dozens of mythical creatures and characters!
Dive into a world of Greek legends!
Game System Requirements:
OS:

Windows XP/Windows Vista/Windows 7/Windows 8

CPU:

1.6 GHz

RAM:

1024 MB

DirectX:

9.0

Hard Drive:

290 MB
Game Manager System Requirements:
Browser:

Internet Explorer 7 or later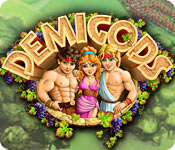 NEW299
The Big Fish Guarantee:
Quality tested and virus free.
No ads, no adware, no spyware.

Reviews at a Glance

Demigods
0
out of
5 (
0
Reviews
Review
)
Customer Reviews
plan ahead
I played this somewhere else first and thought it was going to be easy but as longer as I played I realized that you truly have to plan ahead. If you do not really plan and see what you need, you get stuck and have to play all over again. The graphics are really good and it seems like it is mixed with almost live-like animation. You still gather resources like in other games and here you especially pay attention to the golden sheep, many I did not even get to, to help our heroes along. I could not help noticing the drawings themselves, one hero looks rather Japanese anime and the girl is very busty lol But it sure makes for hours of fun unless perhaps you are like me and strategy is not really a strong point.
February 18, 2014
repair adventure
based on demo only. loved that story line changed and continued to progress (you didn't have to run through 50 lands to save the princess). going to buy. what attracts me the most is such a simple thing that I feel silly mentioning it. Here goes: the layout of the roads - twists, loops, tunnels, mountains, caves. loved it. sometimes my time wastes away just figuring out which way I'm supposed to go next and in a time management game I found that pretty cool.
March 1, 2014
Excellent time management game
Very enjoyable, different levels of skill gave a greater challenge, took a little while to load each time but could be my computer rather than the game. Highly recommended on all counts
March 8, 2014
Not bad
Really not that hard once you get used to it and need a change from the dark and gloomies! Don't like: takes too long to load between levels.
September 3, 2014
Good fun
Pros: Funny storyline, refreshing as some TM games take themselves far too seriously. If in doubt, lay on the stereotypes, and that's bound to get people laughing In particular loved the animation of some of the enemies, such as scratching their backs with their clubs, and the very odd names You can work out how to solve the puzzles - some TM games make it far too complicated and you end up randomly clicking things Expert level is pretty challenging Cons: My computer is no sluggard but this game "struggled" at times to run with some of the animation, some of it rather unecessary - you're too busy playing the game to pay much attention to it The "specialist" nature of 2 of the characters meant that you would sometimes have to have them do about 5 things in a row before anyone else could do anything With some levels it's nearly impossible to work out what to do next as they've made it *too* 3 dimensional On the whole, yes I would recommend, but it isn't the best of its kind.
August 11, 2014
Took a while to get into
Slow loading. How to play is not immediately obvious, and the instructions are not 100% clear, plus the level goals aren't revealed until after you start, so it's hard to plan a strategy and I had to restart levels a bunch of times. It took me about 30 levels before I realized that getting 3 stars is not just dependent on how quickly you finish, like most TM games, but also for things like collecting sheep. After a while I noticed a lot of the level graphics are blatantly lifted from the Island Tribe games--not necessarily a downgrade, just a funny thing I noticed. Also, while this doesn't have anything to do with the game play, but I found the illustrations of the extremely busty woman and super-muscled guys annoying--this kind of game doesn't need to be sexed up. Fun game, but I'd recommend some of the other TM series games before this one.
May 19, 2014
Challenging is an Understatement
This Game started off great but then it gets harder to the point where if you make ONE mistake you have to start all over again. I started one Level about 5 times until I knew what to do not to get stuck. If you're going to make a Game this complicated, please provide an inbuilt Walkthrough or Strategy Guide! I doubt I would have bought this if I had known how difficult it would be.
March 1, 2014
Demigods
the game it's self is good and fun to play. however it kept having changing from full screen to part screen and every level i had to go in to the options to make it full screen again. this got very frustating.
February 20, 2014
NOT a True TM game
Wonderful graphics for a TM game. Unfortunately, this game isn't true TM, the longer you play the more it turns into an adventure game. TM identifies tasks you need to complete. The tasks in this game are obscure at best. Many are described as 'keep going'. 'Keep going' is NOT a task. You can't see the tasks until after you click to start playing so there's no opportunity to plan a strategy. You can't tell which locations have the lumber, food, etc because they keep changing how these resources look. It becomes an adventure game about 1/2 way through when there's no clear instructions or path for what you want to do. For example, you need to build a bridge. There are no instructions on what needs to be done. You finally figure out that a portion of rock on the other side of the screen, something that appears to be part of the background, needs to be clicked. So you get stuck and end up clicking all over the place trying to find some obscure item to click on. That kind of mindlessness is what you find in adventure games and doesn't belong in TM. For someone who likes to get 3 stars this game is impossible! The only way to get a 3rd star is to click on enough sheep. In 1/2 the levels, the sheep are only available during a couple minutes of gameplay. For example, I completed all the tasks within the first 3 bars. I had to sit and wait for 12 minutes until it got to the final bar before the sheep came out. Sometimes they come out early in the game before you're cleared a path to get to them and they're gone by the time your path is clear. The story has a lot of potential but the way characters are introduced out of the blue makes it very contrived and the English is soooo bad that it's distracting, The graphics are wonderful for TM; poor for an adventure game. You can easily tell that multiple designers were assigned to different levels; it should be seamless and the player shouldn't feel like it's a different game just because it's a different level. I expected more from this developer.
March 8, 2014
Boring...
Boring and crashed after first level... Not buy for me!
March 5, 2014