Strike Solitaire 2: Seaside Season
The sea, the sun, and solitaire! Hit a strike on the seashore in this sensational solitaire game that combines classic cards with bowling! Over 120 new levels provide hours of entertaining gameplay, while unique gold card-pins add variety to classic game mechanics. Collect all the gold cards, and use your winnings to purchase bonuses for the highest possible score!
120 levels of varying difficulty
Unique country bowling-hotel setting
Collect all the gold cards!
Game System Requirements:
OS:

10.9/10.8/10.7

CPU:

1.0 GHz (INTEL ONLY)

RAM:

512 MB

Hard Drive:

28 MB
Game Manager System Requirements:
Browser:

Safari 4.0 or later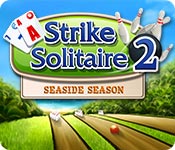 NEW299
The Big Fish Guarantee:
Quality tested and virus free.
No ads, no adware, no spyware.

Reviews at a Glance

Strike Solitaire 2: Seaside Season
0
out of
5 (
0
Reviews
Review
)
Customer Reviews
Strike Solitaire 2: Seaside Season
9
9
Great little solitaire
This is really fun to play. I have a few solitaire games and had to have this one too. You have to match cards instead of higher and lower, you earn bonuses, power ups that you can buy in the store. It is like bowling but as a solitaire. Nice little twist. You can choose junior or pro, different looks of cards. As you go further it becomes more challenging. Graphics are nicely done. This is a good game to just play in between all the adventure games.
February 18, 2014
STRIKE SOLITAIRE
I love solitaire! So had to have this one! Wish there were more of this kind ! Thank you! Sandy
February 17, 2014
Solitaire And Bowling At The Same Time
I'm not a big bowling fan but it is a nice twist on the solitaire game. The goal here is to make matches on the solitaire game of any suite for example two 2's or two Jacks. If there is a star on any one of the cards, you get 899 dollars which can be used in the shop for bonus cards, which you will want to get otherwise you will have a lousy bowling score. You can choose junior bowling which allows you to replay a non winning hand or professional bowler which doesn't allow you to replay, what you get is what you get. The gold cards are your bowling cards, whatever number is on the card is the number pin you get. You get a limited number to reshuffle the deck before losing that hand and getting a scratch, It is a nice relaxing game and I did enjoy playing it.
February 18, 2014
What Fun!
BASED ON DEMO Never could stand 10 pin bowling, me and the gutter ? way too familiar. I never could get into bowling games either, because I STILL spent most of my time in the gutters. Finally, I am achieving strike after strike in this jolly little solitaire game sufficiently of the beaten track as to really stand out. This game?s got everything I need to put me in a good mood (oh, okay, I had to supply the chocolate myself). The scenery is warm and bright and fresh ? we?re playing indoor bowls outside in a tropical resort! And the music is cheerful rather than relaxing, but not jaunty enough to spoil my zen moments. And how am I miraculously scoring? By playing solitaire! I never heard of the first Strike Solitaire so this totally zany idea is new to me. A solitaire game where if you match up all the special cards, you score a strike in your bowling game. This is so wacky it actually works! Basically, we have a standard solitaire game, with the usual power ups and bonus cards - shuffle, joker, and add an extra card slot to the deck. You score points as you normally would by making the matches as quickly as possible to increase your multiplier, finishing the round with no cards on the table, that sort of thing. And you get trophies for these various achievements. There is also a shop to purchase more of these power ups. You can play either for the Junior Cup or the Pro Cup. There are 12 locations, with 10 frames in each, which makes a lot of variations. There are also 3 face card options, and 12 card backs. The only difference between this and any other solitaire game really is this fun form of presentation ? as frames in a bowling game, and the extra goal of collecting all the gold (strike) cards. Yet it feels so different! I have all the solitaire games a sane person could possibly want, but I am still tempted to get this one! It?s just plain fun!
February 18, 2014
Luvago
Well my hour of demo was over pretty quickly, which means I didn't get to figure out exactly what was going on. ie I would have a few cards left & suddenly it was a strike or a spare, but the notification disappears so quickly you don't have time to read any details, & then it's on with the next game or level. All I knew was that if I clicked/matched the yellow cards that was a good thing - maybe extra points or something. Somehow I also earned money, which I imagine was to buy something useful at some stage. Demo never got me that far! The scoring at the end of a game/level, appears just like a real Bowling score sheet, so at least I got to see one lot of my results. The graphics are OK, music fairly unnoticeable. Despite being a little bamboozled, I was actually quite enjoying it when Demo finished. If you like Solitaire games, then this may be for you. I was almost ready to rush in to buy it, but decided to give it more thought , or else use a credit.
February 18, 2014
Double, Turkey, Four Bagger?
I carried a 176 average in ten pins (in my youth), so I played this with the hopes of getting lots of strikes in a row. In my estimation, there isn't much "solitaire" to it, other than this is a one player game. Basically it is a matching game; the benefits come from making a lot of matches in a row. That gives you additional points to buy power ups -- jokers, an extra discard space, and a reshuffle. Collect all the gold cards in one turn of the cards to get a strike in the frame. If you have to turn over the deck to finish the hand and get the rest of the gold cards, you get a spare. "Struck" indicates the number of pins you knocked down first time through the deck. In the easier mode, you can replay each frame. In the pro mode, you have to take what you get in each frame and can only replay the entire string. This game could be a fun waste of time -- the demo hour seemed to go by quite quickly. It is disappointing to see a new game not be wide screen, but otherwise the simple, coloring book style graphics didn't bother me. In total, though, I just wouldn't call it solitaire. 3.5 stars
February 18, 2014
Very Challenging
This is a very challenging solitare game. Be prepared even at the Junior level to replay some frames many times to try and get a spare or have to use 4 to 6 wild cards to make either a spare or a strike. Lots of stragety involved -- in choosing which cards if you have options to remove.
February 24, 2014
Boring!
There's virtually no skill required to play this Solitaire game. The level of difficulty doesn't increase, and the idea of it being a "ten-pin bowling" game is ludicrous. The only relation to bowling is the words "strike" and "spare" and the sound of pins falling. For me, a waste of download time.
February 17, 2014
BORING!
Just wanted to play the game- instructions went on forever. Couldn't figure out why I would get counts of 2 or 3 after I had paired alot of cards.
June 8, 2014
The Apple logo is a trademark of Apple Computer, Inc.
The Windows logo is a trademark of Microsoft, Inc.