Stray Souls: Stolen Memories
Exclusive
Guide a mother who pursues a terrifying apparition into a twisted reality to save her daughter. As you explore a strange town in which an evil clown has turned all of the residents into wooden dolls, you'll slowly peel back the layers of a disturbing story that reveals why the mother's husband has never spoken about his past!
Incredible Hidden Object scenes
Imaginative puzzles
For a more in depth experience, check out the Collector's Edition
Game System Requirements:
OS:

10.9/10.8/10.7/10.6

CPU:

1.6 GHz (INTEL ONLY)

RAM:

512 MB

Hard Drive:

509 MB
Game Manager System Requirements:
Browser:

Safari 4.0 or later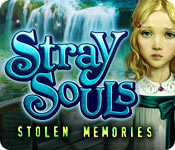 NEW299
The Big Fish Guarantee:
Quality tested and virus free.
No ads, no adware, no spyware.

Reviews at a Glance

Stray Souls: Stolen Memories
0
out of
5 (
0
Reviews
Review
)
Customer Reviews
Stray Souls: Stolen Memories
55
55
A little too much hand holding
Wow, this game really fell short of my seemingly high expectations. With so many rave five star reviews from players whose other game reviews I'm familiar with, I feel a little shortchanged. I realize it's all from my side, of course, because I guess my expectations were so high for this game that I let myself down by expecting so much more than what was delivered. This game was just too easy because of all the unasked for help that was given whenever you came close to finding something. Not only were you told what you needed to look for before you even thought of it, but what you needed to do with it once you found it, taking all the fun out of figuring it out for yourself. Even though this was in casual mode, other games I've played in the easiest mode haven't told me every single thing I need to do in them. This being a brand new game, I'd have thought that telling me everything should have been ONLY if I'd asked for a hint pointing me in the right direction, not revealing so much right on the screen just because I happened to step into an active location. The puzzles were easy too, except for one I had to skip (the bride and groom one# because it wasn't clear how the darn thing worked. It seemed to move on its own with no logical way of how it got there. Another one I skipped was the predator/prey one because I wasn't able to rotate the blocks around to line them up right and it took too long. Other than that, I found the remainder of the puzzles very easy, which I liked since they were ones I'm able to do in minimal time. What I enjoyed most about the puzzles was that they were all logic based and not just randomly clicking on lights to make them all light up, like we see so much in other games. And there were several where you had to click around different locations within a single scene to make something else work. It was like a puzzle within a puzzle and those were quite fun to do. All of them are skippable and both the skip and hint buttons fill quickly in casual mode, which is always nice. The graphics are top-notch with good voiceovers, although the voices were out of sync with the lip movements. I appreciated the printed dialog along with the voiceovers with the option to continue once you completed reading. This accommodates readers of all levels and I wish more devs used this simple technique so that those who didn't hear everything could read it and catch up with what was said. I really liked that this game didn't rely so much on hidden object scenes and kept them to a minimum. It helped to move the story and the gameplay along. I guess the biggest disappointment was in the supposed horror element of the game. I don't scare easily but I really expected a LOT more in the way of the clown's presense in the game #he isn't shown that much at all) and in the general ambient sound effects. I always turn up the volume of the sound effects to the max because that makes or breaks it for me but I just didn't get any creepy feelings from them at all, or from the music either. And the fantasy story was okay but didn't blow my socks off. Much was made of the climax here but the actual confrontation was quite short. And although the ending provided closure, it still seemed somewhat abruptly done. Believe me, I really wanted to like this game because I like dark, creepy games but this isn't one of them. It plays very much like the first one in the Stray Souls installment, Dollhouse Story, and I put it at the same level as that one. I like Stolen Memories enough to give it four stars like I did its predecessor but in my opinion, it just isn't good enough for the five star treatment. Unless the advanced mode is VERY advanced, I don't think expert players will get much challenge out of this one. It's an excellent game for beginners since your hand is held much of the time. Maybe it's time for me to change my player level to expert since I expected more of a challenge. I'm just glad I didn't buy the collector's edition and bought the standard one on the half off sale today. But try it for yourself and see how she rides.
August 14, 2013
Huge fun but EXTREMELY short.
Being a fan of all things Tim Burton I naturelly gravitate towards thiis developer so I was a little dissapointed when I clocked this one in just under two hours without skipping anything (or the cutscenes) but it was a fun couple of hours. In essence this is a reworking of Weird Park with a few original extras but that in no way compromises the fun of this game (not sure about the inappropriate foul language at the half way point though). I don't know how this developer does it but the graphics look exellent on a small screen and terrible on a large display with well rendered animations and characters. The music and sound effects are the usual creepy standard from this developer and be ready for a few jumps. From the reviews of the collectors edition I dont think the price justifies the content so I wont be buying but this on it's own is still an exellent game that is sadly far too short so I will give this a Four Star rating.
November 12, 2013
Very enjoyable, interesting, loved the ending
BASED ON COMPLETED GAME ON EXPERT LEVEL You will enjoy this game. The story draws you in right at the beginning and keeps you moving through the game at a fast clip. The HOS and mini games are doable and fun. There are many unique features about the game which I won't spoil, but I loved those. The graphics could be better as these characters were rather cartoon-like and I prefer more realism, but that's my personal preference. The music moved me emotionally into the game at just the right moments. At times, it actually made me feel sad or anxious for the characters. The voice overs are generally well done with a few minor exceptions here and there. I was able to complete the game without hints or a map because the devs kept the backtracking to a bare minimum (yes!) I was able to follow the story easily so that little guesswork was involved. I think this game is suitable for all levels of players, but if you're an expert, you may find it a bit easy. As for me, although I completed it easily, I had a really good time doing it. Good game! Have fun!
August 15, 2013
pretty good!
Short, easy but fun nontheless. I played in Expert Mode but it was super easy anyhow. I appreciated that the didn't just end abruptly as most do. A little closure is nice... ('13)
August 10, 2013
Great Game
I really like this game. The clown creeps me out a bit, but the playing was challenging enough to keep me entertained and it has a good storyline.
September 5, 2013
Super little game
Very entertaining, a bit of a challenge, thoroughly enjoyable. Good job designers!
August 7, 2013
Relly enjoyed it
Not as many HOS as some games and the puzzles aren't all that challenging but what I really liked is that the puzzles and HOS were logically connected to the goal of finding the daughter and husband. Lately many games I've played the puzzles and objects seem random with no connection to the game storyline.
October 18, 2014
A trifle easy but fun anyway
I got this game based on the fact that it has such a high rating. I won't disagree with that rating although I did find the game a tad easy but I wasn't playing on the top difficulty. However the story line is excellent and not to say too much but the clown really freaked me out!! Reminded me of the film IT by Stephen King! Seemed ages before we got the first HOG but there were enough of them for me and the puzzles were all easy enough to complete. Well worth a look.
September 25, 2014
very fun
fun way to pass the time! not the absolute best but still definitely worth a play: it has a lot of replay value as well.
April 22, 2014
Better than the first Stray Souls...
I really enjoyed the first Stray Souls, and while I was playing Stolen Memories, I remember thinking that the gameplay experience was better than the first one. The first one made me feel impatient, which is a sure sign that the pacing was off. This is usually the result of having to revisit locations over and over again, or having too many things to do before the plot line is advanced in satisfying way. Not so with this game. The story line of the first game was a bit more interesting, and kept me guessing almost to the end. The story line of Stolen Memories is just ok. I remember thinking at one point that if the clown can turn people into dolls at will, then why doesn't he do it to the protagonist? There were too many opportunities that he had to do this, and it didn't make sense that he didn't at least try. If he was more afraid of the doll you are carrying or if the doll assured you that it was protecting you with the little power it had left it would be a non-issue. But that's my real gripe with this better than average game.
December 3, 2013
The Apple logo is a trademark of Apple Computer, Inc.
The Windows logo is a trademark of Microsoft, Inc.