Mystery Expedition: Prisoners of Ice
Exclusive
Your grandfather spent his life in search of the Inuits' legend of great treasure and infinite wealth. On his last expedition he travelled to the Arctic but never returned. It's up to you to find your missing grandfather and solve the Inuit mystery in this ice-cold Hidden Object Puzzle Adventure.
Travel to the Arctic
Find your missing grandfather
Solve the Inuit people mystery
Game System Requirements:
OS:

Windows XP/Windows Vista/Windows 7/Windows 8

CPU:

1.0 GHz

RAM:

512 MB

DirectX:

9.0

Hard Drive:

555 MB
Game Manager System Requirements:
Browser:

Internet Explorer 7 or later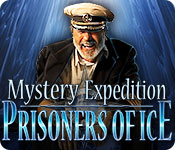 NEW299
The Big Fish Guarantee:
Quality tested and virus free.
No ads, no adware, no spyware.

Reviews at a Glance

Mystery Expedition: Prisoners of Ice
0
out of
5 (
0
Reviews
Review
)
Customer Reviews
Mystery Expedition: Prisoners of Ice
47
47
Why This Isn't A Collectors Edition Is The Only Mystery Here!
Grandpa Umberto was one of the few survivors of an Arctic Expedition in the 1920's. The Inuit tribe that rescued him told him of a hidden treasure, the price you pay for this legendary gold is your soul! Umberto wanted the gold so badly that he returned to the Arctic, this time never to return. You have always wondered what happened to your Grandfather, so you close your medical practice, pack your bags, kiss the wife and kids goodbye and off you go! Now I will say that some of the characters are a bit zealous with their roles, but this game is pretty good. You get to find 18 beyond objects and 10 ancient relics. You will find coins throughout the game that will allow you to purchase items for your pet penguin such as basketballs and kiddie pools. All of your relics and beyond objects are displayed in your Igloo as well as any achievements you earn. The hidden object games are interactive list finds and there is an option to select a jigsaw puzzle instead. Most of the mini games were easy, a couple of the games were one's I haven't seen before. The puzzle I liked the best was trying to isolate several viruses darting around, by double clicking drops of vaccine to trap the virus and kill it. It sounds easy when you write about it but those nasty viruses are quick, and sneaky! This game has an interesting story, good graphics and with the exception of a bonus game and a strategy guide, has everything the big boys have with a super value, enjoy!
February 19, 2014
It's a sleeper!
Wow..this is better than some of the CEs we've had lately. The opening film of explorers trying to make it to the frozen north is totally excellent! I really liked the story and I watched each segment, which I do not usually do. The graphics are simple, yet strangely appealing...lots of snow and ice and each setting has a lot of nooks and crannies to explore. The game play is good so far (I have only played the demo, so far); the HOs are interactive. The biggest surprise was all of the extras such as morphing objects, relics to find, and coins with which you can buy things for your penguin and his igloo. Very cute! Also, the switch from the HO mode to the jigsaw puzzle mode is really good. Usually, these options are disappointing, but the puzzle was almost as much fun as the HO. There is a map, although I forgot to look at it before my time ran out, so no comment there. The mini games were good and not too frustratingly difficult. Some of them are quite small, which adds a little challenge. All in all, an excellent buy and a lot of fun!
February 19, 2014
I loved it
When I first saw this, it put me off with no walkthrough, but I bought it, boy am I glad I did, I think I'm getting better at playing games, as I had no problem at all.You are booted off the ship, in the ice, you have to get back up out of the icy pit, and get back on the ship, when you have finished there, you have to give a potion to a polar bear, then enter a cave, and that's where the adventure really starts, I hope others enjoy this game as much as I did
February 21, 2014
iT'S COLD IN THE ARCTIC
This is a fun-keeps-your-interest-makes you-want-more-kind of game. Most of the reviews written say it all. I liked the graphics, hogs, puzzles, collecting coins to spend in the igloo, morphing bad items & playing. I play the 1st time of any game in casual mode to use the buttons given for a game...These were pretty good. No journal to refer to tho'. I also base my reviews on the trial version. If it keeps my attention to the end of that, I usually buy it. All in all I will get this game.....Good "cool" atmosphere to play in the hot summer.....
February 20, 2014
Surprisingly Good!
I had misgivings when I first looked at this game, not expecting more than a recycled older game. However, It is really quite good! Other than the laughingly bad (non-talented) actors (who must be unpaid relatives of the devs), the game is fun, mysterious, surprising and intriguing. Definitely give it a shot. I will be buying the game maybe even before I finish the free trial.
February 19, 2014
I LOVED IT - AND I KNOW YOU WILL TOO
This is another gem and you get all the bells and whistles of a Collectors Edition and only pay for a Single Edition. I have also played 'Questerium - Sinister Trinity' by the same makers and recognised a couple of actors in this game. I wonder if this is their full time job and how can I apply? What a job aye - would love it. You have: * Live actors; * Voiceovers; * Casual, Expert and Adventure modes of play; * Diary with interactive map; * Achievements board in the igloo. You also have to: ~ Find 18 morphing objects; ~ Find 10 relics; ~ Collect coins to buy toys for the penguin in the igloo. I really enjoyed playing this game. The graphics are superb and easy to see everything. The music is like an adventure movie - loud is some places and quiet in others. The HOS are easy to medium to find, but if you don't fancy HOS then you can play puzzles instead. I played half and half. There are plenty of mini-games to play - some are easy and some will make you think and take a while. I played them all without hints or skipping - so they can't be too hard or frustrating. The game is quite long - about 5 hours I think. I'm not a fast player and like to explore everywhere in case I miss something. I managed to find all the relics and morphing objects - but keep an eye out because a few were well hidden. CHECK EVERYWHERE. So, definitely recommended. Its a fun game and well worth putting in your collection.
February 28, 2014
Maybe It's Because I'm a Canadian & Like the Atmosphere!
I don't usually take time out in the middle of a game to review it...this one....I just HAD to. It really does have all the 'bells & whistles' of a CE at a SE price. PLUS an interesting storyline that keeps you going. Yes, you travel to the Arctic....br-r-r-r....to search for your Grandfather and find out what exactly is going on with this seemingly ill-fated expedition. You are given a map....that allows you to 'jump' to locations where there is something to do. A journal that keeps track of everything. Be sure to read it! Along the way, you can collect missing relics, beyond objects, and the MOST fun coins. These coins go into a 'piggy bank' for which you can purchase goodies for your little penguin friend sitting in the igloo patiently waiting for you. If you don't want to do the HOS scenes then you can switch to puzzles. I personally really like this game and HOPE to see more of them coming out. It's fun, fresh and non-stressful. Good work Dev's.
February 20, 2014
JUST SHORT OF A CE
This is a SE with 18 morphing objects, 10 relics to collect, and coins for the bank to buy igloo items at the store. Fun to play and the graphics and artwork are very good. Voice overs are nice, but then they disappear becoming written, only to reappear later. Assuming it's not my computer misbehaving, I don't get why they delineated the game that way. Somewhat linear but straightforward, but you do have a choice of which directions to take. Hint system is very helpful. Nice proportion of puzzles and HOS. Puzzles are easy to do and the HOS are list-based, very crowded and colorful. A nice afternoon of play.
March 13, 2014
Better than most CE's
This is a very, very nice game. I love these non-CE games!! You are a doctor who has decided to track down your missing grandfather. He went missing on an expedition to the Arctic regions. So, you hop on a boat with others but apparently they have other plans for you because they knock you over the head and throw you down a ravine You do survive though, and thus your journey begins. There is a very nice opening scene explaining what your grandfather's mission was. Graphics were clear and snowy (sort of looked the same as looking out my window). The HOS are a bit crowded but items are easy to find, some are interactive. There is a choice to play a jigsaw puzzle instead which was just fine with me. Actually, I really liked the puzzles. Minigames were different. They took me some time since puzzles are not my forte. Others may find them to be a piece of cake. I don't believe there was music, but there are the ambient sounds of the wind which is a great match for all that snow. There are achievements, coins to collect to buy things for your penguin who lives in an igloo. This penguin does not accompany you on your journey, or didn't in the demo. There are morphing objects and relics to find. This is quite a different and fun game with a whole bunch of extras included for the price of a SE. I have read that it is a short game, however a fantastic short game is better than a horrendous long one. This one shall be a purchase for me. Enjoy :)
February 19, 2014
FABULOUS adventure....
Despite being buried in snow here myself [with a blizzard in full force as well], I checked out "Mystery Expedition: Prisoner of Ice [brrrr!]. I was amazed at the quality and usual features that are only offered in CE's, morphing objects, collect coins, artifacts, etc. This is a very well made first person [perspective] adventure driven H0G with live actor cut scenes. If you enjoy mysteries, adventure, solving things on your own without TOO much spoon feeding and truly unique and creatively developed gaming, check this great game out... I was SO happy that I demo'd.... it offers all the above and more. It's a definite buy for me.
February 19, 2014