Mystery Expedition: Prisoners of Ice
Exclusive
Your grandfather spent his life in search of the Inuits' legend of great treasure and infinite wealth. On his last expedition he travelled to the Arctic but never returned. It's up to you to find your missing grandfather and solve the Inuit mystery in this ice-cold Hidden Object Puzzle Adventure.
Travel to the Arctic
Find your missing grandfather
Solve the Inuit people mystery
Game System Requirements:
OS:

Windows XP/Windows Vista/Windows 7/Windows 8

CPU:

1.0 GHz

RAM:

512 MB

DirectX:

9.0

Hard Drive:

555 MB
Game Manager System Requirements:
Browser:

Internet Explorer 7 or later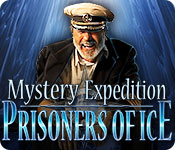 NEW299
The Big Fish Guarantee:
Quality tested and virus free.
No ads, no adware, no spyware.

Reviews at a Glance

Mystery Expedition: Prisoners of Ice
0
out of
5 (
0
Reviews
Review
)
Customer Reviews
Mystery Expedition: Prisoners of Ice
46
46
At last, something different!
Welcome to an arctic exploration complete with newsreels and charts. The mode of transportation is a ship soon to be entrapped in the icy arctic. If castles, love stories, cute side kicks and fairies are your style, definitely look elsewhere. Missing also are the spiders, skeletons and ghouls of the usual dark tales. We don't even have a car, plane, train or carriage to crash. How refreshing! And while we still have a grandfather to follow, whether we are to rescue him is not evident at first. We are following the legend he told of a cursed treasure, not all that original in these games, but with the live cut scenes there is a bit more realistic feel than most. Some reviews have criticized the acting, but I felt it was average and better than that in many of the most popular games. (Sadly that is not saying much). The graphics and sound are good although not the very best. As they seem to be going for an old film quality rather than the fantastic wonderland of many games, perhaps this is appropriate. The games take a bit of thought or time without being frustrating, which for me is about the right level of play. The HOAs are hard to see at times but the option to switch to some pretty unusual jigsaw puzzles redeemed this flaw. The jump map is very helpful, the hints more directional than give-a-ways. And as others have said, the extras such as money to find, a pet penguin to outfit, and morphing objects flesh out the game nicely. All in all I appreciate the attempt to create a cold gritty world that is more realistic, based on man's very real greed rather than some demonic fantasy or otherworld plot. My review is based only on the demo so I do not know if it is going to stay that way. But I have definitely put this one on my wish list for a future purchase.
March 1, 2014
Prisoners Of Ice A Chilling Story
You play an explorer following after your grandfather's failed quest for the treasure of the Inuit "God of Wishes." The time is in the early 20th century when "technological advances," i.e. zeppelins, made exploration of the poles possible. This story takes place in the frigid Arctic regions. Naturally, disaster stikes you too, and you are now marooned on a disabled ship in ice filled waters. The drawing style is fairly realistic, with a particularly accurate rendering of the ship, both inside and out. The other players in the story are done via live actors inserted into the story using "green screen" technology. Voices are fairly well done, but it is obvious the actors lips are not speaking English (voices use a Russian accent#. There is minimalist background music, always there but not intruding. Sound effects were appropriate if also minimalist. Hidden object scenes were well drawn, with one or two objects per scene very well hidden, but the other objects not so much. I noted one misspelling during the trial, the word "Thermometr." Puzzles and mini games were all very easy to solve, they will definitely not give you brain freeze. Solutions for some appear on the screen from your journal when you open the puzzle. Keys turn automatically when you place them in locks. There are coins to collect in your piggy bank. They are used to buy toys for your pet penguin. The penguin does not appear to tie into the story in any way. There are also 10 relics and 18 beyond #morphing) objects to collect. Based on the low number of these and how many I had already collected during the trial, I expect this game to be shorter than most. Except for a few flaws and easy puzzles, this seems to be a decent game with a good story and an immersive atmosphere. I would say Prisoners Of Ice is one captivating game.
February 19, 2014
I want more like this!
I love a game where I can actually fix things, figure out how to make something work, and keep my penguin happy. This is how games should be (at least for me). Great graphics, great atmosphere and it's fun. Except for leaving the guy in the ice too long. I'd love more like this!
October 20, 2014
Not over the moon crazy about this game but worth exploring!
Very good game flow, lots of HOS, numerous puzzles, storyline okay, VOS good! I played the SE version and found it to be too short. I liked the game but wasn't crazy in love with it. There are many achievements to accomplish, coins to collect, artifacts to collect; those were pretty cool! Very good graphics for such dismal scenes and storyline. As always the developers are very clever. Great jump-to map, good hint button. I give it a 3-1/2 to 4-star rating. The game is worth playing. I recommend it.
April 2, 2014
So good, but just not enough of a great thing
This is an excellent game with all the right stuff. The realism of it really appealed to me. Great cut scenes, realistic graphics, good puzzles, HO scenes with objects that make sense... very solid story, simple but very believable, and moves logically. The only supernatural stuff comes at the very end. I can only give it four stars, rather than 5 however, because it seemed a bit short. Just not quite enough of a really great game. Sure hope they do more like this!!
March 22, 2014
Spooky Fun!
Great Music and WOW, Spectacular ending! The Graphics were well done also. The down side for me was way too many Puzzles, the HO scenes were cluttered so items were not easy to find. As for the Morphing Objects - almost impossible to find all of them. The Hint button was Slow, even in easy mode. And what ever happened to Grandpa? I guess the Monster ate him. Apart from that, a thoroughly enjoyable Game!
February 27, 2014
Very enjoyable HOG
I liked this game a lot, mostly because it featured a culture not seen in most games. Graphics were great, puzzles were just right. Only flaw: the program let me finish the game without collecting all the relics. Other than that, I really liked this game.
February 23, 2014
Frozen adventure
I purchased and played this entire game. It has a lot to do for a SE version game. I had no technical issues everything went smoothly. There is a map, and the hint button works well in and out of the ho scenes. The music is not bad, voice overs are just ok not great. There is not a ton of hand holding but it is fairly logical and easy to figure out. It may be too easy for advanced players but for me it was just right. Try it you may like it.
February 22, 2014
What a surprise!
Almost by passed this little jewel. Glad I decided to give it a try. Even tho' this is SE, it has beyond/morphing objects, coins to collect and use in the "store", and relics to collect. The HOs are a little on the foggy(icy?) side. However the HOs can be swapped for rather unusual shaped jigsaw puzzle pieces. I had so much fun with the jigsaw I may not use the HOs at all in this game. Although, so far this had been on the easy side, this is a definite buy for me.
February 19, 2014
Nice SE!
Afternoon all. Well, I am very impressed with this game today. Surprisingly good graphics for an SE. We have "real" people rather than animated, although animated lips keep up better with voices than the real thing. Personally, I prefer a good animation over reality. Game play is very good, no problems. There is a very useful jump map, and you will use it a lot, so get your tennis shoes on and go for it. Nice music, but gets a bit annoying after a while. Voice overs are nicely done, but few and far between. This is a fairly quiet game with a few sound FX and a lot of wind #gee, you think "polar" has something to do with that#. Hint system is very helpful and heads you in the right direction, as well as showing you exactly where you need to be to find something. Hint fills about the usual, but maybe a bit slower. I really like the HOGs. They are a little messy and cluttered, but you get items you need to use, and is a mixture of standard HOG and interactive. Items are not difficult to find, but you do have to look for them. I especially like the ability to switch to a jigsaw puzzle, as I am a major jigsaw puzzler. These puzzles have very different and odd shapes, which I really love. Not difficult, but fun. There are a number of collectibles, e.g. morphing objects #not as easy to spot as you think#, lots of coins #for the penguin igloo# and relics #I don't know what these do for you, if anything#. This game is not especially challenging, but it is fun and has a different story line for a change. I believe this will appeal to all levels of players and a definite buy for me today. As always, try it for yourself and see what you think. We all have different tastes in games and you may not care for this one at all. Thanks for the reviews.
February 19, 2014