Myths of the World: Spirit Wolf
Exclusive
The wolf spirit still haunts... will you heed its call?

You're an expert in Native American symbolism who's been called to investigate some glowing glyphs. Your amulet, which has been in your family for generations, begins to glow as soon as you arrive, as if it's part of this place...

As you begin to investigate, you encounter strange ghosts from the past. Find out what caused their rift all those generations ago and how you're connected to this place and its spirit.
Game System Requirements:
OS:

10.9/10.8/10.7/10.6

CPU:

1.6 GHz (INTEL ONLY)

RAM:

1024 MB

Hard Drive:

1110 MB
Game Manager System Requirements:
Browser:

Safari 4.0 or later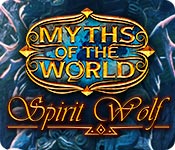 NEW299
The Big Fish Guarantee:
Quality tested and virus free.
No ads, no adware, no spyware.

Reviews at a Glance

Myths of the World: Spirit Wolf
0
out of
5 (
0
Reviews
Review
)
Customer Reviews
Myths of the World: Spirit Wolf
17
17
"A Great Myth Has Enduring Power"
This Native American Myth is about the Great Wolf spirit. When odd things start happening at The Center For Native Americans, your good friend Jesse calls you in for help. No sooner than you arrive, your family amulet begins glowing just like the mysterious icons throughout the center! You will find pieces that belong to your amulet, and as you repair the amulet you will be able to lift curses from certain items. You will also bring your binoculars which will need to be focused each time it is used. You are the chosen one, the "seer" sent by the ancients to find Misu, once a prisoner, now full of revenge! The hidden object games are a mixture of interactive list finds as well as finding items that match the silhouetted shapes. You can choose a bubble shoot game instead. The mini games are fairly simple and most of them are tile swap puzzles for example. I for one really enjoyed the Native American themed game, I think you will too, enjoy!
February 21, 2014
Magically Delicious!
This is an excellent game from Eipix. It's been out for awhile in CE form and now is released as an SE. I think Eipix recent history is ho-hum but Spirit Wolf is quite another story. An old friend has called you to help him sort out strange happenings from last night at the North American Heritage site. As you travel there an amulet that has been in your family for generations begins to glow...just as strange symbols appeared at the Heritage Center and began glowing as well. You use your expertise in the study of symbols to solve the mysterious events of the distant past that revolve around love and betrayal...and the epic myth of the wolf. FUN FACTOR: Dan Brown and the Da Vinci Code meet Native American Mythology. This game is stunningly beautiful to the senses and will thrill you as you play. That Amulet that's been in your family proves to be an invaluable tool...And you'll find out how if you decide to play. No mystery here: for me this game rates a BIG YES. I thought the FUN FACTOR was off the charts because of? ?THE VISUAL/SOUND QUALITY: Visuals: Grand Canyon at night is a "cavalcade of color" with rich hues. The developers created something very special and the painters knew what they were doing. Sounds: From the first second of the intro music you're immersed in sound. Both background and special effects are very well executed. LEVEL OF CHALLENGE: HOGs: There around 25 HOGs in two formats: regular HOGs and Mini-HOGs. The first is the usual "list pick. The second is silhouette matching (and no more than six items). Both styles provide very challenging HOGs. In fact, the most difficult I'd encountered in game playing at the time. The scenes are richly packed with items. They are NOT junk piles. Items are very clear and distinct but they blend with the background so perfectly they are very difficult to see. Mini-Games: YES. Some brand new games (HOW, I WISH EIPIX would come up with some brand-new puzzles for their most recent offerings.) There are approximately 20 mini-games ranging in difficulty from "do it with your eyes closed" to "I think I need the Strategy Guide." Don't give in. You'll solve the puzzles. Look out for the one with the beads later in the game. The directions aren't perfect, but the gaming and fun is. General Gaming: Spirit Wold provides a great combination of HOG/MINI-GAMES/STORYLINE. If I tell you more than I did above I'll be taking away some of your fun. The storyline drives the game and it's very engaging. I think you can tell that my overall recommendation is a YES for this game. The decision, then, is whether the SE is sufficient or if you should go the direction of the CE. Here?s what the CE provides that you won't get with the SE: 1. Achievements (including one that's actually good: finishing HOGs without any over-clicking penalty). Now that's an achievement! 2. Re-playable AND BONUS HOGs. 3. Concept art, re-playable music, movies. 4. The Making of the game video which is VERY interesting and something that Eipix typically provides. It's always fascinating to me. 5. A Souvenir shop (a piece of Eipix Candy that?s really a penny candy ?find it.? 6. A Bonus Chapter that?s all about the amulet. The bonus chapter adds around 10 HOGs and 3-4 mini games. 7. Integrated Strategy Guide (that includes a game play clock!!). In my early playing days (not that long ago) I used to gravitate toward CEs. Now I find myself being fully satisfied with SEs more often than not. In this case, I think there?s ample reason to move to the CE: (SORRY IF IT SEEMS LIKE I CAN'T MAKE UP MY MIND!) Typically, "Achievements" as a CE extra are nothing more than what you accomplish in the normal course of game play. Here there is the one I mentioned that I think is worthwhile. It takes a lot of discipline to complete all the HOGs without over-clicking even just once. This is a point in favor of buying CE. Yes, you will know if you did it or not, but the visual confirmation and having the goal right there in front of you is worthwhile. I also think the bonus HOG is worthwhile, especially because the quality is so high. Finally, I think the bonus chapter is is a good value, providing a couple handfuls more of HOGs and mini-games and about 20% additional gameplay overall. Totaling all this up, I lean toward the CE. If you don't agree that the value proposition is found in the CE, you will NOT be disappointed with your purchase of an SE. As always, I suggest taking advantage of the free hour of game play. I think you'll want to finish what you started!
February 21, 2014
Trial based Review
I liked this game in the CE version. I like this one as well. I don't really care if I have the bonus games & the wall papers are usually superfluous as I don't use them. This version has a built in strategy guide, interactive map, hints recharge quickly. For my money & the way & reason for the games I play, this is the one for me. I recommend this game.
February 21, 2014
Fun Hidden Object Adventure
BASED ON THE SE The sound is great, Native American music. The narration is great, the voice overs of Jesse and Misu are ridiculous, but that did not deter me from buying the game. The graphics are great, opening with a beautiful scene of an eagle in flight. The animated wolves are breath taking. The storyline is interesting. You've gone to the Native American Culture Center to investigate strange goings on. You are met by Jesse (who looks and sounds more like Jesse James than a Native American) at the Center and he explains the situation to you. There are lots of bells and whistles and special effects in this SE. The hidden object scenes are beautifully drawn with lots of Native American artifacts and items in them. They are actual scenes, not junkpiles. They are interactive list and silhouette type. You can switch to a bubble shooter if you choose. Mini puzzles are lots of fun and there are collectible puzzle pieces in the game. You get a diary, binoculars to view things far away, an interactive map, and an amulet to assist you. It doesn't get much better than this.
February 26, 2014
LOVE THE ALLURE
Compelling music and opening scene with terrific narration. Good voice overs. Game grabs your attention at the beginning and it doesn't wane. BASICS: Map with objectives (unless turned off). You have 4 difficulty modes, one of which is customizable so you can choose what help you want, set HOS penalty, recharge and skip time. The customization seems to be the norm lately, and I'm glad. It should cut down on people not liking a game because of difficulty settings. GAMEPLAY: Sound effects and visual effects (though few) are spectacular. HOS are list or silhouette based and interactive; mildly crowded but very detailed. One minor irritation is that the feathers from the hint system are easy to accidently click when trying to click on an object in that area. You can play bubble shoot if you don't want to play the HOS. Well-developed storyline (won't repeat what others have already said, but I like it). Puzzles are varied in type and difficulty. Fun to do. Not particularly linear gameplay, but you do have to do certain actions to progress (such as to open up a HOS). Good production values. Wonderfully entertaining.
March 18, 2014
Not Perfect, But Still Fabulous!!
BASED ON COMPLETED GAME FIRST IMPRESSIONS This game has everything you want in a CE. Spectacular graphics (although I?m not keen on the cut scenes, they are less than stellar), excellent voiceovers and music that is so appropriate to the game, great ambient sounds. The story is exciting and fast-paced, with engaging characters. The gameplay kept me busy for the full 4.5 hours it took me to play, and is neither too hard nor too easy. It even has a few little gimmicks to make it different from other HOPAs. But I was disappointed all the same. Mostly, it came down to story, and authenticity. SO, WHAT?S HAPPENING THEN? Well, it?s kinda like this. You are called in by your friend at the Native American exhibition to help figure out the story of some glowing symbols that are freaking out the tourists. Also, there?s this thing about some mushrooms... So, off you go, itinerant expert in Native American symbolism, equipped with, of all things, an Indigenous Australian weapon ? a boomerang. That was my first niggle, and once a thing like that starts, it just gets worse, and you start seeing every little thing in terms of context and relevance. And authenticity. However, I digress. As well as the story that emerges about the Spirit Wolf, who seems to be haunting this Cultural Centre, Jessie, your friend, also raises the issue of a lost civilisation believed to have been in this general area. Unfortunately for the game, this city has no real connection to the culture of Native America and clashes with it in all sorts of annoying ways. The locations and the items in them become a jumbled mess of Native American artifacts, modern day items, and things more likely to be seen in Egypt. I didn?t like it at all. The latter half of the game was spoiled for me because of this incongruous mix, unnecessary and pointless as it was. GAMEPLAY This is a good game for gameplay, the adventure is mostly easy and fun. The HOPs (19) are interactive lists, and silhouettes. As the game reaches its climax, the silhouette HOPs go from being 10 items down to only 5. I thought is an excellent strategy for building momentum. You can opt to play a Bubble Popper game as an alternative. The Puzzles/Mini-games (18) are all doable, even the ?battle? at the end of the game. There is a nicely depicted interactive jump map that gives active tasks, which I found very useful at times. The hint is directional, and there?s a journal with basic information. There are 3 modes of difficulty, plus a custom option. You have a set of binoculars, which is for spotting faraway hints and clues. It comes with a simple mini-game where you must use sliders to focus, but it is way easier than it sounds. You also have a family heirloom, an amulet, that first started glowing when you arrived at the centre. It interacts with the magic being used in the area and dispels magic barriers, and later identifies them. There are missing pieces, and the more you find the more flexible is the amulet?s power. COMBINED IMPACT This game is not all it could have been, but it is still a great game. Sticking to the theme of the series, a look at different cultures and their myths, would have greatly improved the game. (A little more relevant content next time maybe, devs? Don?t worry I still think you are all geniuses *smile*)
February 21, 2014
Weakest in the series, but fun
I love the Myths of the World series, but this one, based on Native American icons was the weakest one. The story was just okay (could have been a story from any culture) and the gameplay didn't teach you anything about the culture or unique. A fun game, but not the best. Pros: Map takes you where you need to go, generous hint button, intuitive items, puzzles easy to med (mostly easy), variety of puzzles and games. Cons: The "spirit symbols" and "binocular"things got old after a while - particularly the "spirit symbols". Story generic and bland - you really didn't care who got who or what happened. It was more of a "go here do this" game. BIGGEST CON: This game misses several good chances to end. At one point the character tells you "this is your last journey" (which makes you happy because you're ready to stop) then there are all these detours and stories and endings. Normally I complain games end too abruptly but this ending goes on and on and on.
May 12, 2014
NATIVE AMERICAN MYSTERY
Review based on completed game in casual mode. Animation/VOS - Excellent! Even vo for player. IHOS - Clear to darker scenes and small to larger items. Lists, silhouettes. You have a choice of playing Bubble Shooter instead of the IHOS. Misclick Penaly - None Hint - Fast charge. Gives direction and clues. Journal - Contains story, objectives and sketches. Map - Does transport but as always it's the old hint button for me. :-D Amulet - Must piece it together with glowing symbols. Binoculars/Boomerang - These two work together for a while assisting you in locating areas and objects that are too high to reach. Inventory - Locks in place. Objects used quickly in other areas. Some items are marked with a + and need to be combined with other items. Puzzles/Mini-Games - Unique and challenging. Did manage to solve a few. Fast skip. I believe this was the first game I've played that had an Native American theme, a refreshing change of pace. Great game so throw in the line and reel this one in. Happy gaming!!
May 11, 2014
A breath of fresh Air!
I am so tired of hanging around in dark caves and dungeons, where it is hard to actually see the items I'm trying to find in the HOGs. This one is like a breath of fresh air, literally. A nice change of pace. Enjoyed it. I do recommend it!
February 28, 2014
following a ghost wolf
played "custom". you can decide the length of hint/slip button recharge and how often the sparkles last, etc. i like this feature. all kinds of adjustments. i notice more game coming out with this feature. i am glad. you have been called in by a friend to help explain why some strange things have been happening at his native american exhibit. strange symbols have been appearing. when you get there an amulet you mother gave you starts to activate and that is the clue to get through the game. it is not hard, at all. hints either tell you what to do or teleport to where you need to go. you run into some ghosts that is the basis of the game and the reason behind the symbols. nice length. low sound even the screen says to play with sound.
April 15, 2014
The Apple logo is a trademark of Apple Computer, Inc.
The Windows logo is a trademark of Microsoft, Inc.