Myths of the World: Spirit Wolf
Exclusive
The wolf spirit still haunts... will you heed its call?

You're an expert in Native American symbolism who's been called to investigate some glowing glyphs. Your amulet, which has been in your family for generations, begins to glow as soon as you arrive, as if it's part of this place...

As you begin to investigate, you encounter strange ghosts from the past. Find out what caused their rift all those generations ago and how you're connected to this place and its spirit.
Game System Requirements:
OS:

10.9/10.8/10.7/10.6

CPU:

1.6 GHz (INTEL ONLY)

RAM:

1024 MB

Hard Drive:

1110 MB
Game Manager System Requirements:
Browser:

Safari 4.0 or later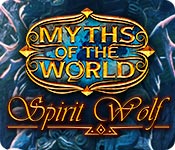 NEW299
The Big Fish Guarantee:
Quality tested and virus free.
No ads, no adware, no spyware.

Reviews at a Glance

Myths of the World: Spirit Wolf
0
out of
5 (
0
Reviews
Review
)
Customer Reviews
Myths of the World: Spirit Wolf
18
18
Eipix can do better. Storyline lagged and got lost.
Myths of the World: Spirit Wolf Developed by Eipix Standard Edition Review based on completed game IN THE BEGINNING... Since you're an expert in Native American symbolism, your good friend Jesse, who manages a Native American museum, summons you to investigate the appearance of some unusual glowing glyphs. Upon your arrival, your ancestral amulet also begins to glow, something that has never happened before. Your investigation uncovers several spirits bound to the area, and it's up to you to resolve their earthly feud so they can move on. But there's a deeper mystery here too, one that even Jesse never suspected. PLAY THE GAME... Adventure mode finds you exploring the beautifully-presented Native American village, collecting objects to use elsewhere, solving puzzles, and gathering clues using your binoculars. HO scenes are of three types: interactive list, silhouette (in which you find ten items), and zoomed in silhouette (in which you find five items). Puzzles include the familiar (Towers of Hanoi, variously shaped puzzles where you rotate the pieces until the picture is complete, etc.) and the unique. I liked the one where you had to find a path from beginning to end while the pieces of the pathway kept disappearing. Very challenging! SIGHTSEEING? Graphics are painterly, blurring the line between realism and the fantastic. No problem recognizing objects in the HOs. Lots of rich colors and natural textures. Animation was done well, including character animation. SOUND WAVES? I had to turn the music off, as I did find it repetitive, and the constant flute melody irritated me after about 30 minutes. I've heard some beautiful Native American music before; this wasn't it, unfortunately. Voiceovers were professional, as were environment and game sounds. TOOLBOX? The map indicates both current objectives and areas where actions are available, as well as being a jump map. I found the journal unnecessary, as the clues you gathered were automatically brought out when you needed them. Inventory is lockable. You have binoculars, which you'll use often to pick up on clues in the background. And, of course, your amulet, which deactivates those pesky glowing glyphs. As the game progresses, you gather more pieces to add to the amulet. THE LAST WORD? While there was nothing outright bad about this game (except, perhaps, the music), there wasn't truly anything epic about it either. I thought the story unfolded rather slowly, to the point that I lost sight of it several times, and it became merely gaming to no end. The good guys weren't virtuous enough, and the bad guy wasn't evil enough to create that sense of conflict (and, therefore, the need for my role). I loved Eipix's "Amaranthine" series, and "Off the Record: Linden Shades," but I'm just not a fan of this series, I guess. My recommendation is for you to try the demo yourself, as I really don't like not recommending a game unless it's truly awful, especially from a developer with such potential.
March 10, 2014
Glitch Alert!
This game is ok but quite frustrating to play because of the many technical glitches. Scenes take forever to load. There is a recurring game wherein you collect runes for your amulet but consistently these scenes do not load properly with only about a fourth of the scene actually displaying the artwork. So you click around blindly trying to find these hidden runes and eventually I usually skipped the whole thing. Which messes up your achievements, if you are into that. Good thing about the achievements--at the end of the game you can go back to the scenes where you missed the collectible and find them. I always resented it when I had to play the whole game over to find things. The story is good but the characters are VERY wordy and the animation of the human characters is only fair. I did like the mini puzzles and thought the HOPs were varied in their format and therefore more interesting. Think this will be the last Myths of the World I'll buy. Not loving the series.
March 15, 2014
This "Myths" Cries Wolf
This game has fine artwork and production values. I really enjoyed the earlier Myths - Chinese Healer. Unfortunately, this one is burdened with a lame storyline and even lamer voice actors. And while I am not generally drawn to games that feature an amulet, this game's downfall is more substantive. There are also many minor quirks such as your character, an expert in Native American symbolism, driving a '57 chevy convertible through the desert - is it not possible to draw a newer car? And putting "AA" size batteries into a flashlight that clearly uses "D" batteries? And using wooden darts? Are those sold anywhere in the last 2 decades? Finally, some of the other objects listed to find were just unidentifiable. The end for me was when the wolf character began to speak. The voice of this character was so bad it was a deal-breaker. These characters are supposed to be Native Americans from long ago. They sound nothing like it. Not even close. There is an incomprehensibly tedious maze puzzle where you guide two birds to a nest. Very easy, a waste of time, no feeling of accomplishment. Besides that, the music is mind-numbingly repetitive. Perhaps this game would be more acceptable if you turn OFF the sound (as opposed to the developer's recommendation). Pretty artwork is not enough anymore to give a game "spirit." We need a good story and good voice acting. This wolf has been de-fanged.
February 21, 2014
Really frustrating
When I start trying to find a walkthrough and I haven't even been playing a game for half an hour, there is no way I would ever purchase it. The hints are no help at all, and the cursor drifts all over the screen. I got as far as the "smoke rings," before I quit [I don't think that even qualifies as "chapter one"!!], as I couldn't get the thing to let me light the match, and all the hint did was draw a ring around the matches and the pipe. I couldn't even form an opinion of the storyline, as the technical aspects were bad enough to be completely distracting. NOT a fun game, for me.
March 3, 2014
Awkward
I like this series of games but this one felt ridiculous to me. I couldn't stop groaning at scene after scene of Native American stereotypes. The voice acting for the characters was pretty bad. And the Spirit Wolf is neat and all until he starts talking. Then he's incredibly annoying. I love these games but honestly the only thing that differs between them is the story. The gameplay and graphics are standard hidden-object game, so move on.
December 27, 2014
Very disappointed
If you are going to do a story based on a particular culture then you need to do the research for that culture and Do It Right! The Native American theme had different tribes with very different customs scrambled together and then they mixed up the Mesoamerican cultures into the mix! To add insult to injury, they add all kinds of modern and European things to the HOPs that had nothing to do with the Native American theme. Seriously, I can't speak to the games done with European themes as I am not European; but if you are going to do American themes, then put the study in or resource peoples of the American cultures (be they ancient or modern) and DO THE GAME RIGHT. Was REALLY disappointed and insulted in this.
November 11, 2014
Could not get through the demo
This game lacked any logical progression for me. I almost never use hints but these were worthless. I could not play even though I thought the topic interesting and the music alluring.
February 24, 2014
Amulet won't open
Was doing fine until I had to open the amulet. Game would not let me open it even after multiple clicking. I can not procede from here. Very annoying!
February 23, 2014
The Apple logo is a trademark of Apple Computer, Inc.
The Windows logo is a trademark of Microsoft, Inc.