Farm to Fork
The Valley of farmers is on the verge of downfall since the Global Mart has overtaken the town's business, and it's up to you to help the farmers save their lands ! Grow the freshest vegetables, produce the best grains and meat, and cook delicious meals to earn money. Collect rewards and achievements and invest in new facilities to grow your wealth. Make the valley prosperous once again in Farm to Fork!
Over 70 fascinating levels
Dozens of achievements and recipes!
Upgrade your kitchen and farm
Four different farms to restore
Game System Requirements:
OS:

Windows XP/Windows Vista/Windows 7/Windows 8

CPU:

1.6 GHz

RAM:

1024 MB

DirectX:

8.1

Hard Drive:

166 MB
Game Manager System Requirements:
Browser:

Internet Explorer 7 or later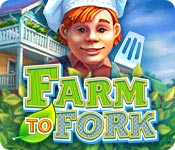 NEW299
The Big Fish Guarantee:
Quality tested and virus free.
No ads, no adware, no spyware.

Reviews at a Glance

Farm to Fork
0
out of
5 (
0
Reviews
Review
)
Customer Reviews
Fork over fun
I have been waiting for a good TM farming game. Farm to Fork delivered with challenging levels, excellent graphics, and hours of fun. I just can't stop playing this one.
March 7, 2014
I like it, but I don't love it.
This is obviously a pretty obvious knockoff of the Farm Frenzy series. Instead of bears or what have you, this time it's parrots and you sell their feathers. You can upgrade the parrot cage, vehicle, refrigerator (storage), and you have to make different items with stuff you plant and harvest, buying machines and upgrades with stars earned for gold, silver and bronze level finishes. Sound familiar? Yeah. The graphics are beautiful; but it's harder on some levels than I think it needs to be, which takes the fun factor down for me. Overall, it's a pretty good game.
February 24, 2014
poor pigs
It is easy to see who is behind that game, farm frenzy says hello. All the graphics are very detailed and I have never seen happper pigs to be slaughtered which is actually not a good thing but my morals aside, I like the buildup of this game even so it is not that different. You grow stuff like wheat, vegetables and click on it and click on a machine to make something out of it. When it is ready you click on it again to store it and then you click again to sell it. The animals still fall from the sky but this time it is a bird so at least it makes sense. Cage them, sell them. Did I miss anyhing? Pesky upgrades needed to make it to the next level? Check. All that wrapped in different paper for the same kind of fun.
February 24, 2014
Surprisingly Challenging For an Easy Game!
Graphics fine, music ok, what you expect from a simple game of farmers trying to save their farms from the Big Store. For all of that, it is super, but what got me to buy is the unexpected challenges in achieving the simple goals. You need to do it in THIS order to get gold, not THAT way, and the game leaves it to you to decide how to go about it. I would say this is MUCH more of a puzzle and reasoning game than it is the seemingly obvious clicky and make goods from your crops game. Much to my surprise, I bought it :). Got to go and play the next level, now, so BYE!
February 24, 2014
Good (Sometimes Frustrating) Time Management Game
This game is quite fun, although getting the gold (expert) time can be quite challenging (and a bit frustrating if you're one of those types of players, which I am). It's very difficult for a player like myself to continue playing when I don't get the gold (expert) time on every level so if that's an issue for you as well, be aware that it will certainly slow the game down if you're like that. You do have the option to replay it. Your little homestead has bigger bldgs, flowerbeds, etc. if you get the gold (expert) time. There is no option that I saw for relaxed game mode either. There is no story-line whatsoever, even as you progress though the different farms so don't expect one. This game is nothing but time management and it's a button masher at that...nothing to move around the screen...it's literally just clicking. The game itself does get complicated so if you have difficulty remembering more than 4-5 things simultaneously this might not be the game for you. You may have 4-5 different chefs going all at once and some items you can sell but others you need to combine for another chef. So keep that in mind. It's fairly simple at the beginning but it does get quite challenging. The shop upgrades are OK but I would've liked to have seen more items available. I do like the inclusion of the menu item upgrades. That can come in handy if you're having trouble getting a gold (expert) time on a level. It's also one of those games where purchasing the upgrade in the shop just means it's available to buy in the game itself, it's not automatic. The graphics are cute and nicely colored. If you're expecting a ton of movement w/in the game screen itself, this is not the game for that. The music does get old after awhile b/c it doesn't change at all so I ended up making it very soft in the options. Overall it's a good game but I think the gold (expert) levels get too difficult too quickly. By the 2nd farm, it's likely you'll be having some difficulty with that but if you don't get hung up on things like that then click away and have fun!
April 22, 2014
A fun time management game like Farm Frenzy
It's really nice to see a good time management game come out, even when it's pulling elements here and there from elsewhere as opposed to being completely new. But sometimes, that's exactly what you need with a game, and this one is enjoyable and pretty well done. If you've ever played any of the Farm Frenzy games, you already have a pretty good idea of how the gameplay works for this game, as it's more or less a Farm Frenzy game in a slightly different form. Basically, you're farming and turning those crops into different things (wheat into bread, vegetables into salad, etc.) to sell and make money. And you can upgrade things along the way to help with that, with some upgrades being mandatory to play a level. The primary difference I've noticed so far is that the path is linear, unlike many of the Farm Frenzy games where you could follow the paths different ways. The parrots and capturing them to ultimately get money and feathers is a strange way to do the bears that were seen in Farm Frenzy, but beyond that oddity it's a pretty good game. Those who have played the Royal Envoy games are likely to find the music familiar, as it seems to just be a variation on the theme from that game. So while it's not "Wow!" great, it's not something annoying that needs to be turned off either. (Unless, of course, you hated the music in the Royal Envoy games - I've never had any issues with it.) The graphics are well done and pleasant to work with, even if the animations are a bit over the top at times. I swear, I've never seen anyone flail about as much doing these activities as the workers in this game, it's amusing. Ultimately, if you enjoyed the Farm Frenzy games or are a fan of the Playrix time management games, I would totally recommend getting this one. It's a solid, enjoyable time management game, and might even bring back a few pleasant memories for you from other games.
February 25, 2014
Finally!
Finally a fun time management game.
February 25, 2014
Funny Farm to Fork
I love time management games. Plays as Farm Frenzy games but I love them also.
February 27, 2014
Fun & simple but nicly challenging Time-Management Game
A Simple game that's good fun to play & with increasingly challenging levels (Go for gold!)
July 19, 2014
This little piggy went to market!
This is a really good game, blending two sub-genres together. The first element of the game is to produce the correct products in order to sell these products to make enough money in order to complete the level. In order to complete this you need to first grow the grain, rear the pigs etc in order to make the bread, burgers, or whatever the level requests, to sell in order to make said money. Later in the game, you have customers to serve, if you make the right orders then you can earn money by giving the customers exactly what they want, there is a twist however in that in these levels it is not necessarily about garnering money, you may also have to produce a set amount of burgers, or bread etc in order to complete the level, this is where the strategy kicks into play in that you have to consider how much money you need to make in order to be able to upgrade your equipment in the level, in order to then complete the level. It is therefore down to you exactly how you go about completing the level and whether you fulfil the orders in order to purchase more stock, or try to fulfil the overall level orders, I found that for the later levels a combination of both was needed. The way the game ?scores? you is by giving you stars and the quicker you finish the round the more stars you get, the stars are needed as sometimes you are unable to continue with the next level if you can?t purchase a particular upgrade, this meant that you need to go back to an earlier level in order to garner more stars so that you can purchase the required upgrade, be that a ingredient or kitchen item such as more fridge capacity. A tip I would give here is once you are comfortable with the game and have got the ?hang of it? is to go back to around level 6 onwards as earlier levels, you would have possibly completed with three stars anyway and level 6 onwards I found that I completed with 2 and not three thus once I was comfortable with the game-play, I was then able to go back and get the three stars, also if you went back again after gaining three stars and completed the level with a faster time, you were again rewarded, thus there is incentive to go back through the levels. The graphics, sound are good for this game, whilst there is no real speech then this game does not really require or need it. I would defiantly recommend this game, as an alternative to the regular farm or food based games as it melds the two together.
June 30, 2014