Luxor 2 HD
Embark on a beautiful voyage across the dazzling landscapes of ancient Egypt as you play your way through 88 gorgeously rendered levels in brilliant, widescreen HD. Sail across famous pyramids and temples on your mystical winged scarab and shoot down enemy spheres, using explosive power-ups to obliterate your opponents before they reach the pyramids!
Dazzling widescreen HD graphics
More explosive power-ups than ever before!
Highly-anticipated sequel to #1 casual game of 2005
Set among Ancient Egyptian temples and pyramids!
Game System Requirements:
OS:

Windows XP/Windows Vista/Windows 7/Windows 8

CPU:

800 Mhz

RAM:

128 MB

DirectX:

9.0

Hard Drive:

141 MB
Game Manager System Requirements:
Browser:

Internet Explorer 7 or later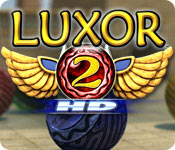 NEW299
The Big Fish Guarantee:
Quality tested and virus free.
No ads, no adware, no spyware.

Reviews at a Glance

Luxor 2 HD
0
out of
5 (
0
Reviews
Review
)
Customer Reviews
If you liked some of the other Luxor games, this one's good also!
I like this game. I was a fan of Luxor 5th Passage (though I found the cutscreens that couldn't be skipped highly annoying) for its beautiful graphics and levels, and this game has the same feel only it's been updated.
February 24, 2014
Great Popper Game
I am a fan of Popper games and this one is the best by far. Great graphics, challenging and fun to play. Played Luxor games years ago and they were great but this is tops.
February 26, 2014
Awesome Game
I love the Luxor Games. This one has excellent Graphics and is a Great Challenge. Highly Recommend.
March 5, 2014
Great Marble Popper!
I love this game. I had Luxor and Luxor 2 but they do not work with Windows 8 so this was great to be able to go back a little.! Why not make the original Luxor compatible with Windows 8? I miss all games that are no longer compatible with the later windows versions! Great Game!!!
March 5, 2014
Best Luxor Game for Beginners
I have really enjoyed, but been frustrated by the earlier Luxor Games because I am not quick enough. This game has several playing levels. One of the levels is a beginner's level and I am farther on this game than I have gone with any of the others.
March 5, 2014
This is really a fun Luxor game!
It's been a long time since a Luxor game came out. I'm really enjoying this one. I'm a senior citizen and playing this game really helps me with focus, sharpness and just having fun. I challenge myself to get 100% each game. The only thing that I find annoying is that if my cursor drifts up to the upper right hand corner, when I'm shooting at a marble, it clicks on the Information button up there and takes you right out of the playing area to the info screen. It would have been better to put that in the lower left corner. But, other than that, this is really a fun game. I love it!! I definitely recommend this game!
March 28, 2014
Super Duper Excellent Game!!!!!!!
I have played many ball/marble shooter type games before. Am pretty good at them but never really liked them until I discovered the Luxor series. I played through all the games in the series and picked several as "keepers" and purchased them. THIS ONE gets added to my list of great games to own. Storyline: None that I can recall. Graphics: Amazing colors and bombs and Ankhs and jewels and golden rings and everything was just spot on beautiful. Sound: Rescued a teesy baby puppy last week and she was asleep on the pillow by my arm so turned it down low but I like the background music - didn't find it repetitious and it didn't get on my nerves - major big plus. Other than that......sound effects! Oh my gosh - YES! Bombs exploding everywhere and you heard everything. Even all the bonuses as they got dropped - magnificent. Game Play: Typical of most marble/ball shooter games and definitely the norm for Luxor games......you get a ball at the bottom of your screen. Your goal is to get matches of 3 or more balls of the same color and destroy everything on your screen. You will gain bonuses and collect gems and Ankhs. For every 50 (I think) Ankhs you collect you get a free extra life. My only confusion was the Bonus Game at the end of the level. No instructions on how to play. Not even in the instruction page. I just kept shooting and balls were disappearing and ultimately I shot them all off the page. Voila! Bonus Level completed. This Area is FINISHED! YAY! This Glam-ma has NEVER experienced such a "WOW" factor in this type of game before - not even my beloved Luxor games. But this game? When the demo ended, I was like "NO! NOT YET! I HAVE TO HAVE THIS GAME!" Unfortunately, I have to wait a few days for bonus punch Monday. I girl's gotta do what a girl's gotta do, right? This Glam-ma says play, play, play this game. I'm sure you will enjoy it at least half as much as I did. It's free and all you have to lose is an hour. The review of this game is based on this Glam-ma's unbiased opinion - and only mine. Therefore, if you found this review to be helpful, please click on the "yes" button below. There is also a "no" button. Seriously? You'd give your Glam-ma a "no"? Kidding. Happy Gaming!
June 3, 2014
Great Luxor HD game
I have most of the other ones but this HD version is great and the graphics and game play are awesome. The new scenery is good and the game play is fast too. Love this game Thanks Big Fish :) X
February 24, 2014
An Improved Favorite
I am having so much fun playing this! The artwork is great, the different paths the balls take fun and varied, and the new power up system is easy. The other thing I like is that there are three levels of play: casual, normal, or expert. As far as I can tell, what varies is the speed of the marbles & bonus points from level to level. Other choices include whether you play 'Adventure' mode, with each scene having a specific end; 'Survival' mode, with endless marbles; or 'Practice' mode. You can only play practice mode after you've complete a scene in the Adventure mode - in other words, you can't practice until after you've succeeded in a round. You can also choose whether the shooter has no targeting assist, a 'retical' (dot), or a beam. A major change from the original is that the power ups are now chosen automatically for you and used as you earn them. In the original, you had to quickly call any saved power ups, which could slow your speed significantly. There's really no story line, though I do like the titles they give you as you move up in rank, such as "Royal Sharpshooter." There's a map, but it's just window dressing. And this doesn't need any more storyline. I do have a few problems with the game, which are more annoying than anything else - but they kept me from giving this game 5 stars. First, on the initial screen which shows your name, there is a line that says, "Click here to change names." Clicking on that statement does nothing - you have to click on your name, your rank, or the icon of the Egyptian. Second, there is an information icon at the top right of each scene. But if you're just a tiny bit off when shooting using the retical target assist, instead of shooting, you go to the info screen. That's frustrating when you're in play mode and suddenly are thrown out of the scene. Finally, I ranked the visual/music at 4. If the visual and music rankings were separated, the visual would get a 5 and the music a 1. The music does not have a Middle Eastern beat and is played on, or synthesized to sound like, Western (ie, symphonic) instruments. To make it exotic, they added sounds to the music, like a wolf howling. Really? A wolf? Why not a jackal? (I know that the animal that was called the Egyptian Jackal is now known to be a type of wolf as verified by DNA.) Luxor was one of the first 'modern' games I played. I loved it. I tried playing the original sequel, but it was buggy with lots of stop-start problems as I played. Consequently, I'm delighted with this new improved version that not only doesn't have the stop-start problems, but has improved choices for playing.
March 2, 2014
LUXOR 2 HD!
Totally re-imagined with dazzling new HD graphics and spectacular effects, the highly-anticipated sequel is finally here!
February 24, 2014