Fable of Dwarfs
The good-hearted King of the Dwarves is relying on you to lead a building expedition! You'll need all of your wit and imagination to successfully oppose the merciless northern winds, save the homes of a desert's inhabitants from plagues of locusts, and battle a thick fog that threatens a priests' temple. Learn about ancient Dwarven talismans, save Yellowforest from wildfire, and help those who need it most in Fable of Dwarfs!
Visit the floating islands!
Collect gold for completed tasks!
Make your own Dwarven talismans!
Game System Requirements:
OS:

Windows XP/Windows Vista/Windows 7/Windows 8

CPU:

1.2 GHz

RAM:

512 MB

DirectX:

9.0

Hard Drive:

430 MB
Game Manager System Requirements:
Browser:

Internet Explorer 7 or later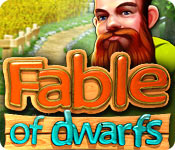 NEW299
The Big Fish Guarantee:
Quality tested and virus free.
No ads, no adware, no spyware.

Reviews at a Glance

Fable of Dwarfs
0
out of
5 (
0
Reviews
Review
)
Customer Reviews
"One Is Not Born A Hero, One Becomes A Hero"
This is one of the better TM games out there and I really love the 3D graphics. The king is trying to "find" a new hero to send on a mission to help his brothers in need. You need to chop down trees and repair bridges and gather food and gold. You need to be strategic when constructing buildings, sawmills need to be built in order to build houses and you will also need money to build or repair so you might want to upgrade a hut for more rent. You will repair markets in order to purchase food for the workers. Each level starts out with 3 stars and as the timer drains down, the stars diminish as well. The houses and structures are colorful and the tasks progress nicely making this a very entertaining game, enjoy!
February 26, 2014
A really enjoyable game along the lines of Royal Envoy
If I had to pick games that this one reminds me of, it would be Royal Envoy and Royal Envoy 2. This one is very similar to those, though not exactly identical. And while I'm not sure I like it *quite* as much as those two, it's awfully close in how much I've been enjoying it so far. The graphics are pretty good, with some of the graphics on the title screen and how it moves between different options there being very well done. They've actually put a lot of thought into them, as your dwarf workers come with different hair colors and everything, and there are little details on some of the buildings that add to the ambiance in the game. The music is okay - nothing that's going to make you wish you had a soundtrack, but nothing annoying either. The primary thing lacking in regards to the visual/sound quality is that there is very little to the finishing screens at the end of each level, and the level selection menus are probably one of the least visually appealing sections of the game. None of that takes away from actual gameplay, other than make me feel like they clearly wanted to focus on the actual graphics and animations in the game itself than the info boxes/screens. As I already mentioned, the gameplay is very similar to the Royal Envoy games, with your workers heading out from a central building to chop trees, collect gold, and collect food. And just like those, it has trees that can be chopped as well as sawmills, food that can be collected as well as a market, gold mines as well as rocks to mine it from, etc. Even the occasional treasure chest. And at the end of sections of the game, there's a special task that needs to be completed. I do rather like the fact that when the workers are done with a task, they hang around briefly before slowly sauntering back to the central building, meaning they can remain a bit closer for another task than if they just rushed back. Much like any of these games, it starts off relatively easy and gets a bit more difficult as time goes along. It also has a regular mode and an expert mode, with the expert giving you less time to complete the levels. From flipping through all of the level selection sections, it looks like there are around 50 levels in the game, which can be played in either mode. Ultimately, if you liked the Royal Envoy games, then you'll probably like this one. It's really worth giving a try! I know it's a definite buy for me, and I'm looking forward to getting even farther into the game.
February 26, 2014
FABLE OF DWARVES... All other TM are DWARVED in comparison!!! :)
ANYONE that only tried this TM and gave up quickly and/or is among the prevalent to compare it with Royal Envoy or ANY of the other TM's, or is afraid to retry their challenges to move ahead is just jumping the ship too quickly and/or way underestimating Fable of Dwarves and just missing the bill IMHO. So, perhaps SOME of the general mechanics are similar to others, yet the overall experience is WAY, WAY, WAY better. Fable of Dwarves, IMO, is a WONDERFUL, addictive, fun, endearing (!), truly quality little TM ... it has a huge amount of creative originality, is absolutely charming [w/o being stupid] and OMGosh... a true sense of subtle humor. If you doubt me, as a quick example, level 35... ~ so adorable... I had to chuckle and I wasn't even in a particularly good mood [just the opposite] :} Give this one whirl and expect it to not only maintain it's playability and appeal but TO KEEP GETTING BETTER through the levels [and there are MANY levels]!!! I LOVE THIS GAME!!!!! Hope there is a sequel that equals or surpasses [IF possible] this one.... I'll be first in line to buy!! Thanks SO much developers for not caving in to the cookie cutter mentality so prevalent today and thanks BFG for allowing us to enjoy such a GREAT TM GAME!! :)
March 2, 2014
You shall not pass
Wonderful, cute game with a hint of LOTR. Graphics are clear, music is nice and accentuates rather than overpowers. Classic TMG with gathering resources unfortunately also my least favorite way of gathering wood by chopping all those cute trees down even just to get to those hidden treasure chests. After that it is the usual, built a sawmill, market, houses etc. Every level is different with different goals which keeps it interesting. Nice improvement or should I say change of characters for those that have played those games before.
February 26, 2014
Bring on the TM's! :)
So happy to see more time management games surfacing on BF! This game plays like Royal Envoy, which in my opinion is fantastic. Great visual quality, good level of challenge in order to get gold, and I did not find the music annoying. I will most defiantly be purchasing this one.
February 26, 2014
Just like Royal Envoy. Easy decision, buy it!
This game is very similar to Royal Envoy, in fact the game mechanics are so similar, it almost is Royal Envoy. Have only played 5 minutes of the demo and already bought it using one of my game credits. The graphics are really clear and the sound is not intrusive. You chop wood, collect food, build houses and upgrade them. Build sawmills, buy more wood, etc. I wonder if the timing of this release has something to do with Royal Envoy 3 coming out on Friday, 28th Feb from Playrix? Highly recommended TM game.
February 26, 2014
Fable of Dwarves= Fantastic, Fun Gameplay!
So nice to see not only a TM game peeking out from the unending line of HO games here at BFG, but an awesome one at that! This game is in the vein of Northern Tale, Viking Brothers, and other games like it. It is a build and fix it TM with a wonderful storyline and excellent graphics! I think this one will be a big hit. I highly recommend it and purchased it as soon as the trial was over! TM lover's will enjoy this game big time!
February 26, 2014
Really enjoyed this game
As others have said, if you like Royal Envoy or MKFTP type games tyou will enjoy this. While basically the gather resources, build buildings type it has a lot of variety. You can play it first on normal mode and then again on expert mode for an additional difficulty. Good graphics and for me just the right amount of challenge.
April 20, 2014
A NEW TM Game - Love it!!!
This game is so much fun!!! I absolutely LOVE it & will be buying it! Played the trial and it will be mine soon! The graphics are good, music & challenging. Finally a little bit different, you get mushrooms to collect!! FUN & LOVE!!!
February 27, 2014
What a beautiful game!
I'm a Player from Germany and was afraid, my English could'nt be good enough to play it. I'm happy, it is! It's a very nice game and I have a lot of fun with it. Buy it and try yourself!
March 1, 2014
The Apple logo is a trademark of Apple Computer, Inc.